Forest Schools: The Benefits of Students Learning in Nature All Day, Every Day
There's no reason to let a little inclement weather stop your child from learning in nature. Just look at the "Rain or Shine" preschools and forest schools in Scandinavia, where toddlers spend the majority of the day outside all year round, playing in creeks, digging in dirt and chasing each other around the woods.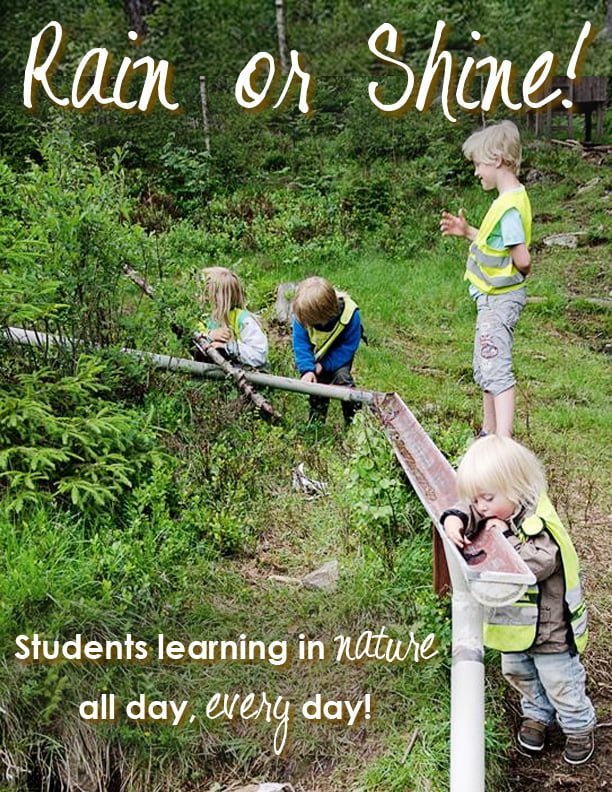 Places where they hone their motor skills by balancing on logs and jumping on rocks, and bond with nature by getting their hands on bugs and plants on a daily basis. In Scandinavia, these preschools have been around for over 50 years and are a popular choice among health-conscious parents.
What is a Forest School?
"The kids here are happy, fit, strong and full of energy," says Anna Mållberg, teacher at the Rain or Shine preschool Kråkan in Borås, Sweden. "We've never had to explain to a parent why the kids are outside, everybody understands that it's good for them – the fresh air, the big space. The youngest ones have fantastic motor skills, they learn early to get across rocks and logs. And there are fewer conflicts and infections, because the kids are not on top of each other all the time. There's also less noise. We see a lot of advantages about being outside."
There are places stateside that have similar offerings that allow for regular learning in nature. "There's no such thing as bad weather, only bad clothing". This isn't the official motto of Malkah Bird's kindergarten class at Meridian Hills Cooperative Nursery School & Kindergarten in Indianapolis, but it very well could be.
One afternoon each week, the class enters the woods adjacent to their school to learn in their outdoor classroom. Here, surrounded by trees and bird song, the children write and draw in journals, read books and explore the woods that they call their own.
Forest kindergarten is a sacred time to explore and be present in nature. It's where the kindergarteners meditate while listening to the wind weave through the trees. It's where they share cups of hot, herbal tea on especially cold days. It's where they get muddy, climb trees, test their courage and, most of all, share this unique learning experience with each other.
At Kråkan, which translates to "The Crow," the children range in age from 1 to 5 years for full-time preschool and 6 to 9 years for the after-school program. During the warm season, the children and staff go outside after breakfast and stay out until the last child is picked up, at 5 pm. In the wintertime, they generally spend two and a half hours outside in the morning and another two and a half hours in the afternoon.
The children are allowed plenty of free play and become fully immersed in their surroundings. Today, the youngest of the group, Elliott, who is just shy of his second birthday, fearlessly scales some tall moss-clad boulders, while three other preschoolers race pine cones and sticks down a repurposed water spout, and four blond boys play in the creek that meanders through the property.
"I found a frog!" yells Billy, 4, beaming with excitement. "Does anybody want to hold it? Come on, it's not dangerous!"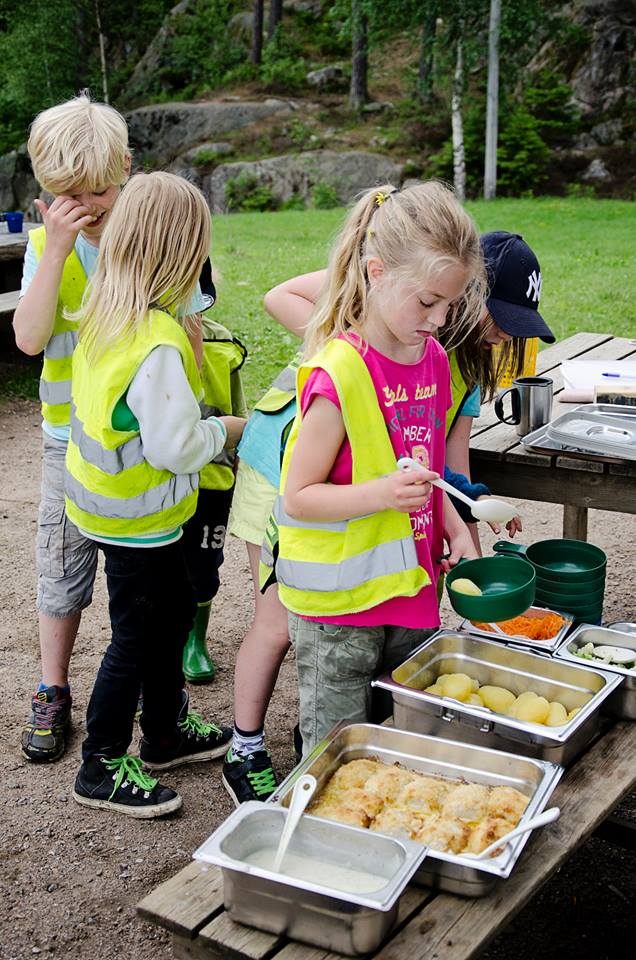 Into the Woods for Learning
"I know that living in a city, with all of our busy daily lives, families often struggle to find time to drop everything and head into the woods. It feels exciting and important to create an educational space where that is prioritized, and where kids and their parents have the opportunity to learn and enjoy it together," says Malkah Bird.
"In the woods they don't need any toys," Mållberg says. "There are so many things for them to do and they come up with so many games. They'll find a stick and make it into something; the big rock becomes a slide and so forth.
Sometimes we come out and just enjoy the present moment; we'll lie down in the moss and talk to the kids. In the winter it's especially neat to lie down on your back and look up at the sky. If we're lucky, we see snowflakes."
Part of the Rain or Shine philosophy states that the children's interests should guide the activities – if they want to stop and watch the ants scurry around on the ground, that could lead to a conversation about life on the forest floor or, in this case, if they find a frog, that becomes the focus of the adults' attention. Sometimes, they'll look at different mosses and talk about what they're called, how they feel and what happens when they become dry.
See also: Kids Who Spend More Time in Nature Become Happier, Mentally-Healthy Adults
"We experiment a lot," Mållberg says. "If we don't have the answers when the kids ask, we find out. We're not experts but we want to learn."
Outdoor Learning Is Still The Exception In the US
As popular as the Rain or Shine preschools are in Scandinavia and other European countries like Germany and the UK, they're still few and far between in North America. Of course there is Malkah Bird's kindergarten class.
And though Waldorf schools in the US are based on outdoor learning and reconnecting children with nature, only a handful of them take the concept as far as the Rain or Shine preschools of Scandinavia. In Canada, Ontario's first licensed outdoor preschool opened this summer.
But even if you don't have the option to send your child to a forest school, there are plenty of good reasons to gear up for some serious nature time.
"We've found that children at Rain or Shine preschools have significantly fewer sick days and better motor skills, and they're fitter and more attentive than children at traditional preschools," says Patrik Grahn, a landscape architect and biologist at the Swedish University of Agricultural Sciences (SLU) who conducted one of the first groundbreaking studies on the Rain or Shine pedagogy.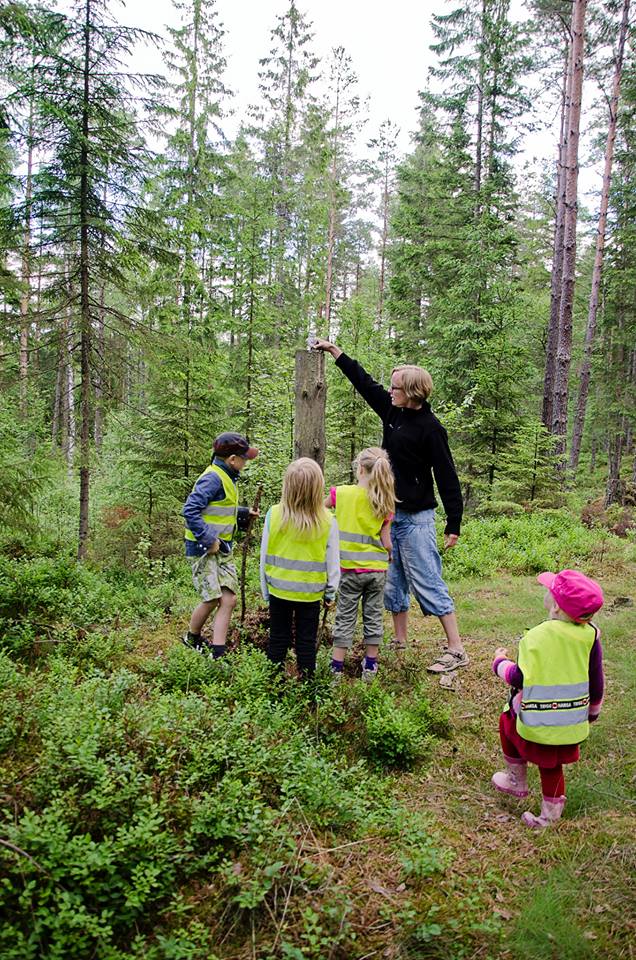 The Benefits of a Forest School Can Last a Lifetime
In nature, children's interactions also tend to become more imaginative and allow for elaborate role-playing games. "Play in itself has a therapeutical effect on children," says environmental psychologist Fredrika Mårtensson at SLU. "And they play differently outside. The games are more open and flexible, and it's easier for them to organize the situation in a way that's beneficial to them physically, socially and psychologically."
Anecdotal evidence of the benefits of forest school abounds both from teachers and parents. "I think it's really good for them to be outside in the fresh air, where there are fewer germs, and they can run off some energy," says Malin Utter, whose 3-year-old Anton and 6-year-old Elin are enrolled at Kråkan. "I can tell the difference on the days when they've been home and haven't been outside as much; they go crazy. They need to stay active."
Back at Kråkan, the children line up to grab lunch outside, and bask in the midday sun that's breaking through the clouds. By Scandinavian standards it's a nice day, but come fall and winter the children will have to start layering their clothes to stay warm and dry in a place that's roughly on the same latitude as the Gulf of Alaska.
"The cold, wet season is the hardest part of the year but we adjust our schedule accordingly," Mållberg says. "If the kids are soaked we have to go inside but if everybody is dry and happy we eat outside. In the winter we change clothes a few times a day and periodically our two drying cabinets run around the clock. But regardless of the weather, you can always be outside for a while!"