Green Child Magazine Talks with Sage Spoonfuls Creator, Liza Huber
Daytime actress Liza Huber shifted her passions to advocating for children's health and nutrition, and we couldn't be more delighted to cheer her on along the way.
In a world where health often takes a back seat to convenience, it's reassuring to see moms in the spotlight making homemade meals a priority. Liza Huber has even designed a business around helping other parents make their own baby food: Sage Spoonfuls.
Liza has four children: Royce, Brendan, Hayden and Mason. She and Royce were our Winter 2013 cover models (she was pregnant with Mason at the time too).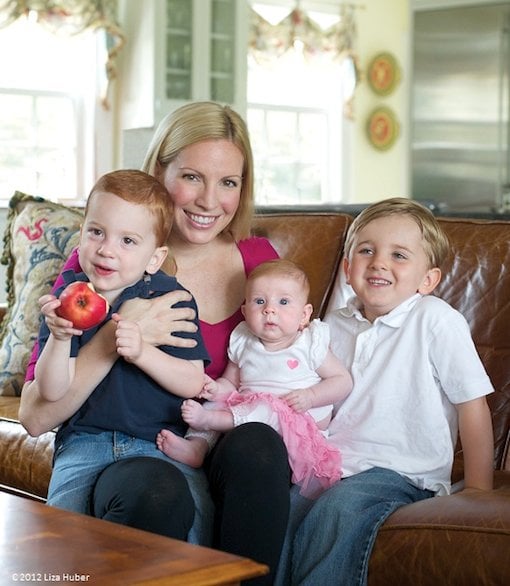 The daughter of a trained chef and Emmy-Award winning actress Susan Lucci, Liza grew up recognizing the importance of a healthy, home-cooked meal and family bonding time at the dinner table.
Sage Spoonfuls is Liza's tool for creating these traditions early on – starting with baby's first foods. We were delighted to talk to her about the benefits of making your own baby food.
And how fun is it to picture "Erica Kane" back in the day, pureeing vegetables and spoon-feeding babies?
Our Interview with Liza Huber
Green Child Magazine: Did you make Royce's baby food from the time he started solids?
Liza Huber: My mom made all of our baby food when we were little, and I always knew it was something I wanted to do for my children. After my first child was born, I just couldn't find products on the market that made it easy for parents. I had to completely improvise and just piece a system together. 
I remember labeling food with masking tape and sharpie pens. I knew there had to be a better way. Providing your baby with homemade baby food is such a basic necessity that I wanted to find a way to make it an easy task. That was when the light bulb went off in my head and the idea for Sage Spoonfuls was born!
GCM: Aside from being wasteful, why is pre-packaged baby food not as healthy as homemade?
Liza: Store bought baby food, including the organic brands, has a shelf life of about 2 years. In order to achieve this shelf life, the food needs to be sterilized, or heated it to very high temperatures to ensure food safety. The process kills vitamins, nutrients, taste, color and aroma in the process.
Homemade baby food is higher in nutrients, tastes much better than store bought and has the enticing aroma to get your baby excited about eating. It can retain most of its nutritional value, taste, color, texture and aroma because it is only lightly steamed or roasted… not overcooked. In fact, once your baby is 7 months old, most ripe fruit can be pureed without cooking, leaving all of the precious nutrients intact.
In addition to being more nutritious than store bought, homemade baby food also greatly reduces the chance that your baby will grow into a picky eater as a toddler!
GCM: Sage Spoonfuls really focuses on making the process convenient. How do you do it?
Liza: There are two common misconceptions out there about homemade baby food. The first is that many parents feel they need to know how to cook in order to prepare their baby's food.
In reality, you don't need to be a cook at all. If you can mash a banana, you can make baby food. It's about preparing single whole foods and mixing them together with other single whole foods. Baby food should not be fancy.
The second misconception is that people feel they don't have time to make their own baby food. We all lead very busy and hectic lives these days. No one has the time to cook on demand, so that's why I developed Sage Spoonfuls, so parents would have an easy, time-saving system where they would only need to spend 1 hour a month preparing food for their baby.
When stored in an airtight container, like our Sage Spoonfuls jars, homemade baby food will stay fresh for up to 3 months in the freezer. Instead of going to the store to buy baby food you can just "go shopping" in your freezer!
GCM: Are parents ever surprised by what foods their baby likes?
Liza: I've heard many parents say they're surprised at how delicious the unexpected food combinations are, like black beans mixed with banana; chickpea or beet puree mixed with vanilla yogurt; and cauliflower mixed with apricot.
A baby's taste buds are developing the first 12-18 months of life so the more tastes, textures and delicious aromas we can expose them to the better. This is one of the beautiful things about homemade baby food – the yummy food combinations are almost endless!
GCM: Obviously, your children started out with pure diets. Now that your children are a bit older, how do you handle the type of snacks you might find at social settings?
Liza: As far as snacks in social settings goes, unless it's something I really don't want them to have, like soda, some nuclear colored chip full of fake powdered cheese or an extra sugary candy full of artificial ingredients… I have an "everything in moderation" attitude. The boys are actually okay with it too, which makes saying "no", when I need to, a little easier.
GCM: Was food an important part of your family growing up?
Liza: Yes, definitely. My father is a trained chef and we grew up on home cooked meals. We always ate dinner together as a family and I think that is such an important part of raising happy children. Even though the kids are little, we make sure to turn off the TV and sit down as a family at dinnertime.
GCM: Having such a vested interest in the business, it must be extremely rewarding to hear success stories from families. Can you share an inspiring story about the difference Sage Spoonfuls is making?
Liza: It really is such an incredibly rewarding experience to have parents get excited about cooking for their kids. The most inspiring for me is when a mom or dad tells me they had no intention of making their own baby food whatsoever until they came across Sage Spoonfuls.
I can't tell you the amount of people who email us saying they fell in love with how easy Sage Spoonfuls is and how they could actually prepare a month's worth of food in about an hour. To know that this is inspiring parents who wouldn't have otherwise made their own baby food fills me with tremendous joy.