Sweet Potato with Pickled Zucchini
Leith Hill, Wisdom Foods CEO and owner of the NYC restaurant Ellary's Greens offers a delightful and beautiful side dish for this year's holiday season.
Often called "the world's greatest food," sweet potatoes are a delicious source of vitamin A (in the form of beta-carotene). They are also a very good source of vitamin C, manganese, copper, pantothenic acid, and vitamin B6. Additionally, they are a good source of potassium, dietary fiber, niacin, vitamin B1, vitamin B2, and phosphorus.
Because of their natural sweetness, they are a big hit with all eaters: young and old! And they are a wonderful addition to any family's table.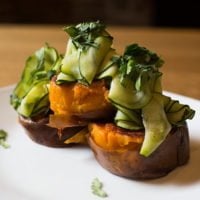 Ingredients
1

large sweet potato

cut in 1" medallions

2

oz

raw zucchini

skin on/unpeeled

1

oz

fresh lime juice

4

sprigs fresh cilantro

roughly chopped

Pinch

of salt

to taste
Instructions
Wash the outside of the sweet potato and scrub it gently to remove any dirt, if necessary.

Cut raw sweet potato into medallions 1" thick and place on a greased cookie sheet.

Bake the sweet potato at 350° F for 30 minutes or until tender.

While sweet potato is baking, thinly slice the zucchini (by hand or on a mandolin), then add the lime juice to the zucchini plus pinch of salt (to taste).

Once the sweet potato medallions are tender and golden brown, place them on a plate and top with 4-5 slices of pickled zucchini.

Garnish with fresh cilantro and ENJOY!