Wheat-Free Cauliflower Mushroom Dressing
If you're a fan (like we are) of all the ways cauliflower can be used instead of grains, you'll love seeing how it replaces bread in this delicious Wheat-Free Cauliflower Mushroom Dressing recipe.
For the past 10 years, we've been finding little ways to celebrate a more conscious Thanksgiving, and swapping your recipes to healthier options is near the top of our list.
We've been taught that the refined, processed carbohydrates in foods like white rice, white bread and traditionally baked goods are "bad carbs." We're told we'll be healthier, happier and slimmer if we get stick to the "good carbs" in fruits, nuts and whole grains.
Not true, Dr. Davis says – at least in the case of grains.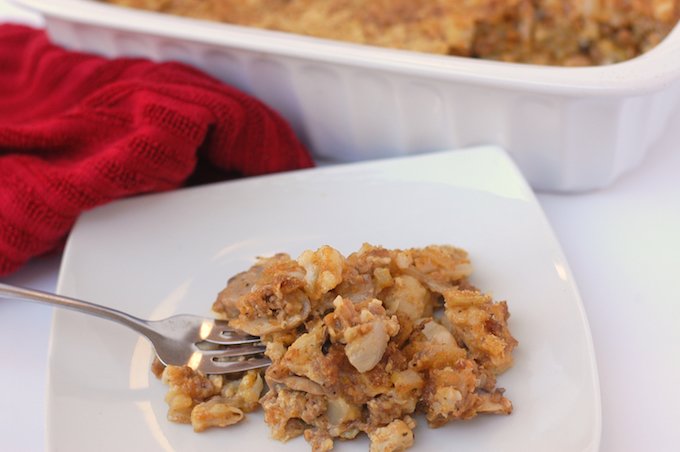 "Grasses and grains like wheat are a great food source for goats, cows, and the like," he says. "But humans have a different digestive process and different nutritional needs. Grasses are not only responsible for unwanted weight gain, but also more serious conditions, including Crohn's disease and other autoimmune and inflammatory conditions. We just weren't meant to eat them."
That doesn't mean you have to do without your favorite foods during the holidays. Just make them differently, and you'll reap the benefits of less bloating after those big meals. This wheat-free cauliflower mushroom dressing is a great example.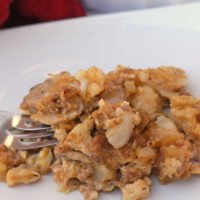 Ingredients
1

ounce

dried porcini mushrooms

1

pound

loose ground pork sausage

3

tablespoons

olive oil

divided

2

stalks celery

chopped

1

medium onion

diced

1

head cauliflower

1

green pepper

chopped

4-

ounce

can/jar roasted red peppers

8

ounces

Portabella mushrooms

sliced

2

tablespoons

ground golden flaxseed

1

teaspoon

onion powder

1

teaspoon

ground sage

1

teaspoon

ground thyme

1

teaspoon

ground tarragon

Sea salt and freshly ground black pepper
Instructions
Preheat oven to 350° F & bring 12 ounces water to a boil in sauce pan.

Toss in porcini mushrooms and turn heat down to maintain below boiling. Stir every couple of minutes for 20 minutes.

In deep sauce pan, sauté sausage in 1 tablespoon olive oil, along with celery and onions, until sausage is cooked.

Drain excess oil.

Place saucepan back on low heat.

Break cauliflower into small florets and add to sausage mix.

Toss in drained porcini mushrooms along with approximately 4 ounces of the porcini broth, remainder of olive oil, green pepper, roasted red peppers, Portabella mushrooms and flaxseed.

Add onion powder, sage, thyme, tarragon, salt and black pepper and stir.

Transfer to baking dish and place in oven & bake for 45 minutes.