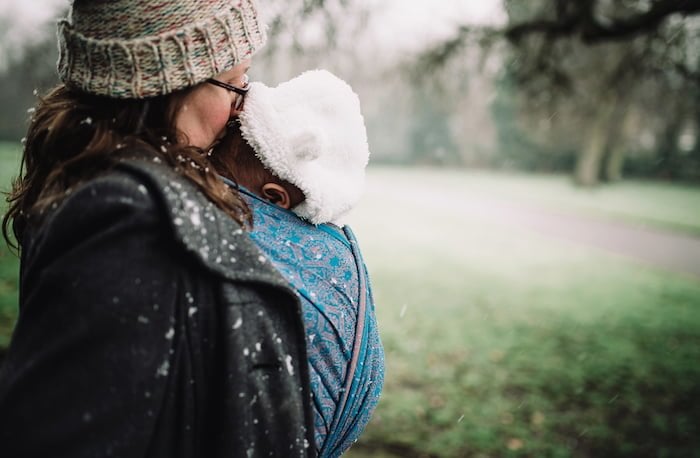 Sometimes it's tough being the first one in the neighborhood trying a new thing. While babywearing is far from new, its journey into the mainstream consciousness has been a slow one. Back in 1972, Erika Hoffmann knew this exact feeling.
At a time when it was practically unheard of for children to sleep with their parents or even breastfeed, the creator of DIDYMOS wraps looked at raising her twins, Tina and Lisa, tried something that many women worldwide had done for centuries – tying the crying baby to her body to both soothe and get her own housework done.
The D

I

DYMOS Story
"Before then I had been fascinated by reports from distant countries where women pursued their daily work in a most uncomplicated way while intimately attached to their children," Hoffmann explained. "I owned a carrying shawl from Central America; but it seemed too exotic at first and that is why I had hidden it in the chest of drawers."
"But now the time had come. I tried for a while until I found the right method and walked through our village where we had moved a few weeks before the birth of our twins. Very soon we were the talk of the village and not all the comments were positive. But the twins convinced me. They started smiling as soon as they saw the cloth, and I also enjoyed the physical contact, once with Lisa, then with Tina, just like a prolonged pregnancy."
Babywearing had other advantages for Erika, as well. Her work no longer needed to be squeezed into quick moments when the girls were asleep. She could now manage the household again. And, she found herself becoming more relaxed knowing that the little ones received as much warmth and physical contact as their brother and sister had when they were babies and were carried them around on her arm.
But, all that talk around the village didn't go unnoticed. Hoffmann thinks that the carrying cloth would probably have become a nice memento of the twins' early years, but when the Heilbronner Stimme and Stern magazine published articles about them, parents all over Germany wanted carrying cloths. "And I only had one myself…" Hoffmann said.
It's with this personal experience and awareness that Hoffmann founded DIDYMOS. This is a company with heart that understands the needs and concerns of parents, offering quality products to help make childhood safe, secure, beautiful, and ultimately happier. Erika even developed the sizes that have become standard in the industry today.
Modern Babywearing
Many of today's babywearing parents who swear by DIDYMOS feel they are carrying on a legacy in using these gorgeous wraps. One customer had a glowing review. "Nothing beats a DIDYMOS wrap for quality, ethics, comfort, design and price. Great for beginners – a good price, easy to break in and not ludicrously narrow or wide. Suitable for all ages – even the thin pure cotton neither digs or sags. The hemming, the accompanying literature, the packaging is all quality." You can't really ask for better when it comes to wrapping your baby!
DIDYMOS now offers a slew of products, from clothes for children to babywearing jackets for adults to toys and more, but ultimately their wraps and slings are their main priority.
So, what are some favorite DIDYMOS styles?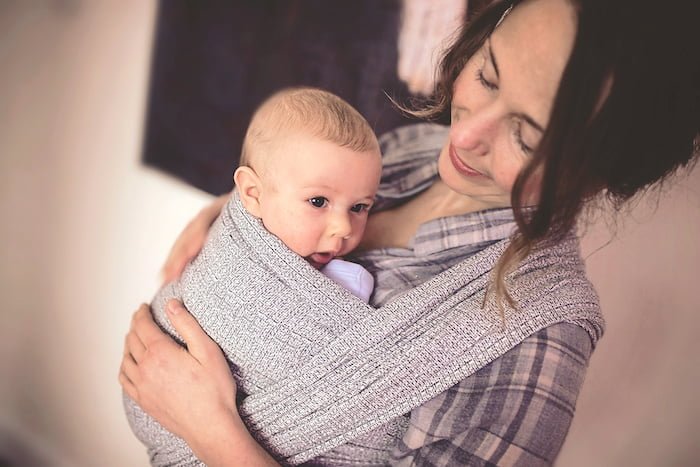 For an amazing everyday style, check out the DIDYMOS Jacquard Sling in Salt and Pepper. The color and gentle pattern lends for a neutral choice, and the 100% organic cotton yarns provide a slightly grippy nature. A medium weight fabric is soft, yet solid and supportive enough to tie into a comfortable and safe place for a newborn or heavier child.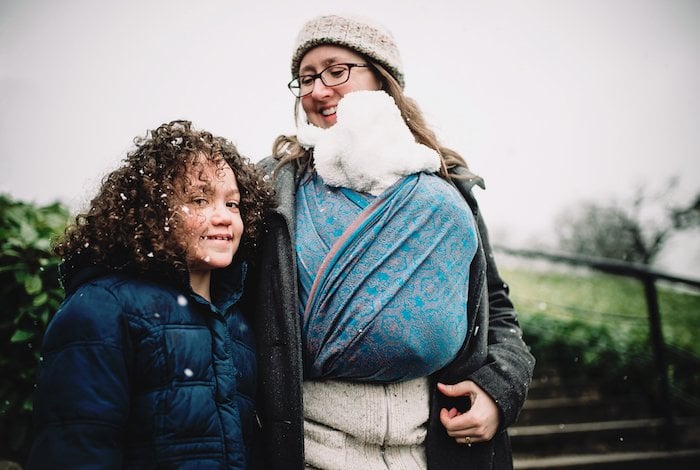 Named for the baroque styles omnipresent at the hometown of DIDYMOS, limited edition Ludwig is downright sumptuous. An aqua colored cotton wrap artfully interweaves with cinnamon yarns to create a rich pattern that combines harmony and baroque exuberance. This is a lightweight wrap that is soft yet grippy and features a diagonal stretch that is characteristic for all DIDYMOS wraps.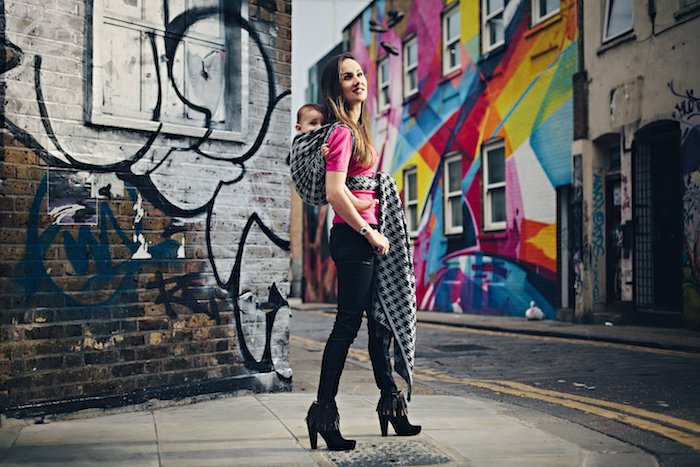 If you prefer a more structured, geometric pattern, you may love the Jacquard Anthracite Houndstooth Pattern wrap. Jacquard is all above the weave, meaning that the patterns are woven into the fabric, not printed on it. The patterns are the same on both sides, with the black and ecru colors reversed. This fabric is particularly tear-proof with optimal stretch. A super fashionable, practical choice.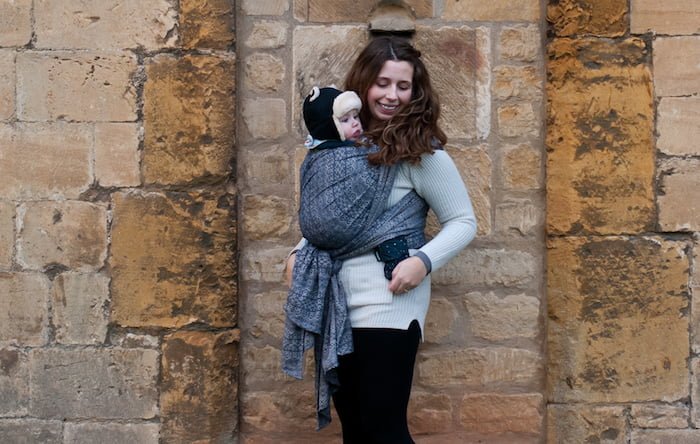 A last fan favorite is the Didymos Jacquard Extra Wide Ada sling. Experimenting with traditional weaving knowledge and techniques to create new, unusual designs and fabric blends is a passion at DIDYMOS. This Ada model does this beautifully, creating a soft and slightly fluffy piece that's still moldable and textured for grip, this dark blue and natural-colored blend is a gorgeous sling that you'll want to use every single day.
DIDYMOS is a company that allows us to feel like we're a part of the babywearing tradition that they helped to mainstream. One that takes pride in its organic, locally-woven products, knowing that parents put a lot of trust into their choice for a baby wrap.
DIDYMOS knows. Its founder was just that kind of parent 45 years ago.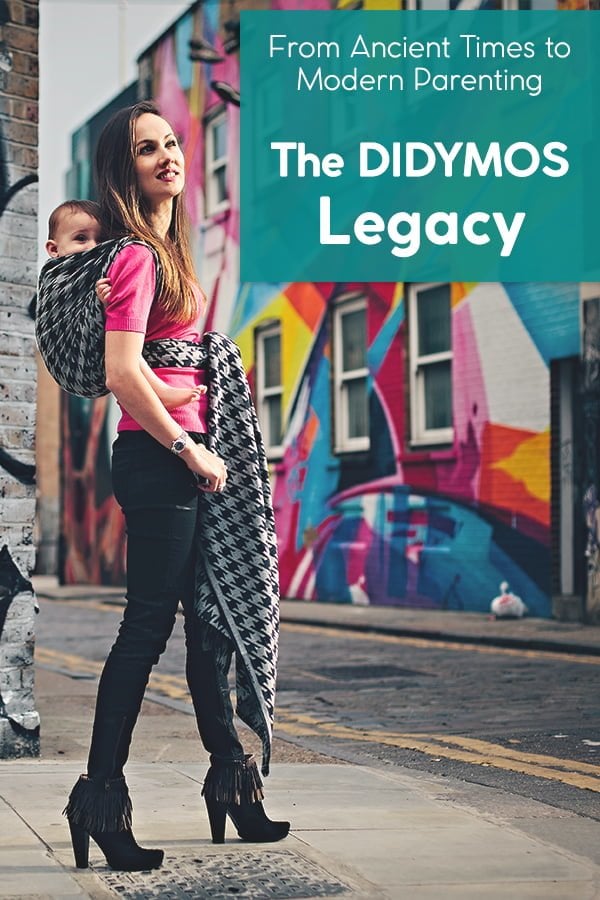 *This article was part of a collaboration with our advertising partner, DIDYMOS.
Save

Megan McCoy Dellecese is a school librarian and writer, as well as a loving wife and mother. She enjoys blogging about living an imperfectly simple, green life with her family at 
Meg, Acting Out
 and hopes to publish her first children's book this year.

Latest posts by Megan McCoy Dellecese (see all)