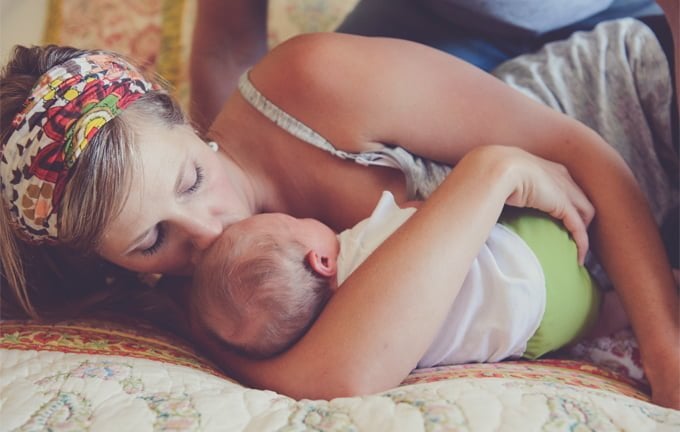 When we talk about bringing baby home in America these days, it's often discussed in a glossy magazine format. We need to have the Pinterest-perfect nursery ready (even if baby will be staying in mom and dad's room). The baby must be enrobed in the most adorable, organic, unique layette. We allow every person who's chomping at the bit to meet baby to descend upon us. We're often so wrapped up in the excitement, we forget the more realistic side of childbirth.
While there's nothing wrong with prepping for baby in these ways, you might take a deep breath and consider taking part in a modern "lying-in," if the option is available to you (and hopefully it is).
What is a lying-in?
A lying-in, or babymoon, is the period of time after childbirth that allows the mother the time to heal and bond with her new, beautiful little soul. Once upon a time, a lying-in was quite common and is still routine in many less hurried cultures throughout the world.
A lying-in isn't meant as a luxury or an excuse for not "bouncing back" quickly after baby's arrival. Many of the traditional rituals actually have a solid basis in science. Bear Mama Medicine's article on tips for postpartum healing and resting (even if you have other children), includes research and remedies for a beautiful babymoon and details the benefits for both child and mother superbly.
Is a lying-in possible in the modern world?
We think so, as does Melinda Olson, founder, nurse, herbalist and Head Mama of the popular all-natural brand, Earth Mama Angel Baby.
Earth Mama Angel Baby is an industry leader in safe, natural and organic herbal products for pregnancy, postpartum, breastfeeding, baby care and even baby loss. Since 2002, Earth Mama Angel Baby has been supporting mamas and babies through the entire miraculous birth process, offering nature's perfect solutions to perfectly natural pregnancy discomforts. As owner, Olson continually balances her trust and care of traditional herb wisdom with evidence-based research.
In order to strike the balance between a 21st century life and generations-long traditions of a lying-in, Earth Mama encourages a modern lying-in; one where we acknowledge the realities and expectations of a modern mama with the realities of a healing body and the expectations of a brand new baby.
"Bringing baby home means more than just an adorable onesie and a perfectly accessorized nursery," says Olson. "It means taking care of the mama that made the miracle, and healing her body and soul while she gets to know every crease, dimple, and the sweet scent of her brand new baby."
Melinda offers simple yet effective tips for those opting to adapt a modern lying-in to their lifestyle and needs.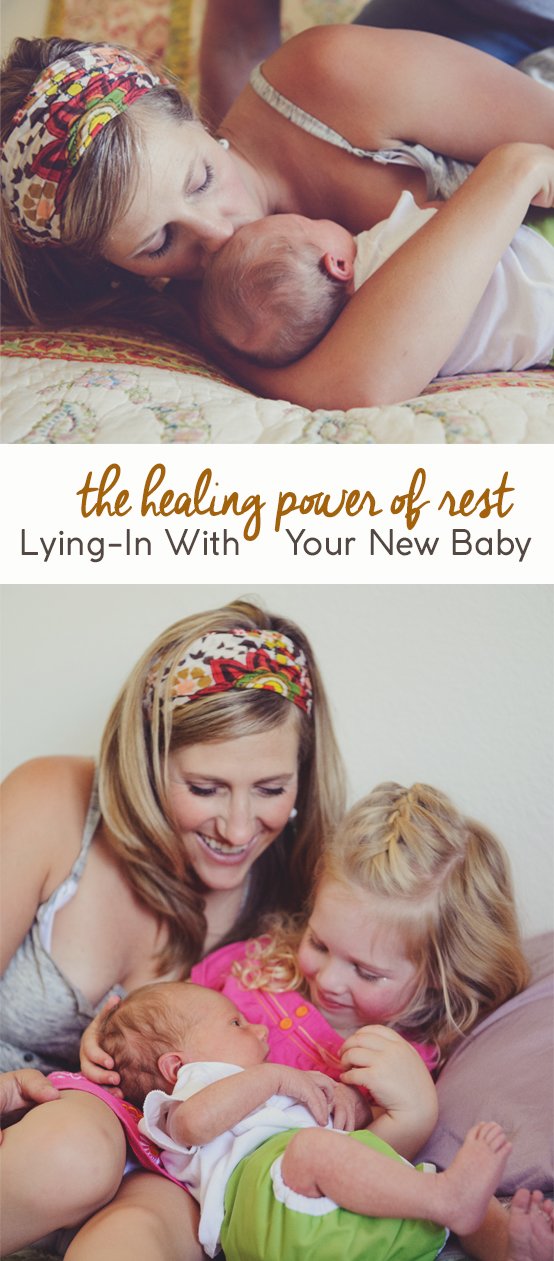 Stay in bed. This is your time to heal. Allow yourself to reset your assumptions that you must be the same active person you were before baby's arrival. There will be plenty of time for that later. Listen to your body's cues in case you may be trying to do too much.
Eat nourishing food and warm drinks. Freezing meals in advance, taking advantage of a slow cooker and accepting offers of home-cooked meals will help keep you (and the rest of your family) well nourished. A bedside Thermos is also a godsend to avoid constant reheating of teas and infusions.
Ignore the dishes, stare at the baby instead. It may be difficult, but letting the dishes and laundry pile up shouldn't concern you. Your #1 priority is your baby, and not just the onslaught of diaper changes. The more you snuggle and look at your little one, the deeper your bond will grow. Remember that you're both getting to know each other. Nine months is a long time to wait to "meet" one another, so enjoy it!
Give yourself permission to be waited on. Since, traditionally, a lying-in involves someone "mothering the mother," take your significant other up on offers to fulfill your needs. And if you know and trust a relative or two to help out, take them up on their offers, too. (But feel free to decline anyone who will place stress on you or the baby.)
Fall in love with your baby. All over again. Every time you'll look at the baby, it seems surreal and glorious and literally just like falling in love. This happens numerous times a day. Embrace it and enjoy it!
There are plenty of wonderful essentials to help you have a comforting and calm recuperation so you can establish a bond with your baby while you heal your body! No matter what your birth experience, Earth Mama has the right safe, toxin-free postpartum healing product to help repair, restore and soothe while you get down to the business of connecting with your baby.
Postpartum Bath Herbs can be used cold after birth to help with inflammation and swelling or later warm (or in a sitz bath) to provide continued soothing relief and increase healing circulation. Offered in easy to use sachets, use the resulting extra liquid in your peri bottle.
For a spritz of relief particularly welcome for those first bathroom trips, New Mama Spray Bottom's got your back…side. And with an inverted sprayer, it's super easy to spray upside down. Paired with Mama Bottom Balm, which offers lasting relief, you'll be all set to handle issues like vaginal soreness and swelling, hemorrhoids and episiotomies.
Organic Monthly Comfort Tea is formulated to jump start recovery immediately after childbirth, and help balance and calm postpartum and premenstrual ups and downs. Sipping a cup within an hour after birth will help jump start your recovery.
Our amazing bodies are naturally designed to close wounds, soothe inflammations and rashes, staunch bleeding, resist infection and fade scars. Yet sometimes even nature's perfection needs a helping hand! Enter C-Mama Healing Salve, which is formulated especially for cesarean section and other surgical wounds, old c-section scars and stretch markers, and inflamed rashes and burns.
Be sure to take care of the body that made the miracle while you bond with your brand new baby. This is your time to heal, cuddle, and find out everything about this new person, so you can discover what being a mother means to you.
Photography courtesy of Erin Merrill of Thirsties, Inc.
*This article was part of a collaboration with our advertising partner, Earth Mama Angel Baby.

Since 2010, Green Child has published a digital magazine devoted to natural parenting and conscious living. Hailed as "good for a green mama's soul," Green Child has grown into a resource valued by parents who care about bringing simplicity, compassion, social responsibility, and instinctual intelligence back to parenting.

Latest posts by Green Child Magazine (see all)