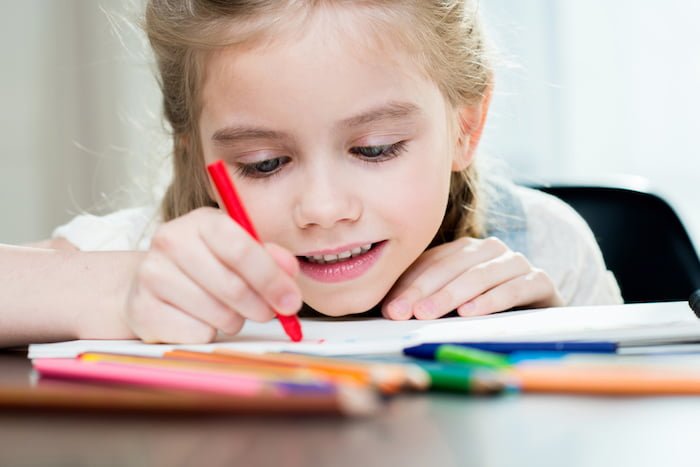 It's no secret that public schools are lacking time, resources, and efficiency. Naturally, homeschooling seems like a perfect solution. Then you start homeschooling, and you're suddenly daydreaming of sending the kids back to public school while drowning in lesson plans and homework.
Being a rockstar teacher-parent and delivering outstanding education isn't as simple as we'd like to think. But there are ways to simplify it.
Create Accountability with Your Homeschooling Routine
In order for anyone to be successful in anything, they need to have accountability. This is true when it comes to our children as students, but it's even more important for us as their educators. If we're slacking as teachers, our children's knowledge will be slacking right along with it.
One way to promote accountability is to create a school-only environment. Getting rid of toys and Instagram can do wonders for minimizing distractions. Next, connect with local and online homeschooling groups. These groups give us people to answer to, but their huge plus is in the support they offer. You can chat online or meet local peeps and find out what is (or isn't) working for fellow homeschoolers.
If we want digital accountability, we can step up our homeschool game with tools like the Lifetopix app. This app keeps homeschooling running smoothly with its checklists, notes, calendar, folder, audio recordings, and daily agenda list. Education just happens to be one of the twelve topics Lifetopix is designed for, but it's just as great for managing travel plans, website bookmarks, and shopping lists. It's also compatible with fellow web tools Evernote, Asana, Toodledo, and Dropbox. And if you don't already know about the Homeschool Helper app, you should know it's worth all five dollars. While there are some great apps out there, we shouldn't abandon the good old paper and pen. There's serious brain benefits in writing things by hand.
Schedule Your Homeschooling Days
Teachers at public schools are working overtime planning, prepping, and teaching their lessons. Our homeschool classrooms may not boast the same number of students, but a quality homeschool education takes this same kind of commitment. Things go smoother and more quickly as we get the kids into a routine, but we should never let ourselves think that we can squeak by as educators. We've got to put in the time (and if doing that isn't realistic right now, then K-12 online schooling is a great alternative).
Luckily, we can also save ourselves TONS of time with apps like Pocket and Instapaper. Both of these apps allows for you to bookmark sites and articles by phone or computer, which are then saved to your account. There's also Evernote. This free and fabulous tool is amazing for creating task lists, drafting lesson plans, storing student portfolios, and creating massive compilations of tools, resources, and lessons which are beautifully categorized and e-filed as "notebooks." Other huge Evernote perks include tagging, picture saving, and searching (which even works for pictures of receipts and business cards). This kind of simplicity and ease-of-use equals MAJOR time savings.
Differentiate Instruction and Maintain Variety
Public school has failed a lot of kids because its "one size fits all" approach to learning absolutely does not fit all. But even though this is a huge motivator behind homeschooling, we're apt to forget this when we're stressed, or our homeschooler is low on engagement. Step one to avoiding this is to find out what our child's ideal style of learning is (take a Learning Styles Quiz if you don't already know). Step two is to determine ways you can cater to this learning style — while piquing their interests and mental engagement.
Of course, needs can change for one child by day or school subject, so step three is to come up with multiple teaching methods that you can use. Test them out and see where they work, how they work, and why they work. For help finding strategies and tools, check out educational YouTube channels (for visual learning), hands-on activities (for tactile-inspired lessons), auditory exercises (great for kids who learn and test best thinking out loud), and kinesthetic strategies (for learning through movement).
Tailor Homeschooling to Fit Your Family's Needs
Friends and family can have pretty heavy ideas of what's "right" and "wrong" with parenting. Homeschool makes these pressures even more intense. But at the end of the day, we need an educational approach that actually works. The best approach will be different among children. In fact, we'll have a hard time finding an approach for a single child that can work for all school subjects. This is where we have to figure out how our children's minds work and come up with creative solutions to cater to them. Online tutorials, YouTube videos, pictures, stories, schooling apps, educational web forums are just some of the many ways to do this. Heck, even gamification has a place in education when done effectively. What matters is that we use methods that educate our children in the best ways possible.
Prepare Kids for the Real World
One of the biggest motivators behind homeschooling is to spare our children the craziness and troubles of the modern world. While this has serious advantages with building smarts and values, it can also be detrimental. As much as we may want to keep our kids outside of the modern hustle and bustle, we will be limiting our children's potential if we teach with this hope in mind. Our children may grow up and want to be biologists, magazine columnists, or entrepreneurs. All of these interests require socializing, further education, collaboration, and other crucial life skills. If our children's success is indeed our top priority, then we need to make sure we equip them with the know-how for the situations they may encounter as adults. If they don't learn these from us now, they may have to learn the hard way later.
Know What Drives Your Students
Core subjects are an important part of educating children for adult life in the modern world, but a passion-based education is just as important. They say that you'll never work a day in your life when you're doing what you love, and the modern world makes it possible for virtually anyone to become an entrepreneur. Let's open up the doors of possibilities by tweaking our teaching with children's inherent skills and passions in mind. Take outdoor-lovin' kids as an example. Outdoor learning activities, patio study sessions, nature-inspired learning aids, and exposure to careers in nature could be used to trigger their engagement, spark their creativity, and show them a world of opportunities.
Two other gargantuan factors behind drive are skill and developmental ability. Teaching with these in mind not only makes our children's education more likely to stick, but it will also save us frustration and time. Get familiar with tips and strategies for teaching by skill and age. And while you're making adjustments in your lesson plans, don't forget to schedule recess and lunches. It's now a scientifically-confirmed fact that diet and exercise are crucial to health and performance. Drive takes health and energy. Period.
What are your greatest tips or struggles with homeschooling?

Ash Stevens is a writer, mother, and wannabe shaman. When she isn't being serious writing or talking family and relationships on her blog, she's listening to stand-up comedy and soaking up some sunshine.

Latest posts by Ash Stevens (see all)