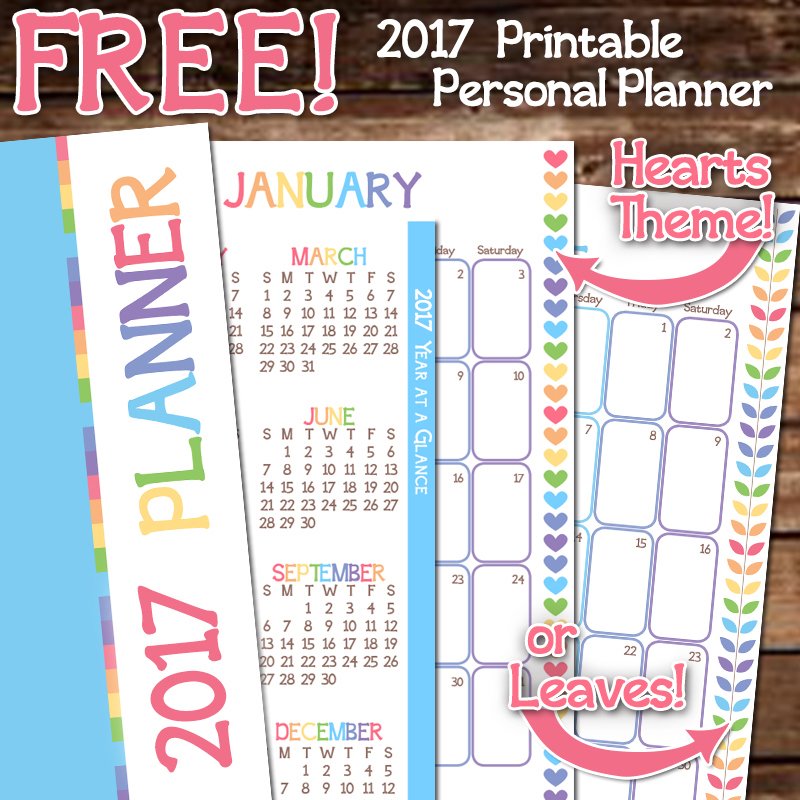 We are all about simplifying and streamlining! And try as we may to rely solely on our smart phone calendars, there's just something about a paper planner that helps keep life running smoothly.
While you won't find much printing going on here at Green Child Magazine – we're a fully digital magazine, after all – you will find that we make an exception when it comes to staying organized. Of course, we recommend recycled paper for printing the planner you choose from our two styles.
And the beauty of this format is that you can print only the pages you need and keep them in a binder you can use year after year.
Over the past few years, this customizable tool – which started with our Weekly Meal Planner Printable and matching Pantry Staples List – has grown into 80+ pages has become a standby for our readers. And it's all for free, to thank YOU for being a Green Child Magazine reader and supporter.
This yearly pla

nn

er contains the basics (plus a bit extra):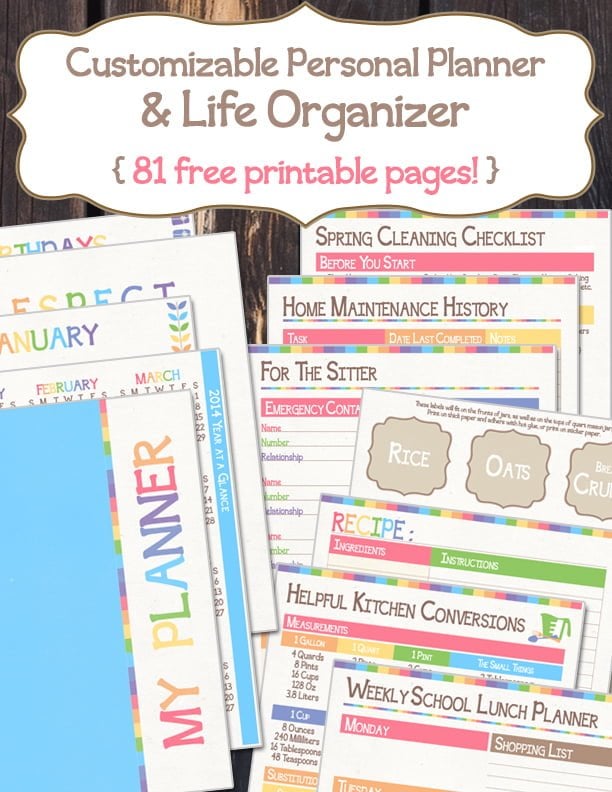 A Cover (with space to paste a photo, inspiring quote, or anything that helps you feel organized)
2017 Year at a Glance Calendar
Monthly Calendars (with just enough space to write down important events)
Weekly To-Do Pages
Weekly Activity Sheet
Notes Pages
Notes Sheets (for using on your desk, counter, or for pinning to the fridge)
Journal Pages (print as many as you need)
Blog / Journal Topics (Weekly sheets to help you track your ideas)
Blog / Journal Topics (2 weeks per page)
Inspirational Graphics & Quotes (additional quotes have been added to the end of the planner for this year)
Blank Monthly Calendars (with no dates, so you can keep this file for future use)
2018 Year at a Glance Calendar (to give you a jump start on your planning for next year!)
We've also included a whole section of Home Organization Sheets & Quick-Reference Pages: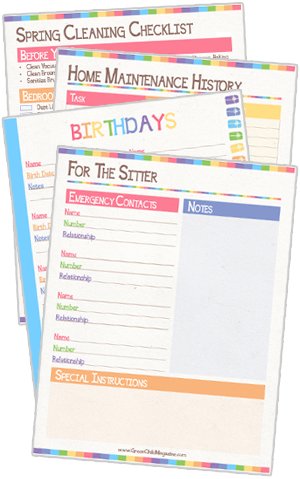 For the Sitter
For Childcare Provider
Birthdays
Contacts
Monthly Budget
Holiday Budget
Home Maintenance History
House Paint Colors
Vehicle Maintenance
Medical History
Spring Cleaning Checklist
Cleaning & Chore Checklists (blank – fill in)
Finally, we know how daunting grocery shopping and meal planning can be without an action plan.
We expanded on our weekly meal planning sheets by creating this Meal Planning & Pantry Organization set that includes: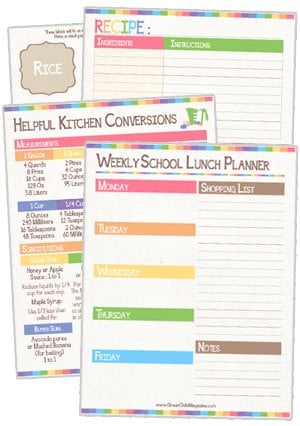 Weekly Meal Planners (Choose Sunday or Monday Start-Week)
Weekly Lunch Planners
Pantry Staples
Helpful Kitchen Conversions
Shopping List Sheets (half-page, meant for using outside of the binder)
Labels for Pantry Storage / Mason jars
Recipe Sheet (2 per page)
This planner can be easily printed at home, or through a service for high quality prints. We recommend using:
Did we mention that it comes in two design options? Choose 'Leaves' or 'Hearts'!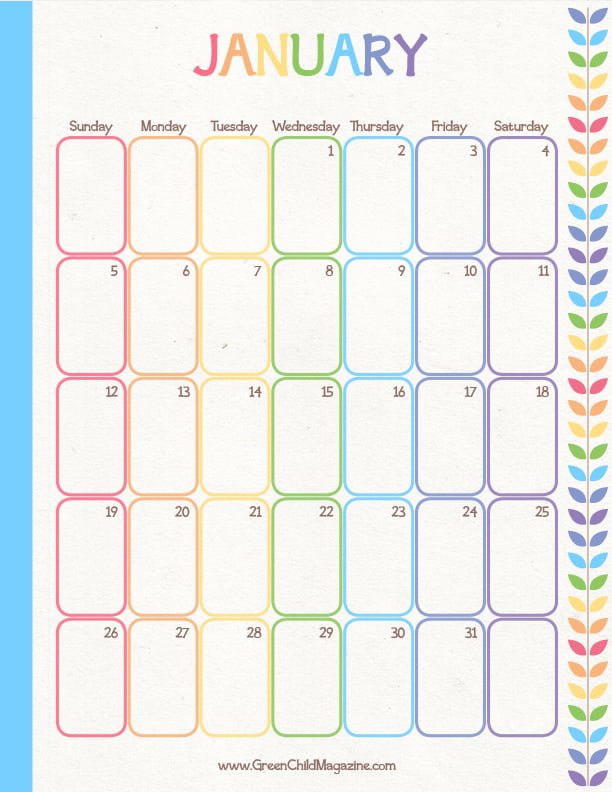 < or >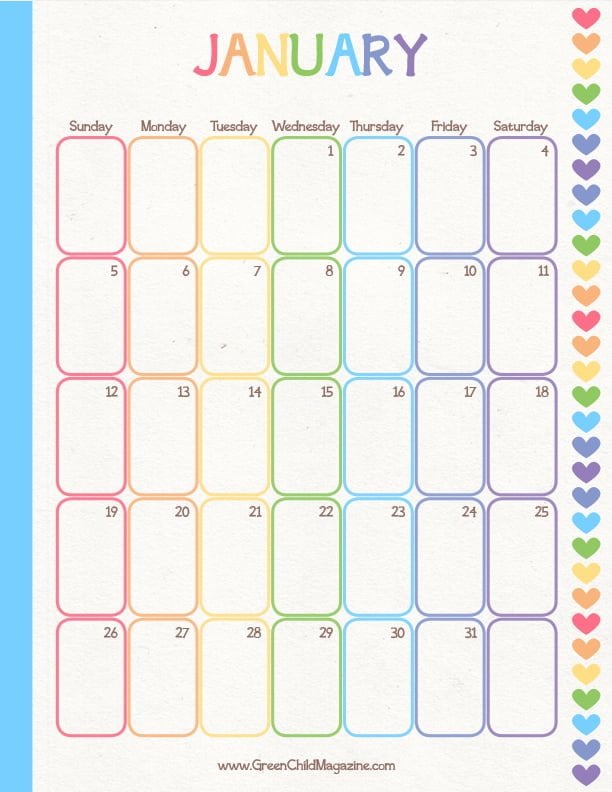 To thank you for being a reader, we're happy to offer you our printable personal planner, absolutely free. That's 80+ pages of mix & match goodness.
Get the planner via the sign up form below!
After confirming, you'll receive an email with download links. This also subscribes you to Green Child's newsletter (you'll hear from us a couple times a month!)

Save
Save
Save
Save
Amanda may be best known as the voice behind the
Eco-Friendly Family
blog, where she's been writing since 2009, about topics like parenting, cloth diapers, non-toxic menstrual products, chemical safety, & healthy living. She also has a passion for digital design and is delighted to work in an industry that is doing wonderful things for the communities and causes she cares about. Her three children inspire her passion to be involved in the movement towards intuitive living, and all that it encompasses.
Latest posts by Amanda Hearn (see all)