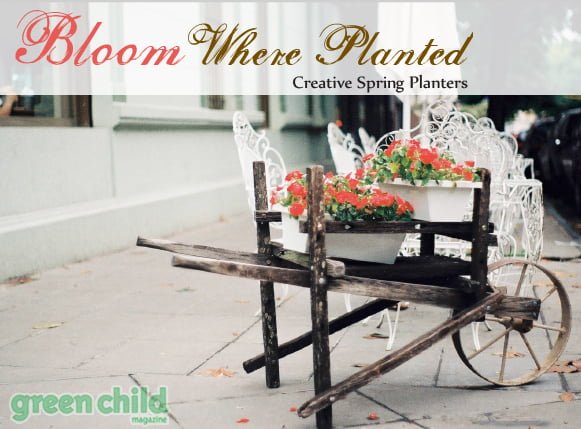 Bring out your gardening gloves… spring is just around the corner! This season is the perfect time for unconventional gardening, growing, and greenery. These unique growing methods and creative spring planters will make your home or garden something truly extraordinary.
Use kitchen containers and dishes for a delicious display.
Teapots & teacups are great for succulents & small flowers.
Colanders are perfect for hanging & growing flowers or lettuce.
Lunch boxes are fun, portable, & great for green gifts.
Recycle broken crockery to grow new life.
Old furniture and fixtures create a focal pieces that grab attention.
Remove the seats from chairs or sofas for flower beds.
Sinks and bathtubs can house flowers or salad gardens.
Go further & use old cars, bicycles, & wagons.
Recycled items are good for your garden and the environment.
Cans, containers, & jars are perfect for starting seeds & small plants.
Milk jugs are great for hanging plants like tomatoes.
Soda bottles display plants indoors with flair.
Go natural.
Egg shells are often wasted, but can be used as seed starters & tiny vases.
Grow directly inside pumpkins! Just add soil & water to grow a new crop.
Citrus peels are natural pots that keep your home smelling fresh.
Whether it's old or new, unusual items are appearing in gardens more and more. Find what speaks to you and create a garden that is truly one-of-a-kind!
Author Annabelle Absar is a Belmont University senior who writes for Family Focus Blog, a blog on parenting, eco tips and giveaways.

Latest posts by Green Child Magazine
(see all)