How to Host an Eco Friendly Baby Shower
We never get tired of finding ways to make parties greener. An eco-friendly baby shower is no exception. There are so many ways – both new and old – to create a natural, healthy baby shower that helps the mother-to-be without harming Mother Earth.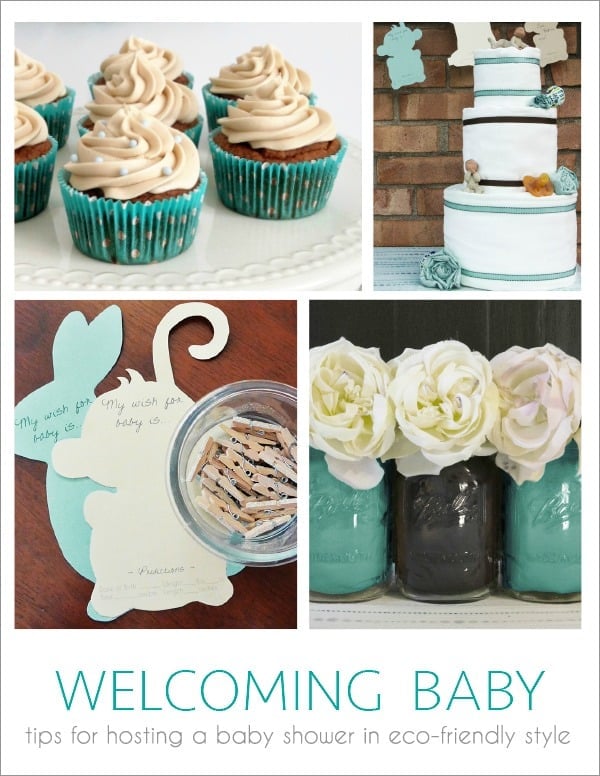 If there's ever a perfect time to host an eco-friendly celebration, it's for the arrival of a new baby. A newborn reminds us of new beginnings and the miracle of nature.
Gather Guests with Eco-Friendly Baby Shower Invitations
Conventional paper invitations are typically made of virgin paper fibers (think clear-cut forests) that are processed using chlorine bleach (creating cancer-inducing carcinogenic dioxins) and printed with petroleum-based dyes. New greener invitations are stylish and fun:
Rather than printed invitations, use electronic ones. There are tons of free and fun online e-invite sites. These include features like RSVP tracking, allowing guests to tell you what food they're bringing, and group collaboration for activities. Greener, cheaper, and they make your life easier!
If you choose to go with printed invitations, try non-tree paper options like those made from banana leaves or coconut fibers. Or look for FSC-certified paper and recycled content paper with a high (70% or more) post-consumer recycled content from brands with stylish, sustainable options like Minted.
Another option for paper invitations is to opt for those printed with soy or plant-based inks.
Hand-deliver your invitations to people you see often to save the transport emissions.
Sustainable Baby Shower Decorations
With classic reusable decor, your guests will love celebrating in eco style.
Choose real linens for your tables. Plastic tablecloths and paper plates are wasteful, and let's be honest – most of them look cheap. There's nothing like bringing nature indoors to spruce up a party space. Fill empty corners and tables with live plants. Potted plants make great centerpieces, and small trees make a great backdrop for photos of the proud mother-to-be at her eco-friendly baby shower.
Here are some green ways to add fun and festivity without excess waste or toxins. You can purchase some of these items, or use them as inspiration to make from things you already have on hand.
A fun garland-style guestbook makes a lovely keepsake (see the directions below!)

DIY Eco-Friendly Keepsake Garland
What better way to share the anticipation of a new little one than to have your baby shower guests write a keepsake for the Mother-to-Be! These well-wishing cards add to the theme of the party, and they'll be something Mom will treasure for a lifetime.
Materials:
Instructions:
Print this template file (Diaper, Bunny, and Monkey are included) on quality card stock.
Cut out shapes and gather any additional supplies – pins, writing utensils, ribbon, etc.
Optional: Tiny glittery clothespins are a bit pricey, but their plain counterparts are not. With a little biodegradable or edible glitter and glue, you can make a bundle of your own for a fraction of the cost. Paint one side with craft glue and dip into glitter, then let dry.
On the day of the shower place the cards on a table or in a decorative box for guests. Use a small container or mason jar to hold the pins and place them next to the cards – along with pens or pencils.
Securely hang a line or two of ribbon for your guests to hang their well wishes and predictions.
Save the cards for mom to put in baby's keepsake box.
Eco-Friendly Baby Shower Food & Drinks
What's a baby shower without great food? Make your treats and beverages something they'll remember by choosing healthy, greener options for your baby shower menu.
Serve foods made with organic and fair trade ingredients – this includes everything from chocolate to fruit, nuts to flour, sugar to coffee and tea.
Shop at your local farmer's market to purchase food that was grown and produced in your own community.
Look for drinks made with organic ingredients and natural sweeteners.
Avoid using disposable dishes and cups for serving the food. Not only are these expensive, they're incredibly wasteful. Real dishes make a lovely table, and generally only amount to one load in the dishwasher.
Compost any leftover food or paper waste from the party to close the loop on the green menu.
These paleo cupcakes are a sweet treat that your guests can feel better about!

Make it!
Completely paleo-friendly and perfect for a baby shower — or just because! These cupcakes are moist, coconutty, and have a lovely texture. This recipe makes a dozen cupcakes, so be sure to adjust based on your guest list.
A #846 piping tip is suggested to give height and sophistication to the cupcakes. Add a touch of fun with natural sprinkles or embellishments from India Tree.
Cupcake Ingredients & Directions
Preheat oven to 350°F. Line pan for a dozen cupcakes.
Mix together all ingredients until evenly mixed.
Scoop equal amounts batter into a tin with paper cupcake linings.
Bake for 25-30 minutes, or until the tops are firm to the touch.
Remove and let cool completely before icing.
Icing Ingredients & Directions
16 oz bag of organic fair trade icing sugar (or 4 cups)
1/2 cup grass fed butter, salted
Reconstituted powdered coconut milk
A dash or two of flavoring (vanilla or hazelnut compliment this cupcake)
Start with 1/2 a cup of soft butter. Use a paddle and cream the butter to get it smooth.
To prevent lumps, put sugar through a metal sieve before adding. Add a half cup at a time until you have added 2-3 cups, add a dash of milk and 1-2 teaspoons of flavoring depending on taste.
If it tastes too "buttery," add another half cup of icing sugar and taste again.
Green Baby Shower Gift Ideas
A new baby needs a lot less stuff than the commercials tell us. Not all new moms are willing, but be sure to share the benefits of choosing gently used items for baby. If only brand new will do, you can still help her create a useful, minimalist gift list by sharing some green baby shopping tips with her.
Take a look through our top eco-friendly baby gear picks here. And encourage guests to bring gifts unwrapped or in baskets to avoid unnecessary gift wrapping waste. Wrapping gifts in fabric gift bags is just one of many creative ways to wrap gifts sustainably.