Zonia's Rain Forest: An enchanting book for young nature lovers
Sometimes a book makes a much bigger impact than we realize. The enchanting story of Zonia's Rain Forest was a big hit with the Green Child kids, and it's a wonderful title to share with your aspiring nature lover.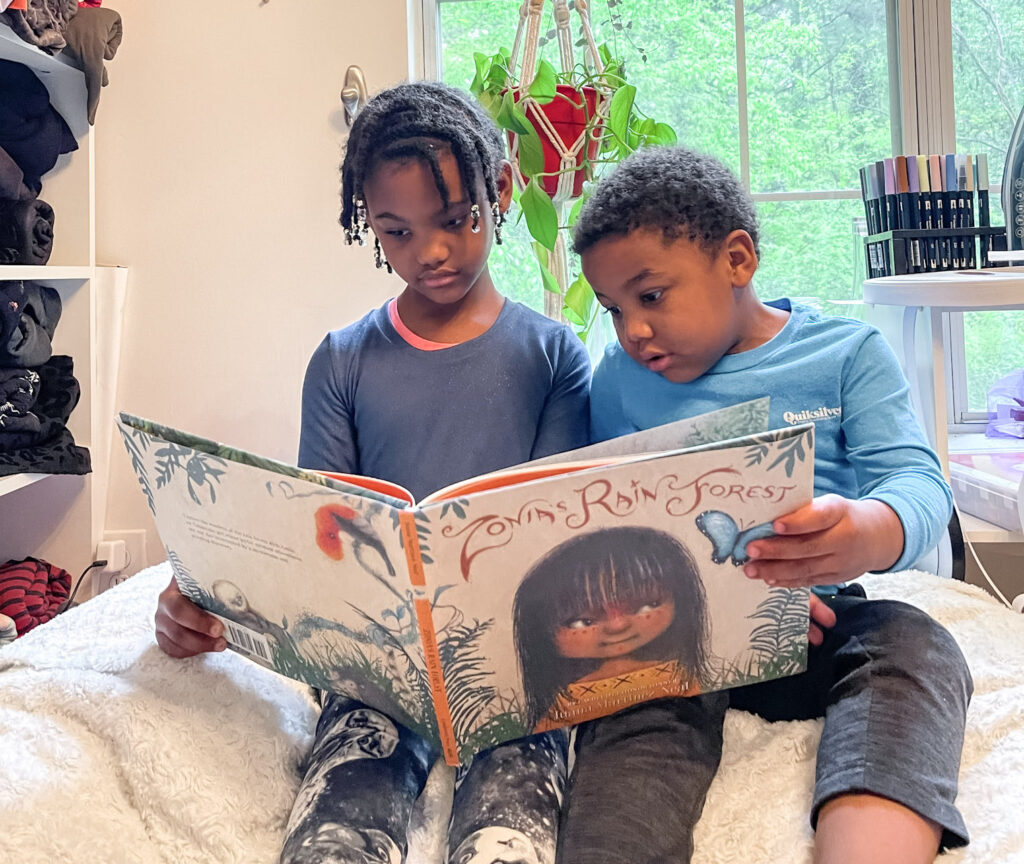 On the surface, this book by Peruvian born author-illustrator Juana Martinez-Neal is a charming glimpse into the life of a young girl who lives in the rain forest. But with its lush imagery, subtle call to Zonia to protect her resources, and fact section about the Asháninka people and threats to their home, this book goes much deeper without preaching or invoking fear.
About Zonia's Rain Forest
Your child will explore the wonders of the Amazon rain forest with Zonia, an Asháninka girl, in her joyful outdoor time spent being one with nature.
Every morning the rain forest calls to Zonia, and every morning she answers. She sees the world through the eyes of the animals that inhabit this enchanting space. Zonia shows no fear around these curious animals, and they seem completely at home in her presence.
She enjoys spending time with each animal, yet she doesn't name or label them. She visits the sloth family, greets the giant anteater, and runs with the speedy jaguar. If your child is curious and wants to identify all the animals, you'll find the illustrations and names (plus scientific names) near the back of the book. You can learn about the animals and then go back through the book to point them out together.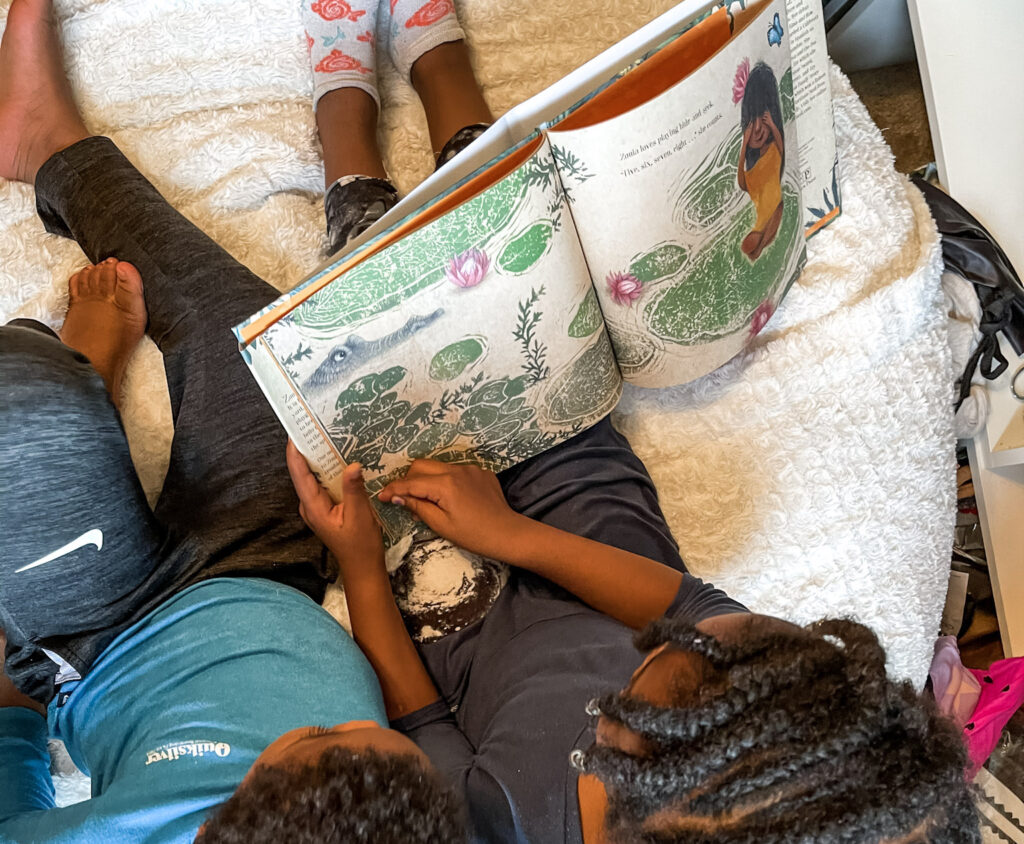 Zonia and her people live in harmony with their surroundings. The story of Zonia's Rain Forest offers the perspective that we must cherish and protect our natural surroundings. With the help of this book, you can effortlessly begin a conversation with your child about the role rain forests play in our overall environment. Your little one can begin to understand how trees help us and our planet breathe via the oxygen they produce.
We also love that Zonia's Rain Forest is an eco-friendly book. It was created on paper that was hand-made from banana bark. It's also a wonderful book to add to your mindful story time routine, because it is both inspiring and educational. It includes a translation of the story in Asháninka, information on the Asháninka community, and resources on the Amazon rain forest and its wildlife.
An educational and fun book for Earth Day
We can't think of a better book to add to your Earth Day reading list. We all want our children to grow up protecting nature, and the way to do that is to encourage them to fall in love with it. And getting outside is the perfect way to do that.
So, while upcycled or eco crafts are a fun idea, don't just sit inside and make them. Take this book, along with some Earth Day projects or a nature scavenger hunt outside where you can be a little messier and enjoy the fresh air and sunshine.
If you need more inspiration, check out this list of outside activities for Earth Day.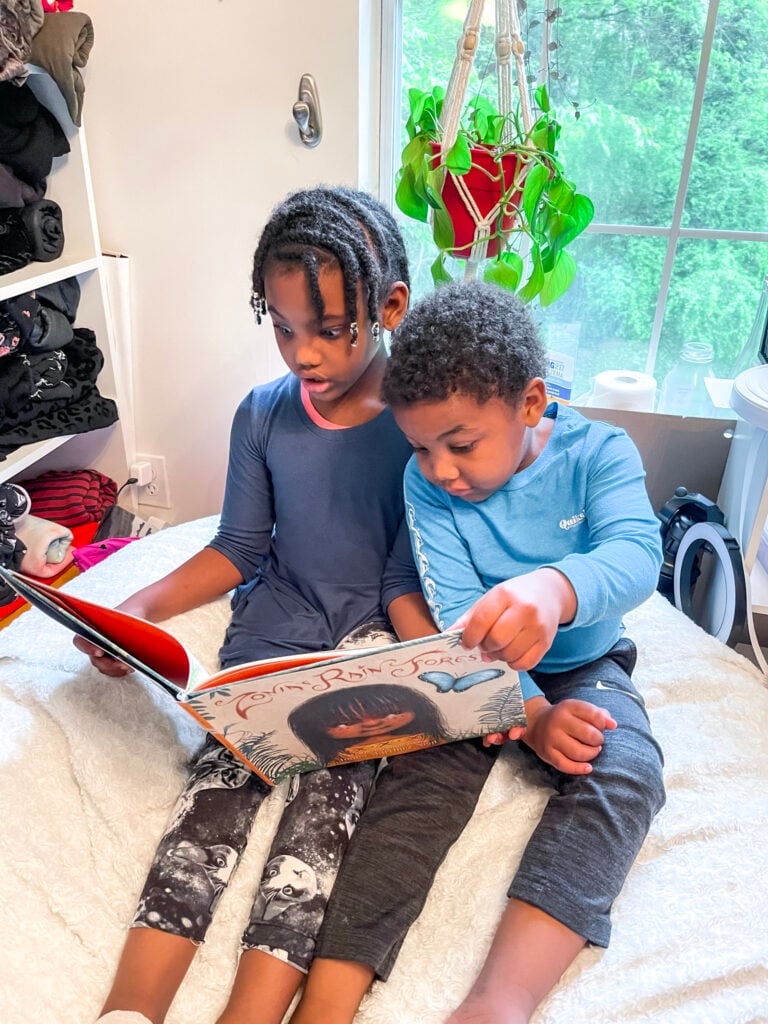 Story time is connection time
Even the most connected parents have experienced some mentally and physically checked-out times this past year. Reading with your child is a calming way to check back in to the present moment. It can be healing and rejuvenating to set aside worries, work, and everything else competing for your brain's attention.
In this book, Zonia embraces the present moment with excitement and vigor. You and your child will feel the spaciousness she feels in nature. It's infectious – and so is the author's interest and enthusiasm. Here, Juana Martinez-Neal shares the story behind Zonia's Rain Forest:
There are also some natural parenting references Green Child readers are sure to appreciate. Attachment Parenting is woven in as the mother breastfeeds Zonia's baby brother and wears him in a sling. And she meditates surrounded by butterflies near a family of tortoises, the book explains that Zonia "knows just who to visit when she wants to be quiet and still".
If you'd like to add this to your Earth Day book list, you can find Zonia's Rain Forest from Candlewick Press at their website, on Bookshop, Amazon, or your local bookstore.
This article is part of a collaboration with our advertising partner, Candlewick Press. All thoughts and opinions shared are strictly our own. Thank you for supporting the brands that make it possible for Green Child to share free natural parenting and healthy living content.