How to DIY Your Child's 1st Birthday Photoshoot
A milestone worth capturing, your baby is about to turn one! This is a special time for both a child and their parents. What's more fun than capturing the memory in an adorable 1st birthday photoshoot?
If you're on the fence about whether you should schedule a professional shoot or take your own photos, we're here to help give you the confidence boost you need to take on the task yourself.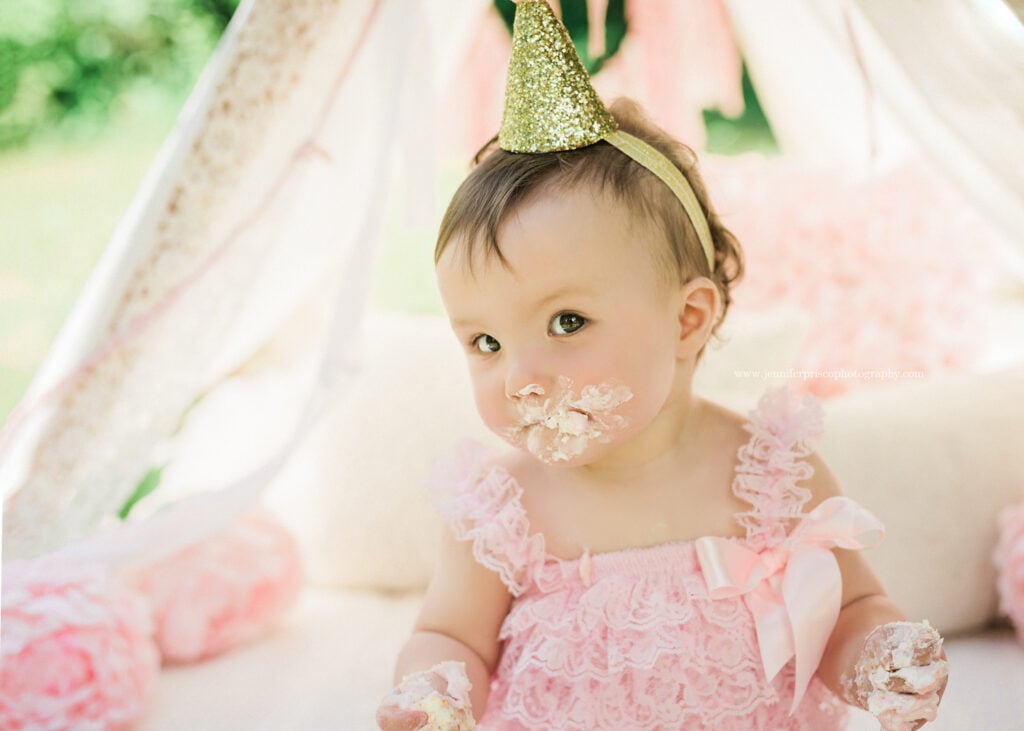 Image by Jennifer Prisco Photography | Boston Maternity Newborn + Family Photographer
The Benefits of a DIY Photoshoot
While the idea of a professional taking these milestone photos may seem like money well-spent, you may find that taking your own photos is really a better way to go. Here's why:
You save money if you setup and take your own photos. A professional shoot can cost anywhere from $300 to $1,500. Your own shoot should cost about $100 or less if you already have a good camera or smartphone.
You'll also get more time to take your photos… all the time you need in fact! Most photographers set a one hour limit (or less) on 1st birthday photos. If you set up at home, you can wait for your baby's best mood. You won't have to make the most of one hour. And you can start and stop as often as you or your baby want or need.
There's no limit on how many photos you take or end up using. Most professional photographers will make you choose 10 or fewer images from that whole hour of photography. If you take your own photos, you can take and use as many as you like. And you will have them forever. Some photographer's links expire over time.
The money you spend on props will be worthwhile. You can reuse things like cake stands, twinkle lights, and teddy bears for years to come. Your child will grow up with both the photos and the items you used, making the whole experience a bit more personal when compared to reusable props anyone can have in their photos.
1st Birthday Photoshoot Setup
You can have a photoshoot without too much fuss, but for best results you may want to consider stocking up on some essential equipment. The great thing is that you'll be able to use these items again and again.
1st Birthday Photoshoot Ideas
The key to a successful 1st birthday photoshoot is to pick a theme that you can execute. And you'll also want a theme that will encapsulate your little one's interests or personality at this special time in their life.
Get creative inspiration from professional photographers, Instagram hashtags, your friends photos, or Pinterest. Here are five 1st birthday photoshoot ideas to get your creativity sparked:
1. Color Forward
Whether you want to go all pink or full gold, choosing one color to act as your theme can be a simple and sweet way to go. Balloons are not eco-friendly, so we try to stay away from using them as props. But there are plenty of other decor options in your color of choice. Think: paper streamers in an ombre pattern, reusable table cloths, a few soft toys all within the same hue.
Get the details of this pink and gold tent photoshoot by Jennifer Prisco Photography. The way the baby's ruffles mimic the layers of peonies is precious.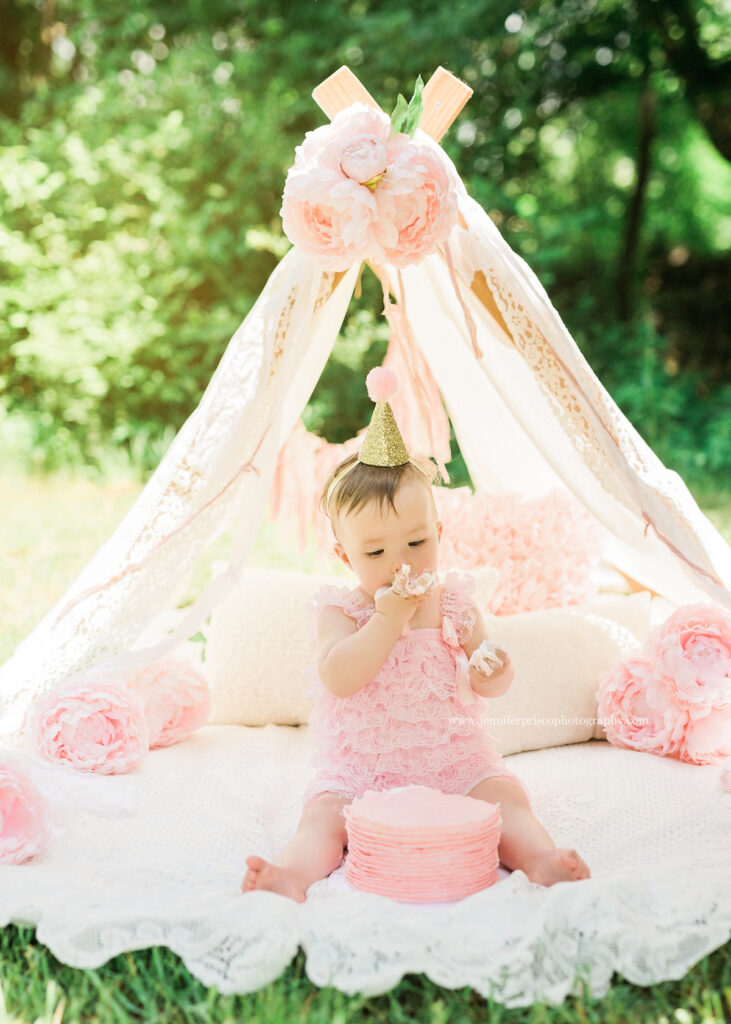 Image by Jennifer Prisco Photography | Boston Maternity Newborn + Family Photographer
2. Flower Child
Fresh or fake flowers can really go a long way in setting up the perfect scene for your's baby's first birthday photos! Even better – choose flowers or potted trees you can plant after the shoot. You'll always be reminded of this special milestone as you see the plants grow over the years.
As with the gorgeous way the flowers are used above, you could set up outside for gorgeous natural light. If your baby has a winter birthday, you can try a green grass backdrop.
3. Nursery Rhyme
A sweet "Mary had a Little Lamb" or "Twinkle, Twinkle" theme can be a super sweet way to go. You could also choose to base the 1st birthday photoshoot around a favorite book character that your child loves at this time.
You might choose a woodland theme for your baby's first birthday party. And let the wild rumpus start with a Where the Wild Things Are first birthday photoshoot like this one.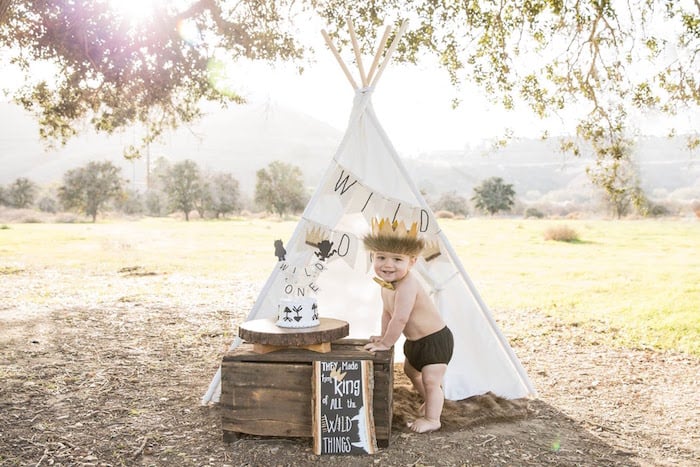 Image via Kara's Party Ideas
4. Nautical
Set sail into year two with a nautical inspired shoot. This darling boat rocker makes an extremely photogenic place to keep your little one occupied and happy as you snap away. Plus, it's a great first birthday gift!
This shoot by Judith's Fresh Look gives ideas for a balloon-free indoor backdrop. The ship wheel and anchors add an authentic touch and the banners offer plenty of plastic-free color.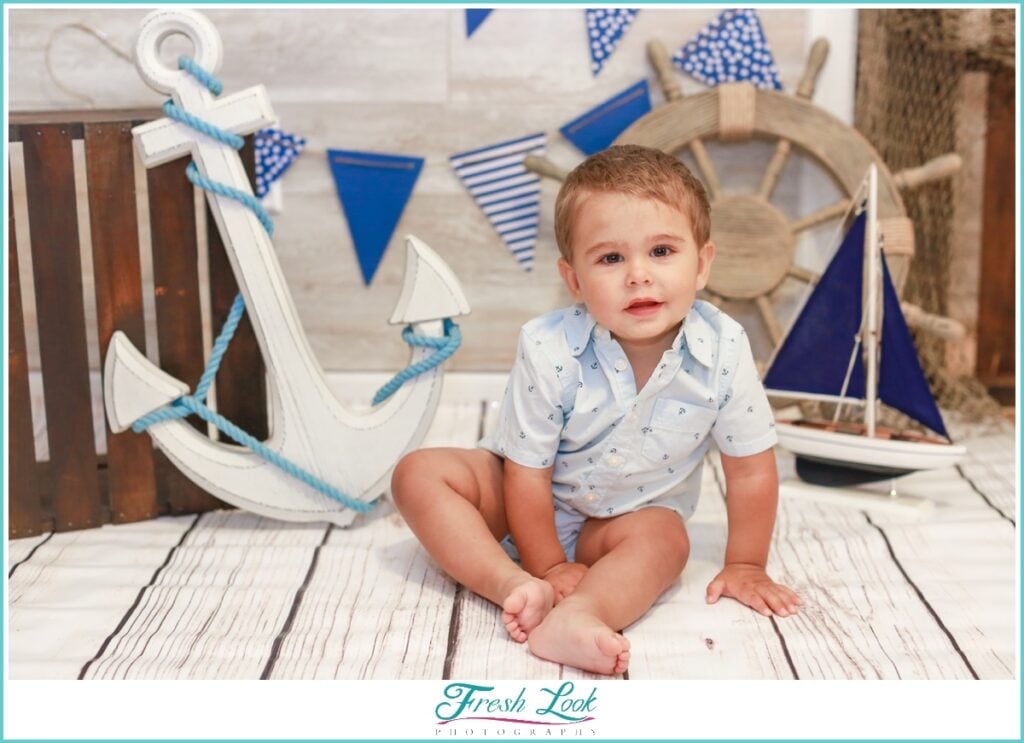 5. All About the Cake
Smash cake shoots are all the rage. Let your baby be the star and keep props simple with just the cake and a cake stand or simple plate.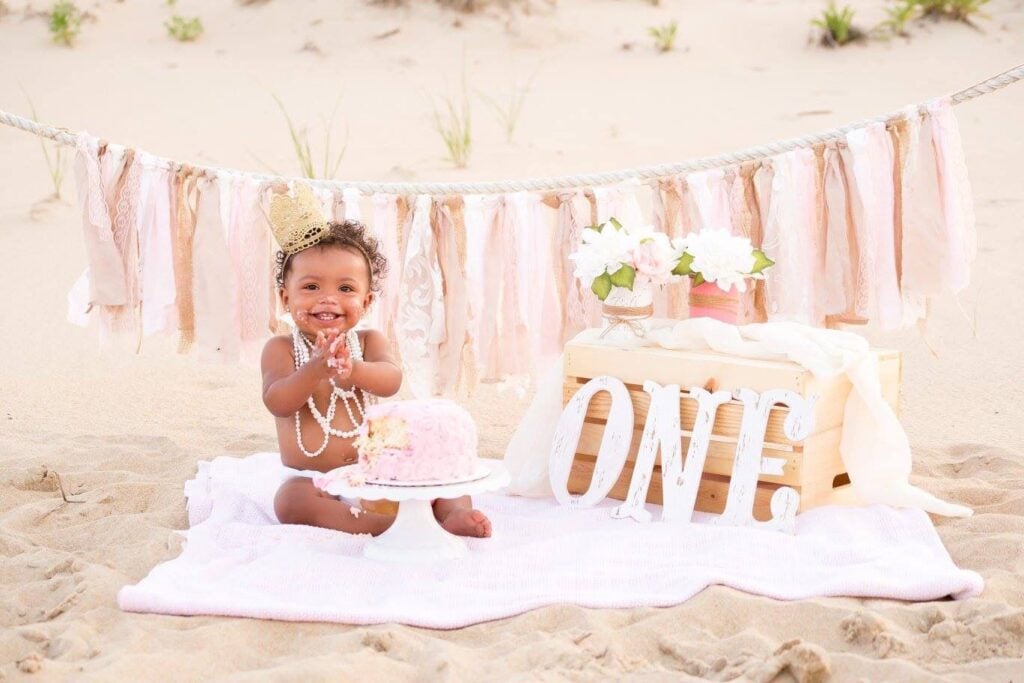 Simple No-Sugar Added Smash Cake Recipe
Why spend money on a bakery-made cake when the purpose of it is to be smashed? Save a little cash and have some fun with your little one baking up a cake at home. You'll need three 4″ mini springform pans, mixing bowls, and mixing spoons.
Simple No-Sugar Smash Cake Recipe
Make a healthier (and cheaper) no-sugar smash cake at home!
Print Recipe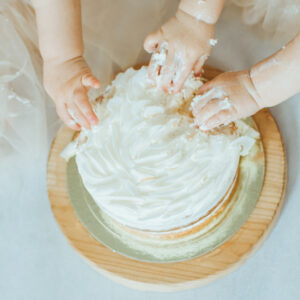 Equipment
3 4" mini springform pans
Ingredients
1 1/2

cups

fine blanched almond flour

1/2

cup

mashed ripe banana

2

large eggs

1/2

teaspoon

vanilla extract

1

teaspoon

baking powder

1/8

teaspoon

salt
Instructions
Preheat oven to 350 degrees.

Combine dry ingredients – flour, baking powder, and salt in one bowl and mix well.

Combine mashed banana, eggs, and vanilla in another bowl and mix well.

Mix the dry and wet ingredients together.

Pour batter into pans and bake for 20 minutes.

Let cakes cool completely before icing. You can choose to ice your cakes with store bought icing, yogurt, or make your own.

Top the cake with fresh fruit or sprinkles
Happy birthday to your little one! You'll find inspiration for an eco-friendly birthday party here.
We hope year two is full of just as much fun and special memories.