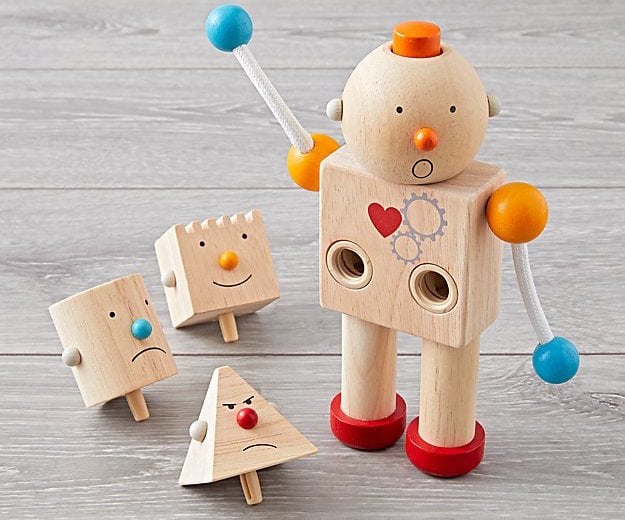 Each holiday, parents are faced with the influx of new toys coming into their homes. Conscious parents looking to find safer toys with minimal environmental impact sometimes don't know where to look.
You can't control every toy that enters your home, but you can use these tips for your own toy shopping… and perhaps pass the information along to relatives who might be asking what to get the kids.
Toy Safety – Why Does It Matter?
Unfortunately there are risks sometimes with toys that people don't consider. Cheap toy cars and costume jewelry can be laced with lead, cadmium, arsenic, mercury and other dangerous metals that are harmful to their health while they grow and develop. Kids are much more vulnerable to the effects of chemical exposure at this stage of their life.
In February of 2009, the Consumer Product Safety Improvement Act adopted the ASTM F973-07 levels for antimony, arsenic, cadmium, mercury, lead, chromium standard, which limits levels of those chemicals in toys.
This may have passed. but that doesn't mean that all toys are safe. The act didn't incorporate the inclusion of Bisphenol-A or PVC, so we still need to be conscious when we shop. Here's a deeper look at the safety of plastic toys.
Why are these chemicals in toys?
Plastics, fabrics and paints can contain a variety of substances in order to make them durable, flexible, or flame resistant. Sometimes it's the byproduct of manufacturing process which can also be a great hazard to the people creating the products as well as disposal into the environment.
How Do I Find Safer Toys?
It can seem overwhelming, but there are many ways to shop for safer toys.  There are several things you can look for when you start.
Check the Country of Origin
Many toys are made in China. After the recent onslaught of recalls in toys a few years ago (and continuing recalls) parents have been more aware of shopping for toys not made in China.
It's not saying that all toys made in other countries are bad. But buying toys made locally has a positive effect on the economy, reduces the carbon footprint (think of all the overseas shipping you saved), and many times are smaller companies who put strict limits on testing. A perfect example is the company Green Toys.  All their toys are made in the US from recycled milk jugs. When you can manage it, buy toys made in the USA or locally.
Shop Only With Trusted Retailers
Now that we do much of our shopping online, there are plenty of stores that only carry ethically made toys. With a little investigating, it's easy to see that these online shops vet the toys they carry to make sure they are free of toxic chemicals. These green online shops are run by families just like yours.
They want nothing less for their own children and grandchildren, so their standards are as high as yours. Some of my personal favorite places to shop for toys are MightyNest, a family-run business here in the US.  They investigate every company and product in their shop with a scrutiny that mirrors my own. Wherever you like to shop online, investigate their standards and ask questions. Most shop owners are more than happy to tell you what you need to know.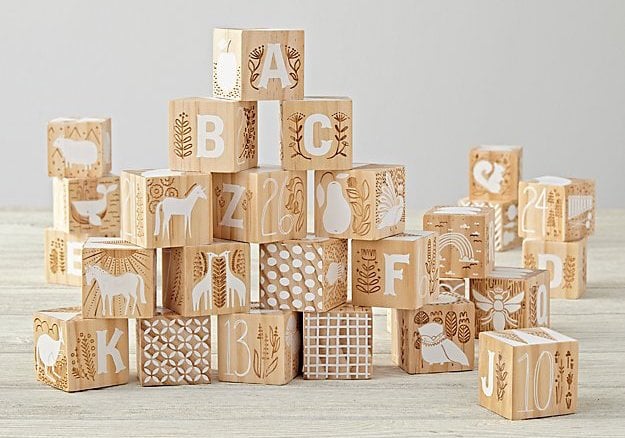 Use Online Tools
There are a couple of ways to do a little research before you shop. These tools are the answer to everything but they can help a little bit with toy buying as well as monitoring the toys you already have.
Healthy Stuff.org is an organization that tests many children's products including toys.  You can search by brand or toy name and find what toxic chemicals or heavy metals have been detected such as lead, bromine, chlorine, arsenic and mercury.  You will be surprised at what you might find!  HealthyStuff.org also tests household products like cell phones and car seats.  It's a site to keep on your radar this holiday season.
Consumer Products Safety Commission's website might seem like a no-brainer when it comes to checking into toy safety but even toys deemed safe can be recalled later on without you knowing about it. You can subscribe to the Children's Products feed with a newsreader or have a digest emailed to you weekly by submitting your email address. Choose what recalls you wish to receive and select the infants/child recalls to keep up with toys and kids products. You can also search the database for past toy recalls.
Safer Toy Alternatives 
All of this information sounds good, right? But when you're in a hurry, you want links and options now. Here are toy brands that place a high priority on the safety and environmental impact of their toys.
Green Toys
Haba USA
Smiling Tree
Bannor Toys
Elves and Angels
Imagine Childhood
Maple Landmark
Think and Grow Toys
Mama May I
The Puzzle People
Here are links to toys that have been found safe by the standards above. Even if these particular items aren't on your shopping list, you may find just what you're looking for by browsing similar items.
Handmade wooden toys
Play silks
Maple teething rings
Silicone teething rings
Automoblox
Wooden push toys
All natural play dough
Art supplies
Eco doll house
Wooden kitchen
Animal block puzzle
Speed boat bath toys

Latest posts by Katherine Scoleri
(see all)