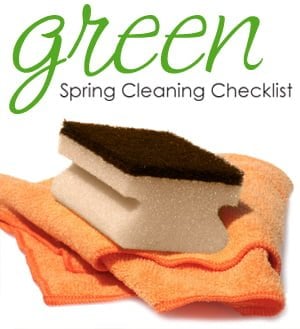 First Things First: Clean Your Cleaning TOOLS
1. Take your vacuum cleaner apart. If it's bagless, most come apart and can be washed in the sink or tub. The filters can also be cleaned.
2. Make sure your re-usable sponges and brushes are sanitized. A great way to do this is to combine baking soda, vinegar, or lemon juice with 1 cup of boiling water. You can microwave the sponge in the solution for 1 minute if you prefer not to wait for water to boil!In the House:
3. Take a rag, boiling water and your baking soda/vinegar to the slats of the blinds, baseboards, sliding door tracks and the tops of doors. Do the same thing with heat vents and cold air return vents.
4. If you have pets, now is the time to clean and disinfect their living spaces: dishes, crates, cages, litter boxes, toys and beds.
5. Vacuum or wash drapes and area rugs.
Kitchen & Bathroom:
6. Scrub the refrigerator inside and out – the drawers can be put in your dishwasher.
7. Soak your stove hood filter.
8. Empty and clean the insides of drawers and cabinets. Replace shelf liners, if necessary.
9. Vacuum appliance vents.
10. Disinfect drains: pour ½ cup of baking soda down the drain. Follow with 2 cups of vinegar. Allow to sit for ½ hour. Pour 2 quarts of boiling water down the drain. Wait ½ hour. Repeat.
Bedrooms:
11. Organize your closets. Pack away winter items, say hello to summer wardrobes! If any items are unwanted and in good condition, create a donation bin/bag to get the clutter OUT of your living space.
12. Flip your mattress. You can also disinfect it by sprinkling baking soda over the entire mattress, letting the baking soda rest for a few hours, and vacuuming it up using the upholstery attachment.
Outdoors:
13. Power wash the deck. Apply new sealant, if needed.
14. Wipe down the patio furniture down and any outdoor grills – a rag works better than a sponge for this.
15. Empty the gutters.
16. Organize the garage or garden shed. Donate unused items. Service and store winter yard equipment. Service garden tools: sharpen lawn mower blades and clippers, check hoses for leaks, recycle old fuel and batteries.

Latest posts by Green Child Magazine (see all)