Free Printable Green Spring Cleaning Checklist
With this green spring cleaning checklist, you'll be ready to tackle the dirt, dust, and clutter safely and without exposure to dangerous chemicals.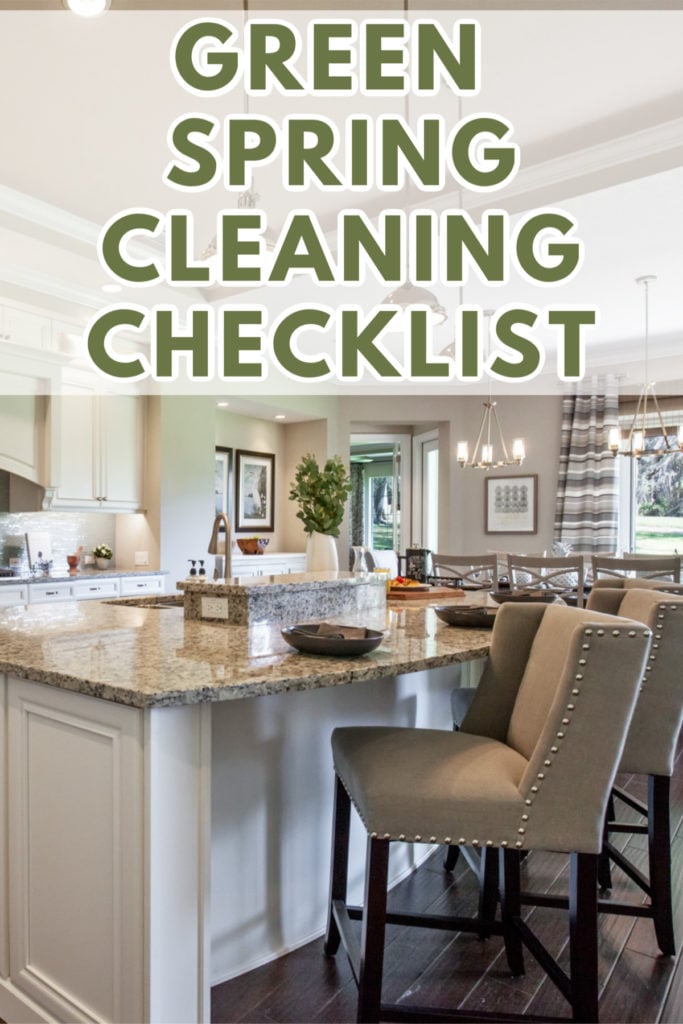 Every day, many of us spray, wipe, and clean with products that contain impossible-to-pronounce ingredients and impossible-to-identify chemicals. These cleaning products do the job they were designed for, but what about the health and environmental impacts?
Is a smudge-free window worth a wheezing toddler?
How you clean your home matters. Cleaning with bleach and harsh chemicals impacts your indoor air quality. Have you read the labels on some of those bottles? They're not exactly substances you want your child or pet to touch.
Green is definitely the way to go when it comes to your green spring cleaning checklist. You might also want to keep this list of the best DIY cleaners and green cleaning hacks handy.
GREEN SPRING CLEANING CHECKLIST
Here's a printable spring cleaning checklist you can follow. If you'd like our weekly cleaning guides, pantry organization lists, home maintenance checklists, and budgets, download our free customizable planner here.
(Click on the image for a PDF you can download and print):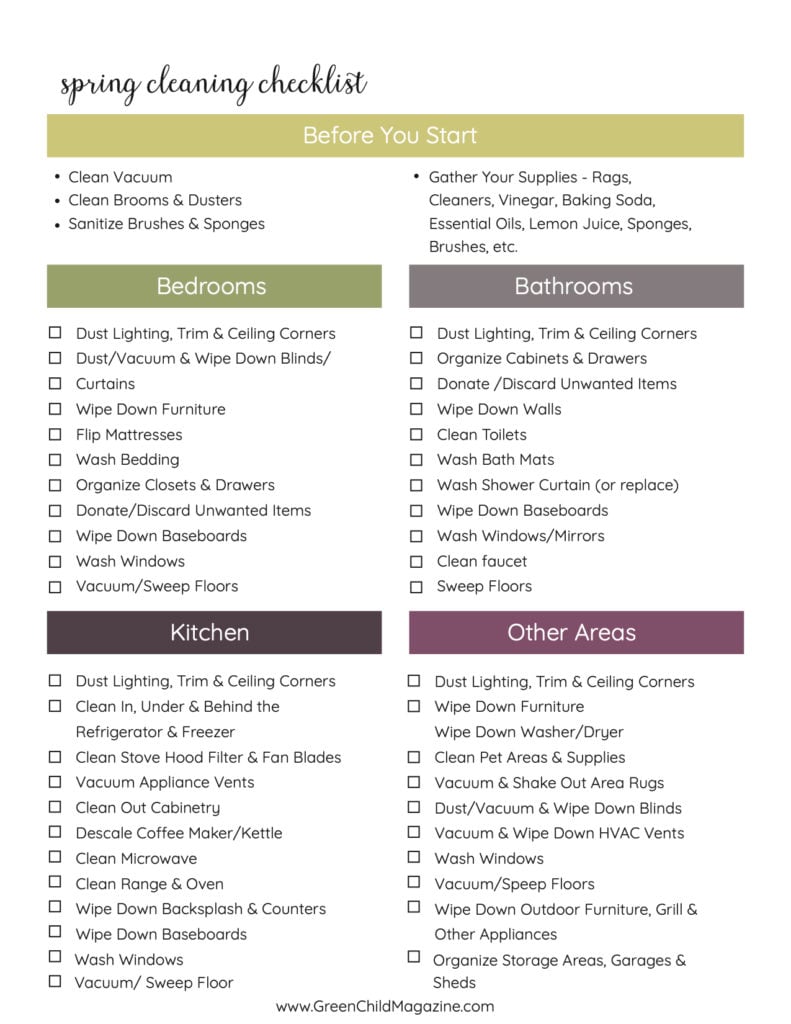 FIRST – CLEAN YOUR CLEANING TOOLS
Start with clean tools so you're not spreading around old dirt, allergens or germs.
Take your vacuum cleaner apart. Most bagless vacuum cleaners easily come apart and can be washed in the sink or tub. The filters can also be cleaned or replaced.
Make sure your reusable sponges and brushes are sanitized. A great way to do this is to combine baking soda, vinegar, or lemon juice with 1 cup of boiling water.
Old toothbrushes can help clean grout lines, window sills, and other tight areas. If these (or sponges) come in contact with mold, throw them away. Being super sustainable is not worth potentially spreading mold to other areas of your home.
KITCHEN
Dust lighting, trim & ceiling corners
Clean inside, under, & behind the refrigerator & freezer (get dust and lint out of air circulation areas)
Clean stove hood filter (remove and soak in vinegar & water mixture) & fan blades
Clean range & oven
Vacuum appliance vents
Clean out cabinets and donate items you no longer use
Clean & descale coffee maker or electric kettle (here's how to clean a Keurig style coffee maker)
Clean microwave
Disinfect drains (pour ½ cup of baking soda down the drain. Follow with 2 cups of vinegar. Allow to sit for ½ hour. Pour 2 quarts of boiling water down the drain. Wait ½ hour. Repeat.)
Wipe backsplash & counters
Wipe down baseboards
Wash windows
Vacuum/ sweep floor
See also: Best DIY Cleaners & Green Cleaning Hacks
BATHROOMS
Dust lighting, trim, & ceiling corners
Organize cabinets & linen closet and discard unwanted items
Wash windows & mirrors
Clean sinks & faucets
Refill hand soap containers (try this DIY foaming hand soap & go plastic free)
Wipe down walls
Clean toilets
Wash bath mats
Wash or replace shower curtain
Wipe down baseboards
Sweep & mop floors
BEDROOMS
Dust lighting, trim, & ceiling corners
Dust/vacuum & wipe blinds or curtains
Dust furniture
Flip mattresses (disinfect by sprinkling baking soda over entire mattress, wait a few hours, then vacuum it up using your vacuum's upholstery attachment). Try these steps for a deeper mattress cleaning.
Wash bedding
Organize closets & drawers and donate unwanted items
Wipe down baseboards
Wash windows
Vacuum/ sweep floors
THROUGHOUT THE HOUSE
Dust lighting, trim, & ceiling corners
Dust furniture
Wipe down washer & dryer
Clean pet areas and launder beds (here's a guide to reducing allergens in the home with pets)
Vacuum & shake out area rugs
Dust/vacuum & wipe blinds or curtains
Wipe down HVAC vents and change filters
Wash windows
Vacuum/ sweep floors
OUTDOORS
Clean porch, deck, lanai.
Wipe down outdoor furniture, grill, and other appliances
Clean (hire someone to clean) gutters
Organize garage or garden shed. Donate unused items.
Service garden tools: sharpen lawn mower blades and clippers, check hoses for leaks.
Is there anything on your green spring cleaning checklist we've left out? If so, tell us in the comments and we'll update this.