How to Choose Non Toxic Lunch Gear
Why go to the trouble of packing healthy, organic food in your child's lunch if it's going to sit in a lead-leaching lunchbox or endocrine disrupting plastic all day? Learn why it's so important to use non-toxic lunch gear. And we're happy to introduce adorable new safe lunch accessories from Funkins.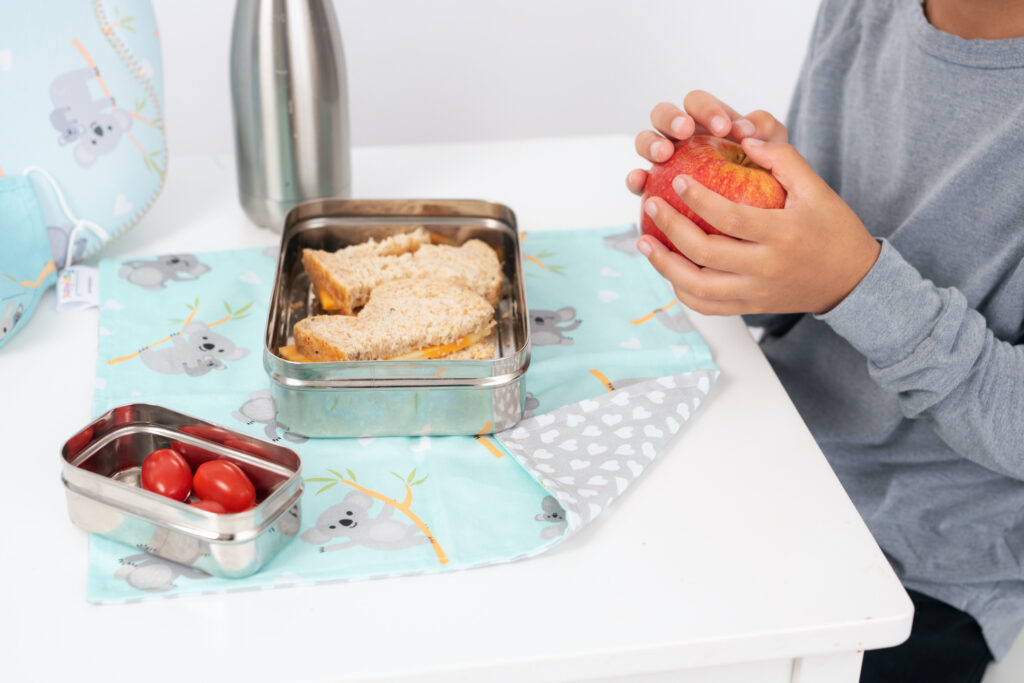 Children are more vulnerable than adults to the harmful effects of chemicals and toxins – especially when it comes to what they eat or hold next to their body.
As kids head back to school, it's helpful for parents to know that what makes a lunch healthy is more than just the food.
It's also how you pack it.
One particular material of concern – and one of the most common for packing lunches is – plastic.
THE TOXIC PROBLEMS OF PLASTIC
Here are the main reasons why plastic is a bad choice for food containers.
"BPA" or Bisphenol-A
Found in plastics with a #7 code, this chemical, which mimics the hormone estrogen, can break down when heated and can leach into food or drinks. Known as an endocrine disrupting chemical, it has been linked to reproductive and developmental issues including diabetes, early onset of puberty, and susceptibility to breast and prostate cancer.
2. Obesogens
This group includes chemicals like BPA and phthalates (used to harden plastics), among others, which are used in the production of plastic products. Obesogens have been linked to childhood obesity due to the effects they can have on the body, including an increase in fat cells, resistance to insulin in the liver, a decrease in the calories burned, and a decrease in lepton, which sends signals to the body that it's full. (source)
3. Environmental Issues
Manufacturing plastic resin creates more toxic emissions than glass. And when it's time to dispose of the material, it never completely disappears from the environment. Instead, plastic breaks down into small particles that can easily be ingested by wildlife on land and in the ocean, contaminating the food chain.
And even when plastic is recycled, unlike glass it cannot be converted into another similar object. Recycled plastic is down-cycled into other products such as doormats, textiles, plastic lumber, etc. but at some point they all end up in a landfill.
THE BENEFITS OF SAFER, REUSABLE LUNCH GEAR
There are many reasons for choosing to send your child to school with a lunch from home. For us, they rank in the following order of importance:
Health
Storing food in stainless steel or glass means less chances of harmful chemicals like BPA leaching into the food. Non toxic food storage containers can also equal better nutrition for your child. Foods and snacks that come in plastic disposable containers (Lunchables, plastic squeeze yogurts, chips) typically aren't the healthiest. Those quick fix snacks are usually high in sugar, sodium, and artificial colors and flavors.
2. Less waste
Earthshare says the average American child creates 67 pounds of lunch waste each year.
3. Money savings
Reusables last longer, saving you money and this research found that packing a waste-free lunch can save up to $400 a year per child.
CHOOSING NON TOXIC LUNCH GEAR
For your child's lunch, materials like cotton, bamboo, stainless steel, and glass provide toxin-free and eco-friendly solutions to plastic.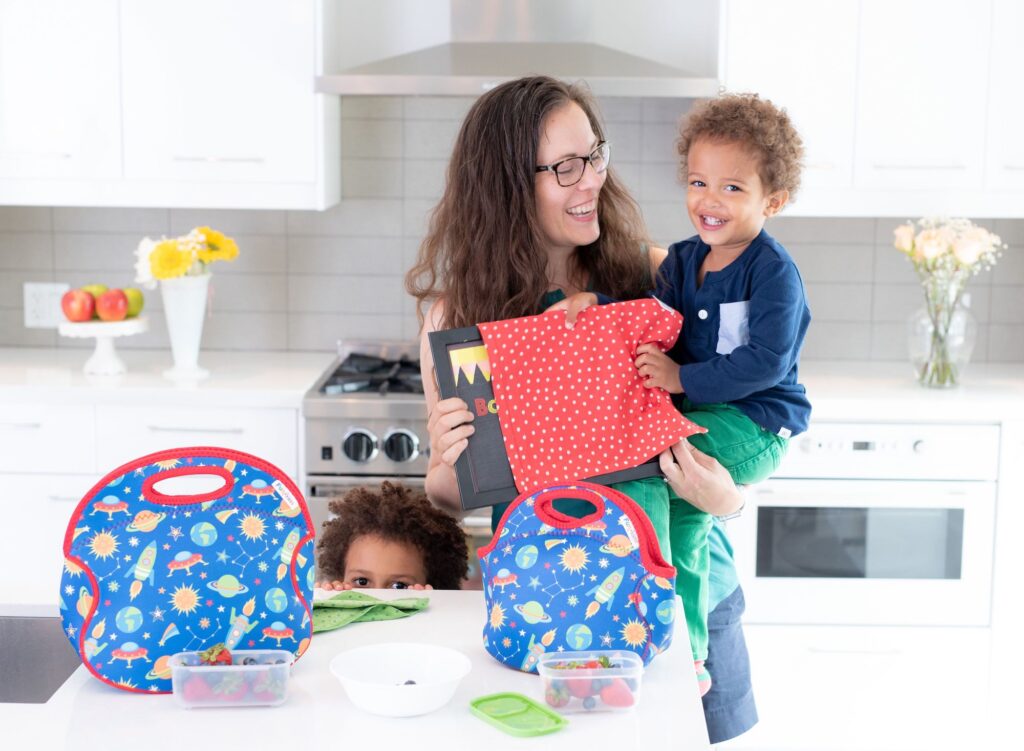 We're excited to share new products from Funkins to help start your school year off right.
Funkins is a multi-award winning, eco-conscious children's brand. The Green Child team has been huge fans of their colorful collections of reusable and washable lunch bags, cloth napkins, and placemats for nearly a decade. Even though some of our kids have outgrown cute patterned cloth napkins in public, we still use them at home. Our editor uses the sharks placemats for her cats' food and water bowls.
Designed by a mom who needed kid-sized cloth napkins for her children's school lunchboxes, the Funkins line has grown to include non toxic lunch boxes and placemats. And just in time for back to school, they are expanding the collection of matching mealtime accessories to include bamboo dishes, lunch notes, reusable stickers, ice packs, and more!
Here are some of our favorite options for non toxic lunch boxes and kid-safe lunch accessories.
This article is part of a collaboration with our advertising, Funkins. Thank you for supporting the brands that make it possible for Green Child to share free natural parenting and healthy living content.
Funkins' adorably stylish insulated lunch bags are thoughtfully designed by moms and tested by kids and teachers to ensure optimum functionality.
Funkins bags are super cute, roomy, and easy to pack. Best of all – they are machine washable! Match with their lunchbox napkins and placemats for a cleaner, greener lunchtime. Find them at Funkins or select styles on Amazon.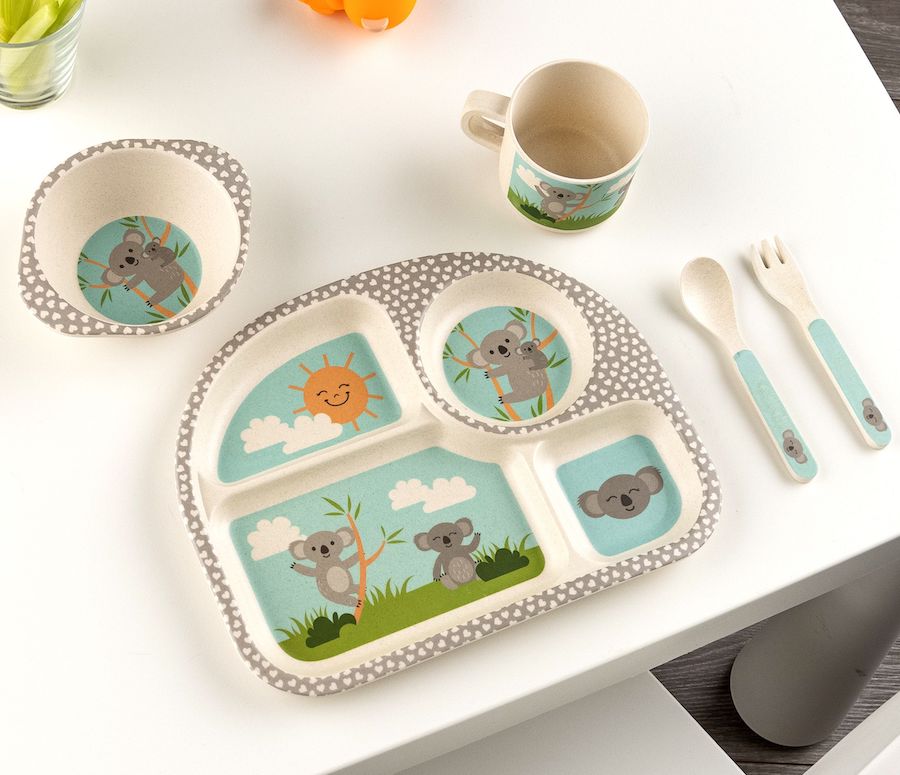 Phthalate, BPA, lead, and toxin free – these adorable bamboo dish sets are an eco-friendly lunch option that is both safe and super fun.
Bamboo fiber is a sustainable, renewable resource. And these dishes are sized perfectly for kids. They can also help with toddler mealtime (so picky eaters can keep peas from mixing with mashed potatoes!) Your little one will look forward to choosing their favorite dishes at mealtime.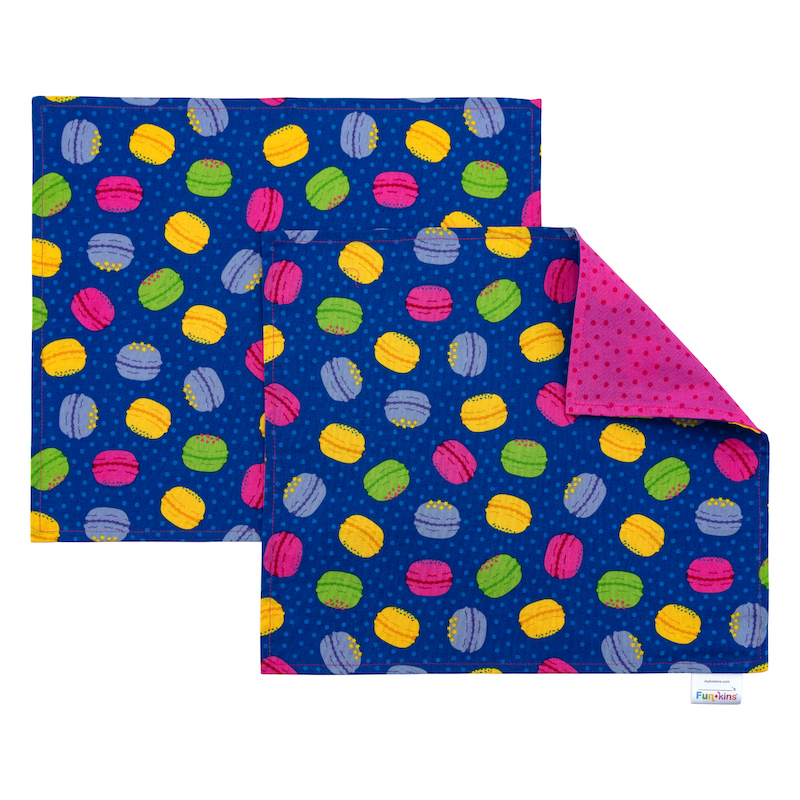 Funkins double-ply placemats are an eco-friendly mealtime solution that help to keep food messes contained while brightening the table.
These reusable cloth placemats are made of durable 100% cotton fabrics that machine wash beautifully and are long lasting. Double-ply, reversible, absorbent placemats are made of two layers of thick cotton fabric that absorb messes and provide a great barrier for public eating surfaces. Find them at Funkins or select styles on Amazon.
One of the simplest (and cutest) ways to make a waste-free lunch is to swap paper napkins for cloth. For more on why they're green and super useful, check out the 12 reasons we love cloth napkins.
We've been using Funkins double-ply cloth napkins for 7 years, and they hold up amazingly well. The colors are still vibrant, and there's no pilling or fraying. At 12 by 12 inches, these napkins are perfect for little hands and faces.
They also have a sewn-in label for your child's name, ensuring the napkins find their way home each day. They're so handy, you'll find yourself using them long after your kids have outgrown them. Find them at Funkins or select styles on Amazon.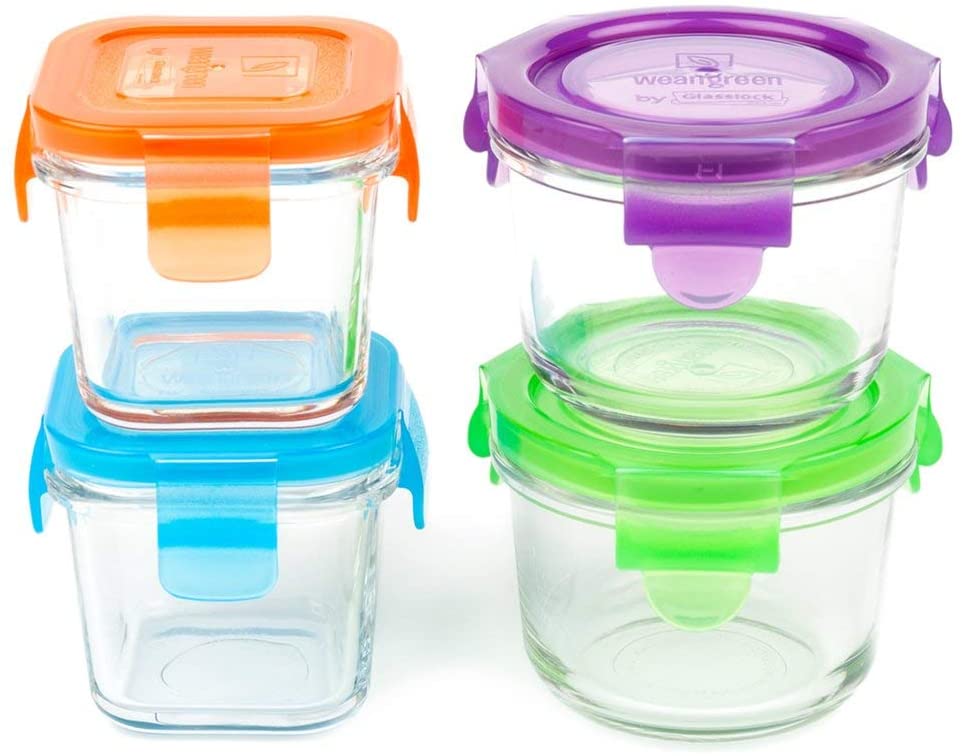 Fill your child's Funkins lunch bag with these stackable tempered glass storage cubes and dishes. If you're worried about breaking them, don't be. Our team has used Wean Green containers for school lunches, leftovers, and we even feed stray outdoor kitties from them and have never had a break.
Ranging in sizes from snack cubes to full meal portions, you can always see exactly what's inside them, making it super easy to pack lunch the night before. You'll find yourself using them for far more than just lunch. Get them at Wean Green or Amazon.
Here are a few other options to round out your healthy and non toxic lunch box:
Reusable water bottles
Water is a healthy and simple drink option. Rather than sending a disposable water bottle or juice box, opt for a sturdy stainless steel bottle you can use for school, sports, or any kind of travel. If glass is allowed at your child's school, we've had great luck with glass water bottles. Flat caps have been the best leak-proof option we've found, but some of the sports tops work well, too.
Sandwich options
Instead of that hard plastic wonderbread container (you know you've seen it in the bread aisle), a sandwich mat is a great non toxic lunch solution. It takes up way less space and can fit just about anywhere inside the lunchbox.
Much neater than sliding a sandwich into a plastic bag, where you might end up with sunflower seed butter smeared all over the seal. With the wrapping mat, you just place the sandwich in the center, fold the sides up, and velcro to keep it secure. We've used one of these for four years now. It's nice to have more than one on hand in case someone forgets to empty the lunch boxes at night.
Reusable snack bags
Reusable snack bags are another way to keep lunch neat and simple. Carrots, celery sticks, grapes, pretzels… pretty much anything fits in these. There may be a zipper or a long strip of velcro to keep the bag closed. We rarely have crumbs in the bottom of the lunch box, so our kids must be sealing them well.
The best brands are free from lead, and phthalates. Some are made from nylon and the patterned, wipe-off styles are made from 100% cotton laminated fabric. The laminate should also be non-toxic.
CLEANING YOUR NON TOXIC LUNCH GEAR
Cleanup is simple with reusables. We just run the glass or stainless containers through the dishwasher. And we keep enough cloth napkins on hand to make it a few days without having to wash and dry them.
Funkins makes mealtime greener and cleaner and can be used on the go, in the classroom, and playtime fun. You can find all matching patterns as a set or choose to mix and match. Safe for your family, Funkins are CPSIA compliant, non-toxic, lead and phthalate free. You can find their entire line at MyFunkins.ca