No matter which type of diapers you choose for your baby, one way to reduce exposure to chemicals and impact on the planet is to use cloth wipes instead of disposable. Plus, you'll never have to worry about running out.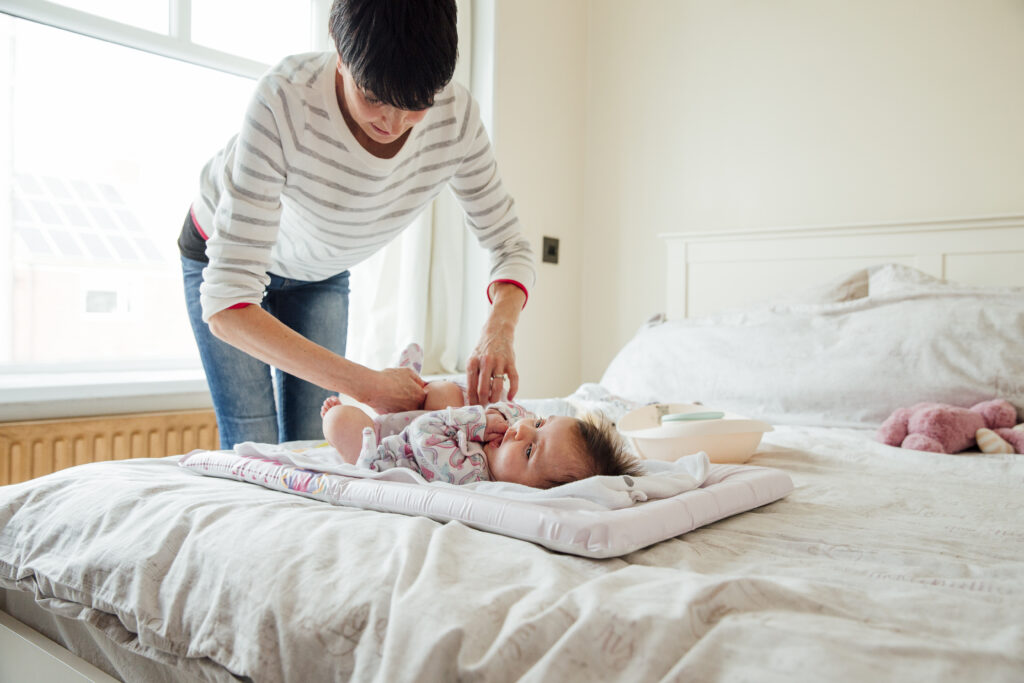 Why Use Cloth Wipes?
If you've looked at the ingredients on a commercial brand of wipes, you'll see more than a few red-flag ingredients. Even with "sensitive" baby wipes, you'll find chemicals like potassium tocopheryl acetate, propylene glycol, laureth phosphate, and malic acid.
Making your own cloth wipes is one of the simplest ways to improve your cloth diapering experience. They are easy to make and use.
In fact, you probably already have the necessary materials on hand to create a plentiful stash. Here are a few options for how to make your own baby wipes.
How to Make Cloth Wipes from Material You Have on Hand
Cut flannel into wash-cloth sized rectangles.
Use regular scissors or pinking shears for a finished look, or serge the edges on a sewing machine.
One receiving blanket will yield about many wipes, so you can upcycle those into something useful after the swaddling phase.
Gentle Solution for Baby Wipes
This tutorial offers several options for DIY wipe solution for both cloth and disposable wipes.
How to Wash Reusable Baby Wipes
You'll wash them with your regular load of diapers and enjoy the simplicity of not having to purchase baby wipes. The hardy fabric is much more durable than a flimsy wipe. Generally one or two cloth wipes are sufficient to tackle even the biggest messes. Most parents find that they need 70-80 wipes depending on how frequently they launder diapers.
How to Store DIY Cloth Wipes
Once your wipes are ready, you'll want to decide on a method for storing and wetting them.
Diaper bags with lots of storage and few pockets can be easily organized by storing diapers and wipes in their own wet bags. A spray bottle allows you to take dry wipes on the go. You can spray the wipe or the baby directly.
A thermos is also great for keeping the water slightly warmer for baby's comfort. If you are considering purchasing a wipe warmer, keep in mind that some storage systems recommend folding and rolling the wipes individually to prevent mold growth.
This is time consuming and limits the amount of wipes in the basin, so it's not really feasible for use with more than one baby. However, it would be a nice way to store wipes for a toddler to use, especially if you can teach your child to fold and roll the wipes on their own.
Using Cloth Wipes Is Easier Than You Think
My girls keep me on my toes all day with diaper changes. I currently have two girls in cloth diapers (ages 3 months and 17 months) and I wash diapers nearly every day, but there's not a minute that I regret using cloth diapers.
Even if you don't use cloth diapers, cloth wipes can be handy around the house. They serve as a wash cloth or hanky in a pinch, plus you don't have to worry about irritation from any chemicals or lotions. Seeing the versatility of cloth diapers and cloth wipes is an eye opener for how useful cloth can be.
Next time you consider tossing a pair of stained or ripped pajama pants, think about turning them into wipes instead!

Latest posts by Green Child Magazine
(see all)