How to Set Up a Montessori Kitchen at Home
Kids love play kitchens, but the Montessori Method takes it a step further by creating an actual functioning space for kids to prepare food independently. Teacher and mother Chrislyn Barragan shares how to create a Montessori kitchen in your home.
Ask most parents about their child's favorite foods and you'll get the usual… potatoes, chicken nuggets, and pasta. You might feel pretty good about your parenting in the kitchen skills. Then another parent tells you how their child begs for Indian takeout and loves curry vindaloo and mango lassi. You naturally spiral into self-doubt and wonder how this mom gets her kid to even look at that stuff, let alone enjoy it.
Trust me, you're not alone in the worry and self-judgement that comes with having a picky eater. Happily, there is hope. It starts with getting your kids involved in the kitchen. And setting up a Montessori kitchen in your home can create interest, excitement, and independence when it comes to food.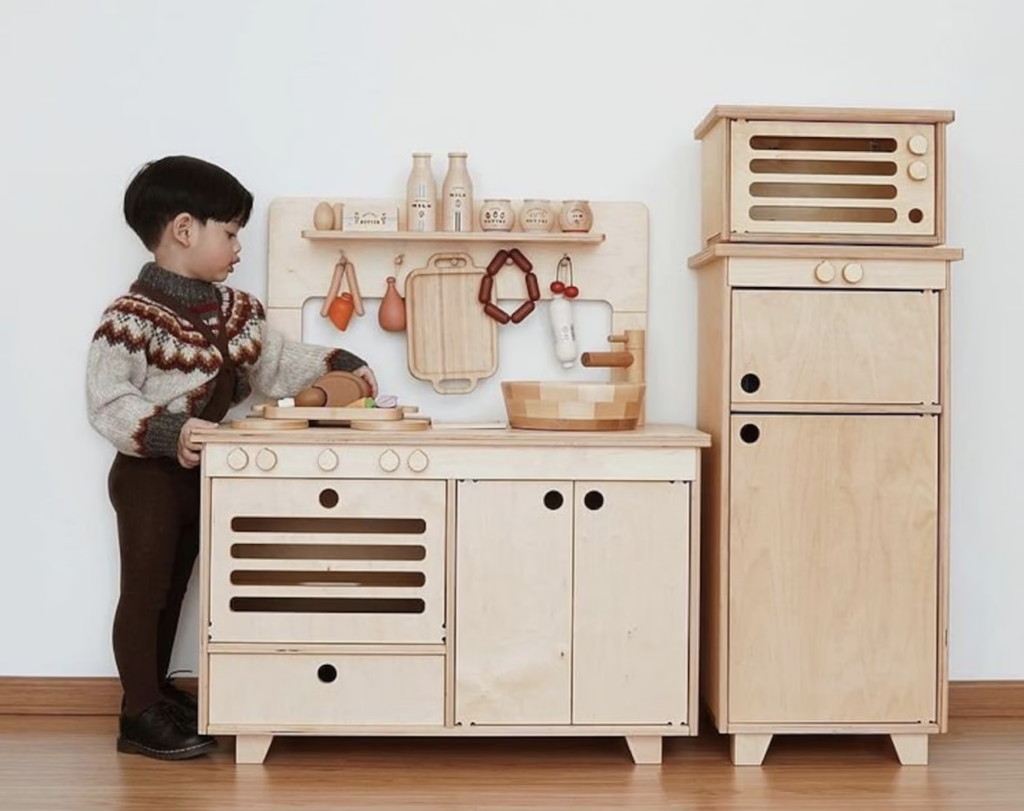 Image and product by MontessoriKitchen on Etsy
Bringing Montessori Principles Home
Encouraging the child to do things for themselves is one Montessori fundamental. From sweeping up the floor after an art project to watering plants or feeding the family pets, even young children can contribute to the care and running of the home.
These tasks are called "practical life" and are some of the first things taught in the primary (ages 3-6 years) programs at any Montessori school. Practical life skills are foundational components to developing self-esteem, intrinsic motivation, and focus.
Preparation of food is a practical life activity. Montessori children can be observed taking whole fruits and vegetables and cutting them using child-safe tools. This might sound intimidating for many parents, but it can be easily supported at home with a Montessori kitchen.
What is a Montessori Kitchen?
A Montessori kitchen is a child-sized space where cooking tools and supplies are stored easily within a child's reach. They can access everything they need to prepare (and clean up) actual food independently.
It includes kid-friendly tools to keep kitchen work safe. And it is ideally placed near the regular kitchen so adults can model skills and provide supervision.
Some setups are very simple. It can be a small table with a shelf for storage, a toy kitchen modified for more practical use, or a handmade kitchen with customizable features. Some even have working taps to wash produce and sticky hands.
Components of a Child Led Kitchen
No matter what it looks like, a Montessori kitchen area ideally has:
A safe, sturdy surface – Choose a table at the child's height that is not wobbly or slanted. Their own kitchen counter can include a low cabinet or cupboard that can support a cutting board with stability for food preparation.
A set of child-safe kitchen tools – There are several cutting options, from handheld wave knives with a large handle for a child's hands to grip to nylon knives that support independent cutting while keeping tiny fingers safe. Mixing bowls, mini hand whisk, and measuring cups and spoons also help build fine motor skills.
Silverware, dishes, bowls, cloth napkins, and pots and pans – One of the hallmarks of Montessori is the use of realia-real or realistic objects. One way to incorporate realia is to use real tableware and cookware. Don't be afraid to give a child a lightweight plate or glass. If something breaks, it's an opportunity to safely help them clean up. Montessori schools use this as an opportunity to teach young children about natural consequences.
Handheld dustpan and broom – Your child can sweep up crumbs and keep their space tidy.
A basin for scraps – The carrot peels and apple cores need to end up somewhere.
A basket for dirty linens – Aprons, towels, sponges, and napkins all need a place once they are used to mop up spills.
Optional slow flow water dispenser – This helps for washing hands or doing a small batch of dishes in a sink basin. A water source is not essential but can be a helpful part of routine use.
It may be tempting to include toy foods, but the point of this kitchen is to empower your child with real life kitchen experience. Whether the setup is simple or elaborate, your child feel a sense of ownership and benefit from the learning experience.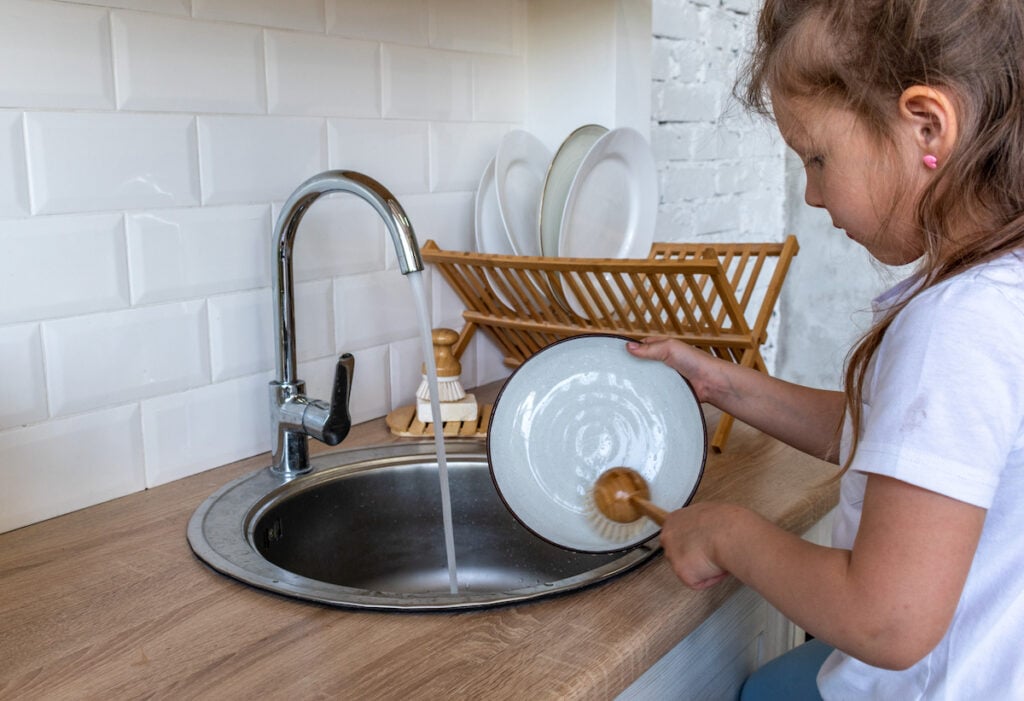 Kitchen Skills to Teach Kids
The snacks and foods your child will prepare in their own kitchen are generally no-bake items. These might be fruits, veggies, greens, fruit salads, cereals, trail mixes, nut butter or jam on toast, and other simple snacks. Your child may get to a point where they are completely independent for breakfast.
For actual meals, you can either work with your child in the regular kitchen or give them tasks they can handle in their Montessori kitchen. My first recipe with my children was banana bread muffins. In the beginning, choose something familiar to their tastebuds to ensure success when it comes to the eating part. The point is to start small and build confidence in prep and enjoying the finished product.
No Space for a Montessori Kitchen?
If you don't have the space or resources to set up a Montessori kitchen, you can always involve your child in the daily cooking and cleanup routine of your regular kitchen. They can help with meal preparation, set the table, and unload the dishwasher. A sturdy step stool or learning tower can be extremely useful when baking or cooking with toddlers.
Place your child's plates, cups, and utensils in a low, accessible drawer or cabinet without a child safety lock. This gives them easy access to the items they need for eating as meals are being prepared. Place snacks in prepared portions on an accessible shelf in the fridge or pantry and let them choose their own.
Narrate each step of your cooking process so they learn the terminology and can observe your work. All of these things make the kitchen a more approachable place for kids so when they are ready to cook, they're prepared.
You can also use the kitchen as a way to practice the Montessori tenet of grace and courtesy. Encouraging the whole family to use proper table manners, use the correct utensils, try new things with a positive attitude, be considerate of others, and participate in the cleanup and chores.
Resources for Kid-Friendly Recipes
Raddish Kids is a cooking subscription with recipes from a variety of food genres. Each month, you get sturdy, laminated recipes along with activity cards, discussion prompts, a kid-sized kitchen tool, and an iron-on patch for that month's theme. Their online subscription, RaddishPlus, offers access to 300+ recipes anytime.
Eat2Explore is another cooking subscription tailored towards international cuisine and ties in cultural education. It also includes seasonings from around the world.
Find recipes your kids are interested in making, and get in the kitchen alongside them. Cooking with Kids is a non-profit group that partnered with the United States Department of Agriculture and Colorado State University to research and determine the effects on children's dietary habits following a hands-on cooking curriculum.
The researchers found that the curriculum "increased fruit and vegetable preferences, especially with vegetables" and "for fourth graders, experiential nutrition education improved cognitive behaviors that may mediate healthful food choices." (Cunningham-Sabo and Lohse, 2014)
Montessori guides have a credo that drives the core of their instruction and practice: follow the child. This belief extends beyond the classroom and into the home environment. Let your child guide this process with your support.
Go at the pace that's best for you and your family. Enjoy the exploration and use it to bond with your child over food. After all, isn't the kitchen table where some of the best memories are made?
Chrislyn Barragan is a middle school special education teacher and mom of three in the Biggest Little City in the World. When not wrangling kid, she enjoys learning new things, crosswords, cooking and baking with her kids, carving out time with her husband, and trying to leave the world a better place than she found it.