7 Quarantine Birthday Ideas for Virtual Celebrations
A global pandemic and weeks of quarantine have us all feeling a little less than celebratory. But if your child has a birthday coming up, a celebration, be it virtual or not, may be just what is needed.
"Having something to look forward to can be helpful for all involved—the
parents, the child, and the guests," shares Saba Harouni Lurie, Licensed Marriage and Family Therapist and owner and founder of Take Root Therapy. "While we are constantly reminded of all the things that have been cancelled, it can be beneficial to remind ourselves that life itself, and family, have not been cancelled."
After all, what better reason is there to celebrate than another journey around the sun for your little one? Here are seven very doable quarantine and virtual birthday ideas. You might enjoy them so much, you'll want to do them again next year!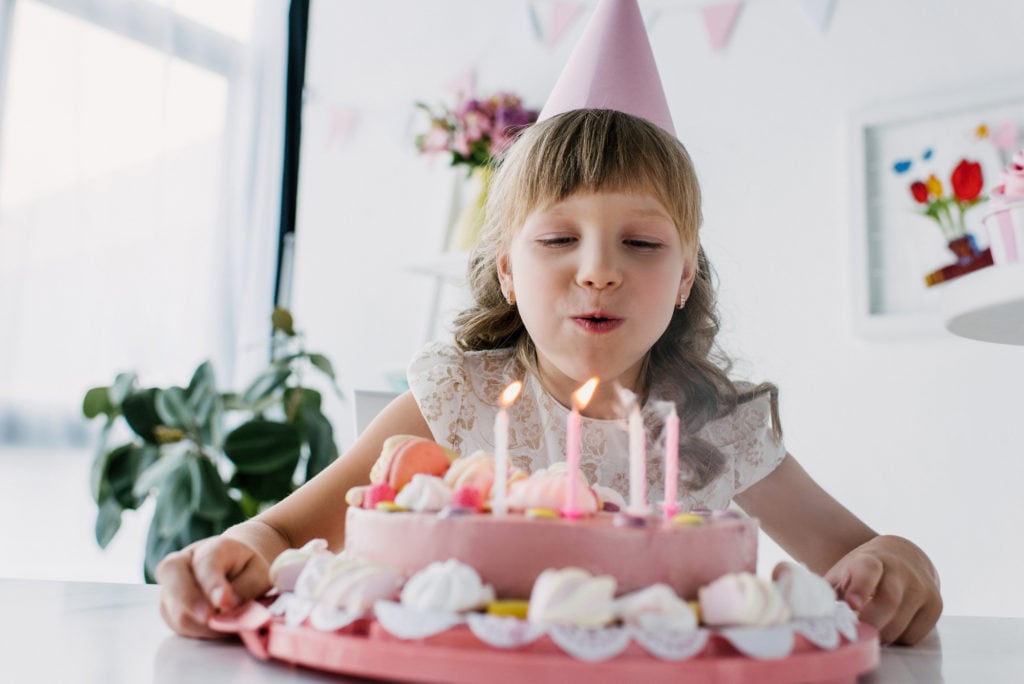 Have a Quarantine Birthday Parade
If you haven't witnessed a quarantine birthday parade yet, they really are a sight to be seen. Friends and family decorate their cars, blast festive music and honk their horns as they line up out in front of the birthday kid's house. Everyone sings happy birthday from their cars and the child gets to see friends and family from a safe distance.
Create a Video Montage
Now this virtual birthday idea might almost be better than getting a bunch of cards from family and friends. Many families celebrating birthdays during quarantine are putting together compiled video messages from loved ones. The birthday wishes can be set to your child's favorite song and include funny filters or festive graphics. This video can also make for a great keepsake that they can re-watch—who knows you may want to repeat this one next year, even if the days of quarantine are behind us.
Host a Birthday-Themed Virtual Trivia Game
What's a birthday without fun games? And even better than a round of "pin the tail on the donkey", this quarantine birthday game is personalized and one-of-a-kind. Think up different questions that pertain to the birthday kiddo. What's their favorite color? What was their first word? Send out question by question to family members during a virtual call or shared online conversation space. Clock the time it takes to get the responses and once all the questions are answered tally up to see who wins!
Displaying birthday presents in one spot can make for a pretty picture, but instead, ramp up the fun factor by hiding the gifts throughout the house. Leave clues or make a map so that the opening of presents becomes a game in itself.
Need Some Quarantine Birthday Gift Ideas?
Gifting, like pretty much everything else, can look a little different when social distancing. We like to think that the best quarantine birthday gifts are the ones that are not only thoughtful but useful. Think: art supplies, or building block sets, books and craft how-tos. Anything that can provide entertainment that isn't already a part of the day-to-day. Online subscriptions to virtual art or dance or kid cooking classes could also make for some great options.
Get the Birthday Kid in On the Baking
Eating birthday cake has to be a highlight of the celebration, but making a cake can be half the fun. Let the birthday kid get messy and creative with their cake. If they like how it comes out, that really is all that matters. Need a little baking inspiration? Check out this decadent mint chocolate ganache tart recipe.
Have a Quarantine Birthday Dance Party
No matter the locale, even if it is indoors during quarantine, a dance party is anything but boring. Make up new moves or learn one of the dances that are trending on social media these days as a family.
Walk Down Memory Lane
What's a better day to look back on the years past than on your little one's birthday? Typically, we're so busy on the actual day. So, embrace a birthday during quarantine as a chance to be sentimental. Pull out the albums and simply sit together and reminisce or get creative and make a birthday slideshow.
Start a Tradition
A birthday can represent a new beginning or a fresh start to a year. And while an open-ended quarantine and extended social distancing measures are daunting—especially to kids—it can be an opportunity to start anew. Maybe plant something together and watch it grow over the year. Or think of another tradition that you could start—and make it something you'll want to repeat whether you are in quarantine or not.
"Planning a child's birthday may involve helping them acknowledge feelings of disappointment that this year's birthday will be different than normal, and creatively brainstorming together on how to make the celebration fun while staying safe," says Lurie. "Modeling adaptability in these ways is especially important, as children are looking to parents for cues on how to respond and how to develop resilience in this time."
And truth be told, having a birthday during quarantine can make for the perfect day. Instead of having the pressure of putting on a big party for others, you can focus inward and really honor and celebrate with the ones who matter most.
A quarantine birthday can be just as fun as a regular birthday, but it can also allow for the opportunity to slow down and live in the moment.