Roasted Tomato Basil Soup
Is there anything more comforting in cool weather than a warm, nourishing bowl of soup? This rich homemade roasted tomato basil soup is quick enough to make a healthy main course or a delicious, hydrating side dish to any meal.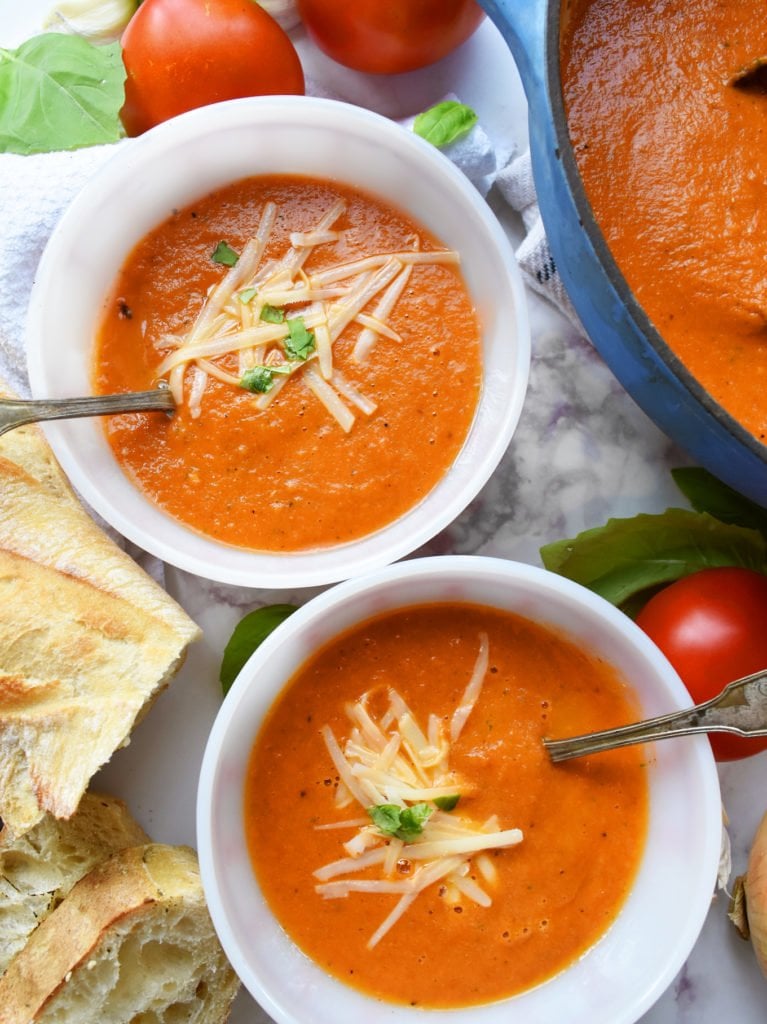 If your garden is overflowing with fresh tomatoes, this is a delicious way to use them. This soup also makes an excellent meal train option for families with a new baby or sick loved one.
After a woman gives birth, her body needs restorative foods to replenish lost fluids and nutrients. This roasted tomato basil soup is not only delicious, it's filled with nutrients and gives the new mama that warm, nourished feeling. Giving birth requires an incredible output of a mother's physical, emotional, and spiritual resources… and what better way to nourish her back to her full glory than with a comforting meal made with love.
HOMEMADE ROASTED TOMATO BASIL SOUP
Here's what you need to make this amazing soup:
Roasted tomatoes – For the richest, sweetest flavor, you'll want to roast fresh organic or garden-fresh tomatoes (learn how to grow your own flavorful Roma tomatoes here). If you use store-bought tomatoes, go with organic Roma or plum.
Onions – The easiest way to incorporate the onions is to roast them with the tomatoes and garlic. If you're looking for an extra rich, sweet flavor, caramelize the onions (with 1/2 tablespoon of olive oil in a pan over medium high heat) while the other ingredients are roasting.
Roasted garlic – Roast the garlic with the tomatoes for a huge boost in flavor.
Fresh basil – Basil is our absolute favorite herb. We especially love it fresh from the herb garden or farmers market! In this recipe, it helps quell the acidity of the tomatoes.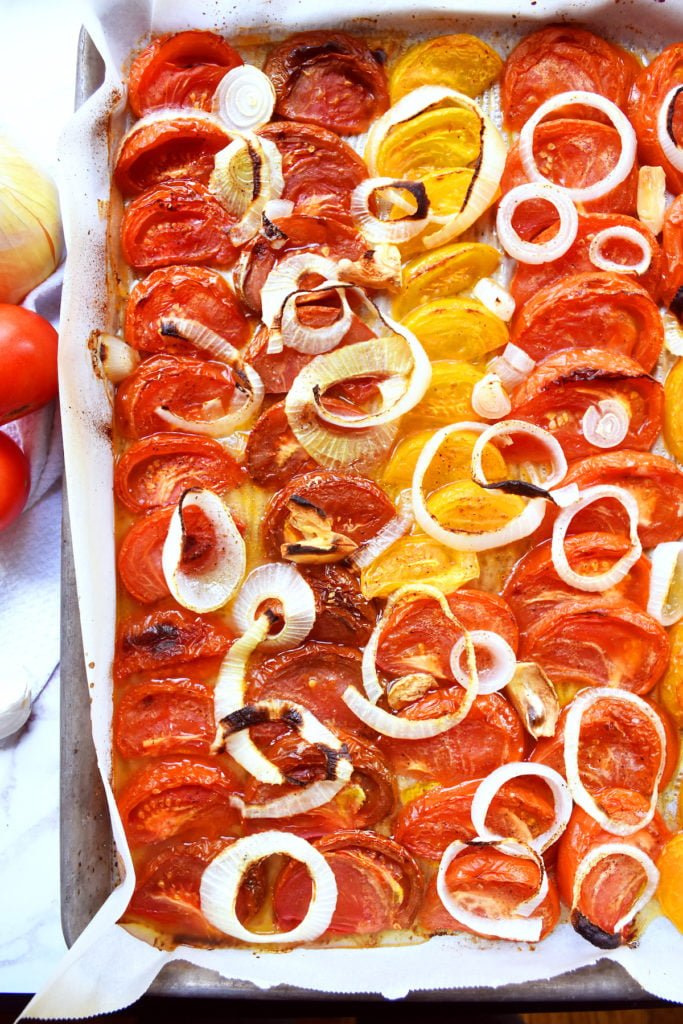 Broth – We keep homemade chicken broth and homemade bone broth (more about the benefits of bone broth here) in the fridge or in freezer cubes at all times. For this recipe we use one cup of each, but you can use two cups of either type or of vegetable broth.
Optional cream – If you prefer a creamier soup, add coconut cream, organic heavy cream, or half and half. Be mindful of any allergies in your family or the person you're making the soup for.
Hand immersion blender – another optional item, but a hand immersion blender is super useful addition to your kitchen.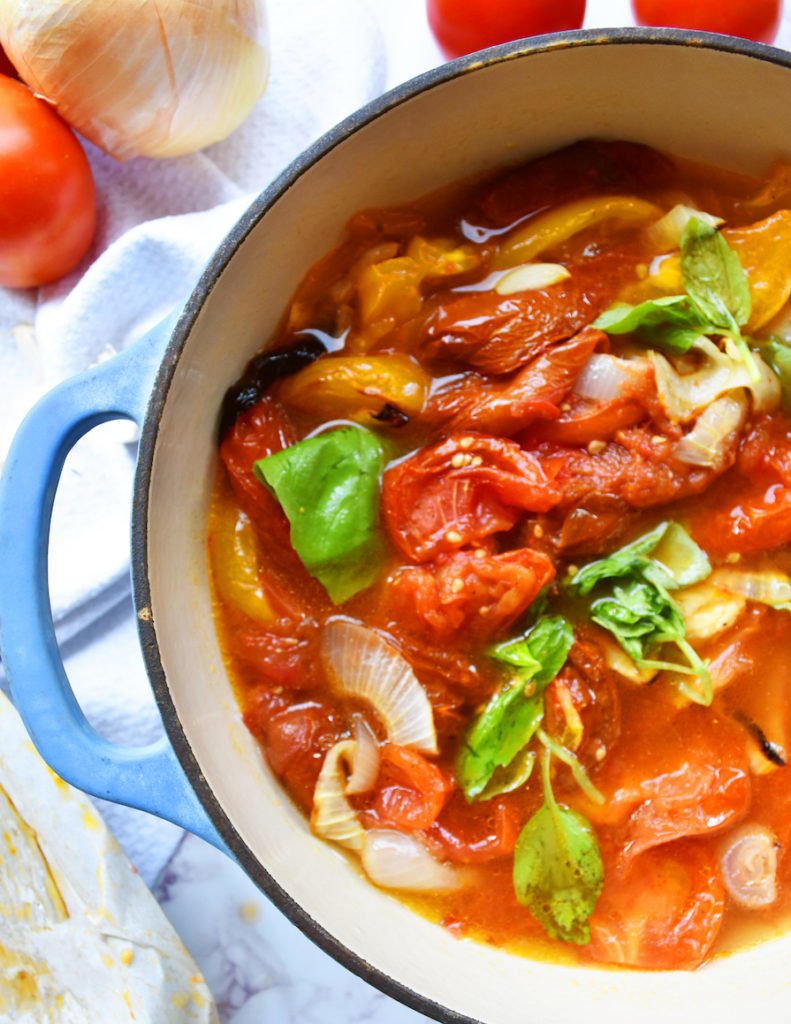 The recipe is so simple for the amount of flavor you'll get. Roast the veggies, and add everything together and blend.
It makes 9 to 10 cups of soup. Serve with your favorite toppings or sides and enjoy!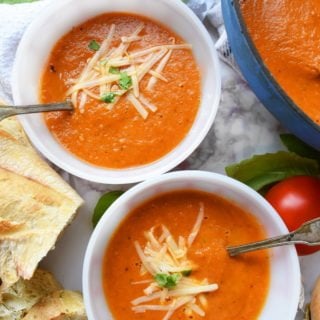 Ingredients
3

lbs

organic tomatoes

chunked

1

large onion

thickly sliced

5

cloves

garlic

peeled and crushed

1/4

cup

fresh basil

roll with your fingers to gently release oils

3

tbsp

olive oil

2

tbsp

salt

1

tbsp

pepper

2

cups

chicken broth, bone broth, or vegetable broth

coconut milk

or heavy cream (optional)

shredded cheese

(optional)
Instructions
Place tomatoes, garlic, and onions on a baking sheet, drizzle with the olive oil, sprinkle with salt & pepper, and roast at 450 degrees for 25-30 minutes or until the tomatoes look a bit
blistered. Then broil for 5-10 minutes to get a bit of char on the tomatoes.

In a large stock pot, bring the broth to a boil.

Add the tomatoes and fresh basil.

Blend until creamy (a hand immersion blender works well). Optional: stir in 1 cup of coconut milk or heavy creamer for creamier soup.

Top with shredded cheese, croutons, and a swirl of olive oil.