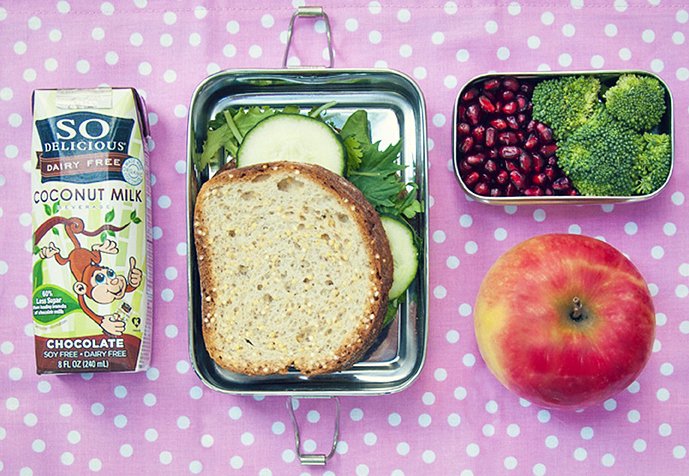 Definition of a Revolution: a sudden, complete or marked change in something or a fundamental change in the way of thinking about or visualizing something : a change of paradigm
How to Create a Healthy Food Revolution at School
It takes education, tools, support, enthusiasm and patience because creating a fundamental change in the way we think about food isn't something that happens overnight. You can see how our school created its own food revolution from the planning stages to implementation.
Jamie Oliver's passion and his Food Revolution program have sparked a shift in the way we think about feeding our children – especially through the meals they eat at school.
"I've given up on governments. But I have endless hope and faith in people once they are given knowledge and skills. I've certainly seen all over the world in many different communities that, once people have a few skills and confidence, they make different choices in the grocery store. Once they make different choices in the grocery store — and on the Main Street fast-food restaurants — then companies will be forced to serve a higher quality offer.  That's when the real change happens."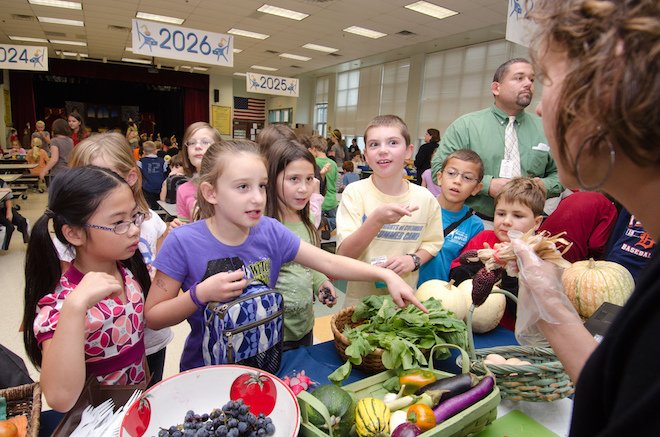 How to Advocate For Healthy Food at School 
Healthy food choices for school lunches should not be an exception to the norm. Equip yourself with the pros that healthy school lunches provide and you can help your child's school understand why having nutritious options matter.
Start with Food Education
Good food education enables people everywhere to develop a better, more understanding and balanced relationship with food, in turn empowering them to make responsible, healthy, sustainable food choices, for life. With better food education, people can make better choices with what is available to them, wherever they are in the world.
Globally, we waste enough food to feed the world's hungry four times over. Not only is food waste immoral, it's unnecessary. Through better food education, teaching us to value our food and manage waste better, as well as the promotion of better production practices from farm to fork, we believe that food waste can largely be avoided.
A Child's Nutrition is Fundamental to Their Overall Health
Ensuring children have access to good, nutritious food is vital to helping them grow up to be healthy and happy. Without proper nutrition, children are at risk of becoming either overweight or obese, or suffering from undernutrition, which impacts their health, growth and development and puts them at increased risk of disease. Understanding food and nutrition and the dual role they play as part of a healthy lifestyle is essential.
Here's a glimpse of the menu (with a cost that is very close to what parents pay for the fast food hot lunches):
Week 1 | Wraps with a choice of Tuna, Chicken, Ham or Vegetarian; Rainbow Veggie Tray; Fruit Parfait with Yogurt
Week 2 | Homemade Taco Soup with Mexican Salad and Organic Chips; Veggie Sticks and Dip; Blue Fruit Banana Boat
Week 3 | Grilled Cheese with your choice of Ham and Swiss, Turkey and Provolone, or Traditional Cheddar Cheese; Red Color Fruits and Veggies of the day
Sustainability and How You Cook 
To sustain nutritious food for now and for the future, we need to care for the planet that produces it, linking up individuals, food and the environment to create a sustainable, healthy food system on both a commercial and a domestic level.
Cooking is a vital life skill. Knowing how to cook from scratch empowers people to appreciate the value of food, to understand what they are putting in their bodies and, therefore, to nourish themselves and their families with fresh, nutritious food.
Ethical Buying
Supporting food that has been responsibly produced, with the environment, animals and people in mind, supports a healthier, more sustainable food system for now and the future. In doing so, our food choices are a vote for the system that produced it. Everyone should understand what they are buying, and have the knowledge to make conscious, well-informed decisions.
Packing a Healthier School Lunch from Home
While the Food Revolution focuses on school lunches, as every child should great a nutritious meal while at school, there is the option for you to send your kids to school with lunches that will nourish and enable them to be at their best.  The food they eat makes a difference in how they go about their day.
Parents have an enormous amount of power when it comes to the food revolution. You are the nutritional gatekeepers of your family. Every trip to the grocery store or farmer's market can be part of the food revolution by choosing to buy wholesome food for your family.
Did you know that every 35 days a child's body makes new cells from the foods she eats? Kids literally ARE what they eat!  When you think in those terms it's easy to want to provide them with wholesome foods.
It's no small task to create lunches five days a week that are healthy, well-balanced, and enjoyable. In the morning rush, it may be tempting to quickly throw a lunch together with pre-packaged foods, but those foods are loaded with artificial colors, sodium, sugar, and ingredients we can't even pronounce.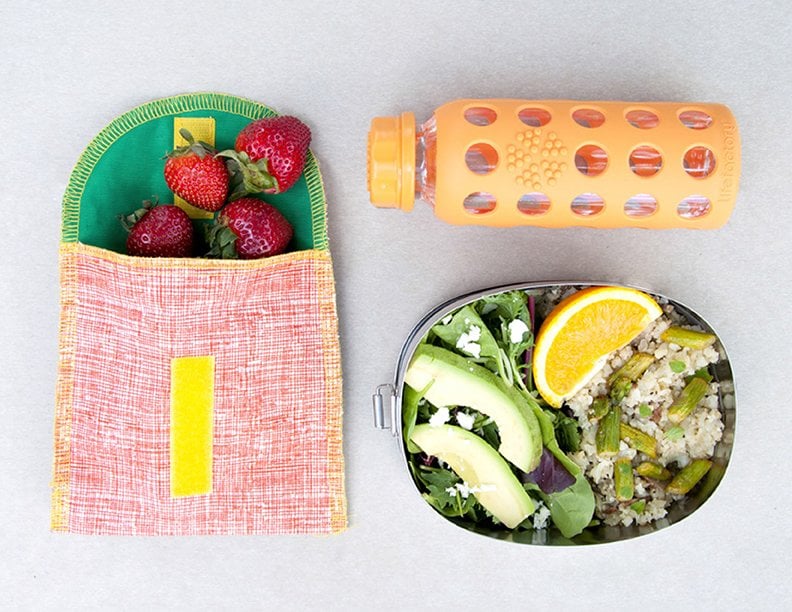 Tips for Healthy Packed Lunch Success
Your kids will have a more successful day at school if their bodies are filled with fresh healthy foods. With some planning and creativity, healthy lunches can be fun, delicious and easy! Here are some suggestions:
Teamwork: Get your whole family involved with lunch preparation. It eases the workload on you and teaches your kids valuable life skills. Children of all ages can and should help with planning and preparing their lunch. It's a great opportunity to teach them about the importance of healthy food choices. Besides kids are far more likely to eat lunches that they helped put together!
Plan Ahead: Take some time to sit with your kids and find out what they like to eat. Come up with a simple lunch menu for the week, then put together your shopping list before you head out to the grocery store. While you're at it, plan your dinner menu for the week at the same time, it will make your life easier and leftovers are fantastic for lunches!
For lunchtime inspiration, check our recipes section, our annual school lunch inspiration guide, or visit Jamie's special section on lunch recipes.
Organize: Set up a cupboard where you keep all the lunch gear such as reusable containers, lids, thermoses, water bottles, lunch bags etc… Make sure it's a cupboard that your kids can reach since they'll be helping you out. Setting up a specific place for all the lunch gear means that everyone knows where things are when putting together lunches! It'll also help your kids to put their lunch items in the right place when they are emptying the dishwasher.
Prep Time: Get everyone in family to help wash and prep fruits and vegetables. It's much easier to put together a quick lunch when everything has been washed, chopped and is waiting in the fridge! Cutting up fruits and vegetables into to smaller pieces makes it easier for your kids to eat them. Carrot sticks, apple slices (sprinkle them with lemon juice to prevent browning) or loose grapes are much more appealing to kids than having to tackle the whole fruit or vegetable.
Think Rainbows: Fruits and veggies are a must have for healthy lunches! Get your kids into the healthy habit of eating a variety of colorful fruits and veggies every day. If your kids aren't too fond of fruits and veggies, try including yummy dips such as their favorite salad dressing, hummus or plain yogurt. By eating a rainbow of produce, your kids will benefit from the wide spectrum of vitamins, minerals and phytonutrients. It's the phytonutrients that give fruits and vegetables their color and help to keep our bodies healthy! Eating a Rainbow is a fun and easy concept for kids to understand.
Balancing Act: Try to incorporate a good variety of proteins, whole grains, and produce for every lunch. Keep things interesting by switching between sandwiches, pita pockets, soups, wraps and rolls. If you feel it's important to include a sweet treat just be sure to keep it small!
Don't Forget Water: There really isn't a better drink for your child than water. Having a fun, reusable water bottle might help you convince your kids to drink more water.
Putting together a healthy lunch can be easy with a little planning, creativity, and most importantly by getting the whole family involved! The extra effort will be worth it knowing that your kids are getting a healthy lunch and at the same time they're learning to take responsibility for their body with their food choices. That is what the food revolution is all about.

Latest posts by Green Child Magazine
(see all)