Sweet Potatoes, Spinach, & Chickpeas Stage 2 Baby Food Recipe
Sweet potato stage 2 baby food recipes are some of the most popular among our readers. And this one is healthy, flavorful, and makes a great early food for your little one.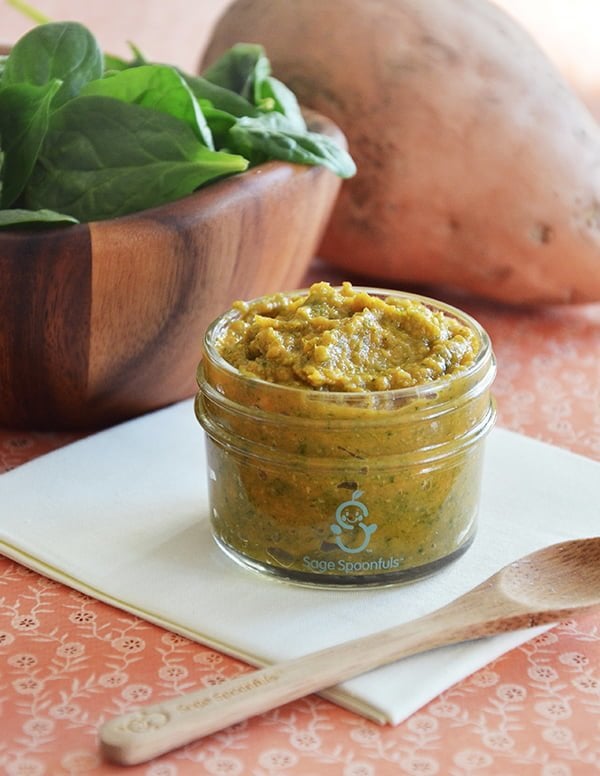 It's a sweet tasting, healthy, and easy-to-prepare meal for your Stage 2 eater. Sweet Potato, Chickpea and Spinach are full of vitamins, protein and antioxidants. If you like giving your little one a super charged meal, this stage 2 baby food fits the bill.
This recipe is suitable for babies 7-9 months and up, toddlers, big kids and adults. Always make sure the consistency of your baby's food is one she can handle and before combining food, make sure she has tried each one individually first.
The Sage Spoonfuls baby food maker can be a huge help when it comes to making your own baby food. It comes with an immersion blender and food processor, both of which are useful long after your baby food making days.
Giving your baby super charged meals early on is the best way to set them up for a lifetime of healthy eating. And when it comes to nutritional powerhouses, this spinach and sweet potato stage 2 baby food fits the bill.
Sweet Potatoes, Spinach, Chickpeas Stage 2 Baby Food
If your little one shows signs of a gassy tummy after eating other legumes, you may want to start with dried chickpeas instead of canned. The soaking process can help relieve some of the digestion issues many people have with canned beans.
Another great tip is to give baby a small serving of yogurt after a meal containing legumes. This can help balance the gut bacteria and set the stage for a healthy microbiome in kids.
If you use canned chickpeas, choose a brand that doesn't contain BPA in their cans. We like Eden Organic Garbanzo Beans.
If your little one loves sweet potato baby foods, you may also want to try this Lentil, Sweet Potato, and Apple Stage 2 baby food recipe.
Sweet Potato, Spinach & Chickpeas
A healthy stage 2 baby food recipe for babies 7-9 months and up.
Print Recipe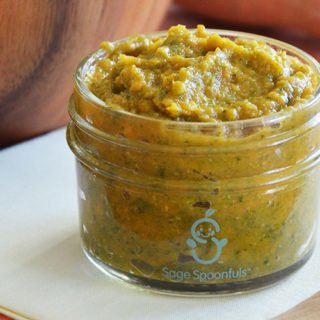 Ingredients
1

organic sweet potato – washed and cut in half lengthwise

1

can organic chickpeas – rinsed well in a strainer under cold running water. Use a brand that doesn't contain BPA in their cans

we like Eden Organic

2

cups

organic fresh baby spinach
Instructions
Preheat oven to 425 degrees and line a baking sheet with unbleached parchment paper.

Place the sweet potato cut side down on the baking sheet.

Place the baking sheet into the oven on the middle rack and roast for 35-45 minutes, depending on how large the sweet potato is.

It is cooked through when the potato can easily be pierced all the way through with a fork.

While the sweet potato is cooking, pour water into a pot until it is about 1" deep and bring to a boil over high heat.

Place the spinach into a steamer basket and place the steamer basket into the pot.

Make sure the water doesn't touch the bottom of the basket.

Cover with a tight fitting lid and steam for about 5 minutes.

Once fully cooked, remove the sweet potato from the oven and let sit for about 10 minutes to cool. Once cool, you should be able to just peel the skin off.

Alternatively, you can scoop the sweet potato out of the skin with a spoon.

Place the sweet potato, chickpeas and spinach into your food processor and pulse until smooth and just a little chunky (soft chunks).

You can also place it into a large mixing bowl and blend with an immersion blender until desired consistency is achieved.

This puree can be stored in an airtight container for up to 3 days in the refrigerator and up to 3 months in the freezer.