Top Earth Day Books for Kids
Reading books for Earth Day can help inform kids about why it's important to protect our natural resources. This roundup includes books that are great for not only Earth Day but to enjoy with children (or students) year round.
A book doesn't need to have "Earth Day" in the title to remind us of the beauty of the planet. These books can be about animals, insects, ocean life, or gardening. Or they can be fun fiction stories where the main characters spend most of their time in nature.
Find the perfect spot OUTSIDE to read Earth Day books together
We've said it a hundred times: if we want our children to grow up to protect the planet, they have to spend time falling in love with nature first. So while upcycled crafts are fun, go outside where kids can be a little messier and enjoy some fresh air and sunshine. If you need more outdoor inspiration, check out this list of outside Earth Day activities for kids.
Awesome Earth Day Books for Kids
These books cover a range of environmental themes with a variety of perspectives. Some are simple stories, while others introduce topics like the problems with pollution, learning about the rainforest, and spending time in nature with loved ones. From reading together at an early age to books they can explore on their own, here are some of our favorites books for Earth Day.
A Good Place (Ages 3-7)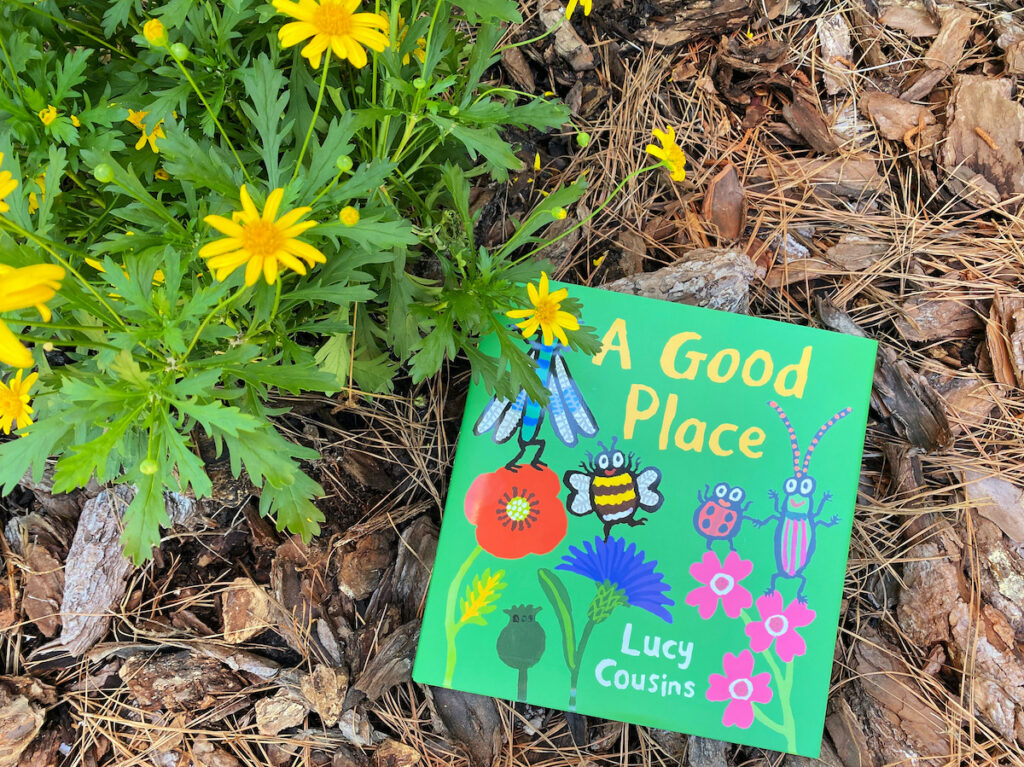 A Good Place follows four insect friends in search of a good place to live. Bee, Ladybug, Beetle, and Dragonfly are looking for a home. And each has a different want or need: Bee loves flowers, Ladybug prefers leaves, Beetle is fond of dead wood, and Dragonfly likes ponds.
But every time they find what seems like the perfect spot – with beautiful flowers, a tiny pond, some dead wood, or gorgeous green leaves – they discover it's underfoot, near traffic, or otherwise not safe. It's especially frustrating when Ladybug finds a beautiful green plant but the next page shows a hand spraying "bug off" at them.
After many attempts, they find a good place. Kids learn the importance of creating and protecting habitats for even the smallest of living creatures.
You might recognize this book's style as that of Lucy Cousins, the author and illustrator of the Maisy series. And as usual, you'll find bold artwork, endearing characters, and an engaging story your child will want to hear over and over. Find it at Bookshop.
Kaia and the Bees (Ages 4-8)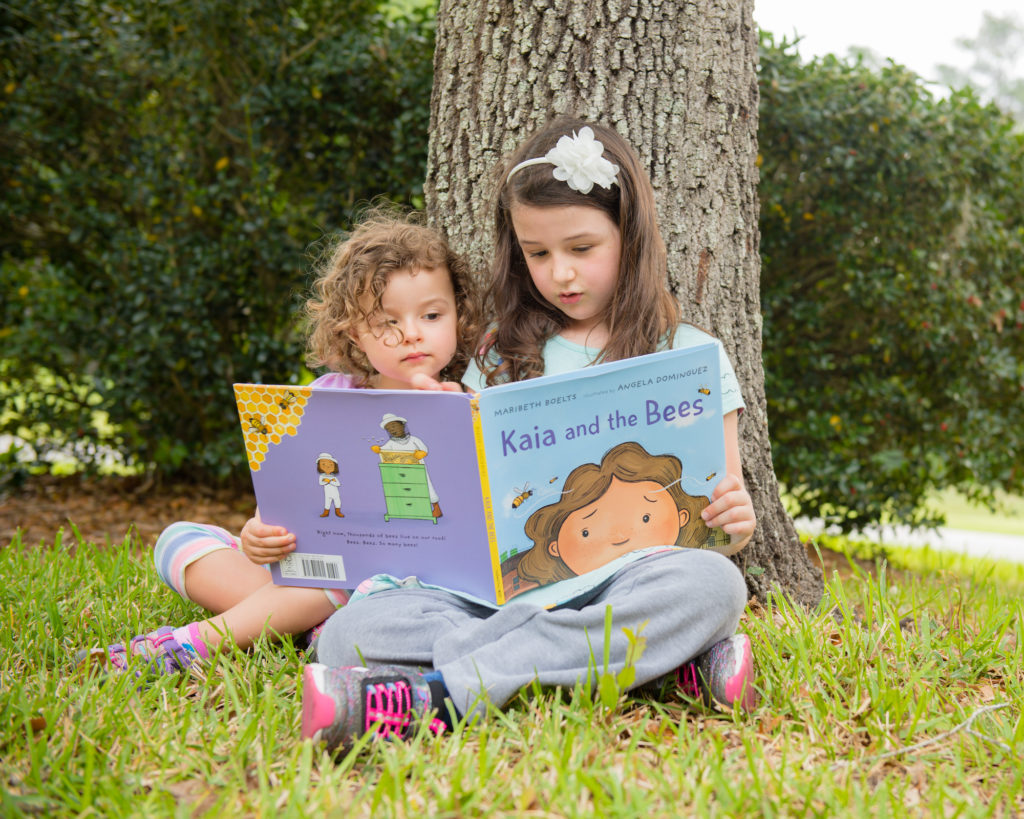 Kaia tries to overcome her fear of bees and eventually realizes how amazing they are. Readers learn all about pollinators from Kaia's beekeeper dad. Your child will also get to see an example of how people who live in the city can tackle environmental problems. Traditional children's books would probably set this bee hive in the country. Part of what makes this a great Earth Day book is how it opens up the conversation for how families in urban areas can garden, compost, conserve resources, and even keep bees.
As parents and as readers, we appreciated the layers of messaging in this story. It's a lovely example of how sometimes we end up going backward before we can move forward. There is diversity among the characters, and you get the feeling of a close knit family in a happy community. Find it at Bookshop.
Drip (Ages 2-5)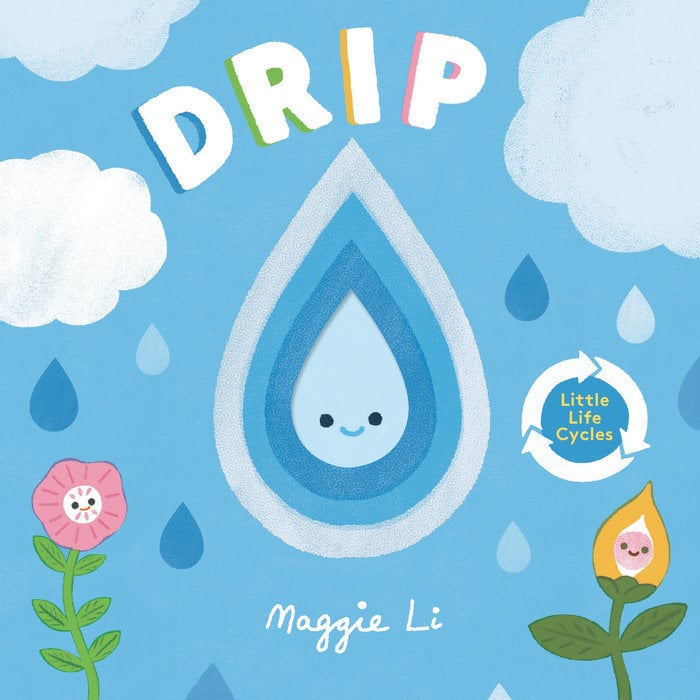 Drip adorably introduces the water cycle to the youngest readers.
From a droplet of water in the river to a cloud in the sky, Drip journeys across the earth and sky in a fun, informative board book that explores the cycle of a raindrop. A die-cut throughout the book emphasizes how nature is full of changes—but begins and ends with a tiny drop of water. Find it at Bookshop.
Masters of Disguise (Ages 4-8)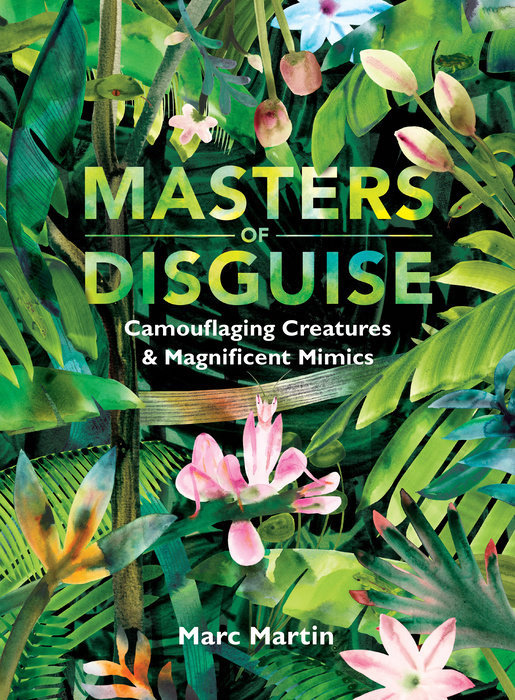 When it comes to Earth Day books for kids, anything that fascinates them is perfect. Now you see them, now you don't. Cloaked in a riot of color, pattern, and texture are a dozen animals—from chameleons and polar bears to vipers and mimic octopuses—that have mastered the art of fading into the background.
This beautifully illustrated seek-and-find book contains tons of fascinating facts to test young readers' newfound knowledge of each creature and its ecosystem. Find it at Bookshop.
Earth Verse: Haiku from the Ground Up (Ages 7+)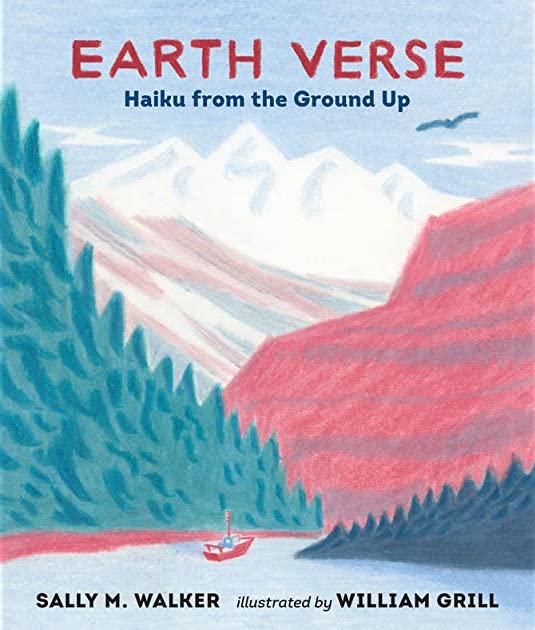 What's better than a book that celebrates the simple beauties of the planet? One that encourages children to develop an interest in poetry, too! Earth Verse features 29 haikus about Earth. In a stunning combination of haiku and art, this one-of-a-kind book encourages readers to think playfully about our planet and its wondrous processes. Sibert Medal–winning author Sally M. Walker covers Earth's many marvels – fossilized skeletons of plants and animals, terrific volcanic eruptions, the never-ending hydrologic cycle – in haikus. Expertly drawn art by William Grillnprovides a visual reference for each poem. A unique, artistic intersection of poetry and science, Earth Verse is sure to enthrall any and all readers interested in the world around them.
The end contains a page devoted to each of the nine different topics the book covers: the Earth, minerals, rocks, fossils, earthquakes, volcanoes, atmospheric and surface water, glaciers, and groundwater. Ideal for older kids, this book contains some words many adults have likely never heard. So it's a great opportunity to do a little research together. Find it at Bookshop.
Many: The Diversity of Life on Earth (Ages 5+)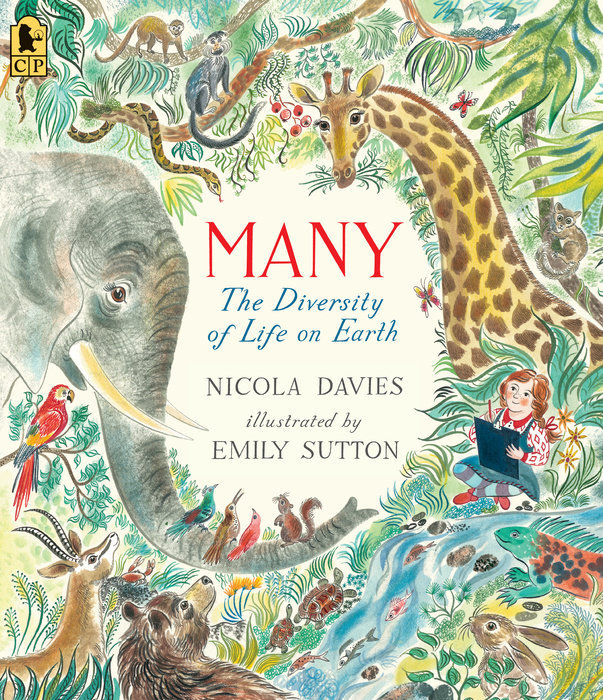 This book offers a look at the extraordinary diversity of Earth's inhabitants — and the importance of their preservation. It shows little ones how the planet is full of millions of species of plants, birds, animals, and microbes, and every single one is part of a big, beautiful, complicated pattern.
When humans interfere with parts of the pattern, by polluting the air and oceans, taking too much from the sea, and cutting down too many forests, animals and plants begin to disappear. What sort of world would it be if it went from having many types of living things to having just one? Find it at Bookshop.
Paper World: Planet Earth (Ages 8+)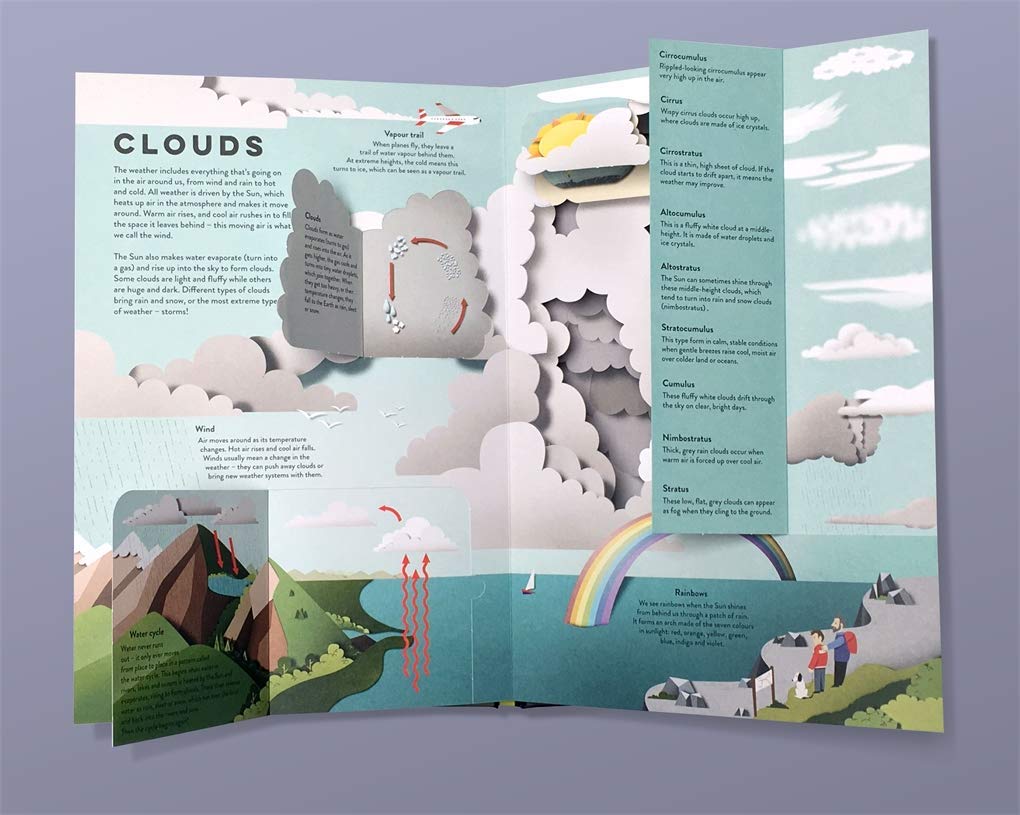 Our kids have always loved a book with hidden flaps and interactive cut outs, and this one is high on our list of Earth Day books for kids. It uses ingenious paper cutouts to reveal the amazing details of our planet, from bubbling volcanoes to rushing rivers to the boiling hot interior of the Earth. Even adults will learn something new!
With detailed art by studio Bomboland, a fact-filled text, and flaps and die-cuts on every spread, this book appeals to kids of all ages. Find it at Bookshop.
It's Our Garden: From Seeds to Harvest in a School Garden (Ages 5+)
At an elementary school in Santa Fe, the bell rings for recess and kids fly out the door to check what's happening in their garden. As the seasons turn, everyone has a part to play in making the garden flourish.
From choosing and planting seeds in the spring to releasing butterflies in the summer to harvesting in the fall to protecting the beds for the winter. Even the wiggling worms have a job to do in the compost pile! On special afternoons and weekends, neighborhood folks gather to help out and savor the bounty.
This book makes a great one to read and then pass around to build excitement about community gardening. Find it at Bookshop.
My Big Book of Outdoors (Ages 7-9 years)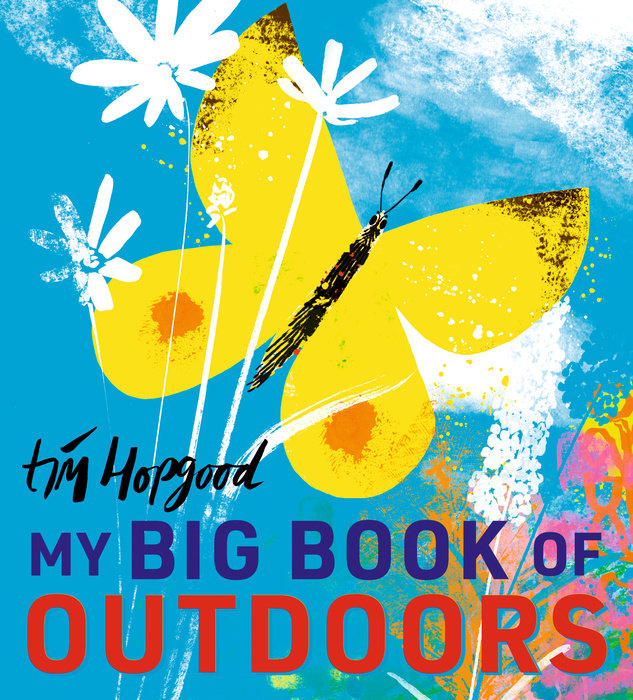 Full of activities, poetry, fun facts to explore, and amazing things to see and do outside, this brightly illustrated book encourages your child's love of nature year round.
From vibrant springtime flowers to sweet fruits on summer trees, from the falling of autumn leaves to snowdrops in winter, this ode to the four seasons introduces young readers to the world of nature outside their door.
During the chilly months, they can discover why birds fly south in winter, search for animal footprints in the snow, or learn to make the perfect paper snowflake. As the sun grows stronger, they're invited to weave a daisy chain, find a feather, or try their hand at growing a sunflower. Find it at Bookshop.
The Tree: An Environmental Fable (ages 2-5)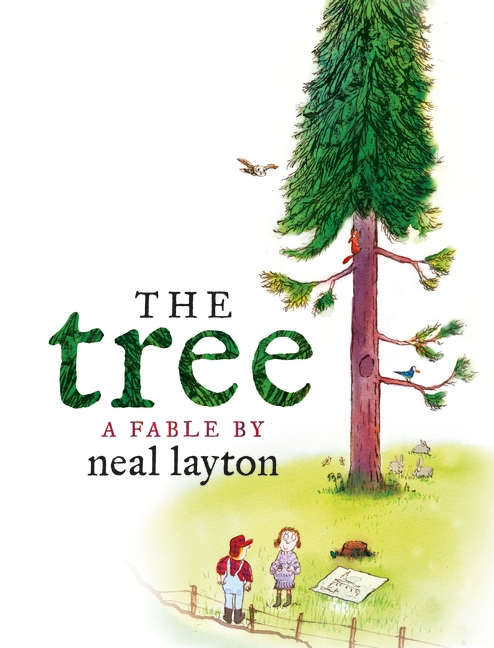 When a family wants to cut down a tree to build a house, what happens to the animals' nests and burrows? The book opens with a tree with a for sale sign next to it.
Your preschooler will want to hear this book over and over. The sparse words and rich illustrations partner to convey a simple, but important message. For the rabbits, birds, and squirrels, the big tree is home. But then come two new arrivals with wonderful plans, all ready to create their dream house. What will it mean for the animal families if their tree is cut down? With empathy and imagination, this sweet story offers a hopeful outlook about the harmony of the natural world. Find it at Bookshop.
What's your child's favorite nature related story? Share your recommendations for Earth Day books for kids in the comments.
And if you're looking for more fun for Earth Day or Earth Week, find these printable Earth Day coloring pages or this roundup of educational and fun Earth Day activities.