Tread Lightly: How Eco Travel with Kids is Possible and Fun
Eco travel with kids?
You bet.
For many people, the term Ecotourism brings to mind exotic (and expensive) adventures in far-off places.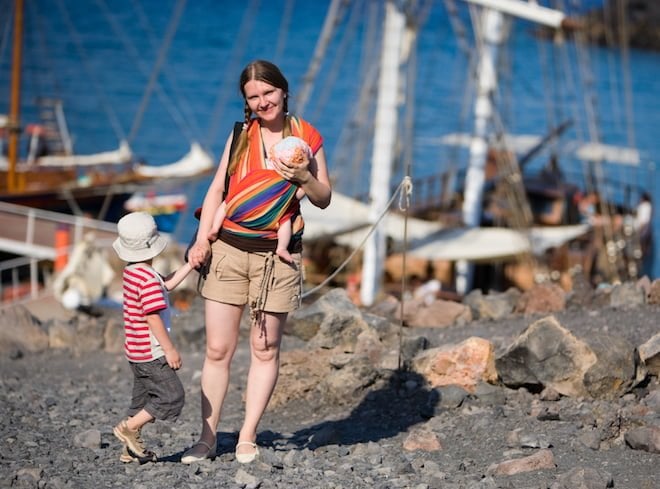 But if the idea of changing diapers atop a pitching whitewater raft or hiking for miles through the steaming jungle with your toddler in a sling doesn't make you want to book a flight this minute, don't despair.
There are sustainable travel options to please every family – regardless of your interests and the ages of your kids.
What is eco-travel?
You might be wondering if the term "eco travel" is perhaps an oxymoron. It is true that everything we do has an impact on the environment. It can be difficult to plan a trip without increasing our environmental footprint.
However, keep in mind that 'impact' can be positive as well as negative. A well-planned trip can bring positive benefits to the communities you visit. In fact, tourism provides a much-needed economic incentive for many communities around the world to protect their natural and cultural heritage.
Traveling with your kids is also a wonderful way to expose them to different cultures and allow them to experience first-hand the wonders of the natural world. This can help them develop tolerance, confidence, and an open-hearted love of and interest in the world – critical attitudes to foster if our society is ever to learn to live in harmony with the earth.
"Eco travel is full of what educators call teachable moments or, more definitively, unplanned opportunities to explain a concept that has unintentionally captured a child's interest," says Irene Lane, president of the eco-travel agency Greenloons. "Whether it is touring the rainforests of the Amazon, observing blue footed boobies throughout the Galapagos Islands or understanding the water issues that surround the Okavango Delta in Botswana, eco travel is a vacation experience that provides boundless opportunities to teach younger generations about the fragility of ecosystems and the significance of heritage."
Here are some ideas to consider when making your sustainable travel plans:
Think local
Your vacant home still consumes resources even while you're away. One way to avoid excess consumption is to plan a vacation at home or "staycation." Many people get so caught up in their daily lives that they never take the time to discover and enjoy the wonders that surround them.
Chances are you have a week's worth of attractions just a short drive or bike ride away from your home. Why not use your vacation time to visit them?
Visit your local tourist center or talk to friends for eco travel with kids inspiration. If you are blessed with sensitive or high-need children who get overstimulated easily, this can be a wonderful option. You can even plan a rest day in the middle of the week where you don't go anywhere, just to help them recharge.
Even if you decide to travel away from home, you can still think local. Locally owned boutique hotels and local restaurants and markets offer unique tastes and experiences you will never experience elsewhere.
Patronizing them also helps support the communities you visit in a big way. "With most hotels, only 4% of their profits go local," explains adventure travel consultant Dana Johnson of Open Leaf Excursions. "When you stay in a boutique hotel, an average of 70% of the profits stay in the local economy." Supporting these smaller businesses helps keep the communities you visit vital and alive.
As an alternative, consider arranging a home stay. Green business consultant Shel Horowitz says, "(Our family has) been doing that all the way back to 1983, through homestay networks like Servas or Couchsurfing. Our kids (born in 1987 and 1992) grew up with it. As adults, both of them have stayed members of Servas." Homestays can, and often do, result in deep mutual appreciation and even lifelong friendships between members of diverse cultures.
How you get there counts
Eight times out of ten, Americans jump in the car when they get the urge for leisure travel. But car travel may not be the most sustainable choice for your trip. According to research by the Sightline Institute, even air travel trumps the average car for fuel emissions per passenger, when driving solo. Adding passengers improves your stats (as does driving a fuel-efficient car), but it does make sense to explore alternatives.
If you are traveling to and within urban centers, consider taking the train or bus. These forms of transportation typically consume half the fuel of flying or driving. And as Corinne McDermott of HaveBabyWillTravel explains, riding them can add to the fun.
"Getting around a new city by public transit is a green way to explore a destination that kids absolutely love. Not only are you reducing your carbon footprint, but you're also saving money too by not taking expensive cabs. Children enjoy taking buses and trains, and you experience more of your destination this way as well."
If you're planning a long trip, consider booking a sleeper compartment on the train. Kids love the novelty, and it makes travel a lot more comfortable.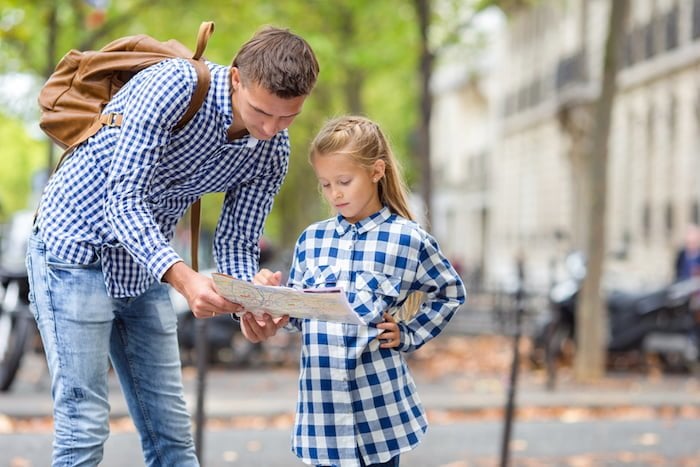 If you really want to travel green, consider bicycle touring. Bikes are amazingly versatile: they can go places cars can't, and you can even take them on many trains and buses. Bicycle touring with kids is not as hard as you might think. If you're unsure about it, start small, as software engineer and cycling blogger Richard Masoner suggests:
"Among bike people, we have a concept of the S24O or the Sub 24-hour overnight trip. You find a destination within easy biking distance for you and your family, and you don't even need fancy or expensive touring gear. My family and I did this with inexpensive city bikes and heavy car-camping gear, camping overnight in a nearby state park. In California, many state parks even have camping sites reserved just for those who bike or walk into the site."
Richard did this when his kids were 9 and 13, but don't discount bike travel with younger kids, as well. My husband and I traveled 4,000 miles across the U.S. on our honeymoon. One the way, we overtook a young family doing the same thing. The mom was pregnant, and the dad was pulling their 2 year old in a trailer behind him.
He was happy as a clam at 40 miles a day! Tandem extensions can help bridge the gap for kids who are too big for a trailer and too small to go far on their own. And if you're worried about safety in traffic, plan your trip for an established, dedicated bike trail.
Ultimately, you'll need to consider more than just carbon emissions when planning your mode of eco travel with kids. No matter how you choose to go, purchasing carbon offsets can help you make amends to the planet for your travel impact. Sustainable Travel International's Carbon Calculator for travelers is a useful tool that lets you calculate your impact and offset it by donating to reforestation, renewable energy, and other sustainable projects.
Leave no trace camping
Wherever you go with your kids, use it as an opportunity to teach respect for the environment and for others. Whether or not your green travel involves outdoor exploration, consider teaching your kids to follow the 7 principles of Leave No Trace Camping.
Plan Ahead & Prepare
Travel & Camp on Durable Surfaces
Dispose of Waste Properly
Leave What You Find
Minimize Campfire Impacts
Respect Wildlife
Be Considerate of Other Visitors
Some of these principles are specific to camping. Challenge your older children to come up with alternatives that apply to non-camping situations, too!
Take a balanced approach
Of course you want your vacation to be as eco-responsible as you can make it. But keep in mind that stress is unsustainable, too! Do what you can to plan a trip that supports your family's values and expectations – whether it's positive social impact on the local community, the availability of good food, access to natural areas, availability of shuttles, bicycles, public transit and/or safe walking paths, green housekeeping practices, or something else entirely.
Do your own research by making phone calls to places and chatting with folks as well as reading third party eco ratings and social media reviews. Once you make the decision that feels the best to you, let go of the rest.
"The last thing you want your eco-vacation to become is tense and frustrating because you are constantly searching for the best sustainable choice," says Hillary Mizia, executive Director of Shadowcliff Mountain Lodge in Grand Lake, CO. "Allow yourself to be immersed in the culture and welcome social sustainability on a new level. Expose your kids to happiness while traveling. Give your family the gift of being present. Enjoy yourself!"
David Leventhal, owner of the Playa Viva hotel in Guerrero, Mexico, agrees. "My number one piece of advice is find a place that allows for kids to interact with nature and then do NOT try to schedule, he says. "We are so prone these days to schedule every moment of our kids' lives, but if you take them to the right Eco location…the kids will become kids again and their sense of curiosity and especially around nature will emerge."
Not sure what to plan for your next family vacation? Here are our top eco-friendly travel picks:
1. National Parks
Between them, the U.S. and Canada boast nearly 100 national parks, offering spectacular landscapes and awesome outdoor experiences for families of all ages. Many require reservations for camping and lodging, so plan your trip in advance.
2. Glamping
Not a hardcore camper? No worries. Glamping (glamour + camping) resorts offer a cushy alternative – the outdoor experience wrapped in luxury. Staying in a yurt, treehouse or other cool structure with ready access to running water and other necessities is a relaxing experience the whole family can enjoy – including special needs families or those with very young kids. For more information on glamping visit InspiredCamping.com.
3. Volunteer Vacation
Family volunteering is a wonderful way to give back the communities you visit and empower your kids to be a positive agent of change. When it comes to eco travel with kids and doing good in the world, there are volunteer vacations available worldwide.
4. Farm or Ranch Stay
Imagine your kids faces as they collect their own eggs to eat for breakfast, pull carrots from the farm garden, eat blueberries right off the bush, then race to the creek running through the property to splash and wash off messy hands? Farmstays offer families a chance to experience life in the country, to understand where and how your food is grown or raised, and to connect families with the natural world, with farmers, and ultimately with each other. FarmstayUS.com offers a searchable database of farm and ranch stays nationwide.
5. Alternative Transportation Tours
Why not make the journey itself the destination? Besides bike touring, there are lots of other non-motorized options: trips by canoe, kayak, horseback, or even covered wagon!