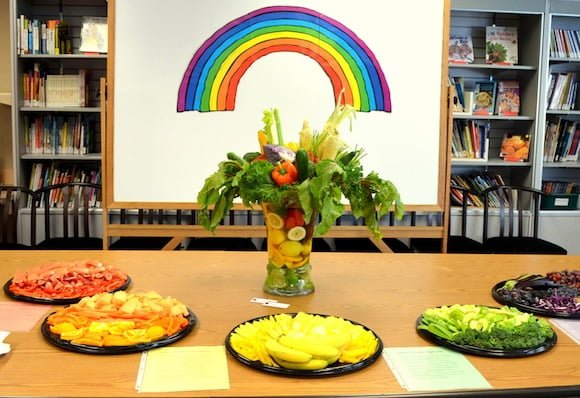 Shortly after Green Child published my article You Say You Want a Food Revolution, I was approached by a local private elementary school about helping them shift to a healthier lunch program.
In this area, schools have a Hot Lunch option provided to students once a week.
Usually they offer things like hot dogs, pizza, and other fast food. Not exactly healthy foods… but to be fair most schools here don't have full size kitchens.
The students of First Lutheran Christian School just happen to have everything needed to start their Healthy Hot Lunch Revolution:
Commercial size kitchen
Local caterer, Sharon Bootsman, who has a passion for fresh food
Determined admissions advisor and lunch coordinator, Heather Sandager, who had a vision and a community of interested parents
And me, the Eat a Rainbow lady
Make a Game Plan for Your School's Food Revolution
What would be on the menu?
How could we tie in eating a rainbow?
What would we do to get the kids excited and on board?
I'm happy to say it's all planned out. Here's a glimpse of the menu (with a cost that is very close to what parents pay for the fast food hot lunches):
Week 1 | Wraps with a choice of Tuna, Chicken, Ham or Vegetarian; Rainbow Veggie Tray; Fruit Parfait with Yogurt
Week 2 | Homemade Taco Soup with Mexican Salad and Organic Chips; Veggie Sticks and Dip; Blue Fruit Banana Boat
Week 3 | Grilled Cheese with your choice of Ham and Swiss, Turkey and Provolone, or Traditional Cheddar Cheese; Red Colour Fruits and Veggies of the day
We've also incorporated a group rainbow chart to encourage the students to eat their rainbows.
Lunch Coordinator, Heather Sandager says "My hope for this new, healthy hot lunch program is that it captures the essence of our school. We are not a school who "just gets the students through" their elementary years and sends them on their way. And we will not be just filling children's bellies and sending them off to the playground."
"We strive to cultivate excellence and distinction in each child, in every program and opportunity that we have here at FLCS. It is our hope that this program helps children learn life skills, gain an appreciation for healthy foods, grow and nurture relationships with their peers, school parents and Ms. Bootsman, and cultivates the courage to try something new…even if it is just a carrot"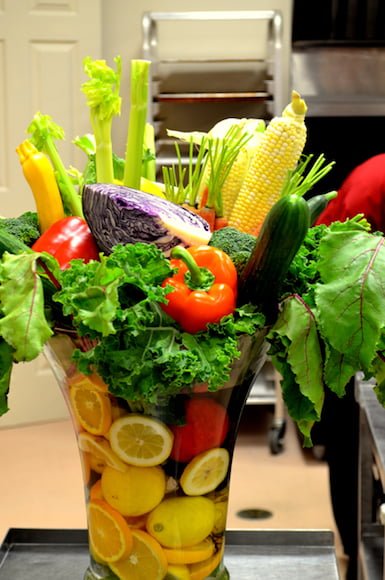 At the school's Open House there was a lot of excitement around eating a rainbow because Ms. Bootsman had prepared trays of colorful fruits and veggies so the students were getting a chance to see what the new Hot Lunch program will be like. They got to fill out their Real Food Rainbow Passport every time they tried something from one of the colorful trays!
Some little ones were trying things for the first time. Others who tend to shy away from fruits and veggies were willing to give it a try, since all the other students were doing so. And that is part of the beauty of kids eating together.
With effort, energy, enthusiasm and education, this school is making a shift to a healthy lunch program that nourishes their students and sends them the message that their health is important.
If you would like to start making changes at your child's school there are some great resources available to help you such as Jamie Oliver's 30 Ideas for starting a Food Revolution in your School, as well as Chef Ann Cooper's The LunchBox which is full of tools and tips for bringing healthy foods to your school.
Change happens when knowledge and action join forces…YOU can be the catalyst for the positive changes you want to see in the world!

Kia Robertson is a mom and the creator of the Today I Ate A Rainbow kit; a tool that helps parents establish healthy habits by setting the goal of eating a rainbow of fruits and vegetables every day. Kia is passionate about creating tools that help parents raise healthy kids!

Latest posts by Kia Robertson (see all)