8 Summer Snacks and Charcuterie Board Ideas the Kids Will Love
Whether you are hosting a backyard bash or simply want to turn up on a typical summer day with the fam, these summer snacks and charcuterie board ideas are not only tasty but simple to make, too.
Not to mention, most of these platters don't require any cook time. Talk about summer recipe bonus points!
How to Make a Charcuterie Board
The thought of whipping up a picture-perfect summer snack platter may sound like something that is out of reach. There is nothing wrong with handing over ice pops straight from the box or grabbing applesauce packets from your bag on a summer beach trip.
That said, it can be fun to whip up something a little special, especially during the summer months when you aren't worried about school drop offs, homework, and all the other activities that take up your time during during the school year.
Here are some charcuterie board assembly tips that will help keep the process pain-free and entertaining for all.
Charcuterie Board Assembly Tips
Start with a clean board, tray, or even a cookie sheet. Just make sure the surface is clean and flat.
Look for components with different flavor profiles, think: savory, sweet, and tangy.
Choose different colored foods (think vibrant fruits and veggies) so the board will be healthy and visually appealing.
Garnish can be fun, but if young ones are around, be sure that any flowers or finishing touches are edible.
Map out where you want to place items before diving right in. It can be a good idea to start with larger items, like large cheese wedges or dip bowls first and then build around them.
Summer Snack Board and Charcuterie Board Ideas
Simple, fun and flavorful. Get ready to impress your family – and yourself – with these unique summer snacks.
1. Picnic-Perfect Snack Tray
This summer charcuterie idea subs in a snack tray in place of an actual board. It's still pretty as a picture and it becomes that much more functional for an outing with kiddos. The BakerMama's balance of fiber-rich fruits, nutritious veggies, meat, and cheese with a few sweet treats mixed in, makes sure there is something for everyone.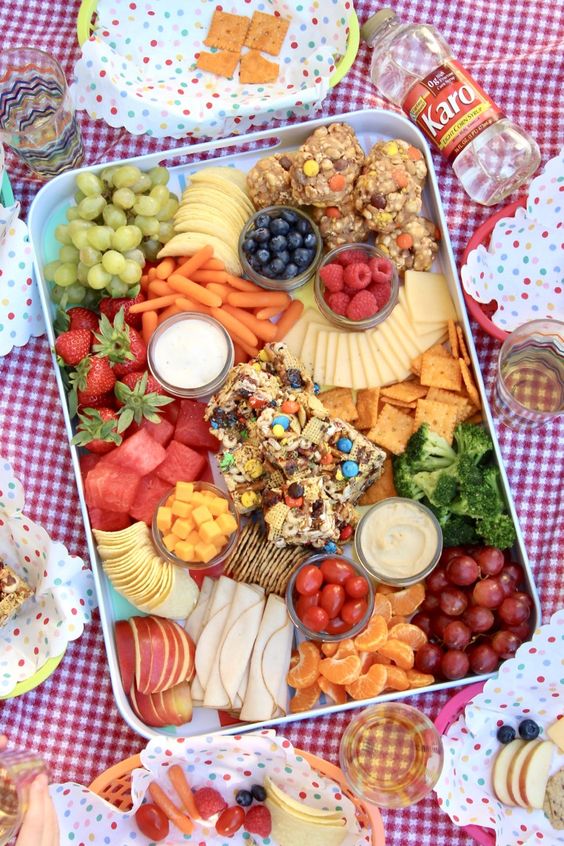 2. Charcuterie Cones
Ice cream cones were so last summer. The Platter Girl beautifully presents an elevated, functional take on the summer charcuterie board. With these paper cones you can walk, talk, and snack all at the same time. Plus you can customize the snacks inside for each child. Go a step further and label them by recipient or a section of veggie only, dairy-free, etc.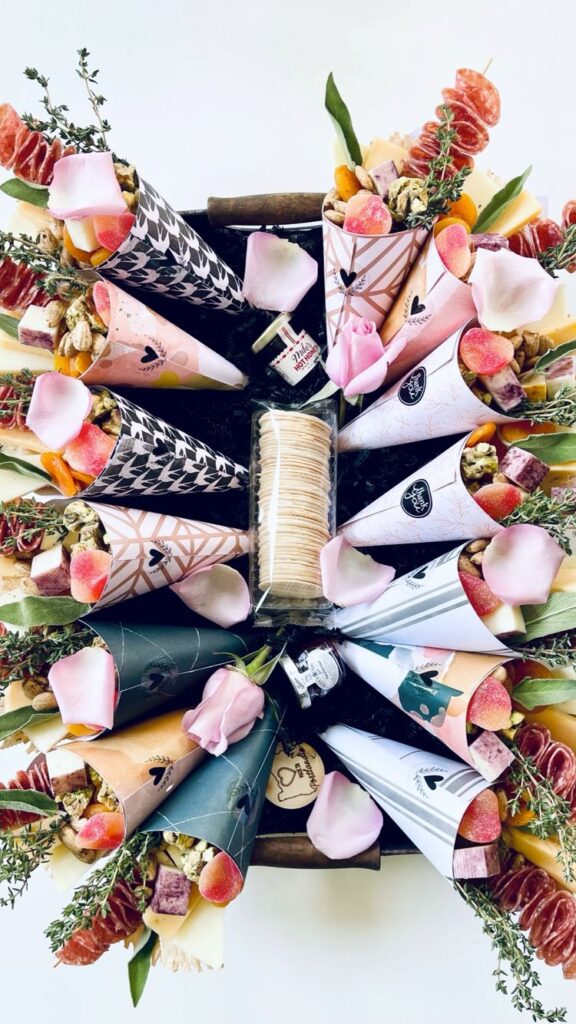 3. Kid-Friendly Protein Snack Board
This protein board is full of nutritious protein in every form. Carnivores and Vegetarians alike can graze this board and find something to satisfy their sweet tooth, their salty tooth, and fill up on real foods. Find all the ingredients at Weelicious.
4. PB&J Snack Board
A big appeal of a board is the customization factor. They're great for picky eaters. 1. Because they can just take what they like. 2. Because the other foods are so accessible, kids are often more likely to try something new.
A PB&J board like this one from The Baker Mama offers plenty of sides to go with this standby sandwich. You could make it even more custom by adding different jars of nut butters and jellies depending on your kids' or guests' preferences. Plus the nut butters are nice to have out for dipping apple slices.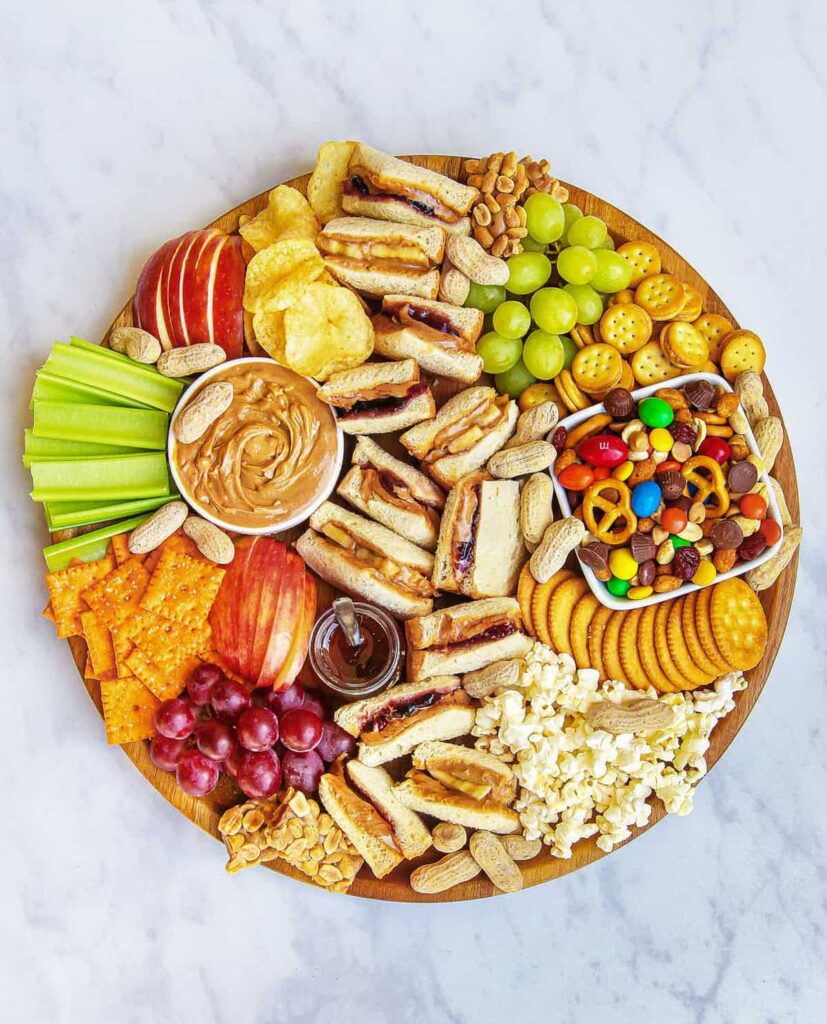 5. Mezze-Merizing Snack Time
Talk about a simple, yet impressive charcuterie board for summer. This classic Mezze platter from I Heart Naptime has something for everyone and can be assembled in a matter of minutes.
It's perfect for parties or a simple option for family grazing. And as always, make sure there's plenty of what your family loves.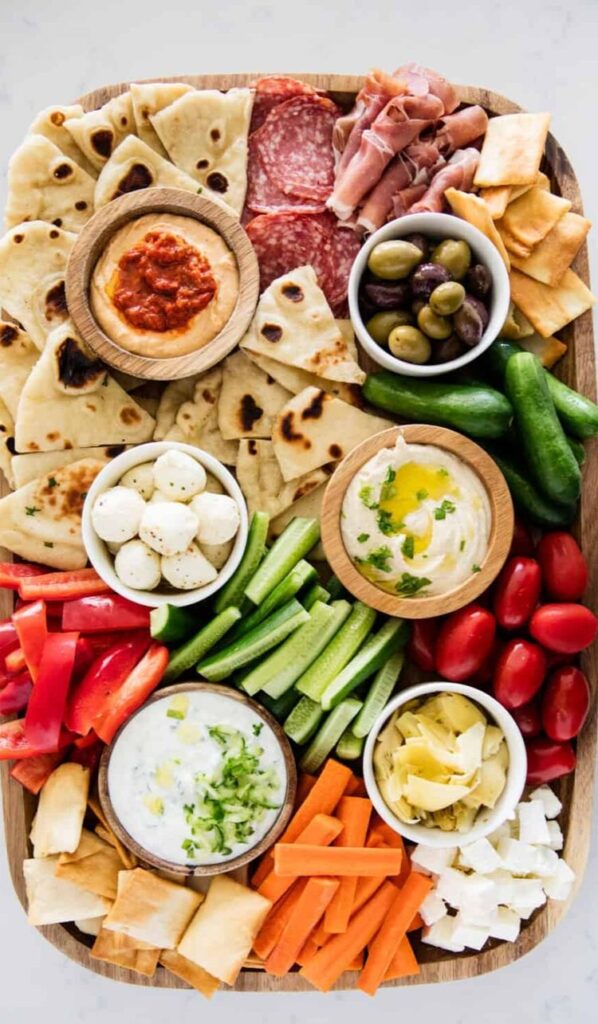 6. A Slice of Summer
Pizza tops the list of favorite foods for most kids. This watermelon pizza from Take Two Tapas could not get any sweeter and makes for a great summer snack for adults and kids alike.
Choose the fruits your family loves and let your child place them on their "pizza" themselves. (If you include any flowers, make sure they're edible.)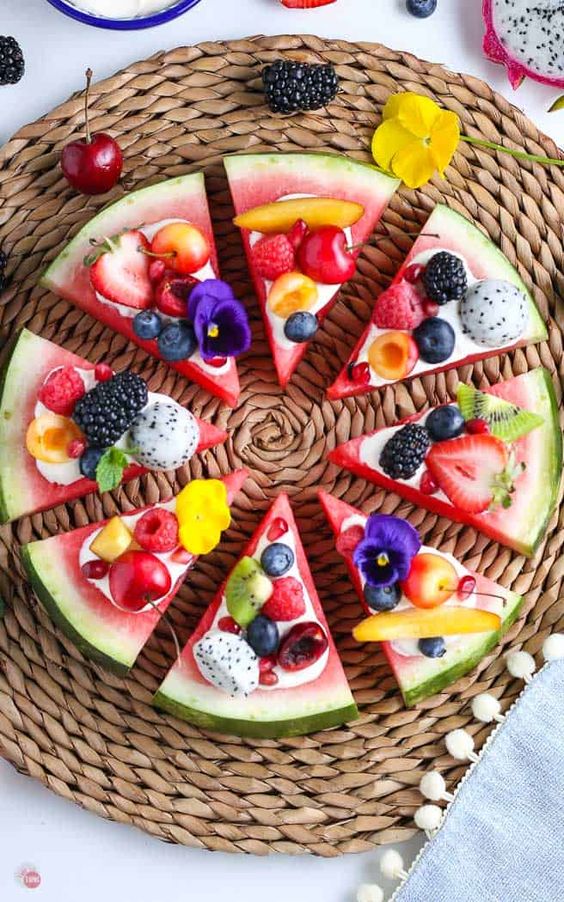 7. Breakfast Charcuterie Board
Slow summer mornings can make for the best of the best summer moments. While you have a little extra time, cook up something special for the fam like this board from Low Carb Nomad.
Starting the day with lots of protein keeps blood sugar balanced (and reduces cravings) all day. This board offers plenty of healthy protein options, along with fiber-rich fruits.
8. Movie Night Done Right
Step up your at-home movie night game with Cooking with Amber's platter filled with theater snack favorites and more.
When we make this summer snack board, we go heavier on the protein (nuts, cheeses, and sometimes a bowl of Greek yogurt) and much lighter on the candies.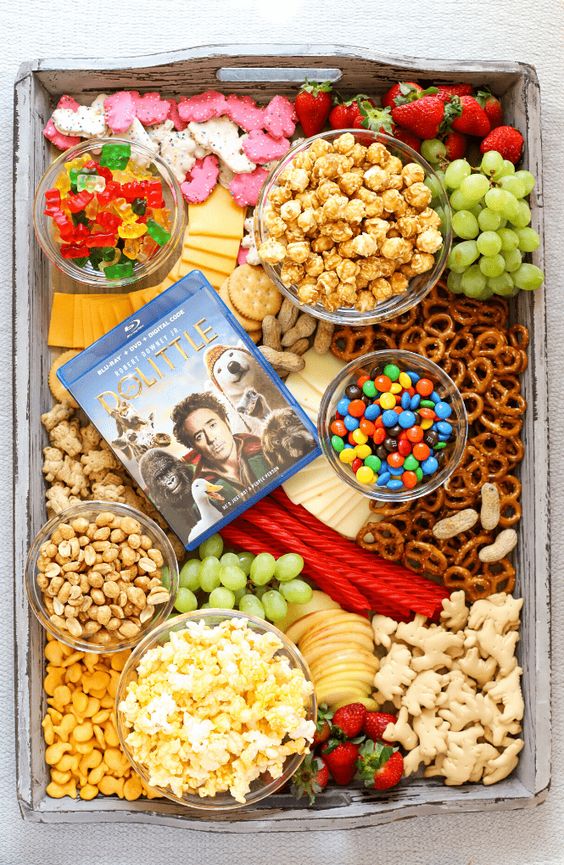 9. Summer S'Mores Board
If there were a champion of summer dessert boards it would have to be the S'more. And by default, we feel like Don't Forget the Champagne's S'more's Board may just be the best charcuterie platter you can make this season.
Feeling inspired? Share your summer snack creations with us by tagging @greenchildmagazine on your social posts!
Or if there's a summer snack board idea we've missed, let us know in the comments.