Common Health and Safety Bedroom Hazards for Kids + How to Avoid Them
Whether your baby has recently transitioned to a big kid bed or your child has been sleeping on their own for some time, you surely want to create a safe space for them to sleep in at night and while napping. But without a crib in the picture, that task can be easier said than done. Especially when there are so many hidden bedroom hazards lurking under the covers.
Now, don't fret. This isn't meant to inflict more anxiety on parents. We're just here to shed a night light on the most commonly overlooked bedroom hazards.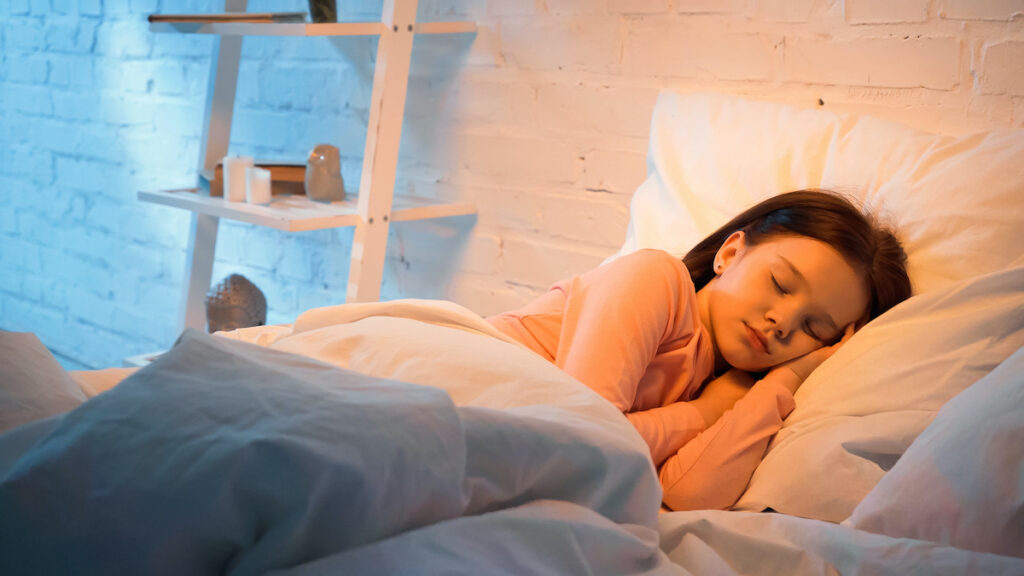 Many can go unnoticed, but can cause harm to your child's sleep patterns, breathing, overall immunity and well being as well as their safety as a whole. These risks might not be obvious, but they can leave a lasting impact. Take a look:
Focus the Bedroom on Sleep
To start, it's important to remember that a child's bedroom is a place for them to rest and recuperate. It's easy to pack the room with toys and tech, but all this stimuli can confuse a child when it's time for bed.
To help keep the intention of the room clear, consider adding a toy box or safe, FSC-certified storage bins. And spend a little time putting away play things at the end of the day. Further, try to keep your child's bedroom as a tech-free space.
Even if it's daytime, limit your child's use of tablets and electronic games to the main areas of the home. This will reaffirm the purpose of the room – it is for rest and sleep.
Sleep is a critical component to your child's overall health and well being. And a lack of it as a result of too much tech and toys is one of those overlooked bedroom hazards that we can easily avoid. Studies have shown that kids who get a proper amount of sleep have improved attention, behavior, learning, memory, and overall mental and physical health. While not getting enough sleep can lead to high blood pressure, obesity and even depression.
Common Bedroom Hazards to Avoid
Okay, the importance of receiving adequate rest as a result of a calm and sleep conducive space was a big one to cover. But there are other bedroom hazards that impact your child's health that you might not have noticed.
Don't confuse humidifiers and air purifiers
Did you know that air purifiers and humidifiers have two very different purposes? An air purifier is used to clean the air by removing pollutants. To do so, air is passed through the unit, pollutants are trapped or removed on a filter and clean air is emitted back into the room. Unlike humidifiers, air purifiers do not add any moisture to the air.
Here's a guide to choosing the best humidifier for your baby or child's room.
And unlike air purifiers, humidifiers do not clean the air. There are benefits to having both in your child's room. If you only use a humidifier, you may wonder why your child still seems congested in the morning, well it could have something to do with the room's air quality.
Choose nursery-safe space heaters
If you have to use a space heater in your child's bedroom, ensure it is out of reach and nursery-safe. These models will have safety features like child-safe locks and can automatically turn-off if they are knocked over.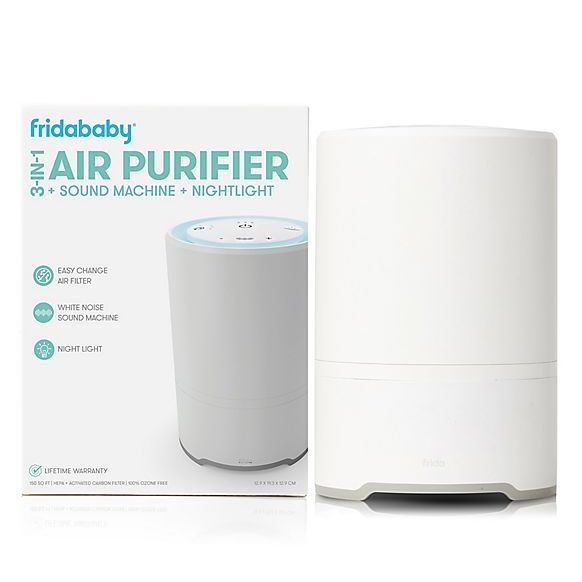 Frida Baby Air Purifier, Nightlight and Sound Machine
Remove dust mites, mold spores and air pollution thanks to the easy-change HEPA air filter. Choose from two sleepy sound options, three fan speeds and four nightlight colors to create the perfect ambiance for your little one to fall asleep.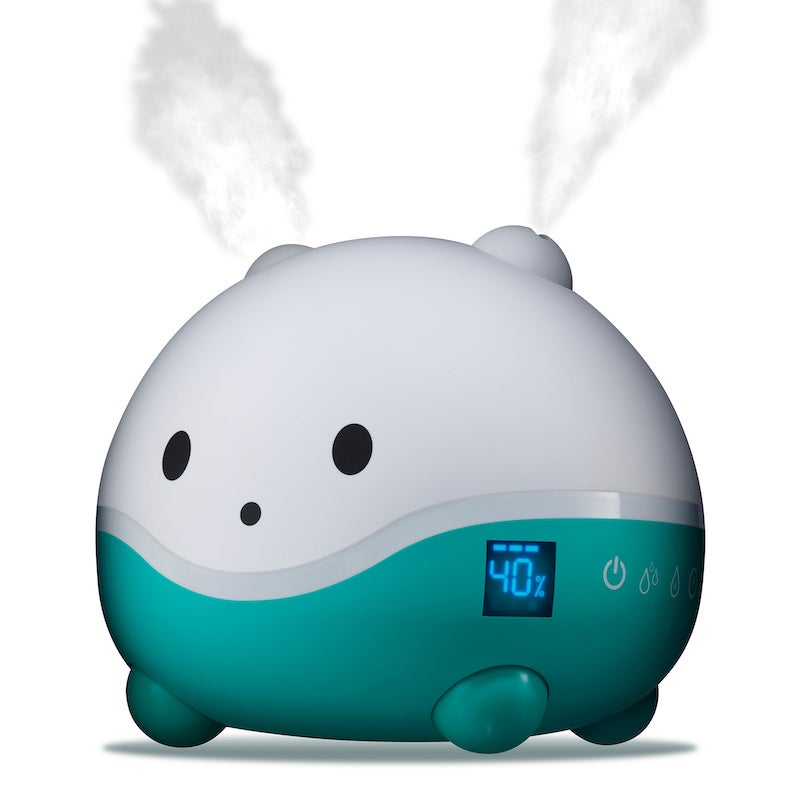 LittleHippo WISPI Humidifier, Diffuser and Night Light
Whisper quiet ultrasonic cool mist technology with 3 mist strength levels. Features a humidistat with auto misting feature (displays the room humidity and automatically mist until the desired humidity is reached). 6 timer options including automatic shut off.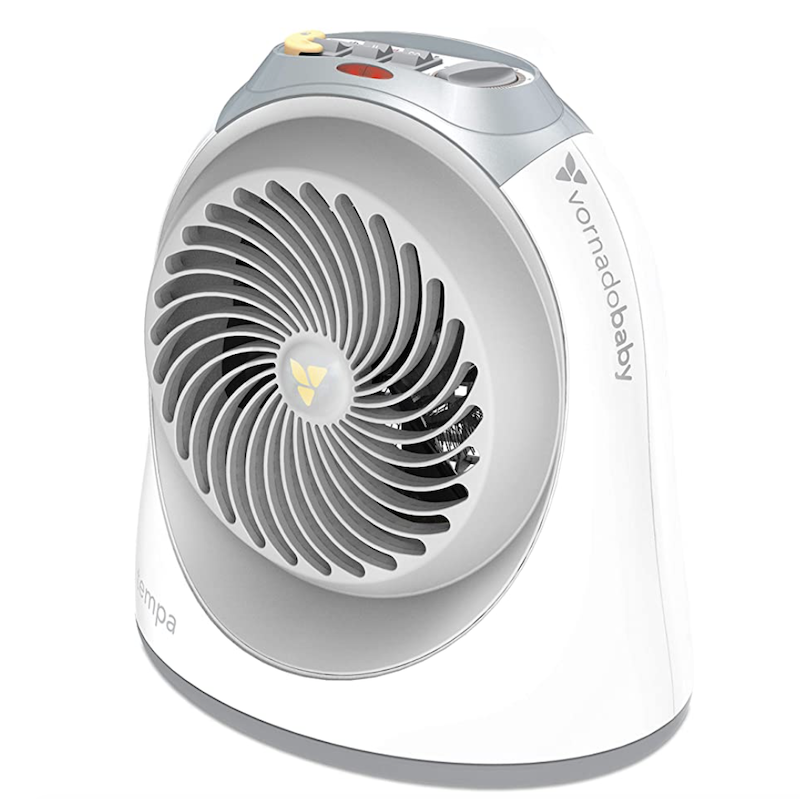 Vornadobaby Tempa Nursery Heater
Gentle yet effective vortex heat circulation maintains a comfortable temperature. Effective heat circulation means the heater can be placed anywhere in the room and still keep baby comfortable. Nursery safety is essential and this heater stays cool to the touch.
Avoid harmful chemicals in your child's mattress and bedding
Traditional mattresses are known to release minute amounts of gaseous chemicals called volatile organic compounds (VOCs). These chemicals can come from the polyurethane used in the mattress as well as flame retardants and plastics. This is why choosing organic mattresses and bedding and looking for bedroom products made with GOTS-certified materials is critical.
The term "organic" isn't a legally-recognized term in the mattress industry. There are organic certifications, but because these are private certifications, there's no oversight. And many brands give a broader significance to a single designation – meaning one component may be certified but other mattress materials may be the same as a conventional brand.
We've done the research to find the best and most trustworthy brands in kids' bedding.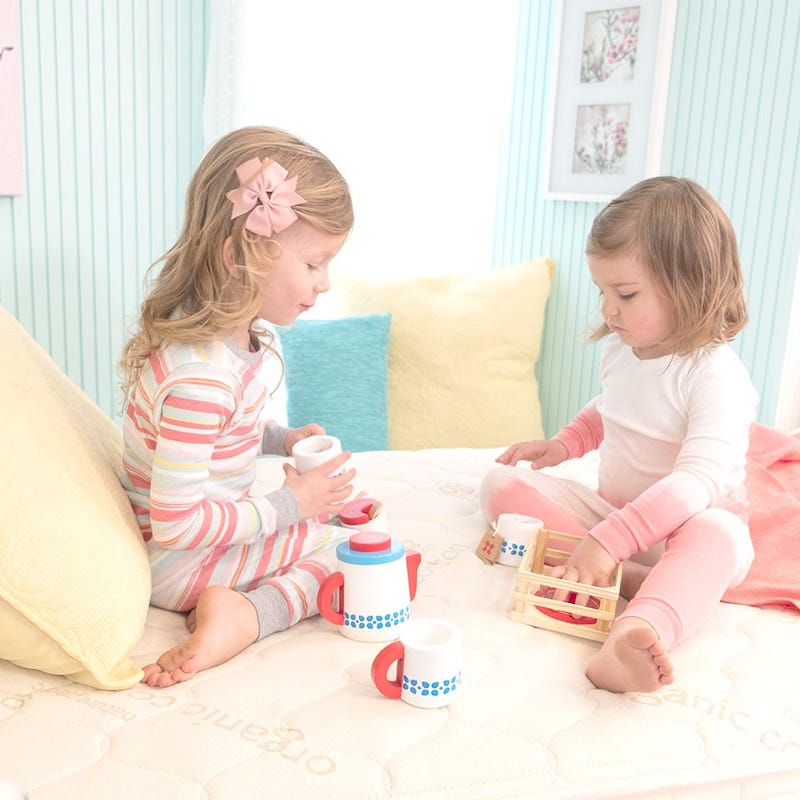 Naturepedic Organic Mattresses for Kids
As the most recognized and awarded organic mattress brand in the U.S., Naturepedic offers a line of organic mattresses specifically designed with kids in mind, featuring comfortable support and organic materials throughout. Use Greenchild15 to get 15% off the purchase of their top-rated, certified organic mattresses and accessories.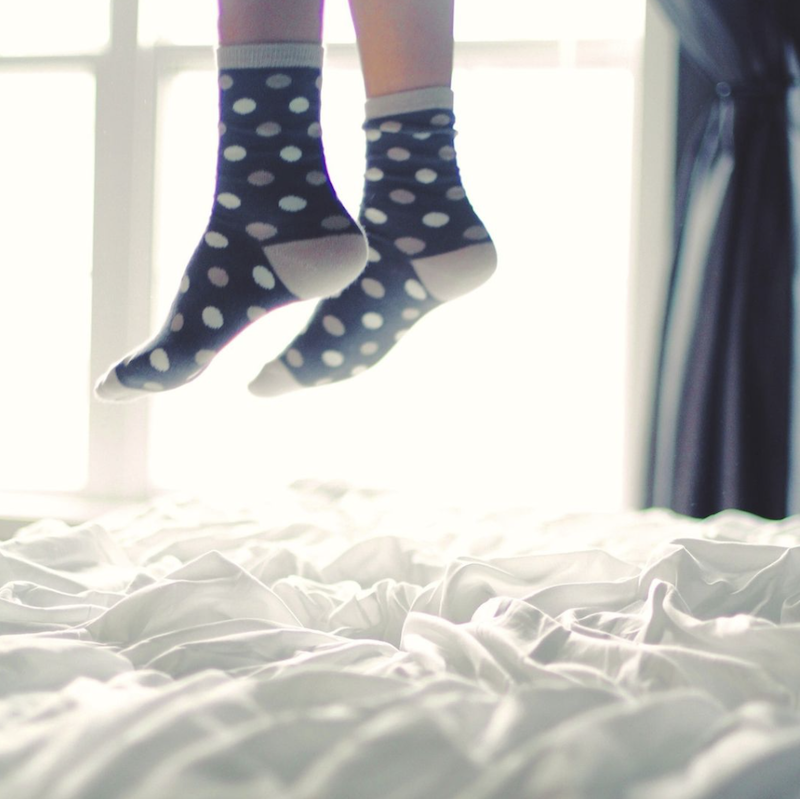 Delilah Home Organic Cotton Bed Sheets
Made from super soft 100% organic cotton, you can sleep well knowing your family's sheets are completely chemical-free. Delilah Home's full line is held to the strict GOTS (Global Organic Textile Standard) guidelines. They're also Fair Trade. Get 20% off of your entire purchase at Delilah Home using promo code GREEN20.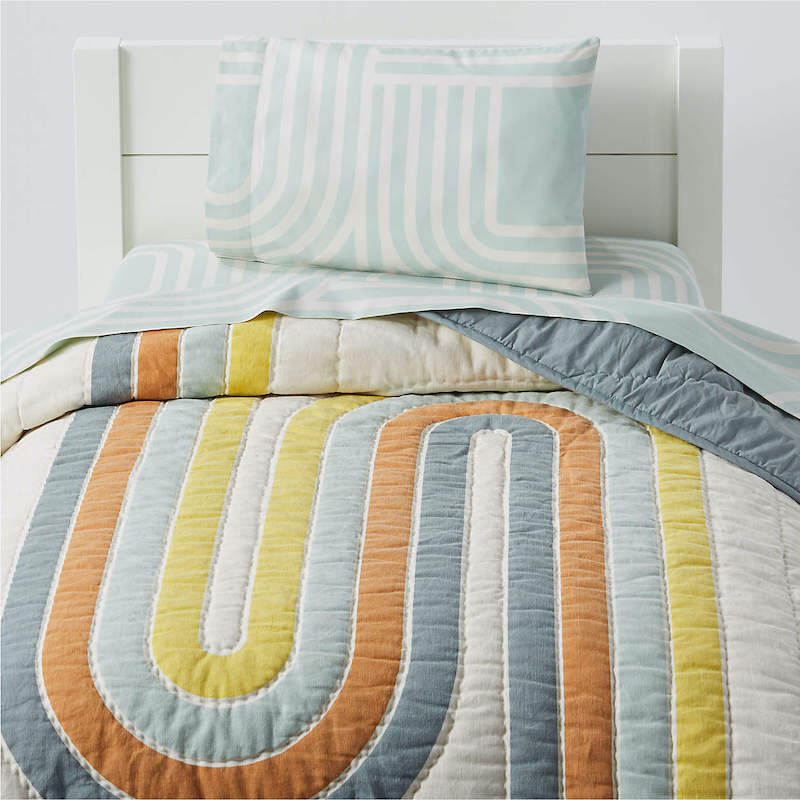 Peruvian Travel Organic Twin Sunrise Quilt
Machine washable with a 100% organic cotton shell and fill, these bedding brands at Crate & Kids are as adorable as they are safe. They also offer coordinating organic cotton sheets.
Kid Bedroom Safety Tips
Of course, there also some tried-and-true safety tips to keep in mind when assessing the overall security of your child's bedroom.
Your child's bedroom should be a safe and relaxing space for them to dream big dreams and rest. Help ensure it is a safe space for them and take a look at your own room, too. You will find that many of the same bedroom hazards can apply.