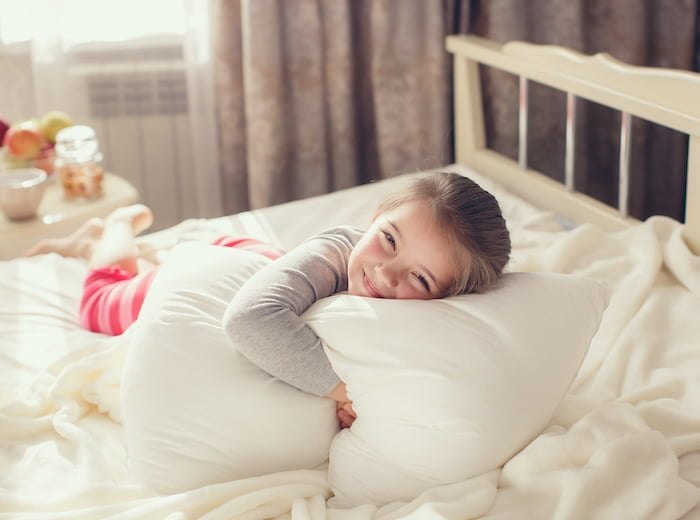 "If you can cultivate wholesome, mental states prior to sleep and allow them to
continue right into sleep without getting distracted, then sleep itself becomes wholesome."
~ His Holiness the Dalai Lama, Sleeping, Dreaming, and Dying
Children who maintain a regular pattern of quality sleep are generally better able to cope with life's challenges. They tend to be less irritable, more focused, and they experience fewer behavioral outbursts.
Kids need routine in their lives to help them feel secure and untroubled. Even at the preteen stage, a nighttime routine is essential for a calm transition from the day's busyness to a state of relaxation. As adults, we can recognize this in our own lives – trying to sleep while we are still caught up in our thoughts or smart phone does not a great night's sleep make!
So make your tween's bedroom a tech-free zone and choose one or two of these seven mindfulness practices. Or try them all out and see which ones work best for your family.
Sit Quietly in Pre-Meditation
Sitting quietly is really a pre-meditation experience that brings peace and calm to our lives and subsequently slows down our whole physiology, great for pre-bedtime. And this is one of the mindfulness exercises for teens that is super simple to work in to your routine because it requires so little. 
Listen to a Guided Meditation
Listening to a guided meditation can calm and empty the mind easily and get your kids to sit still whilst still giving them something to focus on. Guided meditation scripts made especially for sleep or anxiety can help when it is time to sleep. 
Write in a Journal
Simply ask your child the question, "How do I feel today?" You can write on a single sheet or you can buy a special journal for this purpose. Allowing your child the chance to reflect on the day can help them better prepare to rest so that they can enter the new day to come regrouped and at peace. 
Listen to the Sounds of Nature
The calming sound of waves gently crashing is mesmerizing and brings us into the present moment to escape the racing thoughts of our busy minds. 
Color a Mandala
By coloring a mandala, because of the circular, rhythmic, regular pattern, we allow our brains to calm and therefore prepare for relaxation and sleep. This may even feel like a mindfulness exercises for your teen or tween, which can help keep the energy relaxed and free of pressure. 
Play Calming Music
Music has a special way of touching our souls, lifting us up, and releasing emotions as well as calming our bodies and minds. A little calming music before bedtime can help settle scattered minds and bring them down a few notches in readiness for calm, restful sleep.
Practice Bedtime Yoga for Tweens and Teens
Yoga is universally recognized for connecting the body, mind, and spirit, and for bringing peace and calm to our physiology.
For full guidance on each bedtime activity and links to meditations, music, and yoga poses, download the free eBook, Seven Day Challenge to Calm Nights.
Latest posts by Lea McKnoulty
(see all)