How I Conquered My Fear of Gardening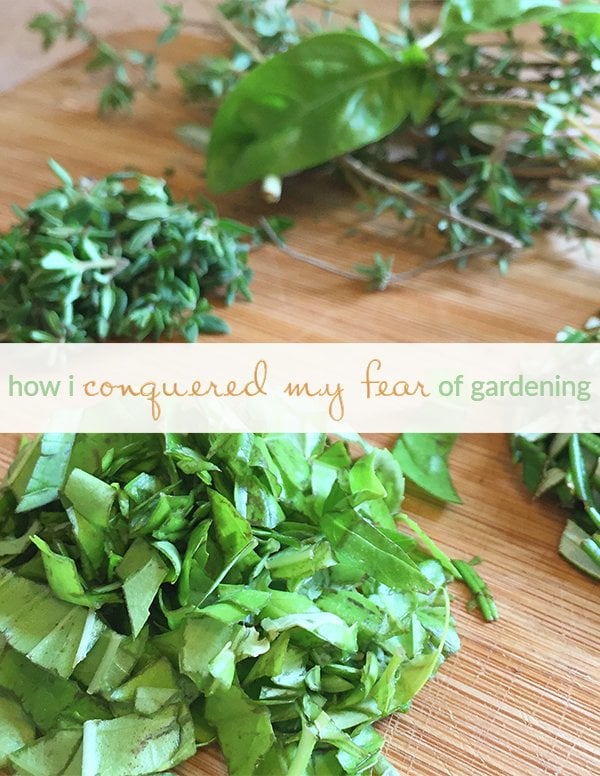 This year, I conquered my fear of gardening.
I have a gorgeous little community plot, 20 feet from my front door. I've tried to muster up the courage to begin growing food for years, and as a chronic Black Thumb, I worried that I would kill all of the things. So, I conducted an experiment. I bought a basil plant, and vowed if I could keep this one small plant alive for at least a month in my house, I would try my hand at gardening this summer.
As it turns out, I was fearful for no reason. The basil plant survived, and is currently thriving in my small plot of budding earth, just past my doorstep.
Gardening requires some work, but I genuinely enjoy interacting with nature through cultivating, caring and digging in the dirt. I engage my body and mind, and find myself humming horrible 90's tunes while pulling up weeds and spreading compost. Somehow, MC Hammer and my old food scraps make magic together.
I decided if I was really going to do this, (and I am a person who does things full-out or not at all); I had to bring my toddler, E, into the garden with me. Since he is old enough to be active, I figured he might be old enough to enjoy learning about the broader aspects of organic horticulture and getting filthy in the process.
As with anything involving a toddler, things did not go as planned.
My Zen feelings about gardening with my kiddo dissolved about 10 minutes into our first foray at the plot. I was trying to dig holes to plant our tender starters while E tried to pull up all of the green things and my progress right along with it. And because this is a community garden, he pulled up plants that were not ours. I stopped every 30 seconds to still his hands with mine and quietly say, "Gentle touch. Everything that grows is precious. Green things belong in the ground." Then E would immediately resume his Tasmanian devil activity as I began mentally writing notes of apology to our neighbors who found onions uprooted or baby kale shredded to bits.
Luckily for us, E is well loved and tolerated by our little garden village, so nobody held a grudge. In fact, a few showed E their plots, explained which plants were which, and encouraged him to smell the blossoms and touch the leaves. He loved the special interaction and listened closely as our neighbors explained the plants to him, absorbing a little bit of information and 100% of the attention.
I figured out small ways involve E along the way. I gave him his own set of tools I found at gardening store, as well as a space to work on his own plants and weeds. He quickly caught on to watering the plants, breaking up the soil, getting his hands caked with mud, and talking to the garden. And by talking, I really mean yelling "Daaaaaa!" at the top of his lungs ad infinitum while racing up and down the rows.
Our hours in the garden became a bit easier when I resurrected the baby pool from last summer and brought it down to the garden so E could splash and play while I kept a watchful eye on him as I pulled weeds, watered my growing plants, and harvested wild lemon balm, peppermint, and rosemary I found rising up along the edges of the property. Now I love pulling off my shoes and dipping my feet in the shallow water for a few minutes and splashing with him before gathering our things and walking home, wet, muddy, tired and usually in good spirits. Fellow community members and I use the water from the wading pool to quench our thirsty plants after E is finished with his fun, and we are careful to use all of our resources, especially in the draught-parched West Coast.
Our community garden lives up to its mission. We are growing together, raising vegetables and babies and awareness around organic, sustainable, urban gardening. We are also building a sweet little community that loves to eat and play and work together.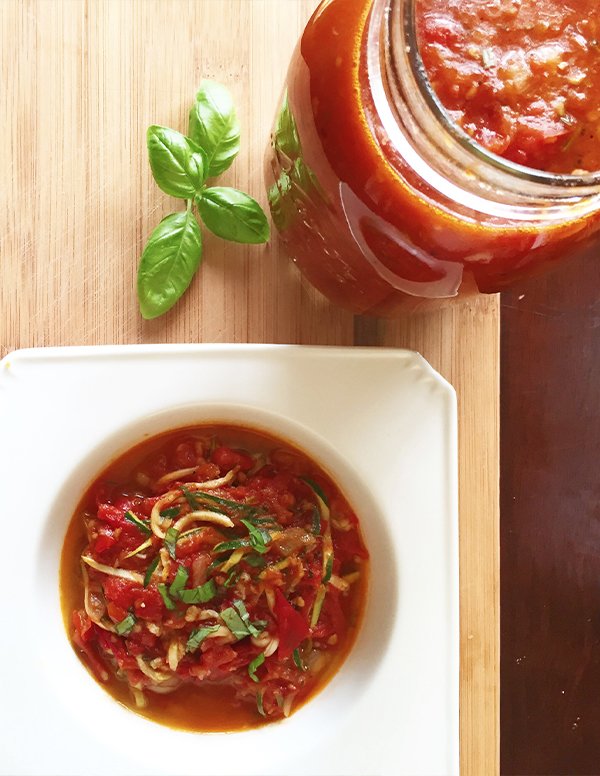 This year's community garden veggie selection includes heirloom tomatoes, zucchini, kale, green onion, cauliflower, and green beans. One of my favorite community meals to make with this abundance? Zoodles with Red Sauce. Anyone can make it, and you don't have to be a green thumb or even a culinary wizard to make this dish. It just takes a little time to prep and simmer, and once it's made, it freezes like a dream. I love thawing a batch of red sauce in late fall for a nourishing meal, or share with a friend who has just had a baby and needs easy, healthy food with minimal effort.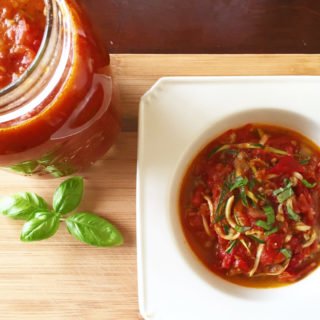 Ingredients
6

lbs

fresh tomatoes

diced

3-4

Tbsp

butter

1

bulb garlic

minced

1

medium onion

diced

2

Tbsp

fresh rosemary

chopped

3

Tbsp

cup fresh basil

chopped

1

Tbsp

fresh or dried oregano

1

Tbsp

fresh or dried thyme

½

tsp

cumin

salt

pepper
Instructions
In a large stockpot, sauté onions until translucent. Add garlic and sauté until barely golden, stirring often.

Add tomatoes and dried herbs. Add cumin, salt and pepper.

Bring to a bubble (not boil), stirring occasionally. Once it's bubbling, cover and reduce heat to low. Simmer for an hour, stirring occasionally.

Add fresh herbs and simmer covered for another 30-45 minutes, stirring occasionally.

Taste sauce and add salt and pepper and more herbs as needed. Remove from heat and serve over your favorite pasta or spiralized zucchini noodles, or allow to cool and transfer to storage containers.

This sauce can stay fresh in the refrigerator for up to two weeks, and freezes for up to 6 months.