So, you want to grow an indoor vegetable garden.
It's easier than ever thanks to DIY toolbox divas and Pinterest-happy bloggers. However, building a cutesy little indoor garden box isn't half as complicated as getting plants to thrive in it (or rather, to survive our gardening ordeal).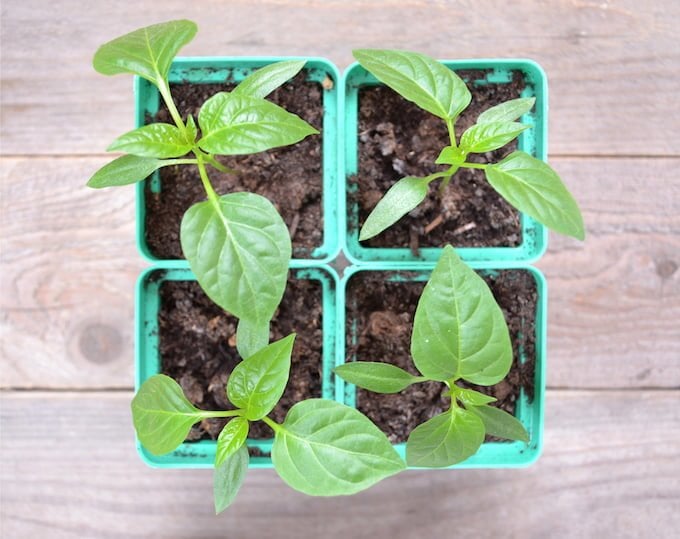 But there's good news.
Growing a garden indoors takes some basic knowledge of a plant's needs. Once you know what they need, you know how to take care of them. So, let's dive into the bare bones of gardening indoors!
Temperature for Your Indoor Vegetable Garden
There's a 97.8% chance you're not living in an igloo, but you still want to watch the thermometer. Temperature initiates different growth phases like flowering, fruiting, and bolting, and not all plants have the same temperature needs.
While hardy crops like kale and peas can take cooler temps, fruit-bearing crops like peppers and basil are much more particular. Most varieties demand a daytime temp of 70-85 F, and a nightly average of 55-70 F. Obviously, growing heat-loving crops will either take some fancy DIY work, or some very green thumbs. If neither are your present forte, then build your garden with easy herbs or simple greens. The average herb and leafy green will thrive at 65-70° F during the day and 55°F at night.
Humidity
You know how lips and hands dry up in the winter? That's because the drier or colder air is, the lower its capacity for carrying water molecules. Add in a heater blowing hot dry air, and the whole water-in-the-air is pretty much kaboshed. The moisture present in air is referred to as relative humidity, and it's estimated that the average home has a relative humidity level of 10-20% (hello chapped lips!).
Then there are plants, with minimum humidity needs anywhere between 45-90%. If that's not crazy enough, the humidity needs change with different growth phases. Clearly, greenhouse gardeners are really stay-at-home plant parents!
But as needy as plants are, you have options outside of a bathroom vertical garden. If your indoor garden is confined to it's own special space, you can add a tray of water to your indoor garden. Cover the bottom of the tray with pebbles or marbles, fill it up with water, and then put plants on top and around the tray.
As the water evaporates from the tray, it will infuse the surrounding air with moisture. Of course, you could always use a humidifier to do the same thing, but that sweet little humidifying tray takes zero in electricity and online shopping. Plus, it doubles as a secondary water dish for thirsty kitties (better the tray than your glass of water).
Water
We all know that water is plant-mandated, but indoor plants get pretty particular with their watering needs. Indoor plants don't have the deep drainage systems like their outdoor cousins — making overwatering a death sentence.
Related: Easy DIY Upcycled Planters
They also don't have the deep roots of their garden counterparts, so that potted plant will turn into a potted desert as fast as my toilet-training toddler goes through a pack of underwear. However, if you happen to enjoy fine wines — or the elegant $3 bottles from Trader Joe's — you can use your favorite bottle of adult juice to conquer that deadly watering can. Just add marbles and water to a wine bottle, drill a hole through the cork, and you've got a DIY hack for moderated watering.
Airflow
Fresh air is a big deal for plants. Carbon dioxide is to plants what air is to humans – obviously important – but it seems to double as a sort-of airborne fertilizer. Various studies show that high CO2 levels can increase water efficiency and plant growth. Which is pretty amazing, because it means that our leafy little air filters clean our air, and they're all the healthier for it. Another huge plus to airflow is that it will keep rot and bacterial diseases at bay. All important stuff. So, keep new air coming and old air going for healthy, happy plants.
Lighting for Your Indoor Vegetable Garden
A plant's lighting needs are defined as either full sun, partial sun, partial shade, or shade. Fruiting plants like tomatoes and beans, and root crops like beets and carrots fit the "full sun" category — meaning they'll need a minimum of six hours of direct sunlight to produce a timely and worthwhile crop. Leafy greens and herbs can generally get by with indirect sunlight and less than six hours of light, but some will need more light than others.
Related: First Timer's Guide to Indoor Gardening
If you have a southern-facing window, make the most of it with a vertical wall garden, hanging planters, or upside-down plants. Should your windows face every direction but South, you can boost sunlight using reflected sunlight with aluminum, mylar, sheet metal, or white materials.
Vegetables You Can Grow Indoors
Most herbs will grow easily indoors, but when it comes to vegetables, some are better suited than others.
Tomatoes
Arugula
Bell peppers
Mushrooms
Beans
Kale
Carrots
Sprouts
Radishes
Spinach
Lettuce
Scallions
Chives
Potatoes
That sums up the basics of the basics, so you're off to a great start. If you really want to dive into this indoor gardening thing, read up on how the need above change from germinating seedlings, to flowering plants, and to fruitful producers. You can also read up on the symptoms and causes of common plant diseases.
And, while you're at it, check out a walipini! They're outside, but this cheap and simple greenhouse alternative may be the key to year-round gardening! Even if you just made a walipini-inspired cold frame, it could add months onto your growing season.
Happy growing!
Ash Stevens is a writer, mother, and wannabe shaman. When she isn't being serious writing or talking family and relationships on her blog, she's listening to stand-up comedy and soaking up some sunshine.
Latest posts by Ash Stevens (see all)