Jovial Einkorn Flour: A versatile, organic, easier-to-digest grain
Because we recommend avoiding conventional grains, we often get questions about the best alternatives. Einkorn flour is by far our favorite option. You can find more about its benefits, how to use it, and recipes in this einkorn flour guide.
If you're looking for the best and most versatile form, we recommend Jovial einkorn flour.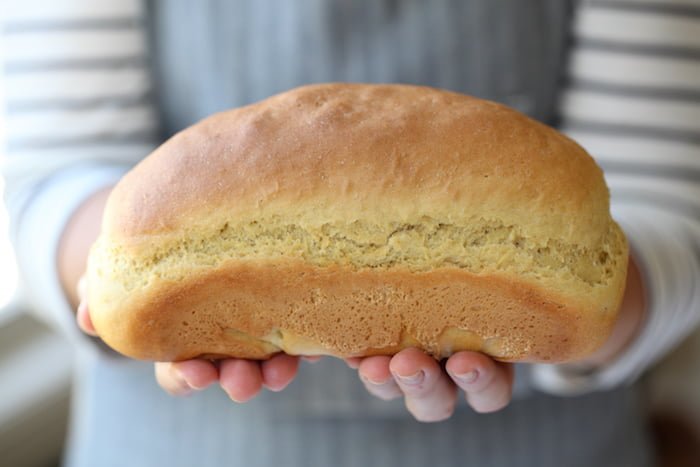 We're obsessed with healthier alternatives to conventional foods. Our main three favorites are cauliflower rice, zucchini noodles, and einkorn flour.
Yes, we love our carbs.
And we're annoyed at what the modern food system has done to them. But in a way, Big Food's missteps have forced us to explore options that are really better for our bodies than processed white flour… even before they started poisoning it.
We recently published an article about the problems with wheat and the benefits of ancient grains. In a nutshell, our grains aren't the same variety our grandparents ate.
Today's farms aren't filled with "amber waves of grain." Instead, they're dwarfed grains that have been hybridized and genetically modified for a higher yield on less acreage. The nutrition and flavor are significantly lacking, and worse still, many people are sensitive to the processing systems.
What is Einkorn Flour?
One way to avoid the modern wheat conundrum is to opt for ancient grains. These are grains that have experienced little or no changes due to selective breeding over time.
Some of the most popular ancient grains are spelt, millet, barley, farro, and einkorn. And they truly qualify as ancient when you consider einkorn grew naturally in the wild for millions of years and was cultivated more than 10,000 years ago by humans.
Einkorn in German means "one grain". It get its name because it literally has a single grain attached to its stem, while most of the other grains we use have four. It is the only variety of wheat we use today that has never been crossed with other species. Because einkorn is a pure wheat and not a hybrid, its genetic composition is different, making it easier to digest.
While einkorn is not a gluten-free flour, it doesn't have some of the proteins people who are gluten-sensitive can't digest. So, if you are moderately gluten sensitive or just want to reduce the amount of it in your diet, einkorn is a viable alternative.

Is Einkorn Flour Better For You?
Ancient grains are inherently more nutritious than modern varieties. During processing, einkorn maintains a greater percentage of nutrients and it also contains…
Thiamin, essential dietary, trace minerals, and a significant amount of lutein
Protein, iron, fiber and a number of essential B Vitamins
Higher Oxygen Radical Absorbance Capacity (ORAC) than durum and bread wheat
Higher content of proteins, tocols, and carotenoids than other species of wheat
Is Jovial Einkorn Flour Organic?
Yes, Jovial's einkorn flour is certified USDA Organic. It is made in a facility free of milk, eggs, peanuts, tree nuts, shellfish, fish, and soy. It's the only wheat never hybridized. And Jovial's is unbleached and unbromated.
We've been baking with einkorn flour for the past three years, and by far the easiest, most substitution-friendly version we've found is from Jovial Foods. You might remember those amazing chickpea chocolate chip cookies – they were made with Jovial's All Purpose Organic Einkorn Flour.
We also love it for pancakes and waffles. See below for more recipes.
Is Jovial Einkorn Flour Gluten Free?
While einkorn is not a gluten-free flour, it does NOT contain some of the proteins people who are gluten-sensitive can't digest. We know – that's a little confusing. But if you are moderately gluten sensitive or just want to reduce the amount of it in your diet, einkorn may be a viable alternative for you.
Many people with gluten sensitivities can easily digest einkorn with no allergic effects. To be clear – einkorn does contain some gluten so is not suitable for people with Celiac Disease.
You've probably seen Jovial's pasta and flour in your local grocery or co-op. But what you may not know is that Jovial is a family owned business that started (as is the case with so many natural brands) when owners Carla and Rodolfo Bartolucci's child was diagnosed with gluten and wheat sensitivities.
They were professionals in the organic food industry, but they realized they needed to go beyond organic. Their focus shifted to creating high-quality gluten free foods for their family.
They were not only looking for great tasting, gluten free foods processed without allergens, they also wanted their daughter's food to be made with the best certified organic ingredients. The search for a better grain led them to the almost extinct at that time grain, einkorn.
The Integrity of Jovial Foods
Now, Jovial specializes in healthy foods produced in allergen free facilities, made without additives and unnecessary ingredients, and they offer a line of gluten free items. Each product is considered as carefully as something Carla would bring into her own home. They care just as much about the health of your family as their own.
Jovial's commitment to both human health and the environment are evident in everything from their choice to pack tomatoes & beans in glass jars to using compostable materials in packaging.
Sourcing foods from conscious farmers and artisans who are passionate about what they do is a critical part of Jovial's success.
How to Use Einkorn Flour
Not only is einkorn pure and easier to digest, it's also rich in flavor.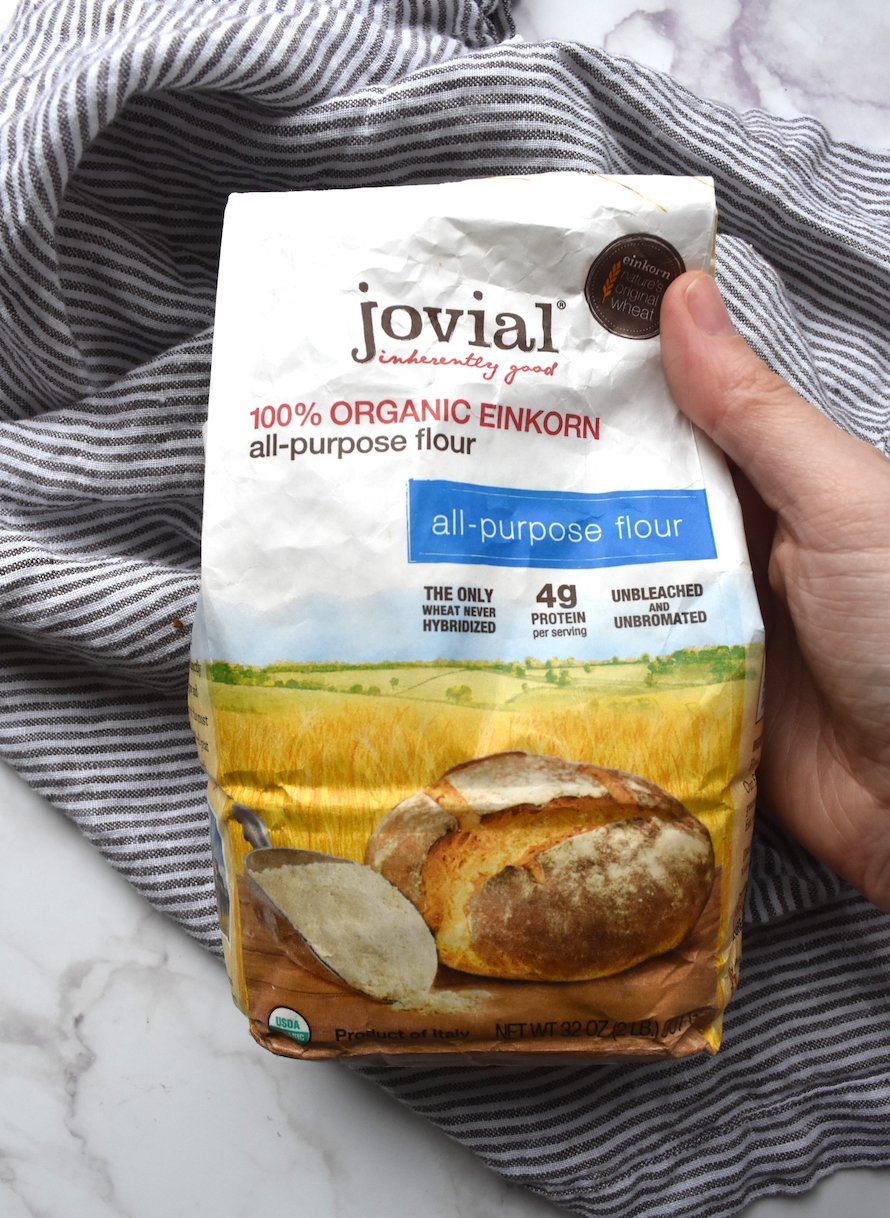 After our team went on a collective Whole 30, we started experimenting with alternative flours. We found Jovial's einkorn flour to have the smallest learning curve compared to almond (too dry) or coconut flour (too crumbly).
You can substitute einkorn for regular flour in most recipes. Einkorn is a softer and smaller grain so be prepared to sift your flour twice. Einkorn dough rolls and rises nicely, although not quite as high as dough made from other flours.
Another difference is the way einkorn flour absorbs fats and liquids. It will absorb less fat than other wheat flours, and it absorbs liquids more slowly due to the size of its grains. You can ease your way into using einkorn flour by making waffles or pancakes. Jovial offers hundreds of recipes online and they've just published a cookbook (which comes with a free bag of flour).
And if you live life to the fullest, you could always go to one of Jovial's Culinary Getaways in Italy where their founders teach hands-on cooking classes!
Here are some delicious einkorn flour recipes to try:
Einkorn Flour Waffles
Einkorn Pancakes
Einkorn Pizza Dough
Chickpea Chocolate Chip Cookies
Einkorn Farro Soup
Einkorn Cornbread
Whole Grain Einkorn Tortillas
Where to Buy Jovial Einkorn Flour
Many stores like Whole Foods, Publix, Kroger, and The Fresh Market carry Jovial products. You can also find it at Amazon, Azure Standard, Vitacost, or Jovial Foods.