Postpartum Recovery: The Benefits of a Natural Postpartum Sitz Bath
A sitz bath can help with postpartum healing. Here you'll find the best ways to take one plus soothing sitz bath recipes and other tips to help keep you comfortable in those early days.
We'd like to tell you that a postpartum sitz bath is a deeply relaxing, healing, spa-like experience. And for first-time mothers with plenty of help on hand, it actually can be. But if you're on your second or subsequent baby, there's a very good chance you'll be singing to a toddler while you breastfeed a newborn in your not-so-glamorous sitz bath.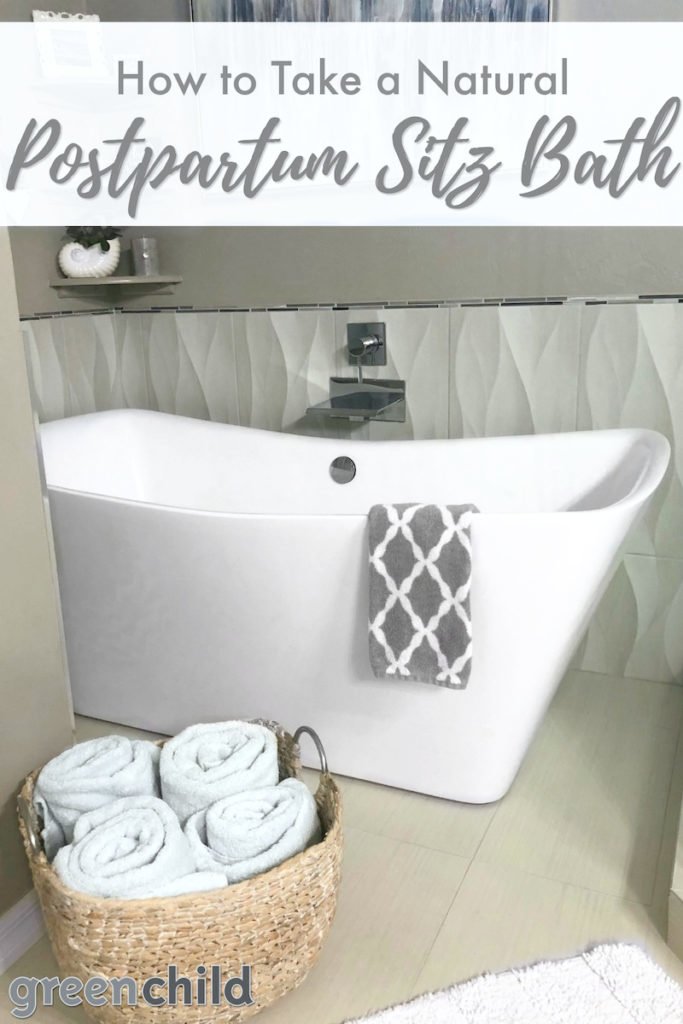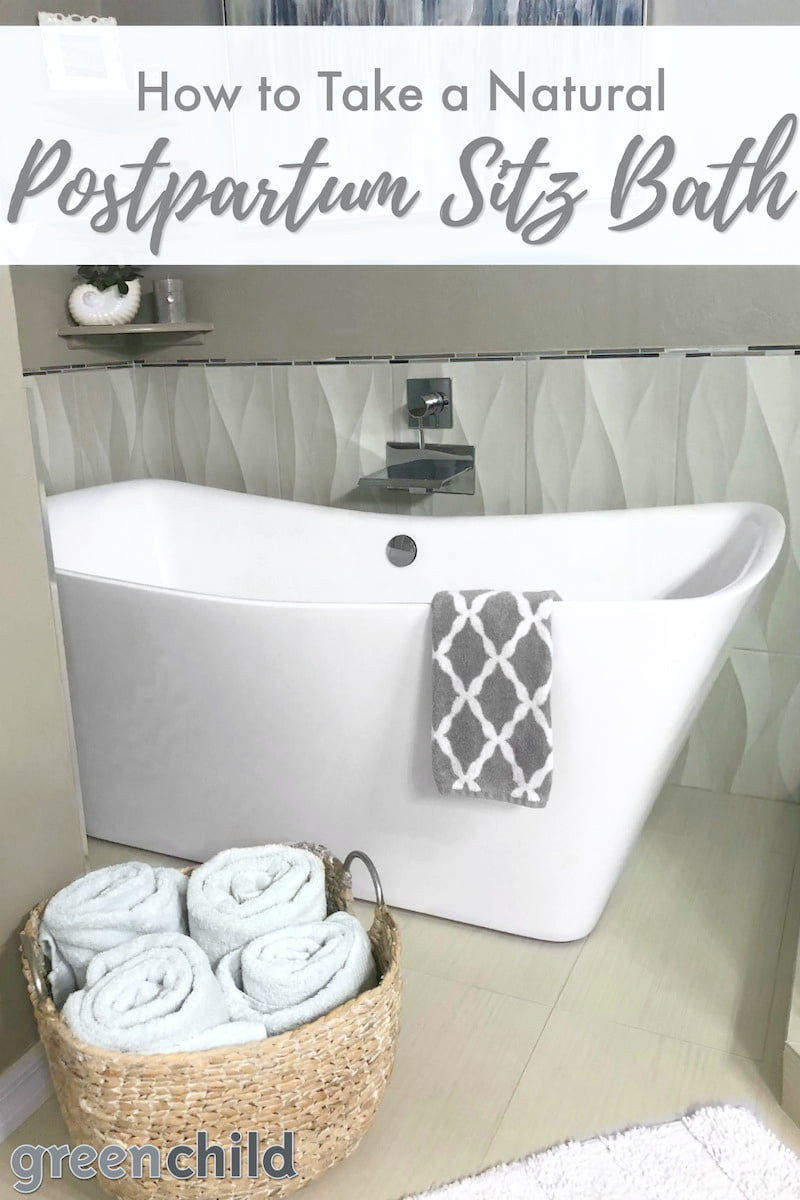 One of the Green Child mamas still has an incredibly vivid memory of sitting in a tub of water, epsom salt, milk from her engorged breasts, postpartum blood, and newborn baby poop while her toddler ran in every few minutes to announce his progress on a Star Wars puzzle.
Our team collectively smiled, said, "Awwwww," then mused on how much vinegar and baking soda it took to clean up all those bodily fluids.
4 Postpartum Recovery Benefits of a Sitz Bath
Even if your postpartum time is guaranteed to be as chaotic as that mama's, this is your permission slip to give yourself the time you need to heal.
Call it self-care or call it postpartum lying-in, or incorporate it into your six-week postpartum care plan (yes, there are post-birth plans too!). No matter what you call it, taking care of YOU is essential during this very special time in your life as a woman and a new mother. A natural sitz bath for postpartum recovery can:
Help ease pain, swelling, and soreness from birth.
Promote healing and prevent infection.
Encourage perineal area healing from a tear or episiotomy (and subsequent stitches) and promote good hygiene.
If pregnancy or pushing caused you to develop hemorrhoids, an herbal sitz bath for hemorrhoids can help with the discomfort immensely.
You want to keep the perineum clean without having to press on delicate or sore tissue. And research shows that sitz baths prepared with herbs like lavender, yarrow, and chamomile that have antimicrobial and antibacterial properties decrease the risk of infection dramatically.
It's a good idea to get the go-ahead from your midwife or doctor, but most women are not only allowed, but encouraged to take a postpartum sitz bath. You may be told not to take a regular bath in the first few weeks. This is because the pressure from full submersion can force water up inside the body. But a sitz bath typically only involves a few inches of water.
DIY Sitz Bath for Postpartum Recovery
If you don't have a bath tub or don't have help getting in and out of the tub in the first few days, you might consider buying a sitz bath basin that fits on the toilet. The bath options below will work in either a basin or your tub.
Earth Mama Organics makes an herbal sitz bath kit with sachets that can be soaked, refrigerated, and applied directly to the perineum or can be added to a shallow bath to allow the herbs to infuse the water. You can find a box of 6 herbal pads at Earth Mama Organics or via Amazon. And here's a DIY for making soothing natural padsicles using their sachets.
Another great way to speed your postpartum recovery is to make your own herbal sitz bath. The herbs in this recipe are gentle, comforting, and ideal for healing. The addition of lavender essential oil makes it antibacterial, aids in relaxation, and promotes skin regeneration. In this case (and any time you use lavender with children), it's extremely important to use the pure, unadulterated essential oil from an organically grown plant.
How To Take a Sitz Bath
Soaking in a warm bath can work wonders for your body and also your mind. Even if you just get 10 minutes of this blissful relaxation and pain relief, your whole mood can shift.
What to Put in a Sitz Bath:
Postpartum Sitz Bath Instructions
Combine all ingredients and add to an organic cotton muslin bag.
Run just a couple of inches of very warm water in a clean bath tub. If any friends or family members offer to help, ask them to clean your bathtub and then hold the baby while you take your bath.
Add muslin bag and allow the bath herbs to steep in the hot water.
(Optional) Place a clean towel on the bottom of the tub and gently sit down. The towel gets drenched, but it's much more comfortable on a sore bottom than a hard tub surface.
You may want to wear a sweatshirt or t-shirt to keep your upper body warm as you sit in shallow water.
Once the water temperature is comfortable, relax in your sitz bath for 15-20 minutes.
Gently pat dry with organic cotton towels or air dry if possible.
Your midwife or doctor may advise how often you should take a postpartum sitz bath, but it's also wise to listen to your body.
If it feels like the most amazing, restorative experience ever, do it more often. If you can't get comfortable or don't feel like it's beneficial, don't force yourself. Mothering is all about tuning into your own body, connecting with your baby, and learning to trust your instincts.
When your body or intuition talks, pay attention and follow through. In that quiet place, you really do know what's best for you and your little one.
A wise new mother once said, "No one with a dust rag or pan of lasagna will be turned away!"
So if that tub-cleaning, baby-holding friend of yours is still willing to help… tell her you also found some amazing postpartum recovery soups she can make while you relax in your postpartum sitz bath.