Social Justice Action for Teens
This year's World Day of Social Justice is Monday, February 20. It's the perfect time to encourage the concept of social justice activities within your family or classroom.
Naturally, we want to share the things we are passionate about with our children. When they see us doing what we love, they pay attention. If we recycle, reuse plastic bags, compost our food scraps, and buy locally, for example, our children witness what we value and learn to value it too.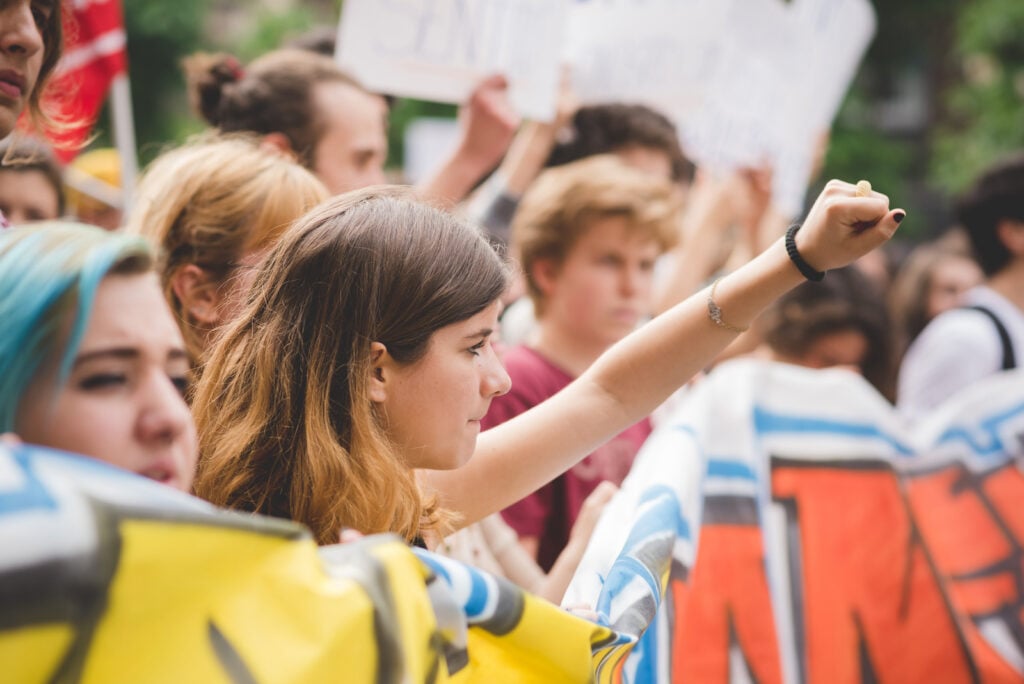 It's normal to wonder if we should do more. When should we talk to our children about climate change? Should we take them to demonstrations? Is it our job to encourage our children to become involved in a cause?
When Can Kids Get Involved in Social Justice Activities?
The answers to these questions depend on the individual child, of course, but pushing social justice on our children too early can overwhelm them. They are still figuring out how the world works, and some may not yet be ready for its paradoxes and contradictions.
It's during the teen years, however, that kids often have the capacity to become inspired by a larger purpose. In fact, it's during these years that they fall in love with social justice. Supporting this passion is important, but don't feel pressured to make your child into a "little activist." This will take care of itself as long as it comes from their own experience.
There are plenty of issues that need our attention – poverty, racism, equal rights, the environment, violence, etc. No matter what your child is passionate about, there are social justice activities to help them get involved in the mission of their choice.
Get Started Close to Home
Just like the examples of recycling and composting, your teens will most likely be inspired by something they have witnessed or something they see as unfair.
Maybe they are troubled by beggars in wheelchairs and want to help homeless veterans.
Maybe they want to change something at their school.
Maybe they care about human rights.
Maybe they want to help other teenagers.
If your teenagers are troubled by homelessness, do they want to volunteer at a shelter or kitchen?
If they want to change their school, do they want to run for office?
Maybe they're more introverted and would rather write letters or articles. Do they want a blog of their own?
Plenty of causes in our local communities need support, and there are lots of ways that teens can help make the world a better place. Providing parental support (but not taking over) is one of the best ways to offer your teen a safe place to take action and create social change.
Social Justice Activities for High School Students
Teenagers today are tackling and helping to solve important social justice issues all over the world. For those who want to get involved with something national or international, here are some organizations that may inspire your teenager. Most of these organizations that deal with social justice topics were founded by their peers.
A note for teachers… you can use these topics or the information provided by these organizations for class discussion or as part of your social justice lesson plans.
You may already know the story of Malala Yousafzai, a Pakistani student activist who spoke out publicly against the Taliban prohibition on the education of girls. In retaliation for her activism, Malala was shot in the head by a Taliban gunman when she was 15. She survived the attack, and it inspired the world to take up her cause.
Gordon Brown, the UN special envoy for global education, introduced a petition calling for all children around the world to be in school and his petition led to the ratification of Pakistan's first Right to Education bill. In December 2011 Malala was awarded Pakistan's first National Youth Peace Prize and the President of Pakistan launched a $10 million education fund in her honor to support education for all girls around the world.
The Malala fund provides fellowships for girls, sponsors digital platforms for girls, and supports grassroots activists. Its Education Champion Network helps advocates and activists who challenge the policies and practices that prevent girls from going to school in their communities. The Girl Programme gives young activists the tools they need to advocate for education and equality.
Center for Native American Youth
Center for Native American Youth sponsors Champions for Change, a Native youth leadership program designed to highlight positive stories of impact from Indian Country. The program develops young Native leaders through experience-based learning and tailored advocacy training.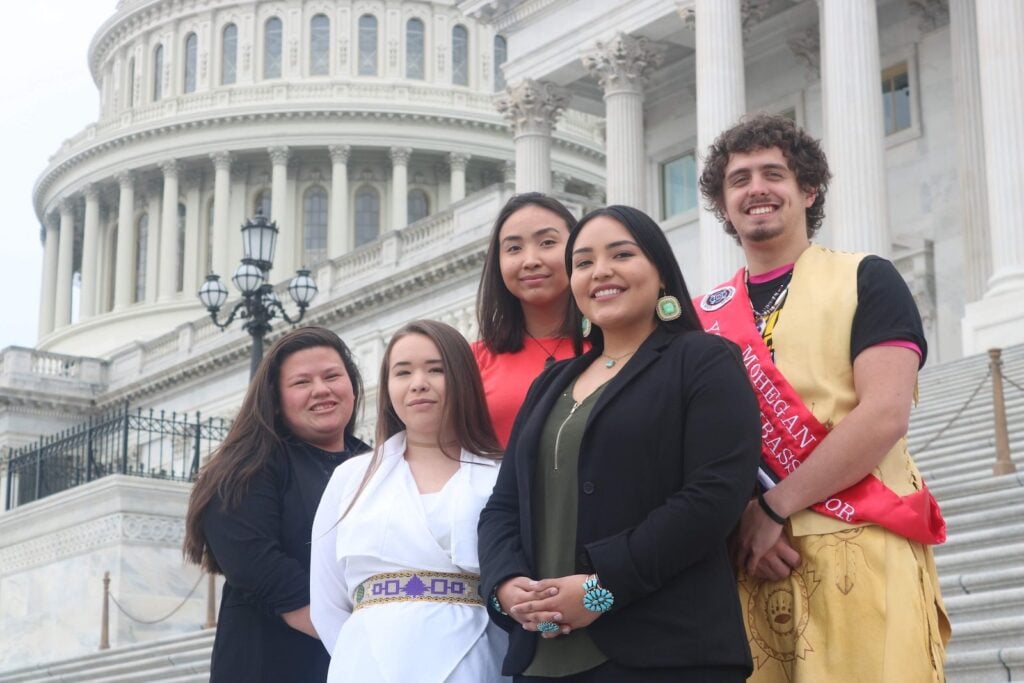 Each year, the Center for Native American Youth selects five inspirational Native youths, ages 14 to 24, from across the United States to be Champions of Change. Image above via CNAY's Facebook page.
Log Off is a movement created by a group of teenagers in Birmingham, Alabama who want to lower social media's impact on the mental health of teenagers. They teach teenage users and their parents how to navigate the inner workings of life on social media. The group uses a podcast, website, blog, and the Character Ed program to illuminate how social media is affecting adolescent users worldwide.
A related group, the Luddite Club, was started by teenagers in New York City who "promote a lifestyle of liberation from social media and technology." They decided to forego social media accounts. And they choose flip phones or no phones at all and favor offline activities like drawing, painting, reading, and "listening to the wind."
Sameer Jha founded the Empathy Alliance at age 14 to help make schools and communities more inclusive of all students regardless of their sexual orientation or gender identity. Sameer was able to engage the counselor, principal and many of the teachers and student leaders at his old middle school, where the word, "gay" was only ever used as an insult.
Together, they created the first Gender & Sexualities Alliance (GSA) club in school history, added safe space stickers to classrooms, stocked the library with queer friendly books and encouraged all adults who serve students to take Gender Spectrum training. Soon, Sameer's efforts spread to the entire school district, serving over 42 schools and 35,000 students.
Greta Thunberg is another youth activist who became a celebrity. When she was 15, she began protesting outside the Swedish Parliament to call for stronger action on climate change and bluntly criticized world leaders for their inaction.
Other students joined her and together they initiated a school climate strike movement, Fridays for Future, which is youth organized and led. After Greta addressed the 2018 United Nations Climate Change Conference, student strikes took place every week somewhere in the world. The Fridays for Future website has many ways for teens to get involved, including Reasons to Strike and How to Strike.
Never Again and March for Our Lives
Never Again MSD is a youth led political action committee formed by 20 students in the days after the Marjory Stoneman Douglas High School massacre to influence elections by registering young people to vote.
The youth activists demanded legislative action and condemned US lawmakers who took money from the National Rifle Association. Never Again MSD has been credited for 2018 Florida gun control measures that raised the required age to buy a gun from 18 to 21. March for Our Lives suggests things that can be done right now and helps volunteers who want to engage more deeply in community action.
Inspired by the Black Lives Matter movement, Next Gen Come Up encourages young people to explore activism, pursue community service and raise awareness by creating thought-provoking works of art. Through content creation, grassroots organizing, mutual aid efforts, and educational programming, the group strives to inspire youth to be revolutionary and use art as a tool to create social impact.
Mental health is one of the top concerns of young people and Championing Youth Minds offers resources for students in primary, secondary and higher education.
Their 10-week Summer Workshop Program helps teens care for their mental wellbeing and their downloadable PDFs:
Mental 5 a Day
Expressing Ourselves and How
Stressed or Anxious?
Kiss the Ground, a feature length documentary narrated by Woody Harrelson, offers hope for climate change. It features a "new, old approach" to farming called regenerative agriculture, which has an extraordinary ability to balance the climate and feed the world.
The website offers many avenues for political action including becoming a soil advocate, taking a course in Stewardship Education, exploring the extensive online curriculum, sponsoring a film showing or participating in the Kiss the Ground Stewardship Program. This is an excellent addition to your social justice projects for high school students or middle school students.
Worldwide Opportunities on Organic Farms (WWOOF)
Getting involved with growing food is a great way for teens to see how their actions affect their own lives. It's also a hands-on lesson in science, cause and effect, and critical thinking.
For those teens age 18+, who want to participate in a cultural exchange, the Worldwide Opportunities on Organic Farms (WWOOF) links visitors with organic farms. Visitors gain practical skills in organic farming and gardening while experiencing rural living and sharing in the everyday lives of their farm hosts.
This program provides social justice activities for high school and college students from across the country. Young change makers get the chance to participate in a dynamic leadership development fellowship and win up to $3,000 to fund a project rooted in kindness, empathy, and inclusivity that strengthens their community.
This year, a special category will consider projects focused on environmental justice, as the climate crisis and other environmental problems.
As your teen sees current events and issues they care about, talk with and listen to your child to understand which social justice activities will help them harness to create positive change.