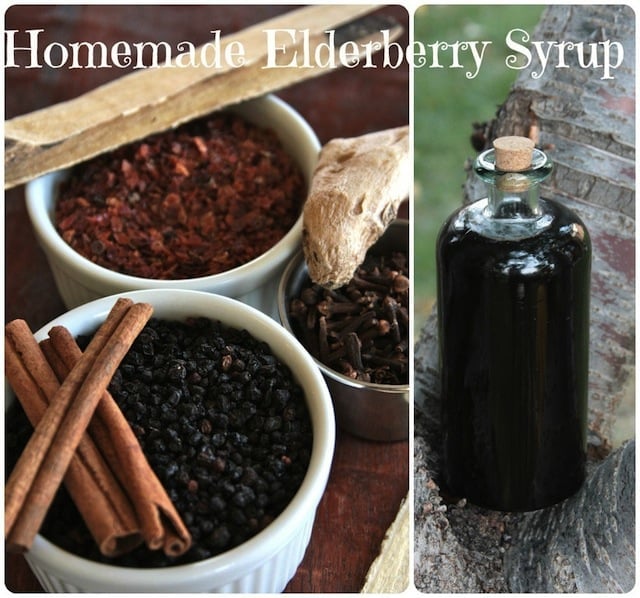 For most moms, there's no time to be sick — or worse — have a sick child. Luckily, there's a home remedy that can help your family prevent or lessen the effects of what goes around during cold & flu season.
Alia Einstein-Diez shares her recipe for homemade Elderberry syrup.
Elderberry has been found effective against a wide range of influenza viruses including human, swine and avian strains. For centuries, people have made the cold remedy using just elderberries, water and honey. This recipe is a slight variation on the ancient elderberry theme to give it more flavor and immunological punch.
Elderberry Syrup Recipe
Ingredients
1 cup dried blue elderberries
1/2 cup rosehips
5 sticks cinnamon
pinch of cloves
a few pinches grated ginger root
5 sticks astragalus root
4 cups water
1-2 cups honey
Directions
Bring 4 cups of water to a boil and add the herbs.
Cover the pot and reduce heat to a simmer.
Simmer for at least half an hour, strain out the herbs and pour the liquid back into the pot.
Continue to simmer with the lid off until reduced to 2 cups.
Add 1-2 cups of honey and warm until well integrated.
Bottle, refrigerate, and use within a couple of months.
Adults take 2-4 tablespoons daily. Children take 2 teaspoons daily.
*Honey is only for children 1 year and up.

Alia Einstein-Diez founder of
Gaia's Kiss
teaches how to make bath and body products on
Craftsy
, where she has the highest selling workshops on the website. Alia lives in Denver with her husband, daughter, son and shetland sheepdog.

Latest posts by Alia Einstein-Diez (see all)