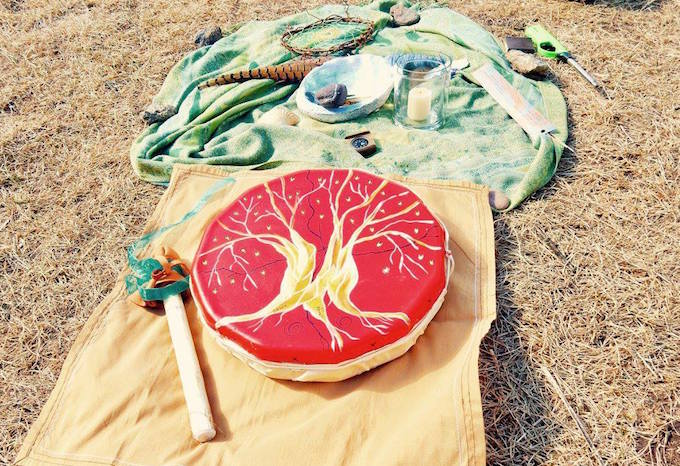 Whether a woman is a natural mother, adoptive, or a surrogate — pregnancy is a physical and hormonal doozy. And whether mama gives birth naturally or has a c-section, she's going to need rest and nurturing. Toss in mothering a newborn, and you've got yourself a worn-out, sleep-deprived superhero.
Growing a baby, birthing a baby, and taking care of a baby are intense processes. Honoring the work women put into creating our children is crucial. If you know a new or expecting mom, here are some gifts that really show some thought… and love.
Postpartum Healing Kits
If you want the herbal healing without the kitchen prep, then do I have an herbal goodie kit (or two!) for you. Both kits cost around $40, and they both deliver amazing results. If you're not ready to blow the time or money on DIY basics, then they're an excellent natural alternative.
Postpartum Recovery | Brands like Motherlove Herbal and Earth Mama offer gift sets with natural products created

especially for post-birth issues. With items like bath herbs, healing sprays, and balm all specially created for a mother's delicate postpartum and breastfeeding parts. Earth Mama also offers healing relief to c-section mamas via their

C-Section Birth And Baby Kit

.
Physical And Spiritual Healing |

Honey And Sage Co. is becoming pretty popular thanks to their Sage Woman's box, but their

Honey Womban Birth Care Package

takes the magic of self-care to a whole other level. It comes with probiotics specially designed for expectant and nursing mothers, plus healing bath salts, herbal tea, and alcohol-free herbal tinctures. It gets even better though, because they offer amazing postpartum extras like a

muslin belly bind, prayer malas, and herbal steams

. And the owners, Sarah and Nova, are some of the coolest ladies around (

I harass them weekly, so I would know

).
Mama And Baby Herbals |

I discovered Green Goo by Sierra Sage thanks to freebies that my midwife passed on to me (she knows the owner). It was love from the very first belly rub. Any mom in need of healing yet versatile herbal products can get them in Gree Goo's

Mama And Baby Gift Se

t. It features sitz bath herbs, a belly balm for stretch marks, a cream for chapped nipples, and a baby balm which is good for everything from diaper rash to baby acne.
DIY Herbal Concoctions (Boo-boo & woo-woo relief)
If either the giver or mama-to-be are down with DIY goodies, then babies and motherhood are the perfect excuse for a kitchen party. Many of the healing herbs and essential oils which can be used on baby for diaper rash, cradle cap, ear infections, and colic, can also be used to help mama with postpartum contractions, wounds, scars and stretch marks, sore muscles, and chapped nipples.
Medicinal Herbs |

Some of the most powerful herbal healing can be found in lavender, calendula, comfrey, helichrysum, yarrow, and chamomile. Essential oils can often be used in place of herbs, but you need to remember that they're highly-concentrated and they require proper dilution. Before you buy your herbs and oils, run your to-buy list by your birth provider and pediatrician.
Soothing Bases |

You can pair your herbs of choice with aloe vera for a healing gel, or combine it with witch hazel for cleansing and toning. The base for salves, balms, and creams can be created using a combination of moisturizing olive oil,

antifungal and antibacterial coconut oil

, collagen-boosting shea butter, or anti-allergenic beeswax.
Recipes |

You can find

amazing

recipes for everything from nipple creams and postpartum sprays for mom, to herbal gripe water and antimicrobial balms for baby. If you don't already have an herby blogger in mind, then check out

Wellness Mama

,

Holistic Health Herbalist

, and

Growing Up Herbal

(

Megan is a certified herbalist

). All of these women do an amazing job of creating simple recipes that are safe for the whole family.
Convenient Nutrition (The Gift of Time, Gas, Food, & Sanity)
It used to be that the weeks following birth were dedicated to rest, relaxation, and bonding. In today's hustle and bustle world, women think they need to "bounce back" by working out, shopping, cooking, and cleaning as soon and as rapidly as possible. As much as we value this "bouncing back," the number of modern women suffering from postpartum depression imply that they're missing something. So, please. Help a mama out!
Meal Services |

Both pregnancy and childbirth are an intense process which

absolutely

require rest and recovery. Nutrition is also vital to mama's health because of the depletion of minerals from growing a baby and losing blood. A quality meal delivery service will cost around $10 a meal, but if there's a time where a woman is worth that, this is it. I personally recommend

Veestro's meal and juice service

. Veestro offers

organic plant-based meals

that are free of dairy and GMO's, but packed with flavor and fiber. These meals are so filling, so delicious, and give you

so much energy

. Better yet, they require

zero

chopping or prepping. Moms looking to cleanse and detox can even get in on the actions with

Veestro's organic juices

featuring exotic healthy ingredients like the maqui berry, sancha inchi, and acerola.
Kefir (Easy Drinkable Probiotics) |

We've known that probiotics are great for digestion, but today's scientists are discovering that these bacteria play a role in mental/emotional health and sexual health. With the powerful role they play in the body, a daily dose of probiotic bacteria is a wonderful way to support mom's health. Kombucha and yogurt are great for this, but making them on your own can take more time and work than a new mother can juggle. This is where kefir grains shine. You can buy kefir grains or water kefir grains which can be used to create a kefir drink in 24-48 hours. Just like other fermented goodies,

kefir supports digestion, immunity, detoxification, and more

. Plus, you can buy a pack of grains for under $20, and the grains will naturally multiply as they're used.
Medicinal Herbal Tea (For Cramps, Milk, Hormones, & More)
There are so many herbs great for so many things. You can do all sorts of different combinations for all sorts of different benefits, it's hard to narrow it down. There are herbs for milk production, weaning, and viral-defense to support breast health. There are antispasmodic herbs which ease pain and ease bowel movements, and herbs which help blood and circulation (all things a post-birth mother can appreciate). So, if you're interested in gifting mom with tea-time, use these ideas along with her needs and preferences.
Galactogogues |

These herbs offer compounds which boost milk production, plus minerals which enhance the nourishment of breastmilk. Brew some tea with lactatious herbs like alfalfa, dandelion, fennel, fenugreek, and nettle.
Anti-inflammatories |

Essential oils like frankincense, lavender, and black pepper can be used to reduce painful swelling and to soothe hemorrhoids.
Nervines |

A nervine has the ability to support the nervous system and promote a calm body and mind. Herbs like catnip, lavender, lemon balm, chamomile, and milky oats can be used to

ease tension and help balance our mental/emotional state

. Used along with the much-appreciated aid from involved friends and helpful family help ward off postpartum depression.
Uterine Aids | Contractions may continue weeks after labor as the uterus slowly shrinks back to it's normal size. Lady's mantle and red raspberry leaf can giving that over-stretched uterus vital strength and toning. Skullcap, another popular postpartum remedy, is said to reduce pain and to promote emotional well-being. Another great herb to look into is shepherd's purse. It encourages contractions to help get that uterus back down to size. It's also a powerful herbal remedy for both heavy menstruation and postpartum bleeding, so make sure you have some on-hand for birth.
Peace And Fulfillment (aka Soul Food)
Pregnancy and motherhood puts one heck of a load on a woman's body and mind. A load which can test your health, sanity, diet, and quality of life. Families, friends, coworkers, and acquaintances need us women to be in the best state of mind so that we can deliver our best in attention, work, and care. Keep mama happy with a little peace and soul-fulfillment, and she'll be able to do just that.
Yoga |

Yes, yoga is cool and trendy and great, but it's not amazing because celebrities love it. Yoga helps us to really be in our body and learn how to tune into it. That means that

yoga is perfect for beginner yogis

and new mom bodies. Moms juggling time and money can even pull it off thanks t

o online videos. Sites like Do Yoga With Me, Udaya, My Yoga Works, YogaGlo, Gaia offer high-quality videos from practiced instructors

, so mamas can yoga it up in any room at any hour of the day. Any of these sites will cost somewhere between $5-$20 a month, so you may pay less for a month of yoga than you'd pay for a

single

class at a studio. Can I get a namaste?
Awesome Hobbies |

Healing from birth, recovering from pregnancy, breastfeeding, and getting baby to sleep all tend to be rather time-intensive. Instead of letting mama waste away before the TV, why not hook her up with a new and cool hobby? Get mom

beginner wood carving tools

so she can make those natural baby toys and goddess figurines she drools over. Or grab some

stuffed animal kits

so she can make handmade toys that are guaranteed to become keepsakes (

at least until that kiddo loves it to pieces

).
Babysitting |

Being pregnant and having children is really magical and all, but a woman can only do so much with two arms. She needs time to actually do things (besides change diapers, cook, clean, and work). Give your favorite mom a chance to get out for a movie or a pilates class. Better yet, gift time to cook, workout, or go grocery shopping without any interruptions.
Meaningful Gifts
Baby showers show love and honor to new life, but what happened to loving and honoring the women who makes this new life possible? It is women who grow, carry, birth, nourish, and mother this new and valuable life. These tasks are demanding, exhausting, painful. Most of all, they are vital to the continuation of the human race. Mothers create, nurture, and love. Our world needs its mothers. Instead of acting like mothering is no big deal, let's act like it's the wonderful, powerful, critical, and amazing thing that it is.
Symbolic Jewelry

|

Symbols are powerful because they convey a message or idea, and yet the meanings we associate with them can be deeply-personalized. Symbolic jewelry is both a beautiful accessory, and a beautiful reminder to be mindful to live with intention. Some of the most powerful pieces include

the tree of life jewelry

. The tree of life is symbolic of the family tree, as we all know, but there's more. The trunk symbolizes the mother, who grows the limbs which come forth through her. The tree mother provides food, shelter, and protection. Whether it be rain or shine, light or dark, freezing or scorching, the tree stands strong and continues to mother those who turn to her.
Meaningful Gemstones |

There are many different gemstones with many wonderful uses, but gems which cater to the emotions and the feminine are especially worthy of mothers. Stones like black onyx, bloodstone, malachite, moss agate, lapis lazuli, and peridot are said to support pregnancy and childbirth. Then there is amethyst, larimar, moonstone, and quartz, which promote emotional well-being and the strength of the feminine. Then there is

rose quartz — the stone of the heart

. This mothering gemstone promotes love and peace, and offers healing of the emotions as well healing of the body and the spirit. It has a special place in pregnancy, bonding, and mothering, making it the perfect gift for mothers of all kinds.
Music Of The Heart |

Long, long ago, women were crafting and belting out songs, and rhythmically stepping their feet in ritual dances of honor and gratitude. We may not get credit where it is due, but there is no doubt that women have played an incredible role in the musical history of humanity. When you realize this, it should come as no surprise that women of times past were drummers.

The frame drum

was used by women to sing, chant, dance, and worship. It's rhythm, which follows the beat of our own hearts, is a beautiful gift for mothers. It is also a dear gift for the children who will sing, drum, and dance with her.
Breast Benefits
Life has ebbs and flows. So to, do the breasts of motherhood. Pregnancy changes them in size and tenderness, and breastfeeding can cause fluctuating bra size by the day. Then there's mastitis, weaning, and challenges with milk production. Motherhood is a whole new world of ta-tas, so help a lady out.
Supportive (& Amazing) Bras |

A comfortable bra that keeps boobies from "having a mind of their own" is always much appreciated. Pick out a bra (or five) that caters to mom's needs with nursing, workouts, or comfort.
Herbs |

Galactagogue herbs

are another breast-healthy gift for mothers. They help mom make milk for their little one and they encourage mama to take a timeout for tea. Nutritive herbs like alfalfa and nettle offer further breast support by offering minerals that create nutritious milk (and support mom's energy and health). Alternatively,

milk-

reducing

herbs

are a great gift for surrogates and bottle-feeding mamas.

Ash Stevens is a writer, mother, and wannabe shaman. When she isn't being serious writing or talking family and relationships on her blog, she's listening to stand-up comedy and soaking up some sunshine.

Latest posts by Ash Stevens (see all)