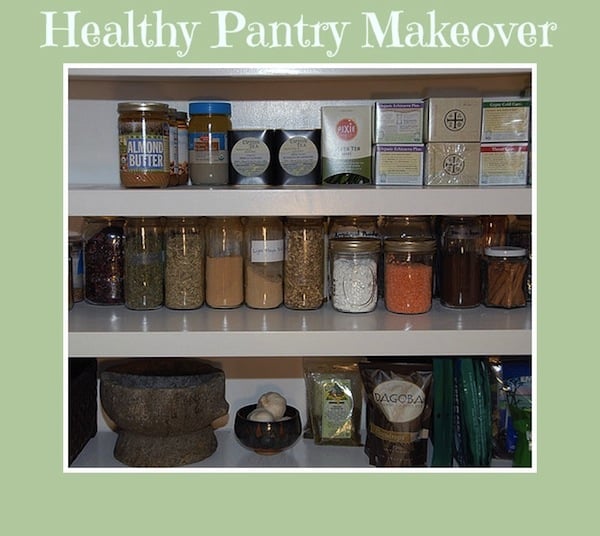 With a well-stocked healthy pantry, nourishing meals are attainable – even on your family's busiest days.
A healthy pantry makeover doesn't have to happen all at once, but it's a great opportunity to start replacing some of your old spices and cooking oils with refreshed healthier versions of what may be lurking in the depths of your darkened pantry. Restocking your pantry is also helpful when preparing to make purees, because having these healthy items on hand makes the cooking process seamless and stress free.
To make the process even easier, you can download our free printable Pantry Staples List.
If your kitchen is vegan, disregard any dairy or animal stocks from this list.
Healthy Pantry Staples List
Cooking oils
Seasoning
sea salt
salts with minerals added in (colored salts)
pepper – freshly ground
whole garlic cloves
yellow onions
tamari
thyme
oregano
cumin
cloves
turmeric
various flours
homemade vanilla extract
Legumes, Rice, Pasta
chickpeas / garbanzo
pinto
lentils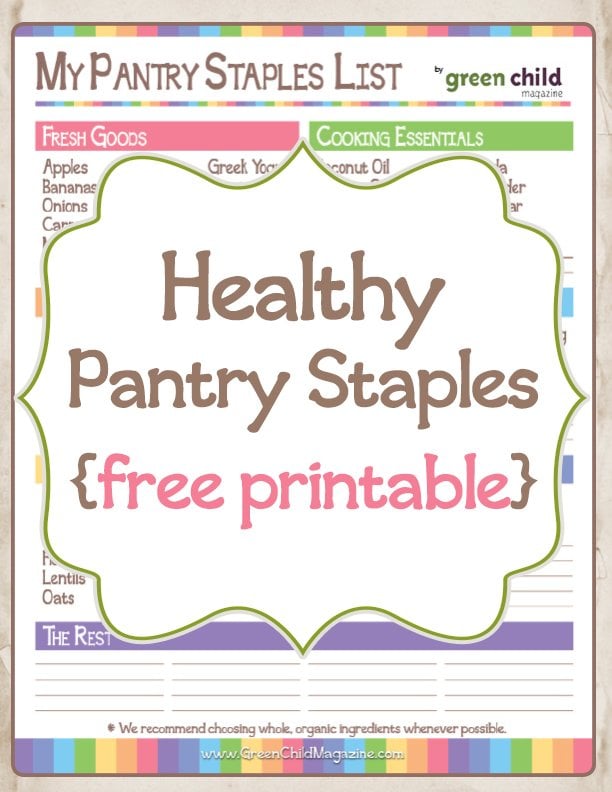 Sweeteners
Grains
quinoa
millet
whole grain oats
brown rice
fresh granola
Stocks
Dairy
raw or organic milk
coconut milk
fresh local butter or Kerry Gold grassfed butter
various types of cheeses
plain greek yogurt
7 stars lemon yogurt
Healthy Snacks for Kids
WASA crackers with honey butter
veggies in kid-sized slices
apple slices with almond butter or sunflower seed butter
yogurt with fresh granola or berries
broccoli with melted freshly grated cheese sauce
whole grain chips or organic corn chips with salsa
kale popcorn or crispy kale chips
veggie or fruit ice pops
cheese, freshly cut salami and whole grain crackers and sunflower honey

Since 2010, Green Child has published a digital magazine devoted to natural parenting and conscious living. Hailed as "good for a green mama's soul," Green Child has grown into a resource valued by parents who care about bringing simplicity, compassion, social responsibility, and instinctual intelligence back to parenting.

Latest posts by Green Child Magazine (see all)