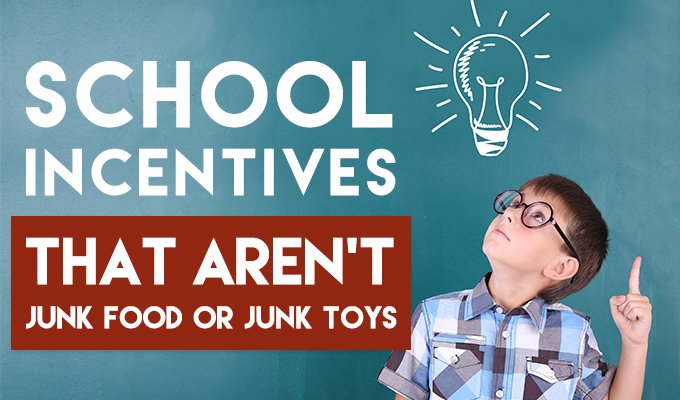 Is anyone else tired of junk food and dinky toys being used as student incentives?
It's one thing for fast food joints to use junk toys to push junk food on our kids, but it's another thing for school systems to use them as a reward system.
What do such rewards tell our kids? That getting to eat candy is aligned with being good? No wonder we have an obesity problem in America! There are healthier alternatives for student incentives that taste delicious and can be educational and fun.
If you want your child's school to revamp its reward system, brainstorm with other parents and get the PTA involved at your next fundraising meeting. And if you need ideas for sustainable ways to raise money for your child's school, check out these Eco-Friendly Fundraising Ideas for Schools.
Here are ideas for alternate incentives for younger and older children to get you started.
School Incentives for Younger Children:
Special seating: Sit beside a friend in class for the day
Chat break: For one day only, the student chooses a time for up to five minutes for the class to have a chat break
Special Helper: Student is the teacher's special helper for the day
Student chooses story for story time
Fun pencils or stickers: Share the wonder of glow-in-the-dark ceiling stars
Recess toys, such as a hula hoop or jump rope
Family night kit: It comes complete with a Lego kit or movie and popcorn
Books: Age and family appropriate book chosen from a pre-approved list
Special themed coloring book and crayons
Sketchbook to encourage free expression through drawing and writing
Stuffed animals: Each stuffed animal could be a wild animal like a zebra, that comes with a name and information about its habitat
Superhero t-shirts: Student gets a Batman or Wonder Woman t-shirt
Sleeping bag: a new sleeping bag to encourage sleepovers or camping trips
Puzzles: Pick a variety of puzzles set in different cities or with pictures of animals
Blanket fort starter kit: Student receives a large blanket, a flashlight and other fort-building supplies to build a DIY fort
Osmo: a learning toy to connect with an iPad
School Incentives for Older Children:
Journal or sketchbook: The blank pages encourage free expression
Sunglasses: Choose various styles for different face shapes in casual and bold colors
Fitbit: A big surprise for the student
Flower or herbs in a pot, such as basil, which grows well indoors and outdoors
Students plant a school garden to grow veggies or to attract butterflies
Age appropriate but fun book in a genre of choice
Eco-friendly lunch bag with containers: I love FridgeX Silicone containers, which are safe from the freezer to the microwave
Coloring books that are age appropriate, with colored pencils: Choose a Celtic or Zen pattern, for example
Two movie tickets to a parent-approved film in theaters
One guitar lesson voucher for the student to meet with a professional for a free lesson
Students plan a potluck: They make items at home and bring them into class for a picnic. Encourage the kids to pick healthy recipes to try.
A local writer or artist comes in to conduct a class workshop
Age-appropriate science kit: Build a solar-powered dinosaur that walks
Incentives should measure the amount of effort and enthusiasm placed into a student's or class' hard work. Interactive, educational and silly challenges and fun social activities are great ways to encourage students to succeed.
Save
Ali is a tea-sipping blogger who focuses on healthy and sustainable living via her family blog 
Homey Improvements
. She was born and raised in Alaska and enjoys organic gardening, Pilates, and is a princess for hire for kid's parties.
Latest posts by Ali Lawrence (see all)