Meditation Toys for Kids of All Ages
Meditation toys make great gifts for kids of all ages. While meditation itself may look a little different for each child depending on their age and development, meditation gifts can inspire, heal, and calm any person regardless of age and experience level.
Kids Benefit Greatly From Meditation
Meditation is a wonderful way for kids of all ages to learn to calm themselves, deep breathe, manage anxiety, and process the day. With that said, kids' meditation can and often does look a little bit different than what we might do as adults.
Using tools to teach breathing techniques, comforting sensory items, and keeping a quiet body is a perfect way to get a preschooler familiar with meditation.
Grade school kids can often graduate to more intentional meditation with dolls, cards, and guided meditation scripts.
The American Academy of Pediatrics reports that meditation as a therapeutic intervention has been shown to have positive effects on psychological functioning, stress reduction, and pain management.
The same extensive AAP study found that youth meditation programs were beneficial in improving mental health symptoms, coping, and self-regulatory processes and decreasing blood pressure when used in both primary prevention and treatment settings.
Mindfulness gifts are another avenue to consider for a kiddo or family who might appreciate a meaningful gift if they haven't dipped their toes into meditation yet.
Meditation Toys and Gift Ideas
If you're wondering what to gift someone who is into mindfulness, these meditation toys offer something a little different with a lot of meaning. Maybe there's a young person on your gift list who could benefit from an engaging way to manage their emotions.
The holidays are a perfect opportunity to offer a gift like these. These are useful toys given with love and intention, and are like a little bit of peace wrapped in a gift!
Meditation Toys for Preschoolers
During the ages of three and five, kids are are great candidates for learning and experiencing the benefits of mindfulness. And even if they don't fully understand what meditation is, they'll develop a firm foundation in techniques to help them stay present and manage their emotions.
With meditation toys like these, your little one can continue to draw upon these skills for their entire lives.
This meditation tracing board is made of natural wood and is an activity that uses both sides of the brain. It's a great way for younger kids to get into the zone and unwind their thoughts.
The way this meditation toy is designed promotes focus and concentration. It also keeps little hands busy and that can help a child keep a quiet body.
If your little one loves our Happy Heart guided meditation script, this board game makes an amazing companion. The game incorporates science-backed mindfulness techniques – like gratitude and body awareness with yoga and breathing – into a hand-illustrated board game.
Ideal for kids ages 4 and up, this beautifully crafted board game will have your child taking a moment to hit pause in our busy world, and carving out their own little pockets of calm.
I love this breathe pinwheel board that also has a sensory calming component to it. It looks nice and would look good hanging on the wall anywhere kids might play.
The purpose of this meditation board is to learn deep breathing techniques for relaxation, and the icing on the cake is the sensory experience of the grass and other decorations that the board provides. Here are quick instructions on one way to use this board.
Using different types of breaths, blow the pinwheel to spin with your child, and then notice how you feel after. Here are breathing examples to explore the feeling of:
Deep long belly breaths
Short quick breaths
Normal breaths
This sweet little night light meditation mouse has a calming glow and plays timed music for sleep. Perfect for younger kids, this plush mouse has short age-appropriate guided breathing and meditations.
Preschoolers can take this plush toy along for the day and use it in daytime relaxation mode, or use it to help get to sleep with its 3 part wind-down exercise. This meditation toy is a wonderful introduction to meditation and self-regulation.
We all need some tiny lightly weighted pillows filled with flax seeds and relaxing aromas! Yoga ShaShas are meant for use during Shavasana but also have use as fidgets and calming objects.
Doing yoga with young children is a great way to introduce them to body awareness, the mind-body connection, and deep breathing. These little weighted pillows make lovely meditation gifts!
This sweet little breathing owl is a breathing light, night light, and noise machine all in one. It can serve as a soft nightlight, and it has a 4-7-8 guided visual meditation that can help your child sleep.
Sleep is critical for developing brains, and helping your child get an age-appropriate amount by unwinding after their day and coping with stress and anxiety is a life skill they can use forever.
Read about mindfulness exercises for sleep for more ideas.
Inspired by the Hoberman sphere, kids are instantly drawn to this expanding ball. You can teach kids mindful breathing when they match their inhale and exhale with the expansion and contraction of the ball.
While we've seen variations of this mindful magic ball, it usually only comes in bright primary colors. This design feels more calming and matches the decor of a natural-themed play area.
Calmee the Caterpillar is a plush meditation toy that encourages deep breathing and comfort. It offers 3 different ways to calm down.
Calmee can stretch in and out to focus on deep breathing in and out.
Rest Calmee around a child's neck & shoulders to ground and focus them with gentle weight.
Count Calmee's 10 body segments to encourage counting meditation.
Calmee's counterpart, Rory the Lion, is a plush toy that helps encourage kids to release emotions. Rory's mantra is, "When I am feeling sad or mad, I take a big breath in and roar out my feelings".
Meditation Toys for Grade Schoolers
Today's elementary school age kids deal with more stressors than their parents did at the same age. And many of them have hectic schedules that could use simplifying.
If you haven't started mindfulness work with your child earlier, there's no need to worry. This is a great age to put these techniques into practice.
If your grade-schooler likes Barbie, definitely take a look at the Breathe with Me Meditation Doll. She has flexible joints for yoga poses and meditation breathing. This Barbie also has a calming tone and a soothing light on her necklace.
This doll comes with tools to express emotions and has 5 guided meditation practices for kids. This is the best meditation gift for any Barbie lover!
Similar to the breathing owl but perfect for older kids, this 4-7-8 breathing ball has a relaxing glow and lots of meditation accessories.
The light works as a really nice visual for two styles of guided breathing. I really like this one for a kid's meditation toy because the breathing pace can be adjusted as well.
The My Little Morphee is a non-digital device that uses stories to take children on soothing adventures to learn about enthusiasm, happiness, independence, wisdom and more, all while guiding them through breathing and relaxation techniques. Your child can also choose from a range of pure mediation and relaxation sessions which are specifically created for kids.
I love that this one doesn't require WiFi and it holds 192 meditative journeys to prepare children before bedtime or help calm them down during the day.
This is a fidget spinner like you've never seen before! Made out of magnetized wood, this infinity spinner is a wonderful way to calm busy bodies and keep hands busy for a grade-schooler who needs help focusing on meditating and breathing deeply.
Since these are magnets, I only recommend them for children old enough to know not to put them in their mouths.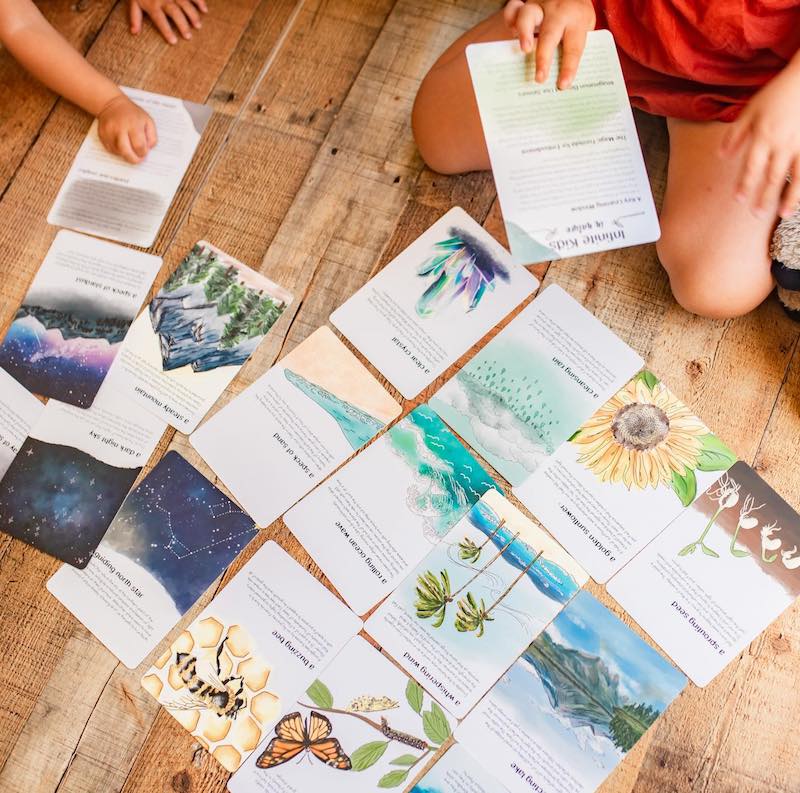 There are so many beautiful guided meditation cards that appeal to kids of different ages. The cards pictured above are nature-based mindfulness activity cards. They're great for helping kids connect to the magic of nature and the world that surrounds them.
These meditation cards for kids have the most beautiful illustrations on large cards that feature calming guided meditations. Using these cards can be a lovely bonding activity to do with your kids, or for an independent reading child to do on their own.
Another option from the same company is a meditation kit for kids that includes beautifully illustrated guided imagery script cards, positive affirmation cards, a breathing exercise card, and a legend card.
The meditation fairy is here to bring these lovely affirmation and meditation cards that include reflection prompts and exercises to go with each card.
These cards are simple to follow and make it really easy to create a mindful meditation routine. Easy enough for most grade school kids to use on their own, these cards would also be a perfect addition to a calm-down corner.
Meditation Gifts for Teens
Anything you would like as your own meditation toy or tool is probably appropriate for a teen. They tend to love beautiful reminders that help them be present.
There are many useful meditation apps like Calm, Headspace, and Insight Timer, and subscriptions to these can make great gifts. But it can be very tempting to multi-task when we have our phones out. (Not that I've ever been known to start a meditation and then quickly check email.) So these gift recommendations include offline items to help lessen any distractions.
Watching this sand fall into mesmerizingly beautiful patterns is a meditation in itself. This sand art piece is hand made from just sand, water, and beech wood.
Your teen can rotate the frame and watch as the grains of blue and white sand drift into tons of beautiful landscapes and waterscapes. They may find themselves blissful or calm, perhaps even gaining perspective on a problem or homework assignment.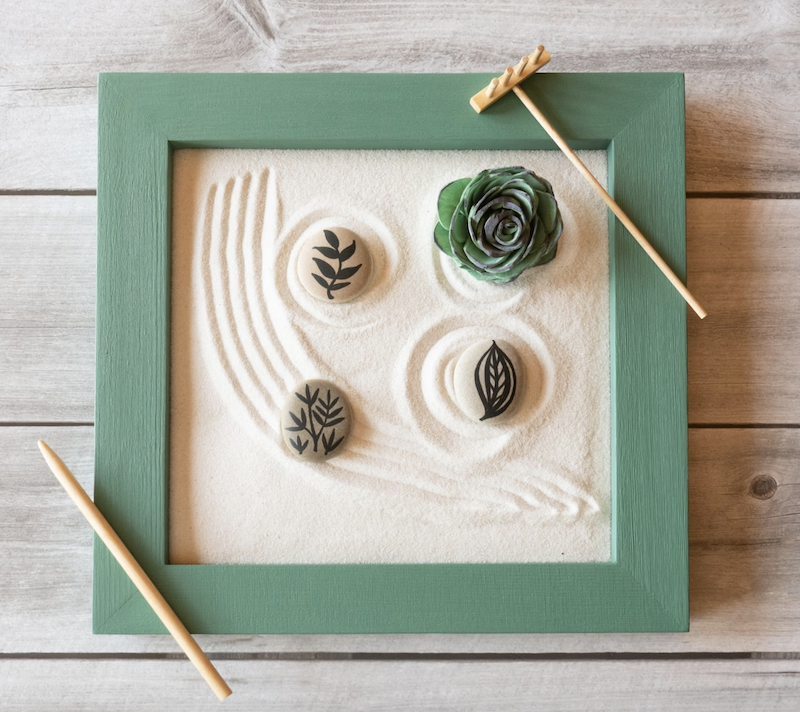 This cute little zen garden comes with raking tools and is a perfect meditation toy that will fit on a teen's desk or can easily be tucked away on an easy-to-access countertop.
There is something so soothing about combing the sand and creating a tiny garden design within it. A zen garden works as a meditative focus activity for busy teens when they need a brain break.
Teens might also like this Mission to Mars Mindfulness Zen Garden. It makes a really thoughtful gift for any teen – or even adult – who would appreciate a few minutes of peace every day.
These meditation beads are hand knotted and contain 108 crystals or gemstone beads. Teens can use them as prayer beads or to help them stay focused during a meditation session. Or they can wear as a necklace or layered with other jewelry.
The mala is traditionally held in the right hand and used in two ways:
In one method, the mala hangs between the thumb and the ring finger. The middle finger rotates the mala by one bead towards oneself with each repetition of a chosen mantra.
In the other method, the mala hangs from the middle finger, while the thumb rotates the necklace one bead at a time.
The practice begins at the summit bead and continues around the loop until you reach the summit again.
I love this meditation chime for teens, its super simple design has very relaxing results to begin meditation. Teens have the capability to use this meditation tool as it's meant to be used and can self-manage when it will help them get into a calming mind space.
This chime would make a great eco friendly stocking stuffer too, which in my experience can be hard to find for teens!
These daily meditation cards are wonderful for teens interested in beginning a daily meditation or mindfulness practice since they come in order from beginner to advanced. This is a super helpful feature.
The cards are simple to read and use and have 7 different categories that encourage self-care, relaxation, emotional awareness, stress management, and self-love. The 7 meditation card categories in this deck are:
Breathing Techniques
Mindfulness Basics
The Idea Space
Zen
Gratitude
Mindful Living
Stoicism
A beautiful brass singing bowl is a wonderful way to enhance your teen's meditation practice. It reminds them to take a mindful moment to breathe and refocus with the resounding vibrations and ethereal hum.
Gently strike the rim of the brass bowl with the mango wood mallet, then draw it along the circumference to make the vessel "sing." The resulting sound can help your teen refocus, relax, and recenter.
A Newton's Cradle is a perfect desktop meditation toy for teens. This pendulum looks nice and is really useful for taking some time to meditate. Let it run its course and focus on the cyclical yet slowing nature of the design.
My son has found these to be very calming and was a source of stress release as a teen. He would get it started when he was feeling overwhelmed, and focus on it while his mind calmed.
This citrine worry stone makes a great stocking stuffer. It's also the perfect size for a pocket or to store in a backpack. Citrine is known for imagination, creativity, and coping with change.
I love these for teens because they are small enough to be with them wherever they go. If they are feeling stressed, they can quietly use a worry stone for a short meditation and energy upgrade.
Crystals can heal and balance chakras. These worry stones come in many different types of crystals. It would be such a thoughtful gift to find which exactly one would suit the teen you are buying it for.