Breastfeeding is one of the first steps to raising your child "green". While the essentials are mom, baby, and a good lactation consultant… there are some resources that help make your nursing life easier. Here are our top picks:
Made with 100% GOTS certified organic cotton and eco-friendly dyes, these tops are stylish and luxurious. Openings allow for easy and discreet nursing. We love the way these feel on our tired mommy bodies. www.milknursingwear.com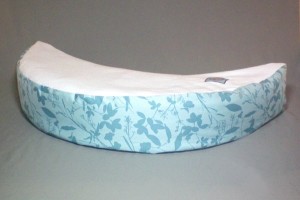 Blessed Nest Nesting Pillow and Nest Egg
Filled with buckwheat hulls, this nursing pillow allows you to get your baby in a proper position and stay there. Nest Egg gives extra support when needed or great for on-the-go. Gives moms stable support no matter the size, shape, or position. Pillow and cover are made with 100% GOTS organic cotton. www.blessednest.com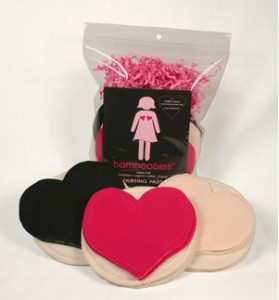 Bamboobies
Soft, thin, eco-friendly and these reusable nursing pads are discreet for everyday wear. These leak-proof nursing pads boast a cute heart shape as well as ultra soft feel. www.buybamboobies.com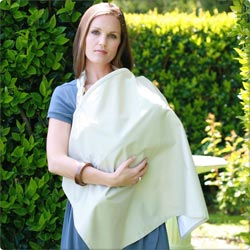 Simple Organics Bebe au Lait Nursing Cover
Made of 100% organic linen, the nursing cover boasts as terrycloth pocket for quick cleanups and storage. Rigid neckline allows for eye contact while nursing, has adjustable neck strap, and can adapt for other uses. www.bebeaulait.com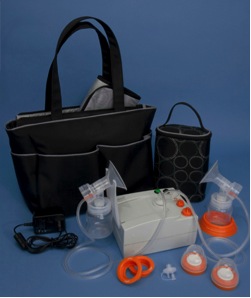 Hygeia EnJoyeTM Professional-Grade Breastpump
Double pump that is designed for long-term and frequent pumping needs. Comes with Hygeia's satisfaction guarantee, can be battery operated, shared with multiple mothers, and is recyclable. www.hygeiababy.com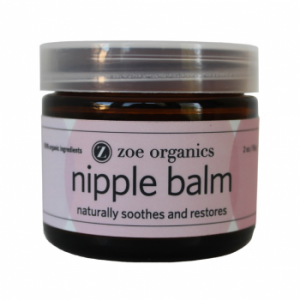 Zoe Organics Nipple Balm
Safe and non-irritating for both mom and baby, this Nipple Balm is make with soothing and restorative oils, butters and herbs. No need to wash off before feedings. www.zoe-organics.com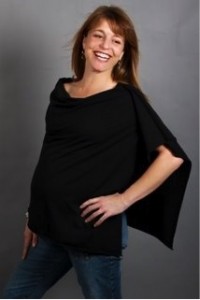 Butterfly Wrap
Hand sewn from eco-soy and organic cotton fabric, the super-soft Butterfly Wrap stretches and changes to fit and flatter your changing body. Use as a maternity shawl, nursing cover, or a skirt. www.bamboobieswholesale.com
This compression tank soothes and shapes your postpartum-middle while allowing you to nurse your baby with exceptional underwire-free support. Allows for easy nursing access. www.bellybandit.com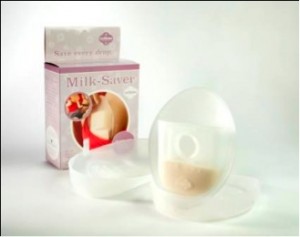 Milk-Saver
This discreet milk-saver collects your leaking breast milk when you nurse, allowing you to store extra breast milk effortlessly. Rigoriously tested to ensure zero chemical leaching and contains no BPA or phthalates. www.mymilkies.com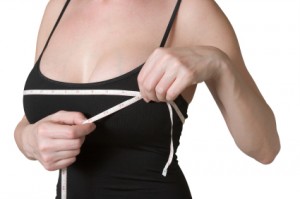 Virtual Bra Fitting
Shopping online seems to be all many mothers have time to do, since the world wide web doesn't close when the kids are in bed. Now you can confidently buy a nursing bra online too! By answering a few questions, "The Booby Whisperer" will evaluate your needs and recommend a bra that is right for you. http://mommynewsblog.com/virtual-bra-fittings/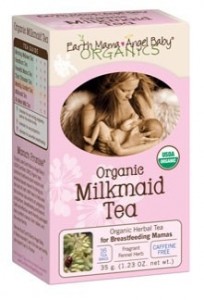 Organic Milkmaid Tea
Organic and Kosher, this tea was created to help encourage milk production and continued lactation. Deliciously comforting for mothers whether served hot or iced. www.earthmamaangelbaby.com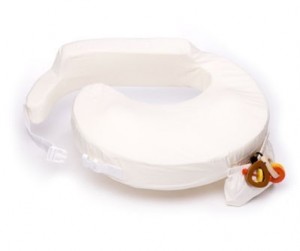 My Brest Friend with Organic Cover
With its wrap around design and back rest, this pillow is popular with many nursing mothers. Boasts an adjustable fit that helps it to stay in place while nursing. The organic cover made of cotton and bamboo gives mothers peace of mind about the environment while nursing. www.mybrestfriend.com
This, and other great information, can be found in the October/November 2011 issue of Green Child Magazine.