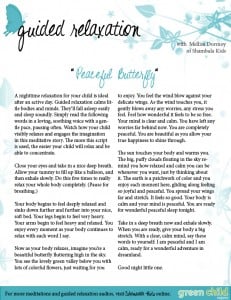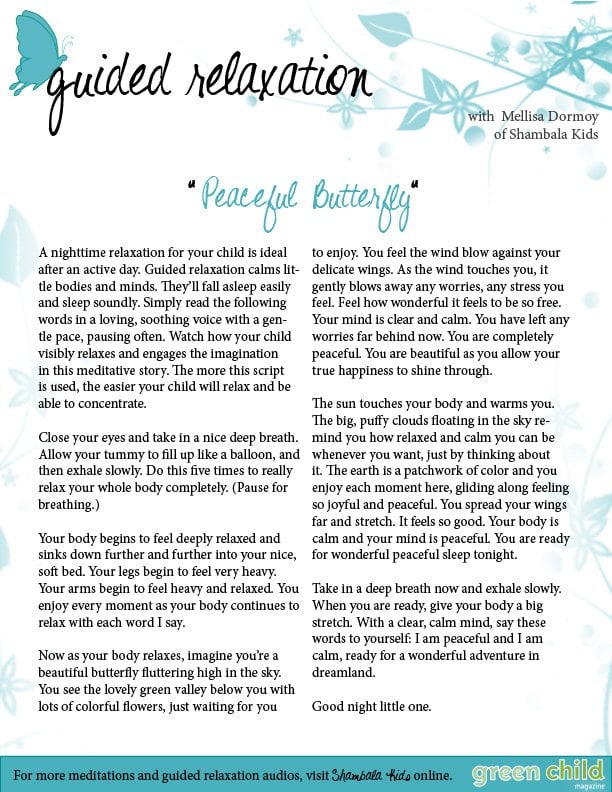 Our Guided Relaxation column is now available for you to download, free of charge, for your family.
These peaceful guided relaxation scripts are written by Mellisa Dormoy of ShambalaKids®. Her guided relaxation audios help children and teens relieve stress and anxiety, improve self-esteem, feel fantastic in mind, body and spirit and develop a positive mental attitude at school and at home.
You can use these scripts in a variety of ways.
Browse the topics below to see which meditation will most benefit your child. OR download them all and alternate reading them at bedtime or nap time.
For more meditations and guided relaxation audios, please visit ShambalaKids® online.
PDFs may be viewed in your browser by clicking the links below.
To save directly to your computer (without viewing first) simply right click and select "save as".

Since 2010, Green Child has published a digital magazine devoted to natural parenting and conscious living. Hailed as "good for a green mama's soul," Green Child has grown into a resource valued by parents who care about bringing simplicity, compassion, social responsibility, and instinctual intelligence back to parenting.

Latest posts by Green Child Magazine (see all)