Baby Names Inspired by Places Around the World
Naming your baby-to-be is such a fun part of the early parenthood process. Once a name is decided, you really can start to imagine your little one as a person who is a part of the great big world. So what better way to come up with ideas than by looking at names inspired by places around the globe?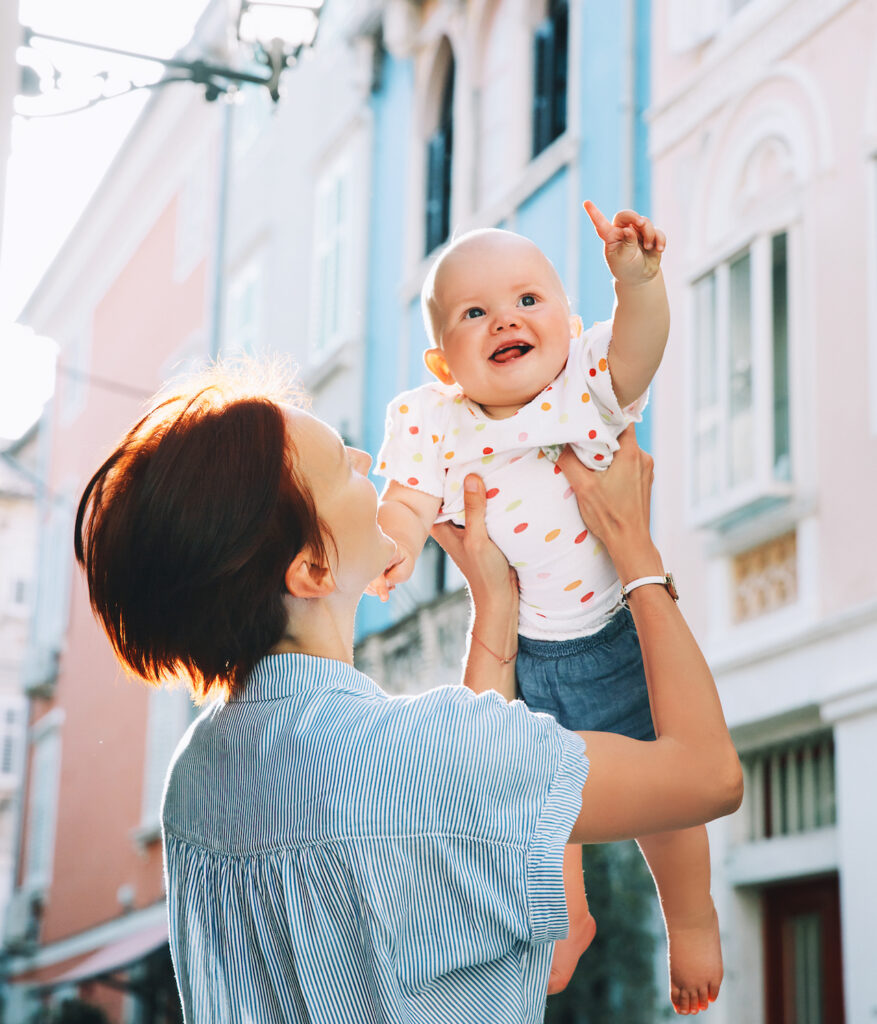 Whether it's a place you and your child will get to visit together or a place you already hold close to your heart and hope to return to with your new member of the family in tow, here are some of our favorites:
Baby Names Inspired by Places Near and Far
Arendal
Frozen's Arendelle got its name from Arendal in Southern Norway. The old Norse form of the name likely meant 'valley of the eagle'.
Aspen
A hot spot for slope-lovers and fireplace-watchers alike, Aspen is a well-known city in Colorado that doubles as an adorable name for both girls and boys.
Austin
A new tech hub and lively city in Texas, Austin boasts a beautiful river that runs through its inviting city streets.
Beverly
Beverly Hills, if that's where you want to be, then the name Beverly could be a perfect fit for your baby. Beverly is a name of English origin meaning 'dweller near the beaver stream'.
Brooklyn
You knew this name would be on a list of baby names after places, didn't you? If you want to raise an eclectic child, this New York City inspired name might give you a head start.
Cali
Maybe you have your sights on the whole state of California and not just one city. In which case, Cali can make for a sweet name that means 'beautiful'.
Camden
Another modern gender neutral option, it means 'winding valley'. Camden is a borough of London.
Caspian
The Caspian Sea is the world's largest inland body of water, often described as the world's largest lake or a full-fledged sea. It borders five countries, Azerbaijan, Kazakhstan, Russia, Turkmenistan and Iran and makes for a unique gender neutral name.
Charlotte
Charlotte is a well-known city in North Carolina that is a home of many museums, the Nascar Hall of Fame and much more. Charlotte is pretty girl name of French origin that means 'petite' and we love the idea of using Lotte as a cute nickname.
Cove
Cove meaning 'small bay' is a place that can be found in almost any city, country or region, so it allows for a family to really make this place-inspired name their own.
Dallas
A Scottish and English surname meaning 'meadow dwelling' this name calls back to another popular Texas city.
Ellis
A favorite spot for generating name inspiration, Ellis, after Ellis Island, makes for a less common New York City-inspired name. Ellis is a gender-neutral name of Welsh origin and it means 'kind' and 'benevolent'.
Erin
Meaning 'Ireland', a phrase that dates back to 1798, 'Erin Go Bragh' is a phrase meaning 'Ireland till the end of time'.
Fira
Fira is the capital of Santorini, a Greek island in the Aegean Sea. It could also make for a fitting name for an Aries baby.
Florence
A romantic city in Italy, the name is derived from the French version of (Saint) Florentia and it means, 'blossoming'.
Forrest
Forrest is a derivative of the latin word 'foris' meaning 'outside'. It has also landed itself on our list of Rustic Baby Names.
Helena
The capital city of Montana, Helena could also be a name that signifies abundance. Thanks to the gold rush, by the end of the 19th century, Helena had more millionaires than any other city in the world.
India
India, officially the Republic of India, is a country in South Asia. It is the seventh-largest country by area in the world.
Isla
A name with both Scottish and Spanish origins, Isla means 'island' in Spanish and is a Scottish name derived from the name of an island, making it a lovely cross cultural name choice.
Jackson
After the capital city of Mississippi, we're fond of Jackson as a charming baby boy name.
Kai
Meaning ocean in Hawaiian. Kai is a short and sweet three-letter name for a family that loves to spend their days by the sea.
Kyoto
Kyoto, once the capital of Japan, is a city on the island of Honshu. It's famous for its numerous classical Buddhist temples, as well as gardens, imperial palaces, Shinto shrines and traditional wooden houses.
London
London fits the categories of place names and gender neutral names. Its origin is English and it means from the Great River.
Lucia
Also on our list of tropical Island inspired baby names, Lucia is a name inspired by the place, St. Lucia, a beautiful Caribbean island known for its beautiful beaches. Another beautiful baby girl name idea, Lucia comes from the Latin word Lux meaning 'light'.
Mara
Masai Mara is a large national game reserve in Narok, Kenya. Mara makes for a special name for girls.
Milan
Another Italian city makes our list, Milan is known for its influential fashion scene. When used as a name, it has Slavic ties. Milan is derived from the Slavic element mil, with meanings 'kind', 'loving', and 'gracious'.
Paris
The city of love and capital of France, Paris has also historically been used as a nickname denoting someone who had Parisian connections, for example through trade.
Riviera
Take your pick of rivieras, be it the French or Italian coastlines, or perhaps it's the whole stretch of the Mediterranean coastal region from Marseilles in France to La Spezia in Italy.
Sicilia
Sicily, an island off the coast of Italy, Sicilia was the first province acquired by the Roman Republic, encompassing the island of Sicily.
Sydney
One of our favorite unisex names, Sydney means wide island, south of water in Greek culture. As a Latin name it means God of fun and parties. And of course, as a place-derived name it gives a nod to Sydney, Australia.
Valencia
Valencia is a city in Spain popular for its museums, festivals, beautiful sunny weather, and fantastic sandy beaches. We can't help but love this name for baby girls.
Victoria
Victoria Falls is one of the world's largest waterfalls on the Zambezi River in southern Africa, which provides habitat for several unique species of plants and animals.
Vienna
Another of the many beautiful cities that start with V. Vienna refers to someone who is 'from wine country'.
Zurich
Zurich is a city in Switzerland. When used as a name it is considered to be of German origin and believed to mean 'Gift of god'.
From big cities to small towns, there's no limit to what you can choose. Have any names inspired by places of your own? Share them in the comments!