Homemade Oatmeal Bath for Babies
If your baby or little one has red, itchy, or rash-prone skin, a homemade oatmeal bath can work wonders. Here, you'll find how to soothe irritated skin by making your own colloidal oatmeal for a therapeutic bath.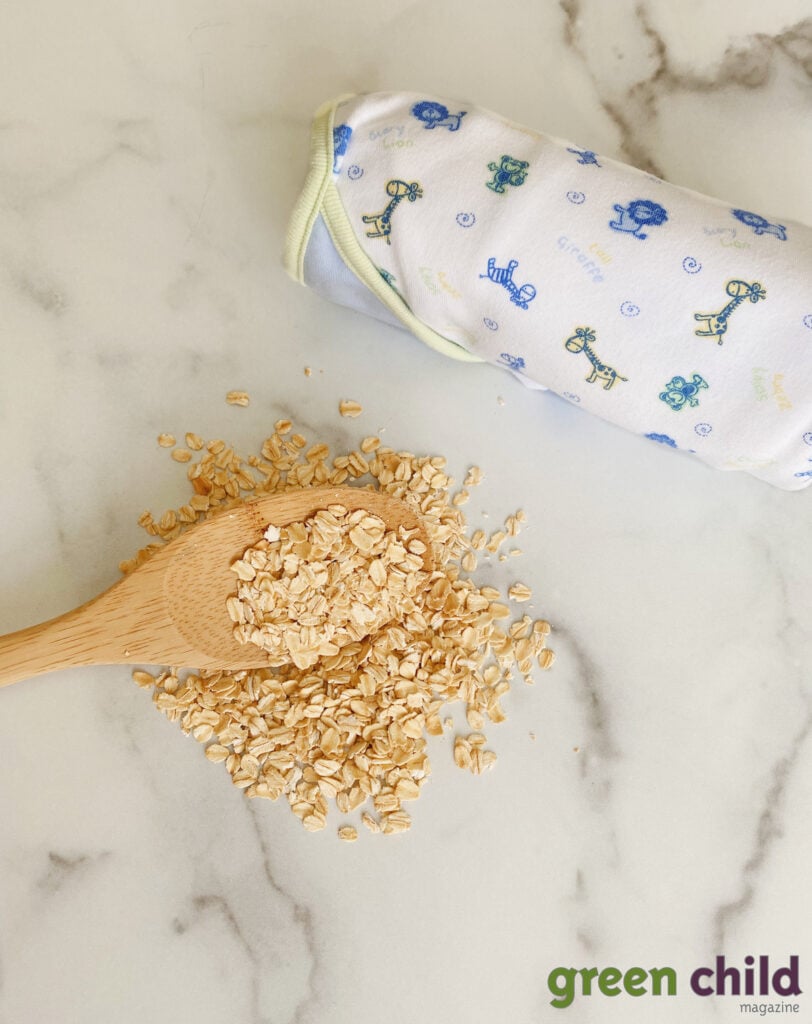 An oatmeal bath for itching can be super soothing to your baby's skin if they have eczema, or any other redness or skin inflammation. Making a homemade oatmeal bath is a simple way to calm both skin and your little one's mood. Plus it is safe for babies.
When to Use a Homemade Oatmeal Bath for Babies
Oatmeal has long been known to help with eczema and even chicken pox symptoms. Our team member Katy remembers her mom soaking her in a bath filled with oatmeal-filled cloth tea bags during a horrible case of chicken pox as a toddler.
Oatmeal baths for babies can help soothe a variety of skin ailments. Any issues that cause itching, redness, or irritation can benefit from a daily soak in oatmeal.
Try an oatmeal bath for these skin issues:
Any redness
Dry, flaky, itchy skin
Rashes, including diaper rash
Skin irritation or sensitivity
Sunburn
Chickenpox
Baby acne
Insect bites
If your baby has severe diaper rash, you might also try this homemade diaper rash balm. And consider making your own baby wipes to reduce further irritation.
How to Make an Oatmeal Bath
A homemade oatmeal bath is simple to make. You can make a large quantity in advance and have it on hand so it is easy to grab each evening for a bath time routine. Or you can make a batch as needed.
One wonderful benefit of an oatmeal bath for babies is that colloidal oatmeal binds to the skin and creates a barrier to hold in moisture, making it a useful natural remedy for many skin conditions.
A possible downside to the gelatinous quality of oatmeal is that it could clog your pipes if you are using it in your bathtub. The blending process below helps a great deal. But you can also make bath tea bags to reduce the amount of colloidal oatmeal going down your drain.
1. Prepare the Oats
First, prepare the oats. I like to make this in bigger batches to save time, although if preferred you can fresh blend it for each bath.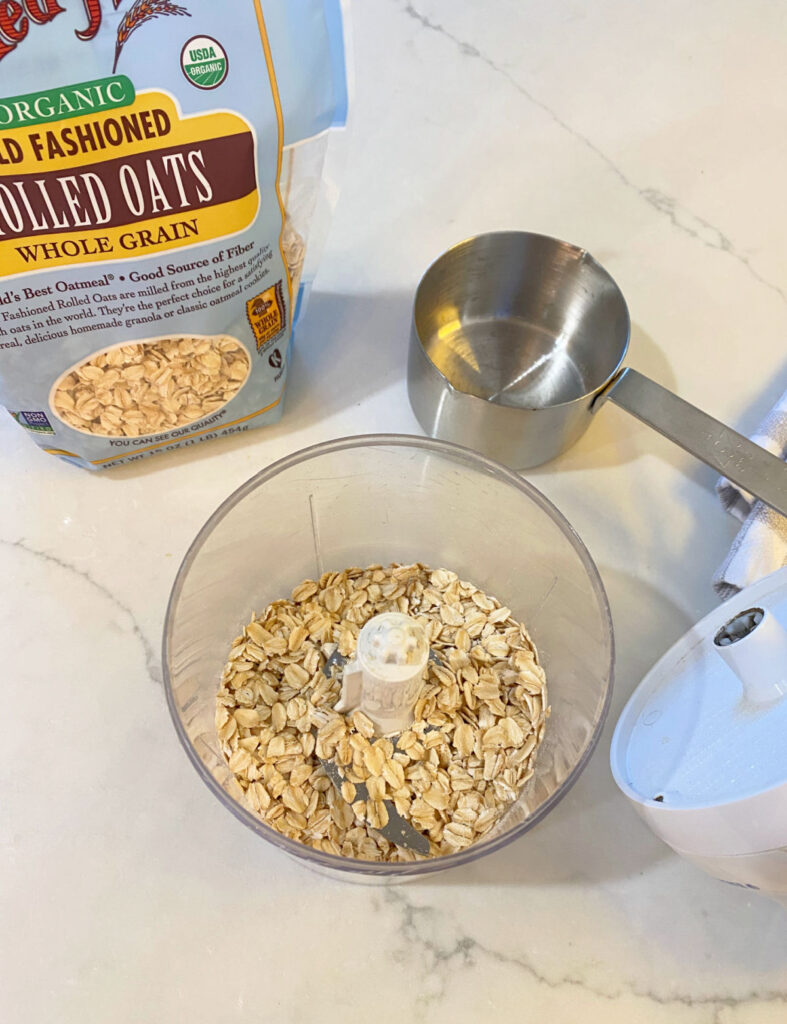 I generally use the organic rolled oats we buy when shopping at refill or bulk stores. For this example, I had Bob's Red Mill old-fashioned rolled oats on hand.
It's important to avoid any preservatives, additives, or chemicals sprayed on the oats while growing, as these could further irritate skin. For several years, oats were notoriously high in glyphosate. Fortunately, after much advocacy from food protection groups, tests are showing glyphosate levels in oats have dropped by a noticeable amount.
Grind or blend uncooked organic oats, or use colloidal oatmeal where the oats are pre-ground into a fine powder to make your process easier.
This is an example of how fine the oats get from blending in a small food processor.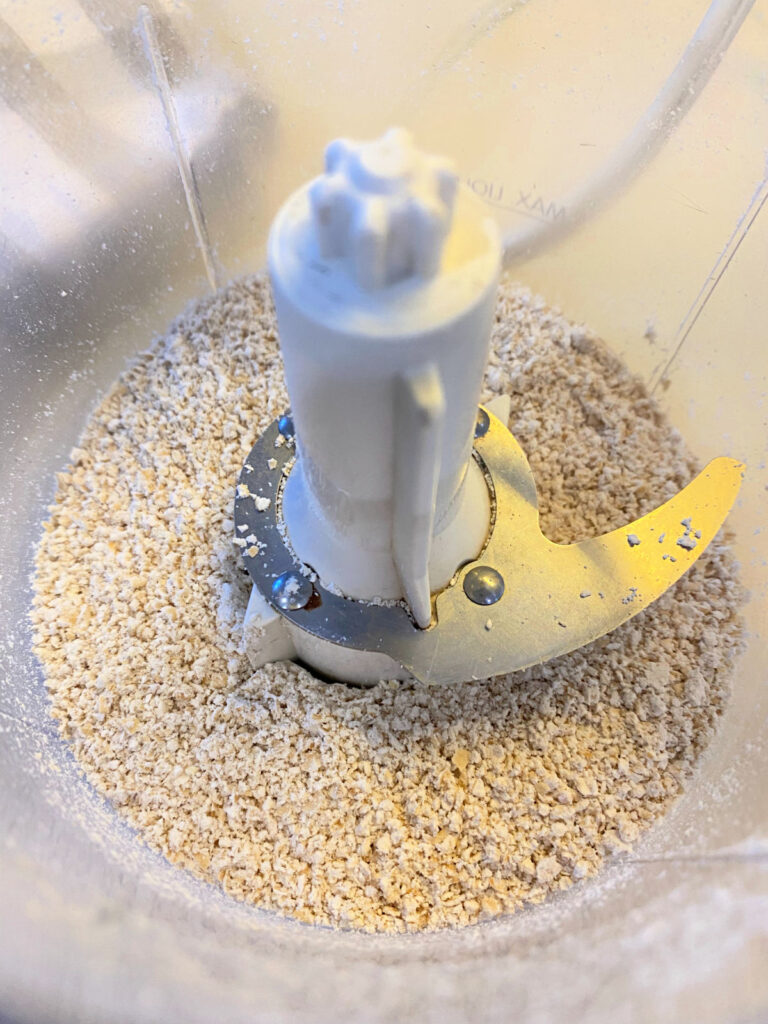 This didn't turn out quite as finely ground as I had hoped. A good test to know if the oatmeal is ground finely enough is to add a spoonful to a cup of warm water to see if it dissolves.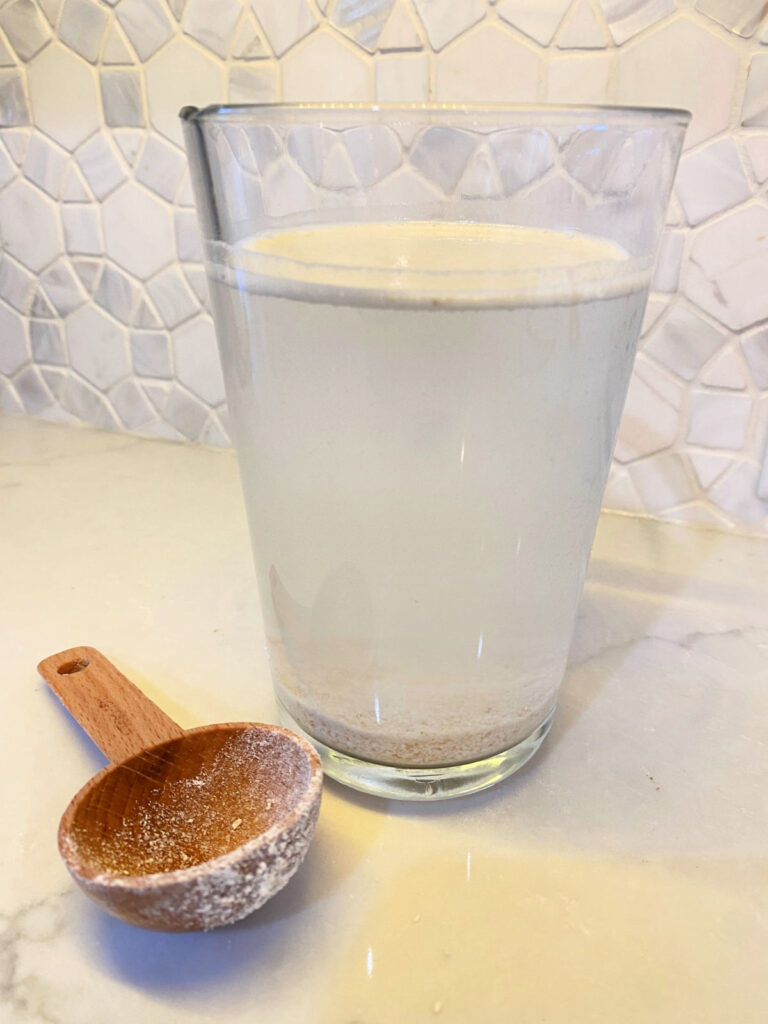 See how much has settled in the bottom of the glass of warm water? There's also a film on top. Because I wasn't using a bath bag, I wanted it fine enough not to cause plumbing problems. So, I switched to the high powered blender.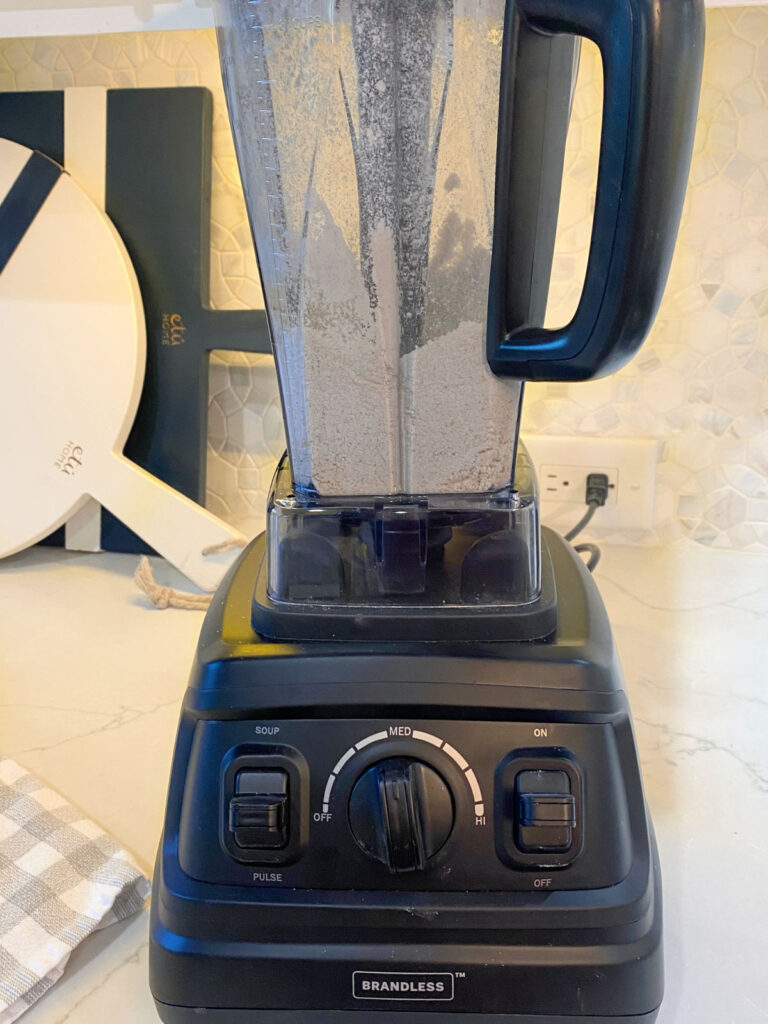 After about a minute on medium, the oats blended into a fine powder. Here's how the tablespoon in warm water appeared this time.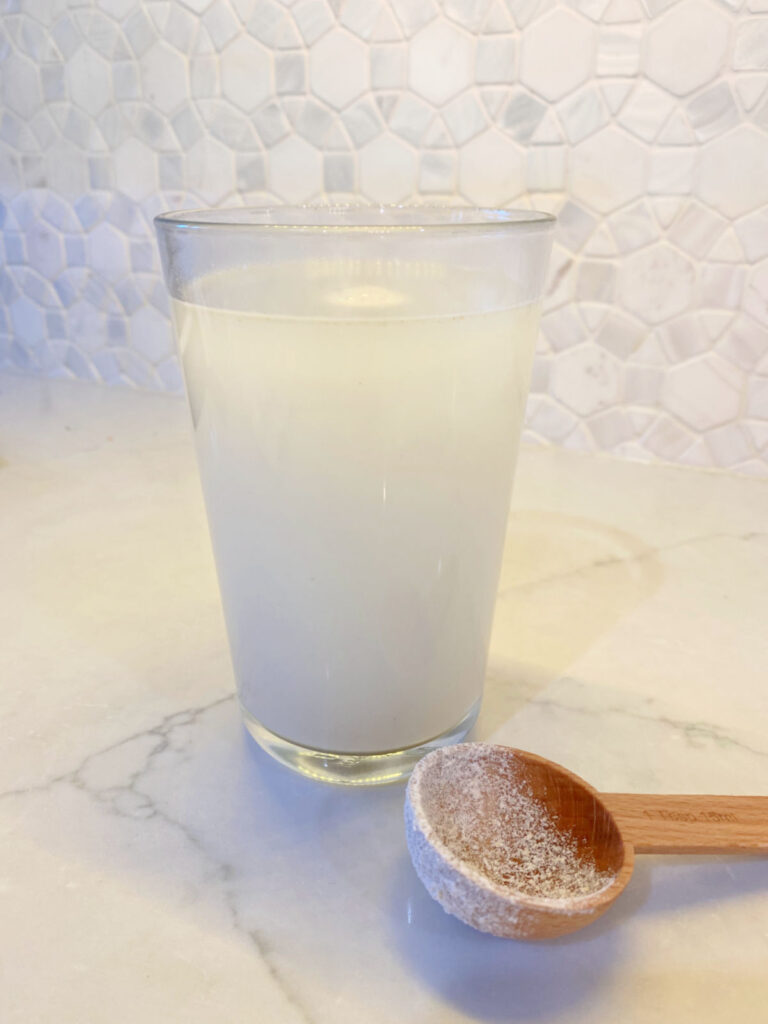 Notice there was no settling at the bottom or film on the top. So, my experiment resulted in the blender being much more efficient. For those who have a better food processor than mine, you might see great results from it.
2. Run a Bath and Add the Blended Oatmeal
If using a regular-size bathtub, use 1 cup of ground oatmeal. If using a baby bathtub, add ⅓ cup to the water.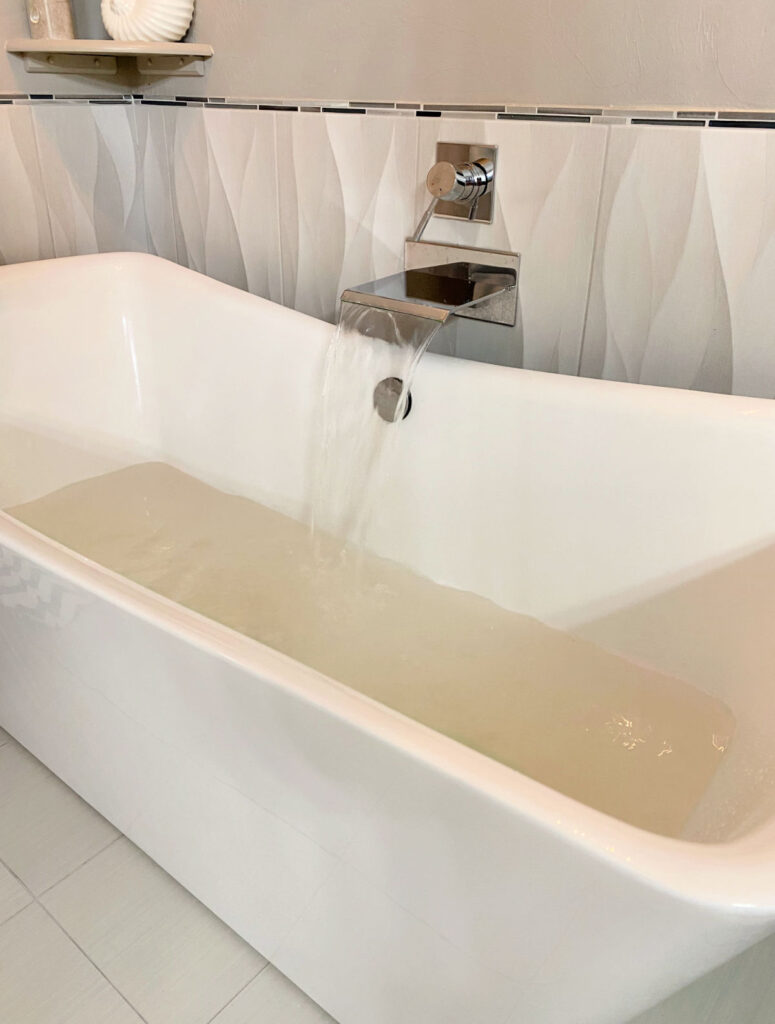 Hot water dries the skin out, which is the opposite of the moisturizing effect you want for this eczema bath recipe. But to get the oatmeal to mix well with the water, I started with hot water and then adjusted to cooler after adding the oatmeal.
3. Thoroughly Mix Water
Gently mix the water with your hand until the oatmeal is incorporated. The water will start to look milky as it becomes more evenly distributed.
You should also notice a silky texture to the water. That's the natural emollients in the oats.
4. Gently Place Baby in the Oatmeal Bath
The silky texture can also be slippery. Be extra careful when you place your baby in the bath tub or baby tub.
Of course you know never to leave a baby or small child unattended in water. With an oatmeal bath, take extra precaution by staying within arm's reach, especially for wiggly little ones.
5. Soak for 15 Minutes
Soak your baby in a tub or sink for 15 minutes, or longer if they're happy. Use a soft washcloth to gently squeeze the water onto all of the irritated parts of your baby's skin. Avoid soaps as they may dry or irritate the skin further.
This is a wonderful time to play soothing music, talk to your babe, and create a time of routine and connection.
6. Pat Dry and Moisturize
Use a towel to pat your baby's skin dry, without rubbing so as not to irritate their skin. This is also a relaxing time to give your baby a massage.
Use a healing salve or DIY herbal baby oil to moisturize baby's skin. Again, be sure to use high-quality products without sulfates, parabens, or other irritating ingredients.
Optional Soothing Oatmeal Bath Add-Ins
It is ok and can be beneficial to add skin-soothing herbs to your baby's oatmeal bath. These can be wonderful in a bath tea bag, and many also have very calming aromatherapeutic properties as well. Some optional herbal add-ins are:
Here is a great tutorial on how to make a DIY herbal bath for babies if you'd like to learn more about using skin-soothing herbs in your baby's bath.
Oatmeal Bath Side Effects
It is rare, but possible for your baby to have an oat allergy that could irritate their skin. Oats are often grown and processed alongside wheat. Therefore, a risk of gluten contamination can also cause an allergic reaction. If baby's skin gets more irritated or develops a red rash with fine bumps, or hives, discontinue the use of oatmeal.
While it can take time to see the full effects of using a homemade oatmeal bath for eczema or other irritation, in general, there should be a reduction in symptoms rather than any worsening symptoms.
Why This Works
Oatmeal has properties that are anti-inflammatory and skin soothing. A homemade oatmeal bath can reduce itching and helps hold moisture in the skin. A daily oatmeal bath is a very effective way to reduce symptoms of eczema or other inflamed and itchy skin.
It's been shown that an oatmeal bath can almost entirely resolve eczema symptoms within 3 months of daily use. The good news is that a homemade oatmeal bath is safe and just as effective for babies too.
Some benefits of oatmeal baths are:
Holds in moisture
Creates a skin barrier
Anti-inflammatory
Soothing
Reduces itching
Baby Oatmeal Bath FAQs
What kind of oatmeal should I use for a homemade oatmeal bath?
You can use rolled oats, quick oats, steel-cut oats, or premade colloidal oatmeal. Because you blend them, the starting consistency isn't too important. Colloidal oatmeal is a natural emollient, and is considered the most effective form.
Can I use Quaker oats for oatmeal bath?
Regular Quaker oats will technically work. However, I feel it is important to use organic oats to be sure there are no chemicals that could further disrupt your baby's skin or endocrine system.
How long should a baby soak in an oatmeal bath?
About 10-15 minutes is an adequate amount of time. This could vary day to day depending on your baby's temperament and developmental stage and how long they can tolerate it. If they really enjoy it, up to 30 minutes should be ok.
Should I rinse my baby off after the oatmeal bath?
No, it isn't necessary. In fact, it's better not to so the protective barrier from the oatmeal stays intact. Just pat dry and moisturize.
Should I wash my baby with soap during an oatmeal bath?
Generally, no since soaps can be drying and irritating. If it's super necessary from sweat or your baby is in a sticky stage, use a gentle soap first and follow up with an oatmeal bath.
Can I give my one-month-old an oatmeal bath?
Yes! Oatmeal baths are safe for any age of infants and babies.
How often can I do an oatmeal bath for my baby?
Once a day is perfectly fine and I find that tends to hit the sweet spot of reducing itching without overdrying the skin from too much water. I've read it's ok to do up to two times per day if necessary.
Can oatmeal baths help baby acne?
Unlike most lotions, ointments, and oils sold for baby acne, an oatmeal bath actually can be effective. It might not clear up baby acne entirely, but it can help soothe the redness and irritation.
Can an oatmeal bath clog your drain?
Yes. That's one of the other reasons for blending the oats first. Regular oats can stick to the sides of pipes and form clumps. The smaller the particles, the more easily they will flow uninterrupted down the drain and through the pipes.
Additional Oatmeal Bath Options
If DIY isn't your cup of tea, that's ok! You can find oatmeal bath products premade. Be aware that many brands contain other ingredients, so be sure to read the labels.
Or take the guess work out and try a premade (and preapproved by our team) natural oatmeal bath option like Oatmeal and Honey Milk Bath or Soothing Colloidal Oatmeal Bath.
More Baby DIY Recipes
DIY Herbal Baby Oil
Homemade Herbal Vapor Rub
Homemade Healing Salve
Elderberry Syrup Recipe
And find nontoxic bath products in our baby bath gear guide.
Homemade Oatmeal Bath
An oatmeal bath can soothe itchy or irritated skin plus it's easy to make and safe enough for babies.
Equipment
blender or food processor
Ingredients
1

cup

oats

rolled, steel cut, colloidal
Instructions
Place ingredients in blender or food processor and pulse until the oats are finely ground.

Add blended oats to warm bath.

Carefully enter tub (oatmeal water is slippery) and soak for 15 minutes or longer.