7 Outdoor Winter Play Ideas for the Whole Family
The winter months can be an especially challenging time to entice kids to go outside. Studies show, however, that outdoor time helps children grow lean and strong, enhances imaginations and attention spans, decreases aggression and boosts classroom performance. Here are some fun outdoor winter play ideas to get everyone outside together: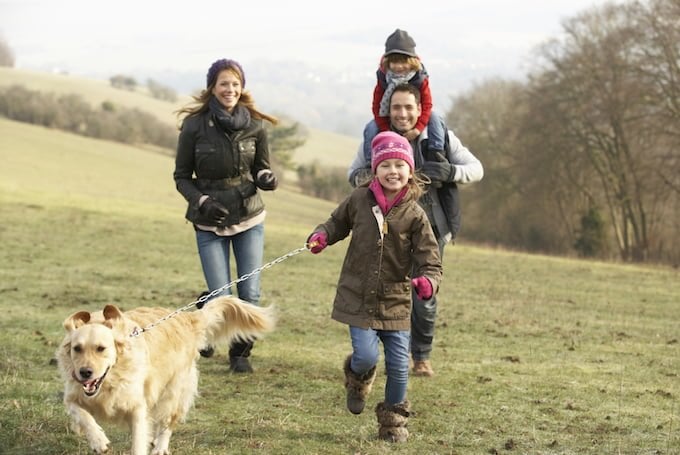 7 Outdoor Winter Play Ideas
It's no secret that today's kids are staying indoors more as the allure of television and digital devices outshine outdoor play, but these outdoor activities to do in winter might just do the trick:
Create a Winter Nature Journal: Grab a camera, colored pencils and a notebook and explore nature. Have kids write down observations and draw pictures of plants and animals. Collect twigs, leaves and seed pods and glue them into the journal with notes about where they were found. Take lots of pictures to document the places you explore together.
2. Go on a Scavenger Hunt: One of the most intriguing outdoor winter activities, a nature scavenger hunt is a great way to spend an afternoon. Make a list of items – pinecones, rocks, seeds and collect the items on the list. Cross out each item on the list as they are discovered and gathered. Add descriptors to the list as well, for example: Find something smooth, rough, brown.
Go Hiking: Winter is a great time to hike and to see nature in a new light! All you need are warm clothes and sturdy shoes. Prolong time outdoors on especially cold days with hand and toe warmers easily tucked into mittens and boots. Check your local parks and nature centers for activity schedules and seasonal guidelines.
Plan a Winter Wildlife Watch: From showy birds to furry mammals, winter is a great time to see many wildlife species in their natural habitats. Grab binoculars, a magnifying glass and a notebook and go for a wildlife watch. Have kids draw the animals and creatures they discover. Come back inside and learn more about the local wildlife you found on your watch.
Make a Bird Lookout: Select a corner of your yard to set up a bird feeder and observation station. Once you've found an ideal location for your feeder, look for a spot a short distance away where you can observe the birds without disturbing them; shrubs and low trees provide great cover for quiet observation. A lawn chair or stump for sitting, warm clothes and little patience are all you need to enjoy the show!
Go Winter Camping: Cold weather shouldn't stop you from camping! Set up a tent outside (even in the backyard just for a few hours) and play in the snow (if you have it). Pile on the layers and bring extra blankets for cozy vantage points to observe the winter landscape. And don't forget hot chocolate and S'mores!
Plan a Pollinator Garden: If you can't get outdoors due to extreme weather, it's the perfect time to sketch out a plot in the backyard or plan a container garden for bees, butterflies and other pollinators and get kids excited for the Spring! Making a list of seeds, plants and supplies and setting up a timeline for garden activities can warm up the bleakest winter day.
You'll find more great ideas for outdoor winter activities (and all year round) at National Wildlife Kids.
Editor's note: We're delighted to welcome back Naturalist David Mizejewski from the National Wildlife Federation and Ranger Rick. Today, he's sharing outdoor winter activities for the family. If you have young animal lovers, be sure to check out his previous article on observing wildlife safely.