What Happened to Kiwi Magazine and Moms Meet?
Kiwi Magazine was a print publication that transitioned to a digital a few years ago. Its sister company, Moms Meet, was an online community for moms to sample products from paid brand partners.
Both websites were designed to appeal to light green parents, or those just learning more about eco-friendly living and natural parenting.
While Kiwi was more mainstream than Green Child, we've shared a bit of an overlapping audience across the past 12 years. Recently some readers have asked what happened to Kiwi Magazine and Moms Meet, so we did a little digging to find out for you.
On May 20, 2023, May Media Group, LLC, their parent company, filed for bankruptcy.
It was announced on both Facebook pages on July 6. And neither website is currently accessible.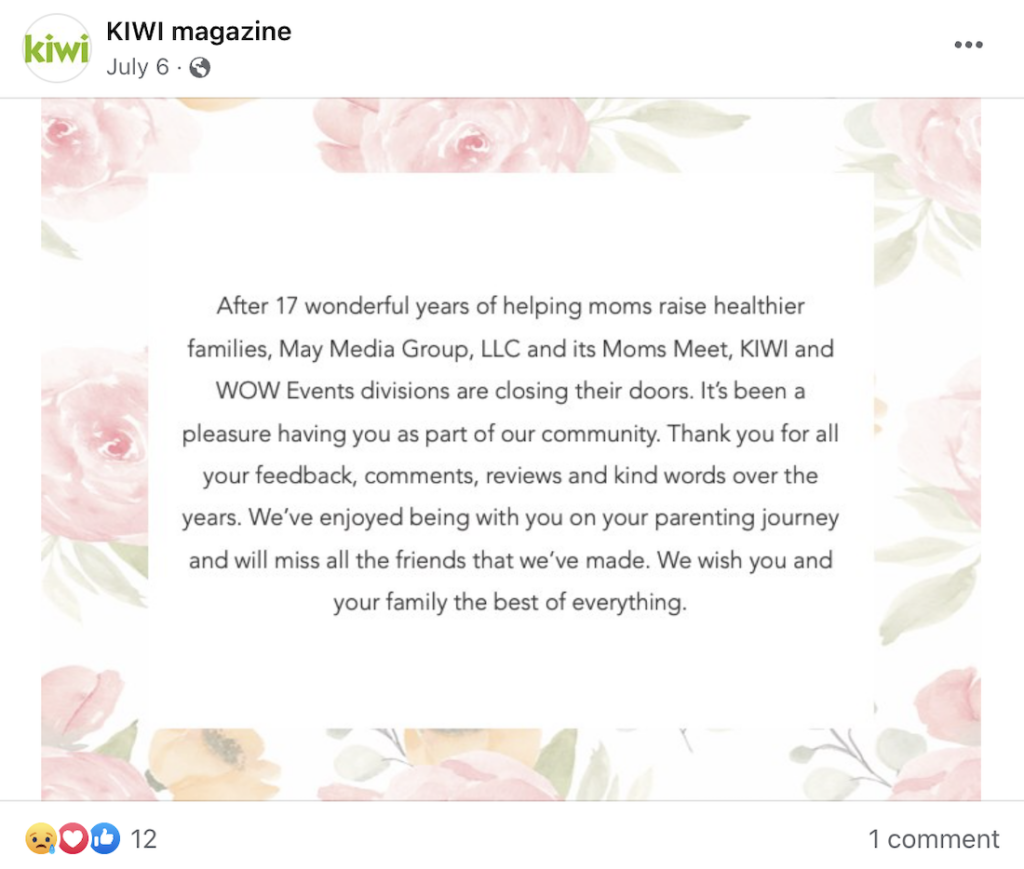 Moms Meet hosted the WOW Summit, an event that helped moms connect with one another as they sampled snacks and products for families. They also worked with bloggers on campaigns for their brand partners. This year's event was scheduled for November 10-11, 2023.
The closing came as a surprise to many of their members. There was no advance notice and the company was still selling tickets to their next event. While on Facebook, the WOW Summit was still announcing new speakers in early May. And they posted early bird ticket sales to their Instagram on May 17, just three days before closing the business.
Users Lost Thousands of Moms Meet Points
The Moms Meet Facebook and Instagram pages include comments from participants who had won prizes, accumulated points, and banked credits toward free product that are now worthless. One Instagram user was owed a $300 Amazon gift card from the company.
Other moms redeemed their points and gift cards, but after the filing, they found out they won't receive their items. Currently, people who purchased and made arrangements to attend the next WOW Summit event haven't heard news on refunds.

"I enjoyed sharing and trying and learning but I just wish that we had had more notice that you were closing the door especially for some of us would have been part of the panel group for years that just felt a little cold," Facebook user Sherry S. commented.
"Still waiting for coupons I cashed in points for over 6 weeks ago," shared Instagram user @madelinedandry.
"Best of luck in all your future endeavors, but it would have been nice to let us know our redeemed products were never going to be mailed," said Facebook user Mary B.
Some members have reported receiving a copy of the bankruptcy filing in the mail. While we haven't seen the documents, one former member said there is mention of a September 2023 deadline for creditors to file a claim.
Green Brands Also Left Without Answers
Some of the brands they worked with were also seeking answers. A few posted to LinkedIn about how Moms Meet was still recruiting brands and taking payments in the weeks leading up to the closure.
Others paid for campaigns and sent products that will never go out to the moms who agreed to sample them.
If you're a brand or former program member and learn more about how to file a claim, please share details in the comments so other users can do the same.
Alternative to Moms Meet
While we're unable to vet every product recommended by companies that offer healthier product samples, we certainly see the value in them. We've been looking into replacement options and have so far only found one.
Social Nature appears to be a worthwhile alternative to Moms Meet. It seems easy to sign up and choose products. They offer samples from brands we've worked with like Bob's Red Mill and Back to the Roots.
There are also some great subscription boxes for natural moms. While these require a payment up front, they are a wonderful way to sample eco-friendly and ethically made products across a variety of themes.
Earthlove is our current favorite eco wellness gift box. And Merkaela offers organic skin care and self care items. And we're still on the lookout for great organic snack sample offerings.
Alternative to Kiwi Magazine
If you were a Kiwi Magazine reader who is still looking for natural parenting advice, we'd be delighted for you to subscribe to Green Child.
We cover healthy living, getting kids in nature, family-friendly recipes, green crafts, positive parenting advice, natural remedies, and more. And we'd be thrilled to have you along for the journey.
Here are some of our readers' favorite topics
Feel free to contact us anytime with questions. And if you have new information on the situation above or details on recourse, feel free to share in the comments.