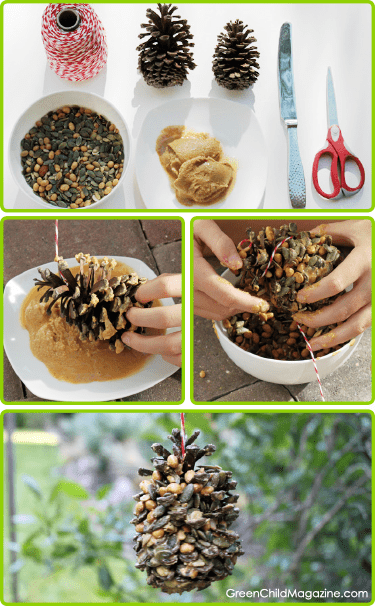 Craft contributor, Jennie Lyon, shares a simple and fun project for kids of all ages: DIY Bird Feeders!
Our backyard is a huge nature preserve, and one of my son's favorite spring time activities is to sit on our patio and watch the birds darting in and out of the trees.
After a few days of minimal visits from our feathered friends, we decided to entice them to visit our backyard. We grabbed a couple of pinecones from the front yard, a huge scoop of organic nut butter, some baker's twine and a bowl full of nuts and seeds and headed outside to make them a little treat.
This bird feeder craft only takes a few minutes, but it combines everything children love – getting their hands dirty, having a little snack, making something fun, and nature. Read on for the full directions and enjoy an afternoon making simple, spring organic pinecone bird feeders for your backyard.
Materials:
Pinecones
Organic nut butter
Organic nuts and seeds
Scissors
Instructions:
Add the Baker's Twine
Simply tie a piece of baker's twine around the pinecone near the top. This would be the perfect time to reuse a large piece of ribbon, string or yarn that you have lying around the house.
Add Nut Butter
Roll the pinecones in the nut butter until it is completely coated. You can also use a knife, or let your child dig right in with her hands to get the nut butter in every nook and cranny.
Add the Nuts and Seeds
Roll the nut butter covered pinecones in the nuts and seeds until the entire surface of the pinecones are completely covered. Push pieces into the folds of the pinecone for an added bonus.
Hang Your Birdfeeder, Listen, and Watch!
Choose a place in your backyard where you have seen birds visit before. Then sit quietly and enjoy watching them!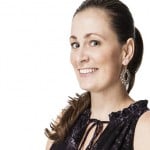 Jennie Lyon is the owner of Sweet Greens, an award-winning green lifestyle blog. She posts on simple, fun ways families can go green together. Jennie writes green parenting, children's how-to projects and green design posts at Inhabitots, and contributes to Cascadian Farm, Applegate and is a member of Target's Inner Circle as well as a Stonyfield Yo-Getters Ambassador.