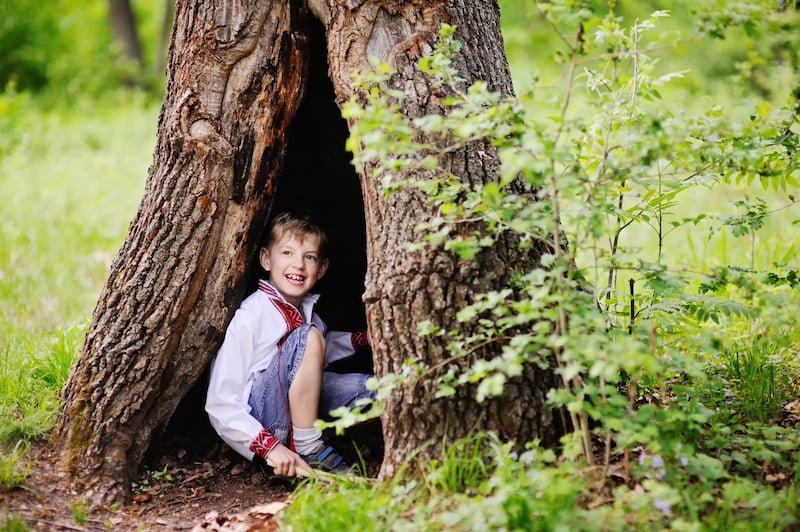 Every family wants comfort and safety. But as parents, we also want to raise courageous, resilient children and young adults — with a little help from nature
The writer Robert Michael Pyle recalls his boyhood as "freedom of the day." Mistakes, scrapes and discovery came with territory: "So what did it give me? Decisions; adaptations; discoveries; explorations. The ability to devise plans, and plan B's."
One reaction to the fear in our society is to shut down; another is to turn the fear on its head, with the goal of building resilience.
Most broken bones related to tree-climbing occur because the child doesn't have the strength to hold on to a limb, according to Joe Frost, professor emeritus at the University of Texas, Austin, and a leading expert on play and playgrounds. He recommends that parents work with their children to develop upper-body strength – early. "Doing so will significantly reduce the chance of serious injury."
So will taking small, manageable risks, which kids need to build their resilience.
"Too often, the focus is only on securing safer play materials, on setting rules and regulations, on substituting academics for play time, and on neglecting the role of extensive play in child development," he says. Those approaches can result in "fragile, unskilled players, lacking judgment for avoiding injury." By contrast, play – physical, challenging play, the kind children often experience in natural settings – "builds brains, health, and fitter, safer children."
Embrace natural resilience
Falling down is part of a well-balanced childhood. (And, for that matter, adulthood.) Children love exploring the dangers of nature – especially if there's a positive adult who helps them feel secure enough to take healthy risks, and if they fall, to learn to stand up again.
Rather than banning all risk, make sure your child can manage the risk
Infants and toddlers require vigilant adults. "Oversight can be gradually relaxed as children develop strength, agility, and reasoning," says Joe Frost. It's also important to offer children appropriate risks that they can manage. For example, kids build their balancing skills by walking on logs. But when a log is too large, heavy and unstable, it can exceed a very young child's ability to manage their own risk. Rather than eliminating all perceived risks, identify risks the child can manage – and provide nature experiences accordingly.
Encourage frequent outdoor play to learn resilience skills
To develop skill in running, climbing, creating, assessing risks, and playing cooperatively with others, encourage children to play frequently, alone and in groups. This gives children time to find their own unique set of skills for engaging in safer play. "Dedicated, regular players develop intuitive skills that kick in very fast without conscious thought when facing possible injury," says Frost. "Observe experienced basketball players and climbers when they are falling or flopping. They intuitively turn onto the large flat portion of their backs, raise their heads to avoid contact, and avoid falling directly on fragile hands and arms."
Teach kids the fitness basics of outdoor play
Tree-climbing instructor Tim Kovar urges climbers to follow a few simple rules, among them: make sure your tree of choice is living and strong; don't climb on branches smaller around than your wrist; always have at least three points of contact with the tree, meaning two feet and one hand, or two hands and one foot; and don't overreach for a branch – you can lose your balance. And, as mentioned earlier, to increase your child's safety, make sure she or he is continually building physical strength.
Associate nature with wonder and respect, not fear
If a child's earliest relationship with nature is based in fear – fear of insects, snakes, imaginary tigers, natural disasters, fear of the ecological future — then that child will likely grow up associating nature with fear and destruction. Researcher David Sobel calls this contagious fear "ecophobia." On the other hand, fear can also be a source of fascination – if an adult sets the example for how to handle it.
Think in terms of comparative risk
Yes, there are risks outdoors (though not nearly as many as the news media would have us believe), but there are huge psychological, physical and spiritual risks in raising future generations under protective house arrest. Child obesity is just one of them. So, rather than giving in to those fears, we need to give our children the appropriate freedom they deserve. And we also have to come up with new, safe ways to get our young people and ourselves outdoors. Parents can't do this alone. Communities and organizations need to help.
Make sure kids have a variety of play environments
Play and play environments should include spaces and opportunities for a wide range of play types — make-believe, group games, construction, rough and tumble, and interaction with the natural world of plant and animal life.
Get the safety information you need about the natural world
Become familiar with useful resources for safety tips in the outdoors, including those with information on how to guard against ticks. One resource is the Centers for Disease Control. The website for the Audubon Society of Portland offers excellent general information on living with a variety of urban wildlife.
Teach your child to watch for behaviors more than just for strangers
That's the advice of family psychologist John Rosemond. Telling a child to stay away from strangers is relatively ineffective. "Stranger" is not a concept young children understand easily, he maintains. "Instead, children ought to be taught to be on the lookout for specific threatening behaviors and situations," he says. The National Crime Prevention Council website offers more information on helping kids determine who's a safe adult.
Create a defensible nature-play space
Our sons also experienced nature in the urban canyon behind our house, building their forts, digging their holes, sitting under a tree coated with butterflies, all within our eyesight from our kitchen window. In 1972, architect and city planner Oscar Newman introduced the concept of defensible space, which he defined as "a residential environment whose physical characteristics—building layout and site plan—function to allow inhabitants themselves to become key agents in ensuring their security." This means being able to see where children are playing outside, from the edge of a park or from inside a home.
More eyes on the parks and trails
Develop a walking/activity buddy system. Encourage kids to do nature activities together. With agreed upon times and routes, kids, sometimes accompanied by parents, can meet up and walk together or bike together. Some young people are creating their own kids' nature clubs. More eyes on the parks, trails and streets is a tried and true community policing principle. The more good people out there, the safer the outdoor areas will be.
Set geographic boundaries that expand through the years
Setting physical neighborhood boundaries is a concept worth reviving. Parents should, of course use their best judgment, based on the realities of their neighborhood and what they believe is age appropriate for their child. But this is true: children need boundaries that gradually open to the rest of the world to build judgment, trust, resilience and to learn to independently recognize serious risk when they see it. It's the parent's job to set and enforce the boundaries; it's the growing child's job to stay within those boundaries or to ask the parents' permission to go beyond them, and to build trust.
Excerpted from Vitamin N: The Essential Guide to a Nature-Rich Life, Courtesy of Algonquin Books
Latest posts by Richard Louv
(see all)