Naturepedic Verse Review: An Organic Mattress Upgrade for Your Child
Your child spends a third of their time sleeping. One of the most critical ways to decrease their exposure to chemicals is with a non-toxic sleeping environment. In our Naturepedic Verse review, we're taking a deep dive into the benefits of this non-toxic mattress.
Looking for a Naturepedic kids' mattress discount code? You can use Greenchild15 to get 15% off the purchase of their top-rated, certified organic mattresses and accessories.
When it's time to transition to a big kid bed from co-sleeping or a crib, a new mattress can be a rite of passage for a child.
And what can help ease the transition for Mom and Dad (especially if it's the baby of the family) better than knowing their new big kid is in a healthy, safe sleeping environment?
The average mattress is coated with chemicals in the form of toxic adhesives, dyes, and chemical flame retardants. Flame retardants (and resulting endocrine disruptors) are major contributors to our overall chemical body burden.
WHY DOES AN ORGANIC MATTRESS MATTER FOR YOUR CHILD?
A child's growing body can respond to these toxins and allergens in a variety of ways, and some kids can have very strong reactions to them. In today's less than pure world, an organic, chemical-free mattress is imperative to sleep and health alike.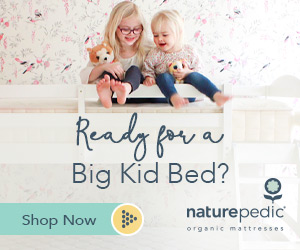 Finding an organic kid-friendly mattress can take a lot of research and trial-and-error (not to mention money and time). Many mattress companies misuse wording and even some certifications within the market – especially the term "organic".
"Organic" isn't a legally-recognized term in the mattress industry. There are organic certifications, but because these are private certifications, there's no oversight.
Luckily, there are companies like Naturepedic. As the most recognized and awarded organic mattress brand in the U.S., Naturepedic offers a line of organic mattresses specifically designed with kids in mind, featuring a comfortable medium-firm support and organic materials throughout.
With GOTS certification, your mind can rest that your entire finished mattress (not just its individual component materials) is certified, completely meeting healthy non-toxic standards.
NATUREPEDIC VERSE REVIEW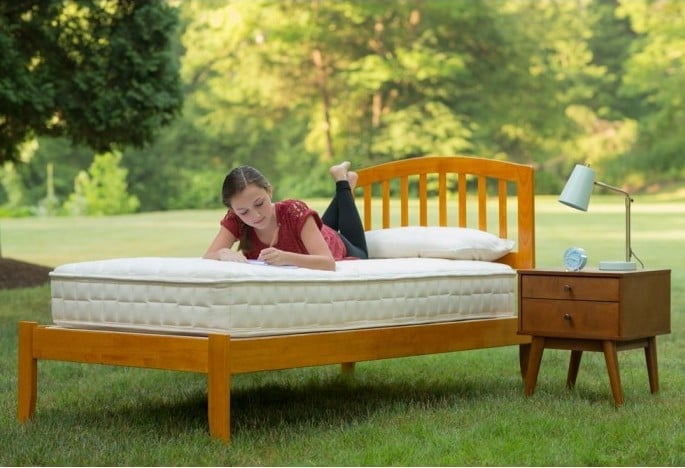 The Naturepedic Verse is one of the most innovative organic mattress on the market, and it has been all the buzz since it launched in 2016. The Verse combines everything you love about Naturepedic's line of wonderful products PLUS the easiest, most convenient delivery for a mattress.
INDUSTRY CERTIFICATIONS
Not only are their individual materials certified, but the finished mattress is certified as well.
This ensures that all components meet a healthy non-toxic standard. Certified by OTCO to the Global Organic Textile Standard (GOTS). All Naturepedic products are also tested for chemical emissions and certified according to stringent GREENGUARD® Gold certification standards.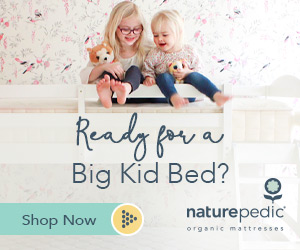 It is also MADE SAFE certified, meaning it's been found not to contain cancer-causing or hormone-disrupting chemicals. Mattress materials have been scrutinized by scientists and experts to ensure they do not contain harmful ingredients or dangerous off-gas vapors and that they don't create byproducts that could negatively impact human health.
EASY DELIVERY & SETUP
For those of us who don't have time to stay home and wait for a delivery truck and someone to come in and set up the bed, the Verse is compressed and roll packed for instant online ordering and straight-to-home delivery.
Whether your big kid is a toddler or a teen, Naturepedic's Verse organic mattress will keep them sleeping through the night without exposure to harmful, irritating toxins. The Verse is perfectly safe for little ones, because it has the same child-appropriate firmness.
The Naturepedic Verse mattress is made in the USA with premium encased coils, offering firm support ideal for growing children… along with a more grown up feel. Encased coils help reduce motion transfer, so if your child wiggles or has restless nights, he'll be able to find a comfortable spot and settle back down without wiggling the whole bed.
There are even more reasons to make the Naturepedic Verse part of your child's nighttime routine.
ORGANIC COTTON FABRIC & FILLING
Naturepedic uses only U.S. grown and certified organic cotton as filling for its mattresses and buys directly from USDA certified sources. This increases purity, organic reliability and support for U.S. farmers. The surface fabric of the Verse is soft to the touch and easily stretches to conform to your body.
EXTRA COMFORTABLE FOR SLEEPING
The PLA comfort layer adds resiliency to the quilt for increased performance and moisture wicking. Naturepedic's non-GMO PLA is a made from potatoes. It wicks away moisture, offers a comfortable resiliency, and does not off-gas harmful chemicals. In fact, it is used for food packaging and a number of biomedical applications.
SAFER FIRE PROTECTION
Thanks to innovative natural design and intelligent mattress construction, all of Naturepedic's mattresses pass all Federal and State flammability standards without the use of fire retardant chemicals or flame retardant barriers. Superior product design, the use of more natural materials, and the elimination of polyurethane foam are all more reasons to feel safe with the Naturepedic Verse.
NATUREPEDIC'S 10-YEAR WARRANTY
Naturepedic backs up every mattress they sell with a 10-year limited warranty, so this is one less worry when it comes to your child's health and safety.
Use Greenchild15 to get 15% off the purchase of their top-rated, certified organic mattresses and accessories for babies, kids, and adults.
This article is part of a collaboration with our advertising partner, Naturepedic. All thoughts and opinions shared are strictly our own. Thank you for supporting the brands that make it possible for Green Child to share free natural parenting and healthy living content.