APRIL 30 – MAY 6
Screen-Free Week is an annual celebration where families, schools and communities all across the country turn off entertainment screen media (TV, video games, computer games, apps, etc.) and turn on life! It's 7 days to unplug and read, play, daydream, create, explore nature, and spend more time with family and friends.
This year, you're invited to join Green Child Magazine contributor, Brenna Burke of Almost All the Truth, and share in her family's activities that don't involve screen time!
Experts in fields from child psychology to education have debated screen-time for decades and what, if any, ill effects it has on children. While debates rage about educational television content, appropriate advertising messaging, and how much is too much, there are no clear answers to these questions.
What the research does support is that the more time spent in front of a screen, the less time there is for other activities, and there are direct consequences of that. Rediscovering what those things are for your own family is really the purpose of Screen-Free Week (formerly known as TV-Turnoff Week).
The American Academy of Pediatrics recommends no screen time for children under the age of two. The average preschooler spends 32 hours a week with screen media.
Fact: Forty percent of 3-month-old babies regularly view screen media. Nineteen percent of babies 1 and under have a television in their bedroom.
Fact: Screen time can be habit forming.
Fact: On average, preschool children see nearly 25,000 television commercials, a figure that does not include product placement.
Fact: Toddler screen time is associated with problems later, including lower achievement in school, victimization by classmates, reduced physical activity, and increased BMI.
The AAP's recommendation for older children is less than 2 hours a day. The average child ages 8-18 watches 4 and a half hours of television, spends 1 and a half hours on the computer, and more than an hour playing video games a day.
Fact: Adolescents who watch 3 or more hours of television daily are at especially high risk for poor homework completion, negative attitudes toward school, poor grades, and long-term academic failure.
Fact: Black and Latino youth spend even more time with screen media than their white peers.
Fact: Children consume 167 more calories for each hour of television they watch.
Fact: Children with a television in their bedroom spend more time watching TV and report less physical activity, less healthy dietary habits, worse school performance, and fewer family meals.
There is a reason that Screen-Free Week has grown immensely since its inception in 1994, more and more parents realize the importance of reducing screen time and one week is a reasonable amount of time to attempt it. Research shows that reduced screen time is indicated in better health and well-being, particularly before the age of 6. It can be eye-opening for kids and parents alike to realize just how much you can accomplish with the spare time that becomes available by going screen-free.
One way parents can combat worrying about how to fill all of that extra time is to have a plan. Want a look into a "screen free" week-in-the-life? Check back for more details on how to follow my family during this year's Screen-Free Week.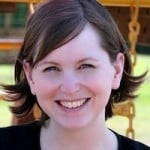 Brenna Burke is a mama of three trying to live a green life, pursue greater health and well-being for her family and the planet, and teach her children well – all while always seeking the best tips, insight, and fun for those wanting to go a little greener. Brenna blogs at http://www.almostallthetruth.com/

Since 2010, Green Child has published a digital magazine devoted to natural parenting and conscious living. Hailed as "good for a green mama's soul," Green Child has grown into a resource valued by parents who care about bringing simplicity, compassion, social responsibility, and instinctual intelligence back to parenting.

Latest posts by Green Child Magazine (see all)