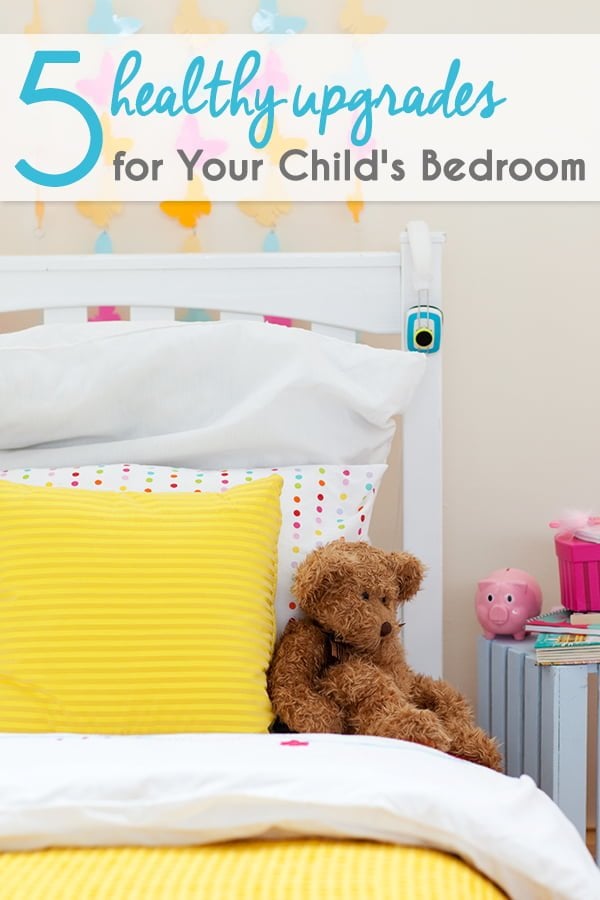 Your child's bedroom can be often messy, need to put up with the natural wear and tear children bring and, most importantly, need to be healthy and safe. Fortunately, there are plenty of tricks to achieve this – here are 5 of the most easy and efficient upgrades.
Air Quality
Depending on the age of your child, it might also be worth introducing plants. Plants do a lot for your rooms, providing oxygen and offering a fresh smell when they flower in the summer months. They can also absorb harmful agents in the air, whereas chemical-compiled fragrances and aerosols often introduce them. This way, you can improve the air quality and introduce a greater concept of nature to your children, all without having to plug something into the wall! Similarly, it never hurts to open a window in the summer, rather than using fans or air cooling equipment. In addition to letting in fresh scents, this will help circulate the air in the room, cutting down on toxins and other lingering elements.
Kid-Friendly Insulation
One of the biggest drains of money, as well as damage to the environment, in any room is insulation. Of course, you can't use conventional means and keep children safe either. Insulation here needs to be resistant to children's play. Thick curtains from natural material, for instance, are perfect. These will prove durable solutions that are also easy to clean. Similarly, while padding might be torn apart easily, thermal wallpaper offers a thick, resistant lining. Lead and toxin-free paints are available, but these don't insulate the room and will likely get chipped away at by smaller children. In a similar fashion, you can also add blankets and additional layers to the bed. This way, children can add more layers when they get cold, rather than leaving a radiator on during the night – it's these early lessons that will help them look after the environment when they grow up.
A Clean Mattress
The mattress is one of the most important items in your child's bedroom. As the main focus point for sleeping, this is where the most exposure to germs and dirt will likely place. Consequently, it's important to clean the mattress regularly and with some healthy, green techniques. Thankfully, there are many ways to do this, including using a green or organic shampoo to completely rinse the mattress, killing mites and other bugs. Similarly, the sheets can be steamed or vacuum for a quick fix. While on the subject of mattresses, you might want to consider upgrading to an eco-friendly alternative. Conventional mattresses are stuffed with factory-produced padding and dangerous ingredients, many of which can easy introduce allergens and other agents into the air after being worn down. Environment-friendly alternatives are just as easy to care for, but use replenishing, natural materials.
Cut Down On Gadgets
Speaking of money drains, electricity isn't cheap either. As children get older, you'll often find more and more electronic devices entering rooms. Now, then, is the perfect time to help teach some environmental responsibility. Start with the basics, such as environmentally-friendly, cost-effective light bulbs. You can also try using timers and other control devices to limit power consumption, even when children forget to turn something off. A child's bedroom is where they spend a lot of time, so devices such as these will get them in the right habits nice and early in life. You can also encourage calm energy in your child's bedroom by implementing feng shui.
Take Care Of The Floor
On a similar note, the floor is also important, as children like to run around, crawl or sit on the floor to play. Unlike the mattress, however, the cleaning techniques used will vary depending on the material. Hardwood floors can be treated with a steam cleaner, rather than using expensive, chemical-induced cleaning agents. Similarly, if you have a carpet, vinegar is an effective solution. Not only is it better on the environment, it doesn't have any health risks if your children make contact with it. There's no need to rely on chemicals when the ingredients such as vinegar are readily available.
There are more than a few quick and easy changes that can help bring some green life into a child's bedroom. Which of these do you think are the most effective for teaching children the benefits of being eco-friendly? What else can be done to keep children's rooms safe and healthy, without adding chemicals or allergens? Feel free to share your ideas here!
Latest posts by Jessi Lampard (see all)