Are you looking to make an Eco-change in your school, community, apartment building, or dance studio? Is a building where your children attend classes still using toxic cleaning products or air fresheners? Ask them if they'd consider making a switch to an earth friendly cleaning system for Earth month. Chances are the enthusiastic feedback met from these changes will produce a permanent change. Other suggestions are:
Introduce a Compost Program
A great way to reduce $$ with garbage pickup at a business or school is to compost organic food waste & bathroom napkins.
Clear the Air
Implement a scent-free initiative as many toxins travel in fragrance and scent. Suggest starting a scent free environment to continue after Earth Day because reducing your exposure to chemicals that travel in scented products with help your own health and the environment.
Walk or Bike to School
Install bike racks and keep a chart of the miles clocked by each family per day. Children will love the challenge of tracking their km or miles to school and adults can graph the savings of total vehicle mileage for the school.
Beautify Your Surroundings
A community or organic garden can be planted, storm drain marking, garbage pickup &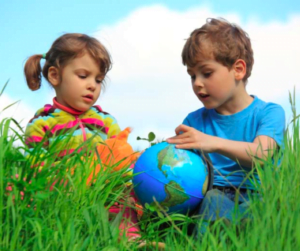 recycling, and encouraging neighbors to be aware of environmental toxics found in pesticides are all great ways to beautiful the health and appearance of your school.
Start now asking friends, colleagues, and teachers "What are we doing for Earth Day?" Inspire the change with others and be leaders with coming up with fun crafts or projects for your family that promote earth awareness. Vow to only use recycled materials to make crafts; use up supplies you already own or gather fallen supplies from nature to curb consumerism this month.
Choose a not-so-green habit your family has and vow to improve in this area for the month of April. Some examples are: use reusable bags, start composting at home, make your own cleaning products, wash all your clothes using cold water, remember to turn off the lights. Starting a challenge and improving household tasks for a month will lead to permanent change after Earth month is over.
The best part of celebrating Earth Month is remembering to have fun and make your celebration unique to your family. The goal of completing an earth initiative is creating special memories with your children, spreading awareness in your neighborhood for little to no cost! After all, it shouldn't cost a lot to celebrate the Earth.

Latest posts by Green Child Magazine
(see all)