Gorgeously Green Gift Wrapping Ideas
You've selected the perfect eco-friendly gift, now it's time to wrap it without creating a bunch of waste. When it comes to eco-friendly gift wrapping, there are tons of options to create a look that's anything from crafty to upscale.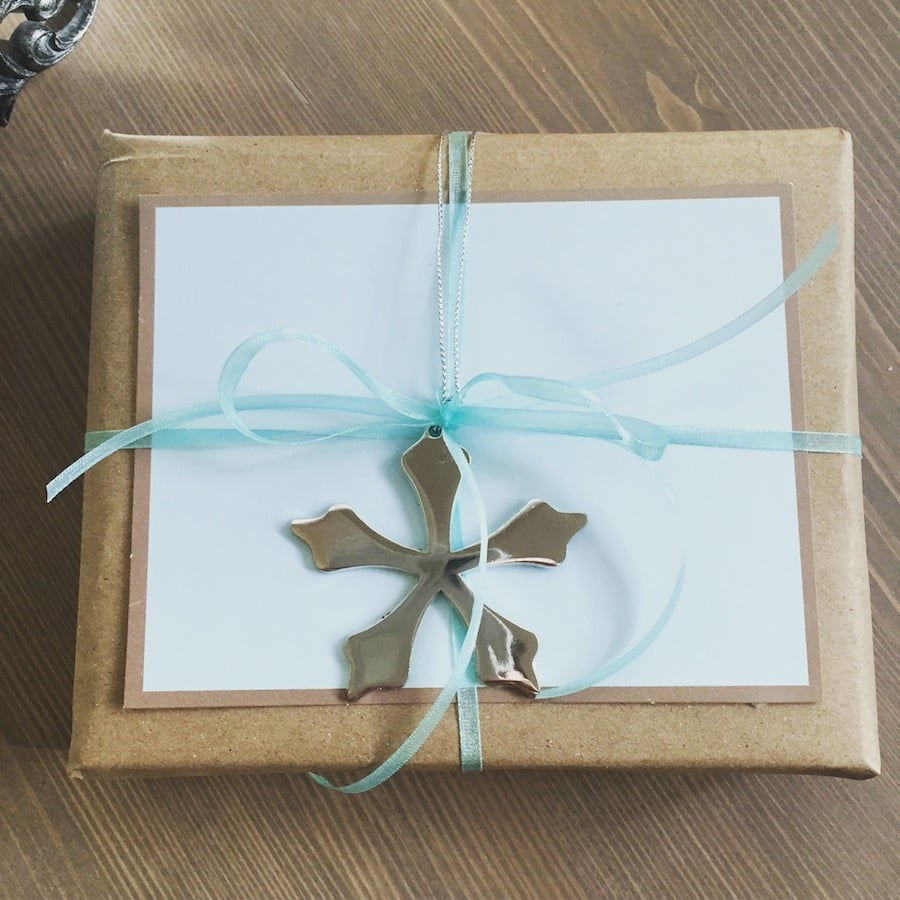 I've been obsessed with greener, upcycled, or repurposed gift wrap for two decades. Before I joined the Green Child team in 2012, I'd been blogging for three years on green gift giving. While I don't have as much time to devote to the topic, it's still a passion. And I'm always looking for creative ways to wrap gifts without waste.
This article can't possibly hold all the fun ideas I've tried or been inspired by, but I've tried to include the highlights here. I hope this inspires you to some fun and creative green gift wrapping of your own! Be sure to tag us (@greenchildmag) on social if you want to share what's under your tree!
Sustainable Gift Wrapping Doesn't Just Have to Be Newspaper
Gone are the days when the only option people knew about was the newspaper. While it's still an awesome option, not that many people still get the newspaper. But most of us have a pretty steady supply of paper coming into our homes.
And especially if you have kids, you've got a stash of birthday party and holiday gift bags just waiting to be reused.
When it comes to most things in life, presentation is everything. Why is raspberry glaze drizzled so elegantly on top of the cheesecake? Because we enjoy food just as much with our eyes as with our taste buds.
Green and meaningful gift giving takes it a step further. Not only do we want to give a gift our recipient will enjoy, we make the conscious decision not to create a bunch of waste with our special gift. And eco-friendly gift wrapping is one way to keep your gift's impact on the recipient big… and impact on the planet small.
Eco-Friendly Gift Wrapping Options & Inspiration
Maybe the big garbage bag has become a staple at your birthday parties and holiday celebrations. Even if you put all that used paper in the recycle bin, it probably ends up in the landfill just like that bag. Because of the dyes, laminates and glitter, most wrapping paper is tough to recycle.
And an average roll of wrapping paper costs $4. We're just not fans of throwing our money away. That's why we've put together these options – to easily save you money, and keep the rest of that wrapping paper roll from gathering dust in the closet all year.
Fabric Gift Bags
I have to admit, I'm a fan of gift bags because I'm not the best gift-wrapper!
But most paper gifts bags with embellishments and glitter are not recyclable.
Fabric gift bags are the simplest solution I've found. Just drop the gift inside, pull the drawstring, and tie a bow.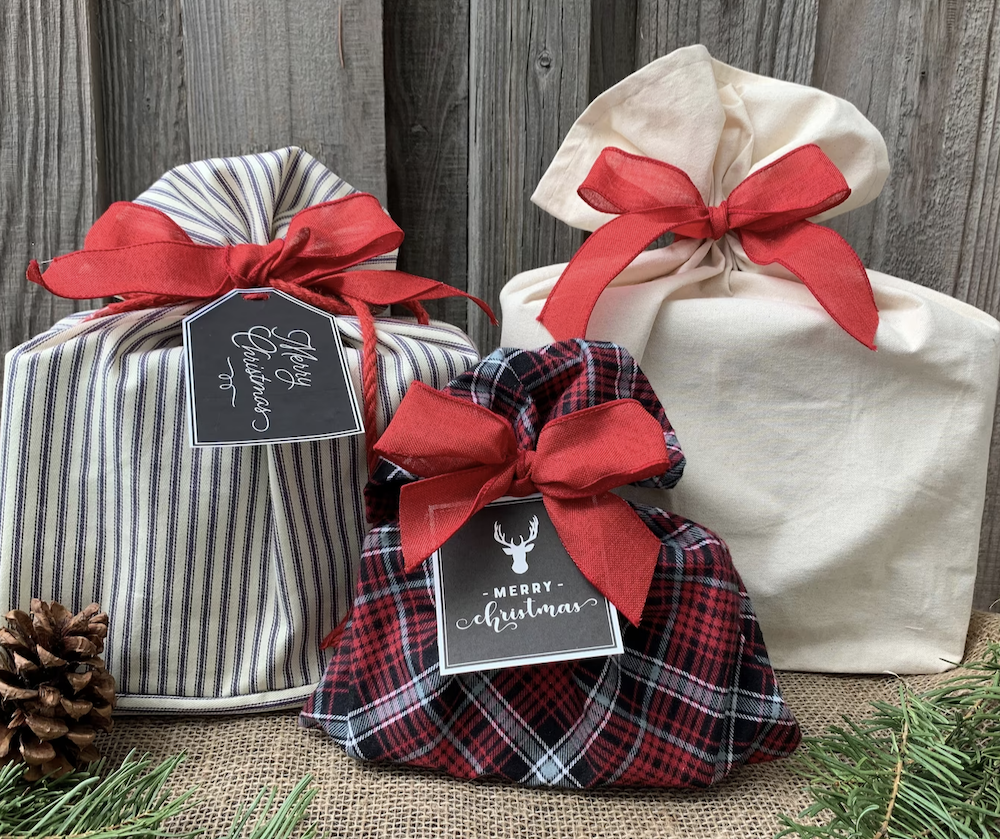 For a great DIY sustainable gift wrapping project, you can even make your own fabric gift bags.
You'll also find festive and fun gift bags from several sellers on Etsy. The set above is from Kari Smyth Design. And if you're looking to really (and we mean, really) dress up your gifts, you'll find plenty of options on our Gorgeously Green Gift Wrapping board on Pinterest.
Reusable Gift Bags Made from Recycled Content
The greenest option is always to use what you have. You probably have a stash of paper / coated paper gift bags from birthdays and holidays. Use them up before considering buying new bags or wrapping paper.
But if you like the ease of those bags, you can now find them much sturdier and made from recycled content. Tokki gift bags are made from plastic water bottles.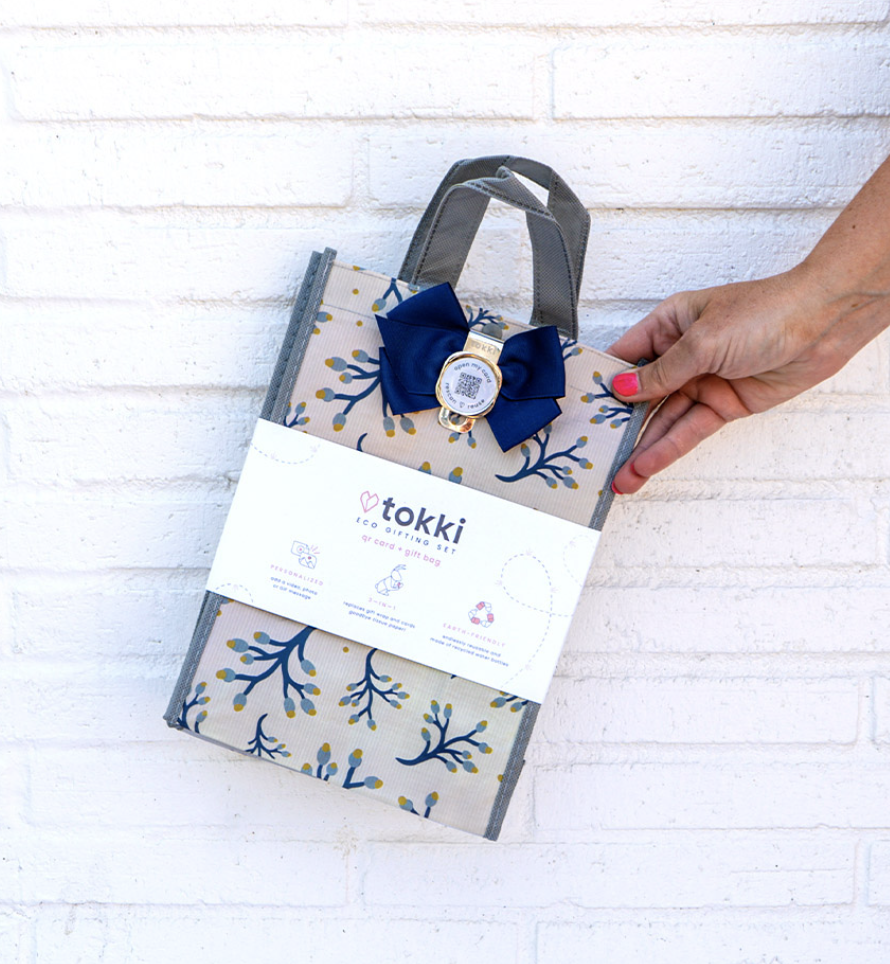 Tokki has also harnessed the power of technology to make your gift even more personal. Just scan the QR code that's placed on a pretty bow at the top of the bag, snap a photo, record a video or audio message, or add a GIF just for your recipient. It's such a fun way to personalize a gift for out of town loved ones.
Furoshiki
Furoshiki is an age-old tradition in Japan. It's the art of wrapping a gift in a beautiful fabric, scarf, or bandana which can be used again and again. Here are some beautiful examples from @plantedinthewoods.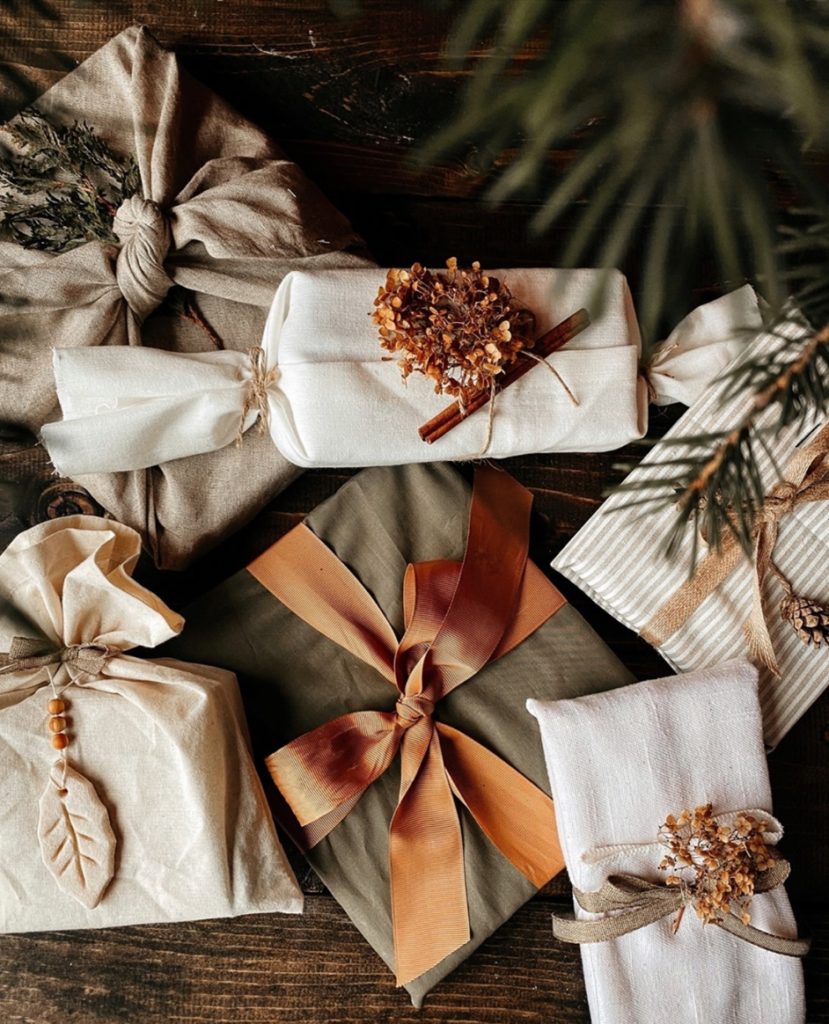 Use any beautiful fabric you have, or find gorgeous reusable fabric wraps like this one from ReThinkGiftWraps on Etsy.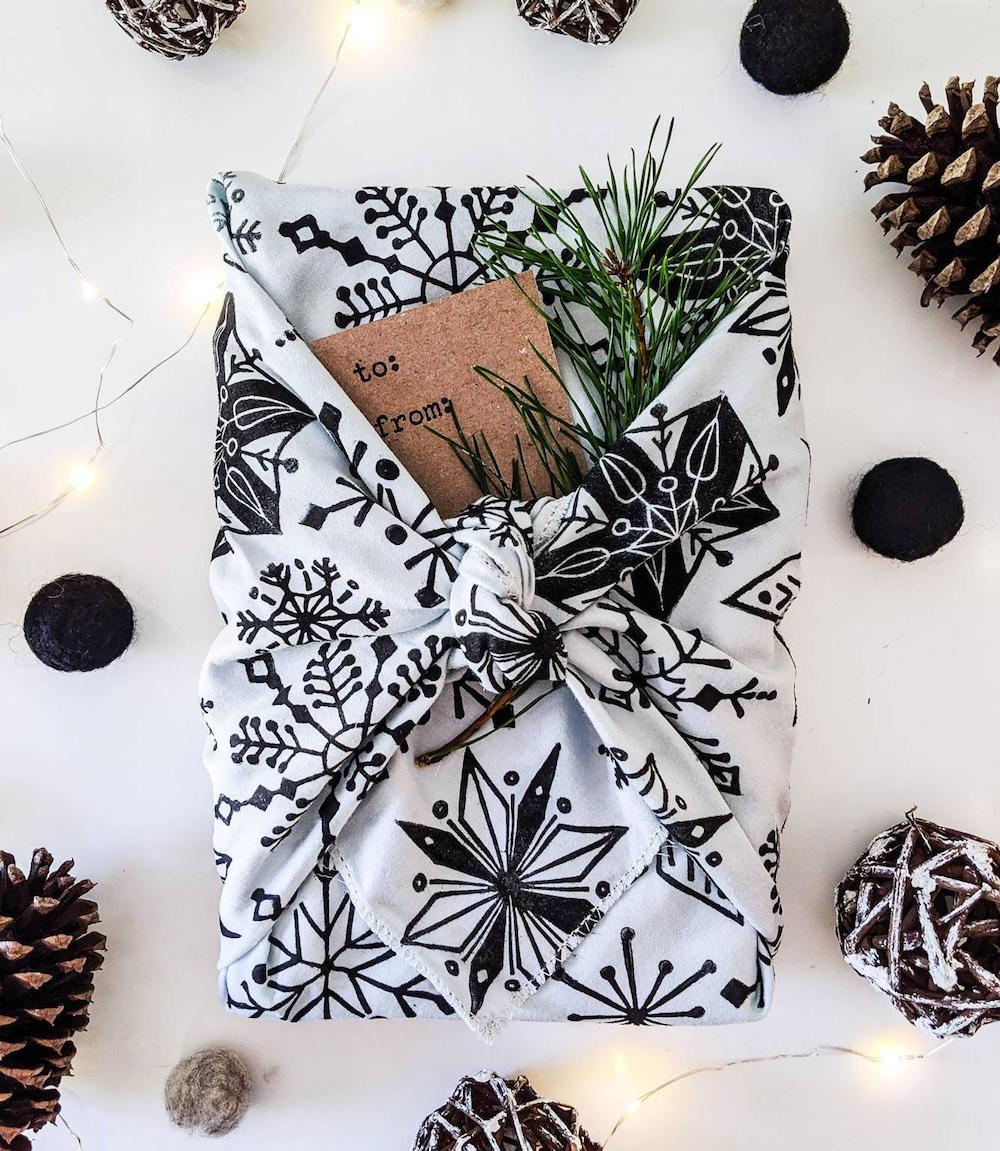 Because it looks sophisticated, furoshiki can seem complicated, but it's really not difficult to do. Our favorite fabric wrapping expert and author of Wrapagami, Jennifer Playford, shows us just how simple it can be in the tutorial video below.
Recycled and Upcycled Gift Wrapping DIY Options
Other simple ways to wrap gifts sustainably involve looking for ways to use things you already have.
Kitchen style – Wrap your gift in a colorful kitchen towel and tie a bow around it. Oven mitts make a nice pocket to slip a gift inside. Aprons are fun, and they already have the strings to tie up the present! And kitchen canisters can hold small gifts.
Mason jars – Not only perfect for edible gifts, mason jars make fun presentation for soaps, art supplies, or other small gifts. Add a bit of fabric or recycled tissue paper, or don't – and let the gift speak for itself.
Bucket list – Place gifts inside a small galvanized gardening bucket. Don't worry about tissue paper or plastic. Just tie a festive ribbon on the handle and let the gift speak for itself.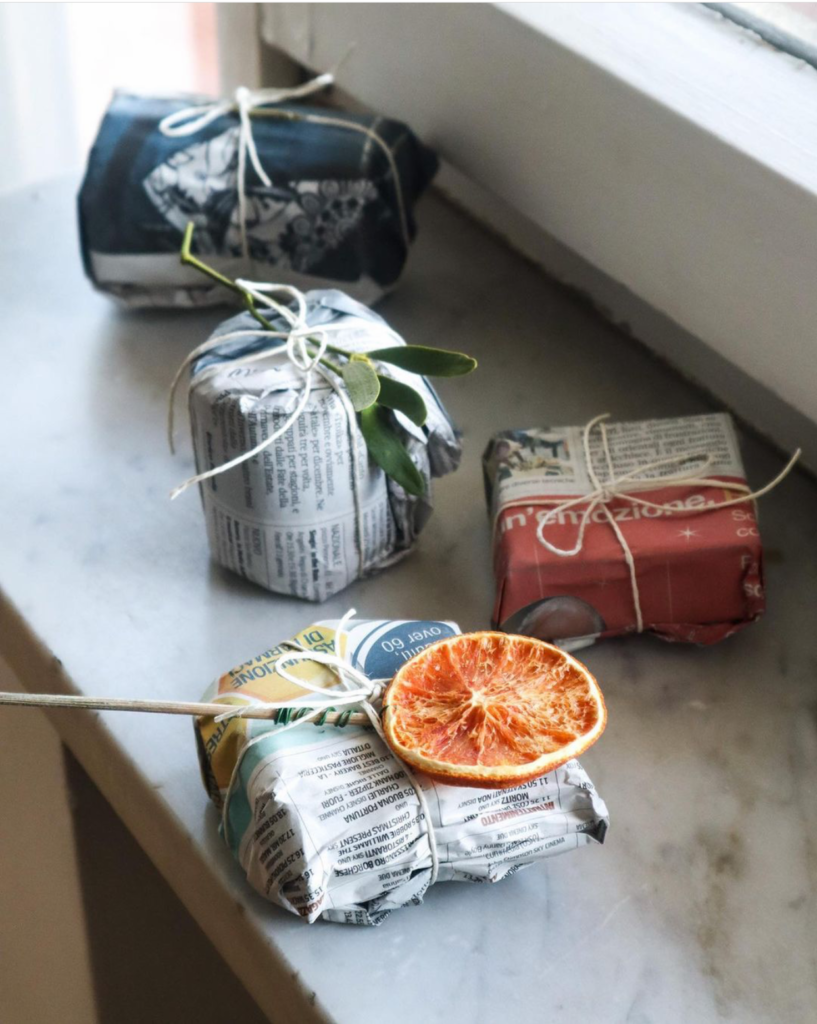 Paper revisited – Wrapping gifts in newspaper is very practical, but not always appropriate for a nice occasion. Old travel maps or sheet music make a creative presentation. If you've moved, save the packing paper to wrap a collection of gifts and add simple ribbons for a utilitarian look. Seasonally fun paper bags from grocery bags from Trader Joe's or Earth Fare make brilliant eco-friendly wrapping for small gifts.
Don't toss the box – December 26th isn't known as Boxing Day for nothing. Put those leftover boxes to use all year long by wrapping in gift boxes, hat boxes, lunch boxes, tool boxes… you get the idea.
Seasonal theme containers – Make your gifts stand out by placing them in an unexpected seasonal item: lanterns, ice skates, soup tureens, watering cans, or vintage bread boxes.
Bring the outdoors in – Adding a touch of nature makes your gift extra green. Bamboo or banana leaves cover a small gift. Or try a holly leaf, birch bark, or a bird feather to add a natural embellishment.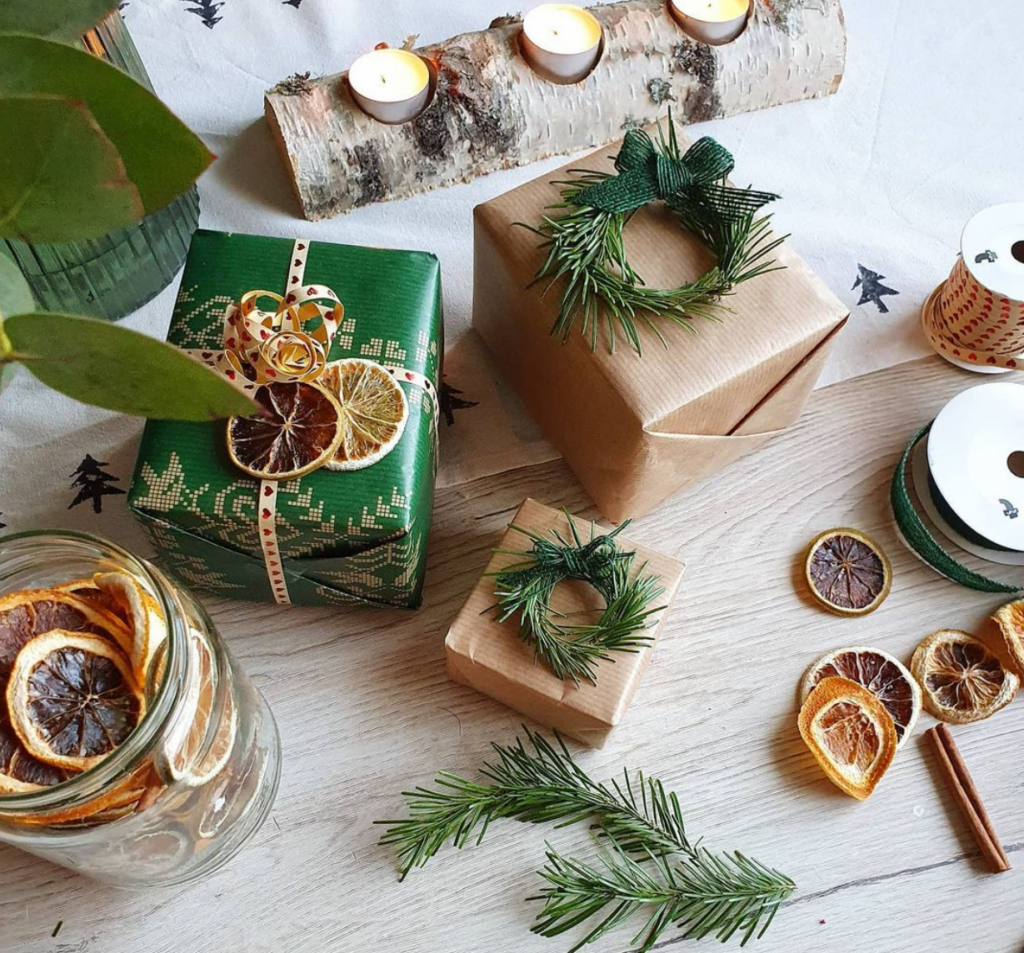 Tags and accessories – Save beautiful images from cards to use as a gift tag for the next gift you give. Punch a hole and tie a ribbon to dress up any present. Or try plantable gift tags. Made from paper embedded with seeds, your recipient can just plant the tag and watch it grow. Don't forget the recycled trinket or ornament to add a splash of color to your gift.
Eco-Friendly Wrapping Paper
You may be surprised at how cool recycled papers can look. Newspaper, paper grocery bags, moving / packing paper are easy to access options you probably have on hand. You can also use kids' artwork as wrapping or embellishing.
The examples shown here include an Earth Fare bag with a simple ribbon, old stationery note, and a snowflake ornament, and packing paper (still crinkly!) dressed up with ribbon and a hand-sewn ornament.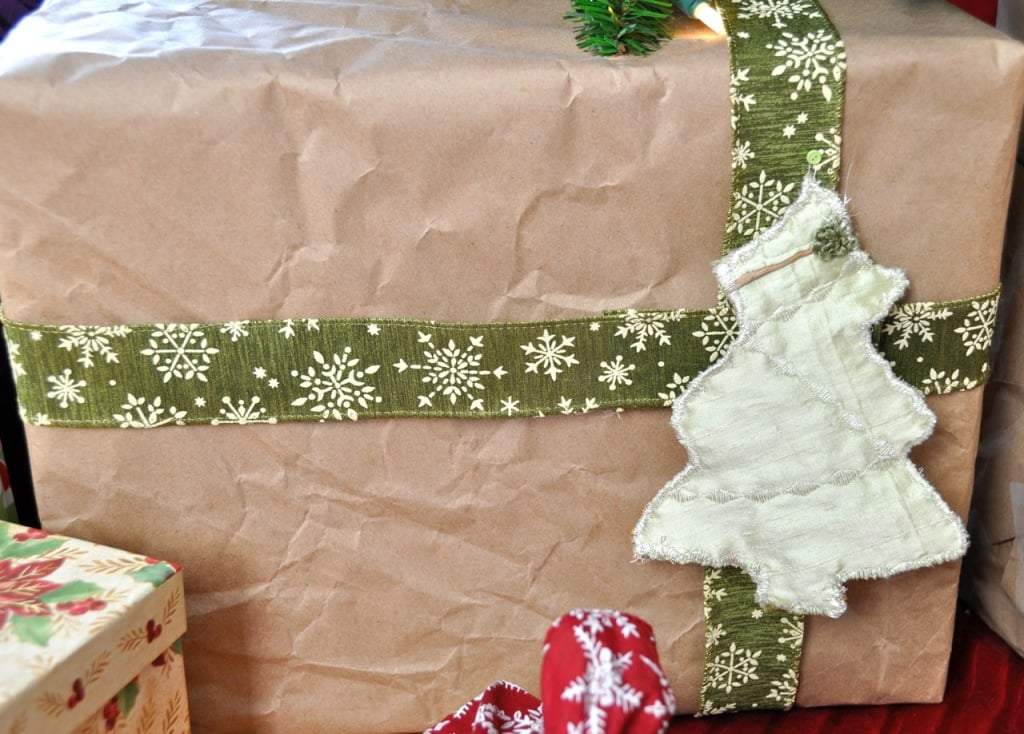 If nothing else will do but a roll of wrapping paper, choose a sustainable option. Look for a recycled version that isn't glittery and laminated — this will help it's chances of being recycled after the big day. There are companies out there making 100% post-consumer fiber, manufactured with wind power, FSC Certified, and carbon neutral.
It makes sense to purchase paper goods from a company with a history and reputation in the sustainable paper business, rather than grabbing the first cheap $2 roll at the discount store.
Remember, we're voting with our dollars ALL the time. Make those votes count by supporting the types of businesses you want to see flourish.
Less is More with Sustainable Gift Wrapping
Just because you're going unconventional, it doesn't mean you should overdo it. A natural ribbon on brown paper can go a long way toward making the gift look classy. And the goal with reducing your gift-giving footprint goes hand in hand with simplifying your life.
For more gift-wrapping inspiration, check out our Gorgeously Green Gift Wrapping board on Pinterest.